The more frequently you use Apple Music, the more possible you'll meet some unexpected issues with the service. Although Apple Music has already become the No.1 streaming music provider in the United States, it's far from perfect yet. For instance, you may suddenly find that all of the playlists are disappear from your Apple Music library without any warming. No matter how you sign in and out of Apple Music, it's impossible to recover deleted Apple Music playlist. However, you can still access those playlists in iTunes on a computer.
To solve Apple Music playlists gone, you are suggested to try the following troubleshooting tips, with which you'll be able to restore Apple Music playlists and songs. In the end, we will also provide an ultimate way to help you prevent Apple Music from disappearing after subscription. After reading this article, you'll know how to solve Apple Music playlists gone. Let's dive in.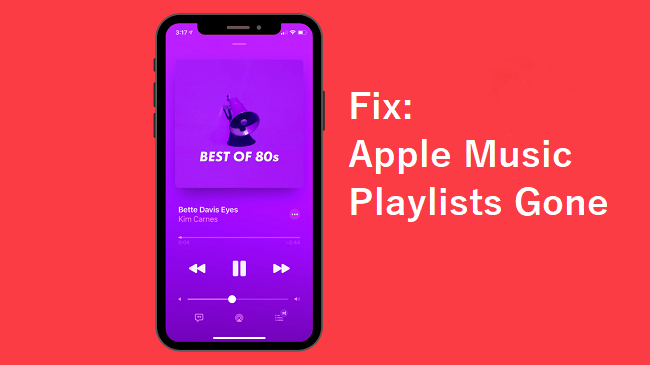 Part 1. Why Do Songs Disappear from My Playlist Apple Music
Why are my Apple Music playlists gone? It could be caused by various reasons. The following are the possible reasons that result in Apple Music playlists gone.
Most of the time, when Apple Music deletes your library, there might be something wrong with iCloud Music Library. This is a feature that allows you to sync and share music from Apple Music and iTunes between all Apple devices. Specifically, once you enabled iCloud Music Library on your device, your device will scan your music and replace the songs with its own versions. Then it will upload anything it doesn't know to its servers.
Another case is that your Apple Music subscription is expired. So, all your playlists on Apple Music will be gone. You cannot find any songs in the playlist.
Sometimes, if your Apple Music playlists are not showing after updating your device to the latest version, it might be because your iTunes account has synced across the devices or your Show Apple Music option is off automatically. To get them back, you can try to update iCloud Music Library by iTunes or simply open the Show Apple Music feature.
Part 2. How to Solve My Apple Music Playlists Gone
After you understand all possible reasons, you can now follow the below solutions to learn how to solve the issue. Then you can recover your deleted playlist on Apple Music.
Solution 1. Check Apple Music Subscription
Many people say that their Apple Music playlists are gone after subscription. First of all, to check whether your Apple Music subscription is out of data. You can perform the quick steps below.
On iPhone, iPad, or iPod touch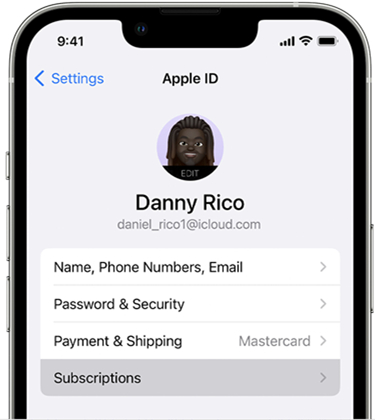 Step 1. Open Settings on your iPhone, iPad, or other Apple devices, then tap your name.
Step 2. Tap Subscriptions to see whether your Apple Music subscription is expired.
If you don't see this option, you can open the App Store app and tap Your Apple ID > Subscriptions, then see the subscription status of your Apple Music.
On Mac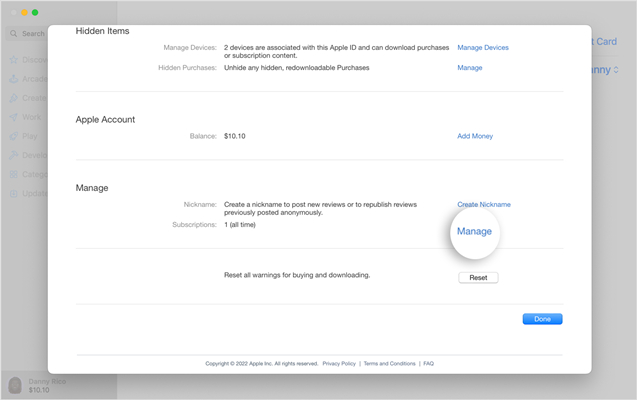 Step 1. Open the App Store app on your Mac and click your name.
Step 2. Click Account Settings and scroll to Subscriptions.
Step 3. Click Manage, then you can check the subscription status of your Apple Music.
Solution 2. Turn Show Apple Music on
When you update to iOS 16, the Show Apple Music option might be turned off automatically. You can then check it and turn it on to make Apple Music playlist visible in your music library.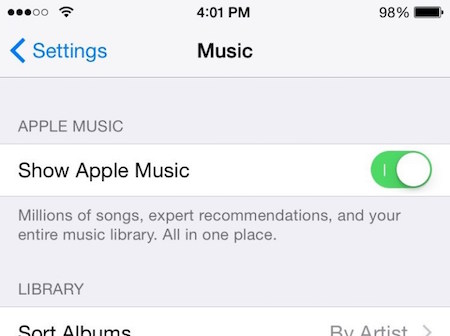 Step 1. Go to Settings > Music on your iPhone, iPad, or iPod touch.
Step 2. Under Music, you can see the Show Apple Music option, then turn it on if this is off. If it's already on, you can turn it off and then turn it on again.
Solution 3. Turn Sync Library on
The following guide will show you how to enable or restart Sync Library on iPhone and Mac step by step. Then you're able to get your lost playlist back on Apple Music.
On iPhone, iPad, or iPod touch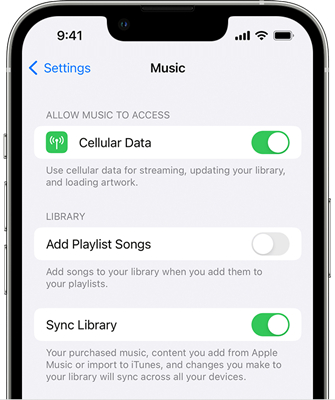 Step 1. Head to Settings on your iPhone and scroll down to select Music.
Step 2. Under Music, you'll see the Sync Library option. If it's already enabled, you should turn it off firstly and then enable it again. If not, simple turn it on.
On Mac
Step 1. Launch the Apple Music app and choose Account in the menu bar. Make sure that you've signed in with the same Apple ID that you use with your Apple Music subscription.
Step 2. Click File > Library > Organize Library, then select Consolidate files.
Step 3. Choose Music > Settings or Music > Preferences.
Step 4. Go to the General tab and select Sync Library then click OK.
On PC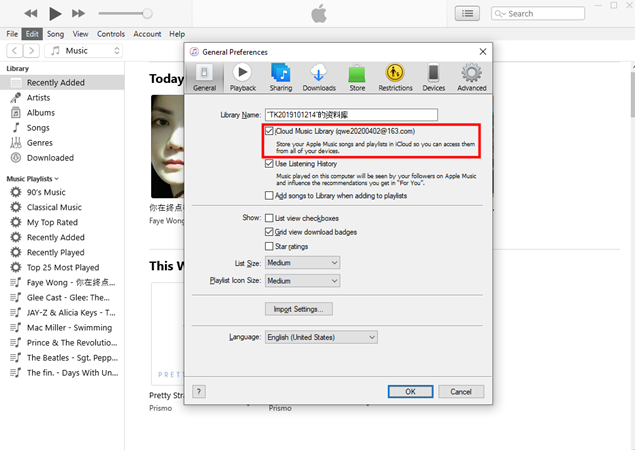 Step 1. Open the iTunes app on your PC and sign in to the iTunes Store.
Step 2. Choose Edit > Preferences, then click General.
Step 3. Select the iCloud Music Library checkbox. Then your playlists will be synced to your iTunes.
Then it will merge and replace the deleted Apple Music songs or playlists with your purchased music that's already in iTunes. Therefore, you'll be able to access the disappearing library from Apple Music again.
Note: To avoid Apple Music deleting your songs in the future, you are highly suggested to disable iCloud Music Library after getting back the lost playlists.
Solution 4. Update iCloud Music Library with iTunes
Alternatively, you can try to update iCloud Music Library by using iTunes to recover your disappeared Apple Music playlists. The following is how to.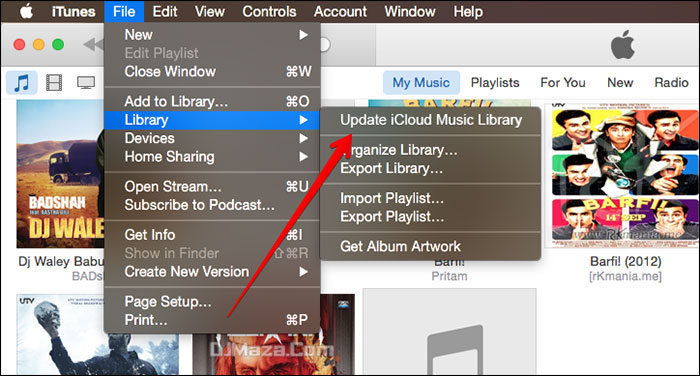 Step 1. Open iTunes on your Windows PC, then navigate to File > Library.
Step 2. Click the Update iCloud Music Library button. Then it will start refreshing the entire library on your computer, which may help you restore the missing playlists.
Solution 5. Check Whether Apple Music Is Set as Other Media
In iTunes, the memory storage is divided into Audios, Apps, and Other. Usually, when you update iOS, the Apple Music files are mistakenly sorted out to the Other media. And you'll find the playlists disappeared from Apple Music. As for this condition, you can use the method below to fix this issue.
Step 1. Connect your Apple device to a computer with a USB cable and launch iTunes.
Step 2. In iTunes, click the icon of your device, then click the Summary button.
Step 3. You'll find the memory bar on this page. If you find the Other media is too large, try to sync your device with iTunes.
Step 4. Disconnect your device from the computer and restart your device again. Now check whether this Apple Music playlists disappeared issue is still there.
Solution 6. Enable Apple Music Playlist
"All my Apple Music playlists disappeared, but I can see these Apple Music playlists from iTunes on the computer." When your problem is similar to this user, you can try this solution.
Step 1. Open Apple Music on your iPhone or other device and tap Library > Edit.
Step 2. If you find that the Playlist was turned off from the Library view, turn it on.
Part 3. How to Prevent Apple Music Playlist Gone after Subscription
If you cannot fix the Apple Music playlist disappeared issue, there is a reliable way that can help you keep all Apple Music playlists in your library permanently without being deleted after subscription. You can then back Apple Music songs up at a more safe place like on your computer, CD, or USB Drive. In this way, you need a smart Apple Music converter called ViWizard Apple Music Converter.
ViWizard Audio Converter can decode those protected Apple Music files to MP3, AAC, FLAC, M4A, WAV, and M4B. Except for Apple Music songs, iTunes audios and Audible audiobooks can be converted with this tool as well. Once all the Apple Music songs are unprotected, you'll be able to keep all the songs and playlists in your music library of Apple Music forever, even if you stop subscribing from the service later.

Main Features of ViWizard Audio Converter
Completely remove DRM from Apple Music, iTunes, and Audible
Convert Apple Music to MP3, AAC, WAV, FLAC, M4A, M4B
Support the conversion of more than 100 kinds of common formats
Keep 100% lossless audio quality and ID3 tags after conversion
How to Keep Apple Music Library Permanently via ViWizard
You may follow these steps to start converting Apple Music to MP3 with ViWizard Audio Converter by clicking on the Download button. And make sure that the iTunes app has installed on your computer. With up to 30× faster conversion speed, you can get Apple Music songs in MP3 files soon.
Step 1

Import Apple Music to ViWizard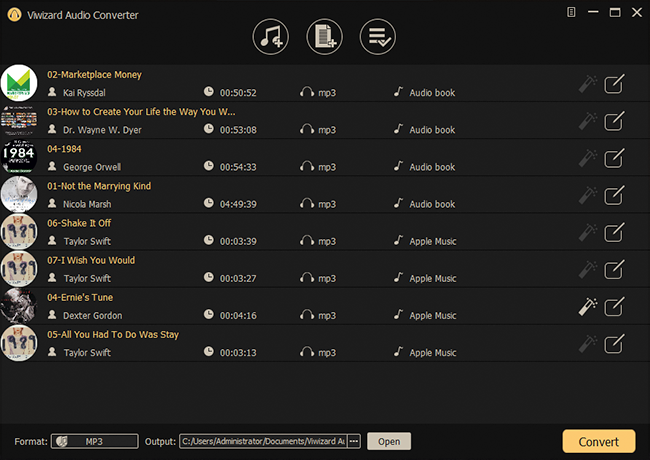 Launch ViWizard Apple Music Converter on the desktop after completing the installation. The iTunes app will be loaded soon. Then drag and drop the Apple Music tracks files from the local folder to the program's main interface. You can also add the songs by clicking the Load in Library button at the top center.
Step 2

Choose Output Format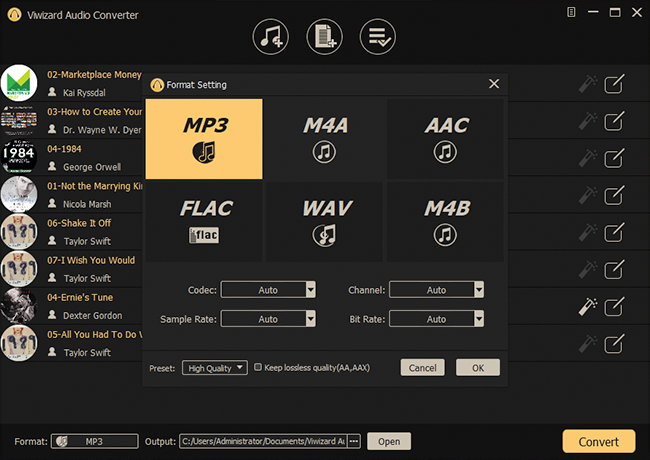 Once the Apple Music songs are loaded into ViWizard, you should go to the bottom left corner and click Format panel to set output format and audio parameters. It fully supports output format as MP3, AAC, WAV, FLAC, M4A and M4B. Choose MP3 and move on. You can also adjust the parameters like sample rate, bit rate, channel, volume and others. When all the setting are as your require, click the OK button to confirm.
Step 3

Convert Apple Music to Common Format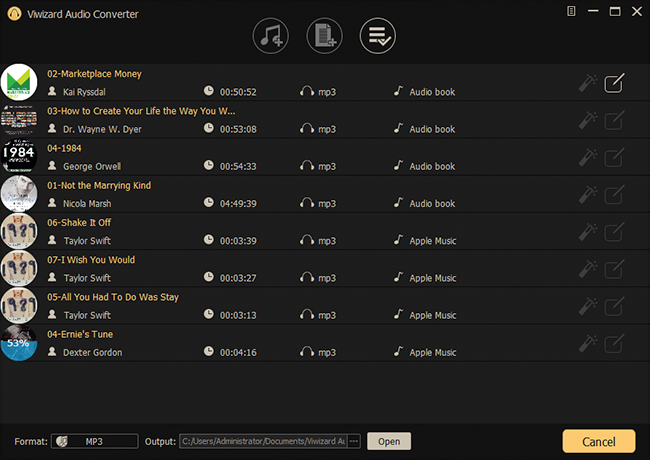 Click the Convert button to let it begin converting Apple Music songs to DRM-free formats. When the conversion is over, click the Converted button on top to locate all the converted Apple Music MP3 files. Then you can keep all these converted Apple Music playlists on any device as you like and will never lose again.
Conclusion
Now you got to know the reasons why your Apple Music playlists disappeared and how to solve this issue efficiently. You can try the above solutions one by one until your problem is solved. To avoid such trouble happens again, you are suggested to take a look at ViWizard Audio Converter. It's a powerful dedicated tool to help Apple Music users make the most of songs from Apple Music by converting to MP3 audio files. You can still keep Apple Music forever, even if you cancel the subscription someday.