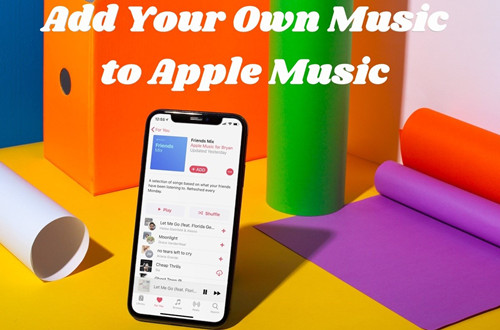 Apple Music has been rolled out to the market for quite a few years, but before that, many music lovers had already had their own music library lying on their computer or other streaming platforms. If they switch to Apple Music, how can they play songs that provided by the platform as well as songs they've been long collecting? The solution is to upload music to Apple Music and play them in the Apple Music app.
Thankfully, it's pretty easy to add songs that you already owned on your device to Apple Music. In the following parts, I'm going to show you how to add songs to Apple Music and a tip to help you seamlessly play your own songs and Apple Music songs on any device.
How to Add Music to Apple Music
To add your own music to Apple Music, basically you'll have to do this on your computer. Install the iTunes app and make sure that your Apple Music subscription is currently active, then you're good to go.
Step 1: Launch iTunes on your computer, go to File > Add File(Folder) to Library.
Step 2: Select the file you want to add, then click Open.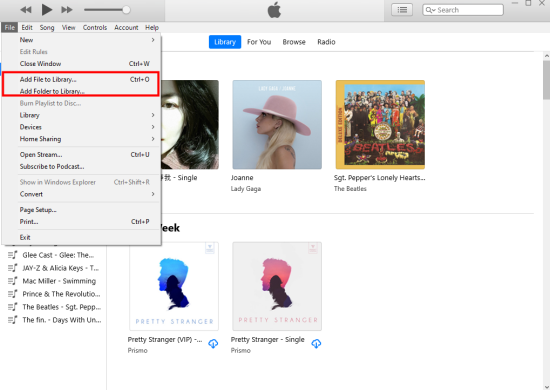 Songs will be added to your iTunes Library, you can play them on your iTunes. But now you still can't play these songs on Apple Music on other devices since they'll still not synced to your Apple Music library. For that matter, you'll have to turn on iCloud Music Library to sync your music from iTunes to other devices:
1. Open iTunes, go to Edit > Preferences
2. Under General, tick the iCloud Music Library. Then your newly added songs will show up on the Apple Music app.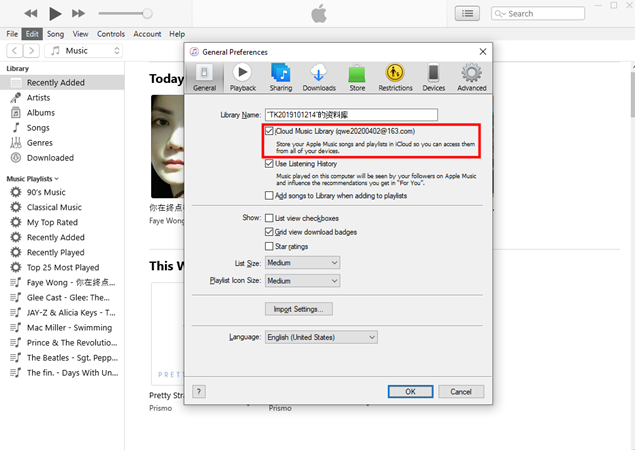 But there's still a problem, which is frequently asked by Apple Music users.
I have a number of songs/albums from artists not on Apple Music. I know I can upload them, but will they be seamlessly integrates into stuff that Apple Music has?
For example, the band Hardcore Superstar. They have about 9 albums, but Apple Music only has 4. I can upload the other 5. That's easy. But if I go to that band and hit shuffle so it only plays Hardcore Superstar, will it only shuffle what Apple Music has or will it shuffle a combination of my uploaded music and Apple Music? - - Garnold from Reddit
The answer is yes, though the syncing process could possibly mess up some of your songs. Once you successfully synced your own collection to Apple Music, the app will automatically try to search for the exact same artist/song/album and other metadata and add to your library. You can put all your newly added song in a playlist, mixing with songs that are on Apple Music and play them together.
If Apple Music can't find the song, then only you can access to the song in your own Apple Music Library.
Play Your Own Collection and Apple Music Songs Everywhere
After you synced your own collection to Apple Music, you can only stream them on Apple Music or iTunes app. If you want to play the whole library or playlist mixing with your songs and Apple Music songs elsewhere, technically it's not accessible. Since all the tracks on Apple Music are protected, users are not allowed to play them on any other media players outside Apple.
But with the ViWizard Apple Music Converter, you can download all your iTunes Library to MP3 and save them to your computer. Then you can play songs from Apple Music and your own collection together everywhere.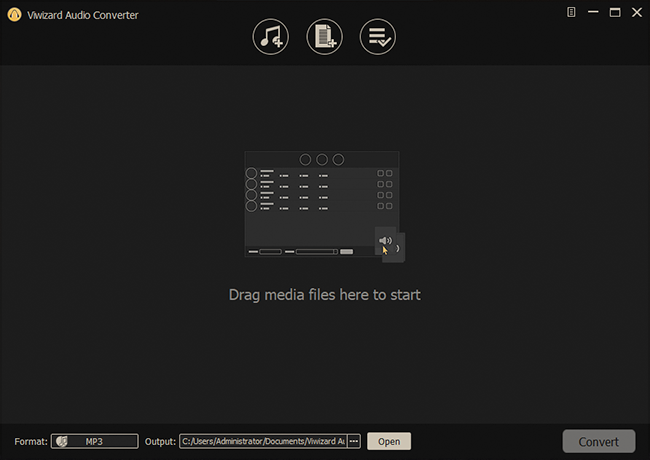 Comes with an intuitive interface, the ViWizard Audio Converter is designed to convert all protected iTunes, Apple Music songs and radio shows into MP3, M4A, AAC, FLAC and other common formats.
The specially designed booster will keep the converting speed up to 30X faster with high output quality preserved. With this tool, you'll be able to remove the protection of all the songs from your iTunes Library and play them anywhere you want.

ViWizard iTunes Music Converter Key Features
Convert iTunes songs to MP3, M4B, AAC and other popular formats
Download and play Apple Music songs offline without limitations
Customization options to change output parameters
Retain 100% original quality and ID3 tags
Convert at 30X faster speed
1. Launch ViWizard and Import iTunes Library Files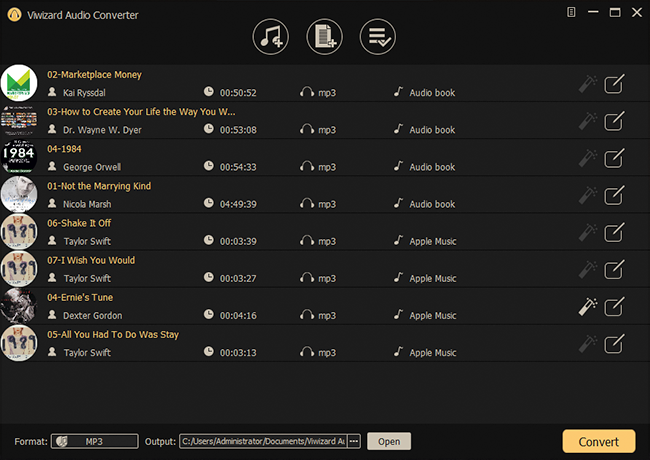 Launch your ViWizard Audio Converter and then click the music note "+" button to import songs from your iTunes Library. Or you can add the AAC files from your iTunes Library folder.
2. Setting Output Format and Parameters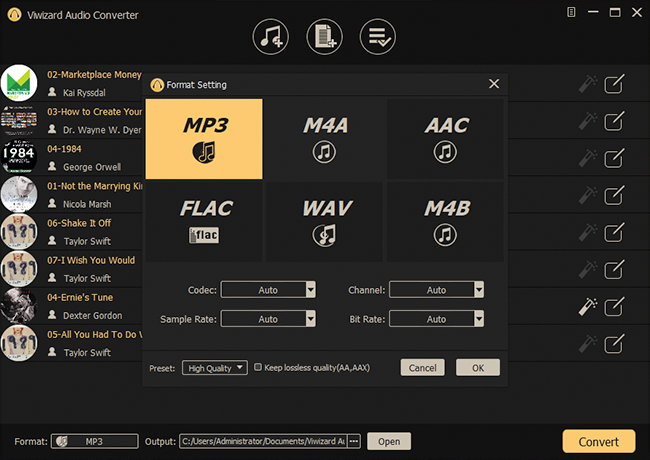 Once completed loading input files, you can click the "Format" button in the bottom left and choose the output format among MP3, AAC, FLAC, WAV, M4A, and M4B. You can also click the "Output" button and choose the output location.
3. Start Converting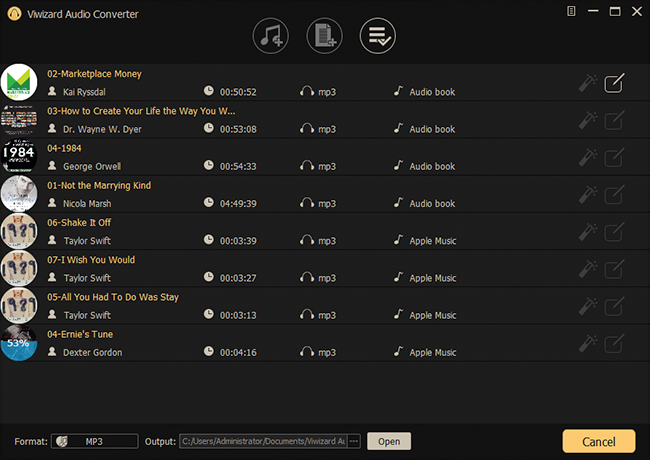 With format setting done, press the "Convert" button and ViWizard will start the conversion process. When it is done, you can find all your converted songs by clicking the "Converted" button.
4. Enjoy Apple Music and Your Collection Together
Now you can enjoy all your downloaded songs from iTunes Library along with your own collection on any media player without iTunes and Apple Music app. Also you can move these files to any device.
More iTunes music DRM removal tips