For music fans, Apple Music is sure to be a flexible option with a perfect combination of its Apple Music catalog and personal music collection. However, this feature sometimes can cause issue on one of its most popular platform - iTunes app for desktop.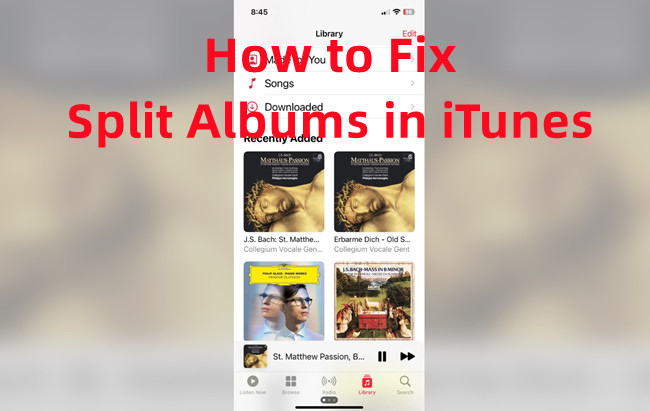 When iTunes albums split up, it's frustrating for users to have these contents in order and have the same listening experience as usual. No worries. We've collected possible causes and fixes to this iTunes splitting albums issue. What's more, iTunes users can benefit from this post with some exclusives here.
Part 1. Causes to iTunes Splitting Albums
In our experiences, the causes to iTunes splitting albums are listed as follows:
1. Same Albums Have Different Versions
It's common for same albums to have different versions, even when users download the albums on other versions - if available in Apple Music.
1. On mobile, open Apple Music.
2. Go to the album to download, scroll down the options to find "Other Versions" below.
Yes, this is how Apple Music users have the same albums in different versions, and this "Other Versions" feature will help users to select the exact version to own and group all the different versions of the selected albums in Apple Music.
However, this won't be a direct cause to iTunes splitting albums because this feature works on the Apple Music app than iTunes.
2. Album Artist Files Does Not Match
While the "Other Versions" won't cause the iTunes splitting albums issue directly, there's another sorting rule in iTunes that can be a possible cause - Album Artist.
Based on this sorting rule, iTunes will sort the music contents according to Artist's name. If there're multiple artists in a single album or if the album is a "Compilation", then the program will intend to let these iTunes albums split up.
As a result, the albums are created with one or two songs in them, even the split will be created when the Album Artists field and Artist field are different. What's more, the created iTunes songs split into two albums further.
Part 2. Fixes to iTunes Songs Split into Two Albums
To deal with iTunes sorting rules, there're some steps to use the settings in the apps - both iTunes and Apple Music mobile apps.
1. Confirm Albums Artists in iTunes
Since the Albums Artist filed can be a possible cause - even the main cause to the iTunes splitting albums issue, we'd like to recommending checking and confirming this for a later fix.
1. On desktop, open the iTunes app.
2. Under Music, find the separated albums in the Albums section.
3. Right click the album artwork, then choose Album Info.
4. Under Details, see the album tab show the Album Artist.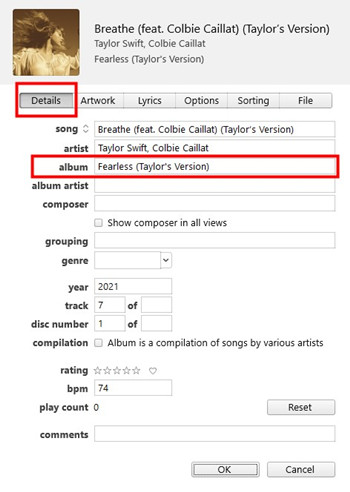 5. Rename the Album Artist field for the individual album, then OK to save this change.
Once the Album Artist field has been renamed, the separate albums will be grouped into one specific album.
2. Uncheck Compilation box in iTunes
In addition to a simple rename, there is one more setting in iTunes for how to fix split albums in iTunes - "Compilation" box. If the iTunes splitting albums issue persists after renaming the album artist of the separate albums, also make sure the "Compilation" box is unchecked.
1. In iTunes app, repeat the steps to go to the separated album's Details.
2. Under Details, scroll down to compilation with "Album is a compilation of songs by various artists".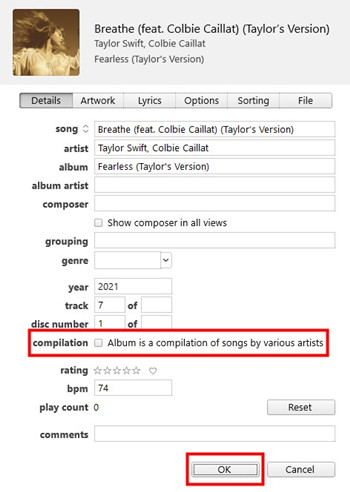 3. Uncheck this Compilation box, then OK to save this change.
3. Remove Album from Apple Music
There's another method for how to fix split albums in iTunes - to remove this album from it, then add it back.
1. In Apple Music mobile app, find the separate albums.
2. Click the More button (horizontal 3 dots icon), then Delete from Library.
Now find the album again, readd this to the Apple Music. Back to the iTunes, check whether the readded iTunes songs split into two albums.
4. Delete Songs from Apple Music
1. In Apple Music mobile app, still mark and select songs to delete or remove.
2. When Remove icon is available, tap it for confirmation.
Note: Once the songs have been removed, there will be a download icon next to the song's title, which indicates the song has been stored in the Cloud but not on the correct device.
Still, go back to iTunes to check if this step work for how to fix split albums in iTunes.
5. Switch Your iCloud Music Library Off
It's hard not to mention that this step will lose all the Apple Music downloads after switching it on again. For a better back-up, we recommend using a powerful Apple Music converter to download all the music contents from iTunes to fix this iTunes splitting albums issue.
1. On mobile, go to Settings.
2. Under Music, scroll down to iCloud Music Library under LIBRARY.
From here to turn on and off this option to enable and disable it. If this option has been on, just tap it to turn it off.
Part 3. Exclusives: How to Manage iTunes Music Contents
While this iTunes splitting albums issue can let Amazon Music users experience more issues with their music contents in iTunes, we'd like to recommend to manage these contents well with a powerful tool - ViWizard Audio Converter.
In addition to managing iTunes music contents, ViWizard Audio Converter can ensure Apple Music users the full control of Apple Music service with the contents above, even keep them as personal music collections from Apple Music. Yes. ViWizard Audio Converter can download and convert contents from iTunes and convert them as compatible formats like iTunes supported MP3, WAV and AAC.

ViWizard Apple Music Converter Key Features
Losslessly download and convert Apple Music for offline playing on any device
Convert M4P Apple Music to MP3, AAC, WAV, FLAC, M4A, M4B
Retain 100% original quality and ID3 tags
Support converting Apple Music songs, iTunes audiobooks and Audible audiobooks
Convert between DRM-free audio file formats
1

From iTunes to Add Apple Music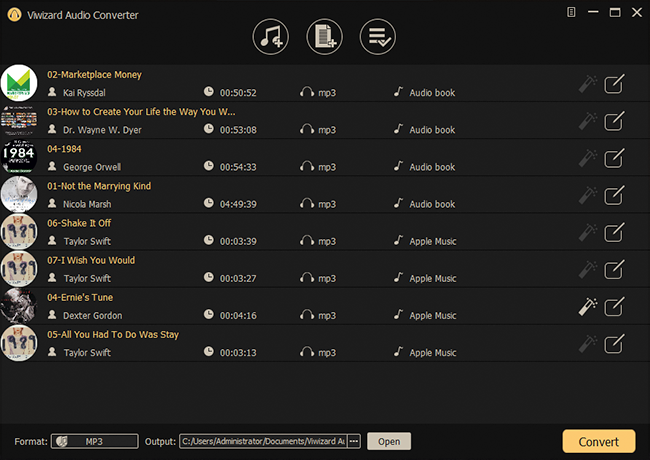 Launch the ViWizard Audio Converter and wait while it lanunes iTunes desktop app. Once the iTunes is open, it's simple to add music from it to download in ViWizard via drags-and-drops.
2

In ViWizard to Set Output Format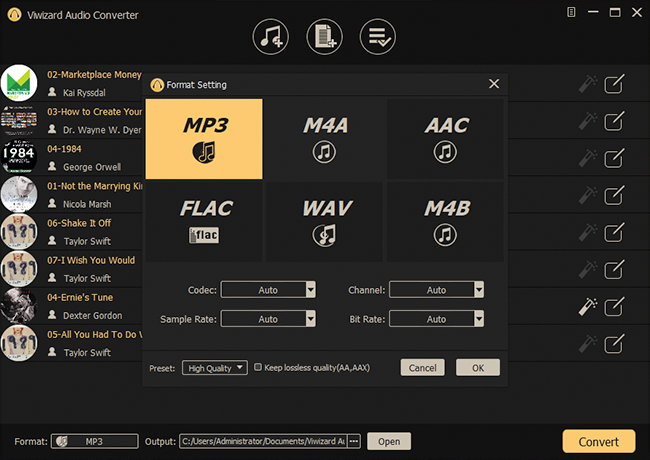 Once the Apple Music is added to ViWizard, click the Format tab at the bottom to open the Format setting window. For output format, choose MP3, WAC or AAC for iTunes or other compatible formats. Click OK to save this change.
3

In ViWizard to Convert Apple Music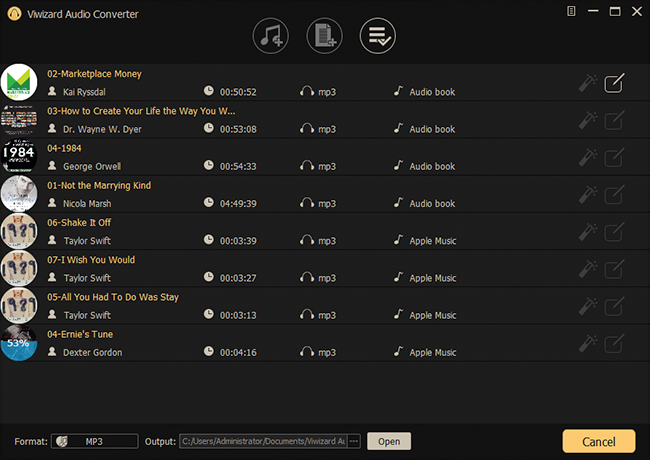 With the format setting done, click the Convert button to start the conversion. You can click the Converted button to browse the converted songs, then click Search icon to locate the files on the device.