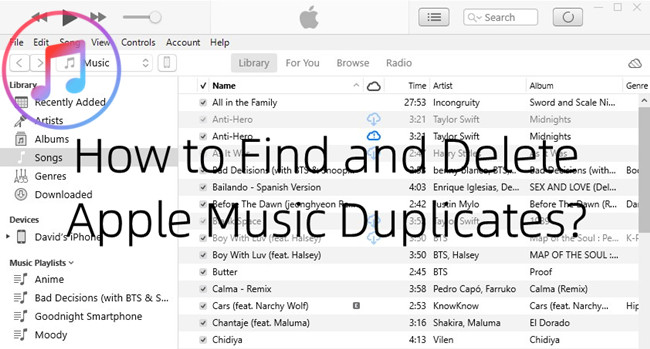 Managing a growing Apple Music library can lead to duplicate songs, causing clutter and confusion. Whether it's importing music from various sources or syncing with multiple devices, duplicate tracks can be a common issue. To maintain an organized and enjoyable music library, it's crucial to check and remove duplicates.
In this post, we'll discuss the situations where duplicates can arise on Apple Music and provide simple steps to efficiently identify and eliminate them. Follow these guidelines to ensure a streamlined and seamless listening experience in your Apple Music collection.
Part 1.

How to Check Duplicates on Apple Music

You can check for and remove duplicates using the iTunes desktop app for either Windows PC or Mac computer. Here's how to check duplicates in iTunes:
Find Duplicates on iTunes:
Open the iTunes software on PC or Mac.
Select the "Music" option from the Apple Music contents menu to go to the Music section.

Note: You can also fund duplicates for movies, TV shows, and audiobooks.

Now head to the place where you want to check for duplicates, such as an existing playlist under Music Playlists, or the entire Artists, Albums, Songs or Genres section under Library.
Once selected, you can choose to find every instance of that item in your library. Choose File > Library > Show Duplicate Items.

Or you can choose to find the exact duplicates. Hold down the Shift key, then choose File > Library > Show Exact Duplicate Items.

iTunes will display a list of potential duplicate songs. You can choose to display them in All or Same Album.
Part 2.

How to Remove Duplicates on Apple Music

After you find duplicate items, you review the list of duplicate songs with similar names, artists, and album information and delete them if you want to declutter your library.
Delete duplicates from iTunes music library:
When you review the list of duplicate songs in iTunes, select the duplicate songs you want to remove. You can use the Shift key (PC) or Command key (mac) to select multiple songs at once to remove.
Once selected, right-click on the selected duplicate songs and choose "Delete from Library" to remove them.

iTunes will ask if you want to delete these songs from your iCloud Music Library, choose "Delete songs" to confirm.
Once you have removed the duplicates, click Done to close the "Displaying duplicates" window.
Part 3.

How to Add Duplicates on Apple Music

Bases on preferences, you may want to add duplicate songs to your music library or existing playlists to improve your listening experience. For example, if you find some specific songs are less often played when the shuffle mode is enabled for a playlist, you can add the duplicates to make sure they'll be more often played.
Add duplicates to iTunes playlist:
Ensure that the songs you want to add as duplicates are located in your iTunes library. If not, you may need to repeat some steps to add them from the Apple Music catalog or import from the File Explorer (PC) or Finder (Mac).
To add the songs from Apple Music catalog, use the search bar at the top right corner of the window and browse through Apple Music (All Apple Music), then right-click on the song > Add to Library/Playlist.

To add them from local, select File > Library > Add File/Folder to Library, then select and open the files or folder containing them.
Locate the songs in your music library that you want to duplicate. You can use the search bar to browse through your library (in Library).
Once you have found the songs you want to duplicate, click on the Ctrl key (PC) or Command key (Mac) to select multiple songs.
Add the songs to the playlist where you want to create duplicates. Right-click on the songs > Add to Playlist.
Repeat some steps to add them again to the playlist. iTunes will ask if you'd like to add the duplicates or skip them, choose "Add" to confirm.
iTunes will create duplicates of the selected songs, and they will appear as separate entries in the selected playlists.

You can now edit the information of the duplicate songs if you want to differentiate them from the original ones. Right-click on a duplicate and choose Song Info > Details, then you can modify the song title, artist, album, album artist, composer and other metadata to distinguish the duplicates. Or you can choose Song Info > Options, and modify the start and stop time of the duplicate.
Part 4.

How to Sync Updated Music Library across Apple Devices

You can now choose to sync your library with your Apple Music account and any connected devices. If you have subscription to either Apple Music or iCloud, these changes with your iCloud Music Library will be synced automatically across your devices where you're signed in with your Apple ID. If you don't have eligible subscription, you'll need to sync your library to your connected device manually.
Sync music library to iPhone/iPad/iPod:
Connect your device (iPhone, iPad, iPod) to your PC or Mac using a USB cable.
Open the iTunes software and wait for your device to appear in the upper-left corner of the iTunes window (next to Apple Music contents menu).
Click on the device icon.
Select the Music section in the sidebar.
Select the "Sync Music" option, and then "Entire music library" to sync all your music or "Selected artists, albums, genres, and playlists" to sync specific items you updated.

Click "Apply" to start the syncing of your music library.
Click "Done" after the syncing is done.
Go to the "Library" tab under your device's name, and navigate to the item you updated. The item should now reflect the changes you made in iTunes, and the duplicates should be removed.
Part 5.

How to Convert and Download Apple Music to MP3

As iTunes converter also supports the in-app converter, Apple Music users can choose to convert their iTunes purchases to MP3 by selecting the purchased item and going to File > Convert > Create MP3 Version. Once converted, the MP3 version will be added to your music library as duplicates and displayed right under the original item.

However, items from Apple Music catalog are protected in Digital Rights Management (DRM) and are not supported by the in-app converter. If you want to convert your Apple Music songs to a commonly-used file format, such as MP3, WAV, AAC (unprotected), or FLAC, you'll need a conversion tool called ViWizard Audio Converter.

ViWizard Audio Converter is designed for iTunes users to convert and download any Apple Music songs, iTunes music, files, audiobooks, podcasts and Audible audiobooks for offline use. You just need to select Apple Music songs and adjust the output format, within one click the conversion will start and you'll get the files you want.

Key Features of ViWizard Audio Converter
Free Trial
Free Trial
* Security verified. 5, 481,347 people have downloaded it.
Convert songs, albums, and playlists from Apple Music to MP3
Remove DRM protection from Apple Music, iTunes, and Audible
Save the converted audios with the original quality and ID3 tags
Support the conversion of up to 100 audio formats to others