When encountered with some great songs in Apple Music and would click or tap the Love button to marked them as loved, strange thing is that it seems impossible for how to see or find them, no matter on which platforms nor devices.
This task of how to see loved songs on Apple Music can be hard to finish -unless Apple Music tells us where to look and tap. However, we still provide some tricks for how to keep and find loved songs on Apple Music across platforms and devices.
Part 1. Why Is Hard to Find Loved Songs on Apple Music?
First thing to be cleared is that unlike other streaming music such as Spotify, the Love button in Apple Music just helps improve recommendations based on what is marked with it but not for creating an accessible list with all Apple Music's loved songs.
So the Love button is for Apple Music's recommendation in the "For You" tab that discovers users' next favorite, further for downloading them to listen offline with subscription.
Yes, this should start to make sense of how Like button in Apple Music works when it comes to real. However, it's not that late because some of the loved songs that is streamed most can be found and viewed in Apple Music's latest feature - Apple Music Replay on web or app for iPhone.
Part 2. How to Find Loved Songs on Apple Music (Desktop/iPhone)
Now since some or most of loved songs are found on Apple Music Replay, it's time to start to create a brand-new playlist with these Apple Music loved songs.
The suggestion above should make sense for how to find loved songs on apple music iPhone, but if the loved songs are added to Apple Music library, there's one more solution that can save more efforts to find loved songs on Apple Music for iPhone or desktop - creating a Smart Playlist in iTunes instead.
Thing You'll Need: Smart Playlist in iTunes
Smart Playlist is smart enough to organize songs in Apple Music Library to playlists based on criteria you specify. For loved songs, you can create a Smart Playlist that includes your most loved songs.
Note: This option only functions after your loved songs are added and marked as Loved in the iTunes Library.
Use iTunes to Create a Smart Playlist with Loved Songs
1. Open iTunes on desktop.
2. At the top menu, click File and then New. Select Smart Playlist.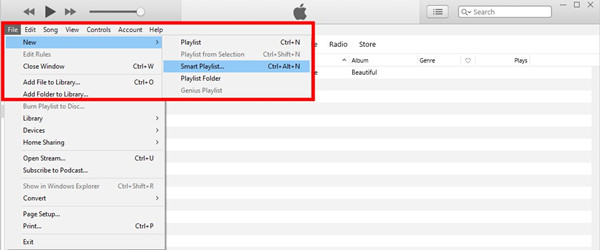 3. Set the first rule to click the first pop-up menu, choose an option or change the option to "Love".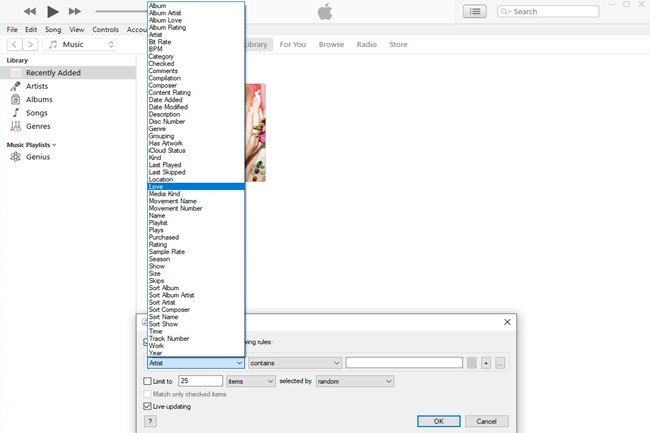 4. If needed, complete the rule using the other available menus or fields.
Tips: For example, to include your most loved songs of the rules of "Year": Year is 2022, Year is greater than 2022, Year is less than 2022 or Year is in the range from 2000 to 2022.
From here just make full use of the depending rules to keep it or leave it.
5. Once the options and rules are set, click the OK button.
Note: To seek more helps, see and click on the question mark icon at the bottom of the window or check our articles for more: How to Make Apple Music Smart Playlist & Share with Friends.
Now the Loved playlist with all your loved songs is created. Click the Shuffle All button at the right side of the playlist can start streaming.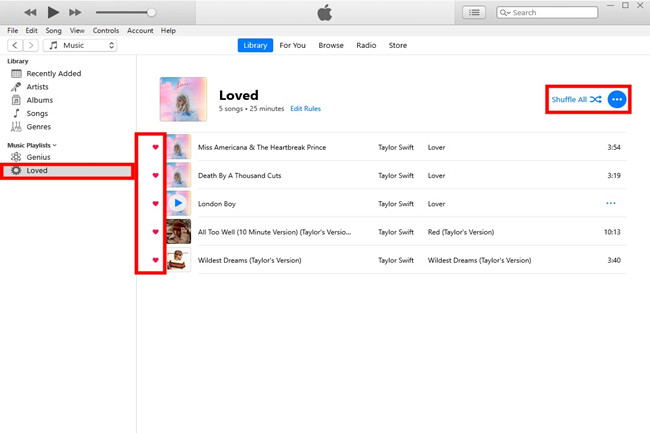 Note: If songs you have marked loved don't appear in the new Smart Playlist, check if you have added them to your Apple Music library.
For how to find loved songs on apple music for iPhone with this method, there's one more step to sync the created Smart Playlist with loved songs to iPhone as expected. Just pick up your iPhone and find the "Loved Playlist" and tap on it and then tap the Cloud icon below to sync. It's all that simple!
Exclusive: How to Download and Keep All Your Loved Songs
The method for finding loved songs in iTunes makes senses, but there is one more precaution. Once your Apple Music subscription is expired, the playlist with loved songs would disappear.
In Apple Music, loving and disliking songs work to tell Apple Music subscription service for what kind of music is the jam, while it doesn't seem so convenient for keeping.
This time is the Apple Music's subscription service to blame. But there's one more perfect method to keep all the loved songs forever even the subscription is expired - using ViWizard Audio Converter to download music songs.
Thing You'll Need: ViWizard Audio Converter
ViWizard Audio Converter is a professional tool that enable users to keep their loved songs from Apple Music to whatever devices expected because this powerful tool can download and convert Apple Music tracks into compatible formats with iTunes, including MP3, AAC and WAV for keeping. Downloading and converting Loved songs from iTunes as local files, then uploading them to iTunes for keeping!

Key Features of ViWizard Apple Music Converter
Support to download and convert Apple Music with lossless quality
Convert Apple Music to MP3, FLAC, M4A, M4B, WAV, AAC losslessly
Remove the built-in protection from Apple Music, iTunes, and Audible
Handle the conversion of audios in batch at the faster speed of 30×