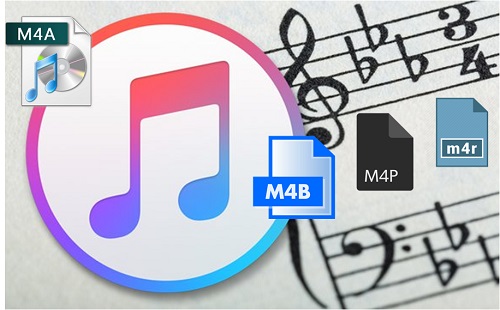 As an Apple product user, we mean iTunes here, you must have seen or heard of the audio formats such as M4A, M4B, M4P or M4R. Yes, they are all widely adopted by Apple for use in its iTunes Music Store. However, do you really know the differences of those formats? As a matter of fact, even for some senior iTunes users, it's difficult to tell the actual differences among those similar Apple audios. Therefore, to solve your confusion, here we will take a closer look at the M4A, M4B, M4P and M4R file formats so that you'll get a better and clearer understanding of the differences among them. At the same time, if you are in need of converting the Apple M4A, M4B or M4P audios to MP3 or other formats, you can continue reading as we'll introduce a simple and quick solution for such purpose at the end of the article as well.
Part 1. What's M4A, M4B, M4P and M4R
First of all, let's elaborate on M4P, M4B, M4A and M4R. Generally speaking, these file extensions are all related to the MP4 format (or MPEG-4), and are basically audio versions of the MP4 codec. In specific, they are encoded and used for different types of audios in iTunes. The following will explain those formats in details:
M4A - It's a file extension for an audio file encoded with Advanced Audio Coding (AAC) in order to reduce the size of the file, while some Some M4A files may instead use the Apple Lossless Audio Codec (ALAC). M4A was generally intended as the successor to MP3, which had not been originally designed for audio only but was layer III in an MPEG 1 or 2 video files. M4A stands for MPEG 4 Audio. They're most often found in iTunes Store as the format of songs that are DRM-free. Besides, as the MPEG-4 format is used for both M4A and MP4 files, any video player that plays MP4 should also play the M4A, including iTunes, QuickTime, Windows Media Player, VLC and many more.
M4B - One main difference between M4A and M4B format is that the M4B file is an MPEG-4 Audio Book file that supports metadata for chapters and bookmarking, allowing an MP3 player to return exactly to the last listening point. It most commonly uses AAC (Advanced Audio Codec) and popular for audiobooks and podcasts in iTunes. The other difference is that M4B audiobooks are always protected with Apple's FairPlay DRM, due to which you can only listen to those DRM-ed M4B files on authorized iPods, iPhone, iPad and computers.
M4P - M4P is Apple's version of the M4A format that includes Apple FairPlay DRM protection. Currently it's mostly used for songs sold in iTunes and Apple Music Stores. As for these protected M4P songs, only selected devices that are authorized with Apple ID could play them well. Other MP3 players such as iPod nano, shuffle, walkman, iRiver, Zune are not supported yet.
M4R - A file with the M4R extension is a ringtone file of iTunes. The custom iTunes M4R ringtone is actually just .M4A format that has been renamed to .M4R in order to differentiate their usages only.
Part 2. M4A vs M4B vs M4P: What's the Difference
To make it easier to understand, here's the head-to-head comparison of M4A, M4B and M4P file formats.
| | | | |
| --- | --- | --- | --- |
| | M4A | M4B | M4P |
| Encoding | AAC, ALAC | AAC | AAC |
| Usage | DRM-free iTunes Songs | iTunes Audiobooks, Podcasts | DRM-protected iTunes Songs |
| Copyprotection | No | Yes | Yes |
| Compatibility | Almost All Media Players | iTunes, QT, Apple iPhone, iPad, iPod Touch | iTunes, QT, Apple iPhone, iPad, iPod Touch, Android |
Part 3. Best Tool to Convert Apple M4A/M4B/M4P/M4R to MP3
As you now know more about those Apple formats, especially the M4B and M4P files with DRM copyright protection, you may want to break the DRM limit from those songs or audiobooks for good so that you can enjoy the audio with as many players as you like. If so, you are highly recommended to try ViWizard DRM Audio Converter, the most comprehensive DRM removal and audio converting tool that can help you completely remove DRM lock from iTunes M4P songs, M4B audiobooks and convert them to DRM-free MP3, WAV, AAC, FLAC and others with lossless quality. In addition, it also supports converting non-DRM M4A, M4R files to any other popular format while preserving the original ID3 tags. For more details, this guide will help: How to Remove DRM from iTunes Music and Audiobooks.

Dave Henry is a long-time ViWizarder who loves all technological things. In his free time, he likes reading about science and technology, writing for his blog, watching sci-fi films, and meditating.