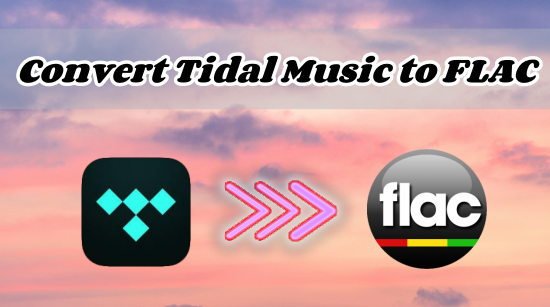 In the world of digital music, there are situations where users crave the utmost audio quality, and that's where FLAC files come into play. If you value pristine sound reproduction, FLAC is the best choice. However, finding a reliable source of high-fidelity music in FLAC format can be challenging. This is where Tidal, the popular music streaming platform, shines.
Tidal caters to music enthusiasts by providing access to a vast library of high-fidelity music, including the FLAC streaming. With Tidal, you can dive into the immersive world of FLAC and enjoy your favorite music tracks with unparalleled audio quality. If you're interested in obtaining FLAC files, let's get started.
Part 1. What Is FLAC & HiFi?
For starters, we would like to introduce FLAC and Tidal's HiFi breily, which can help you have a better understand of their relationships.
What Is Free Lossless Audio Code (FLAC)?
FLAC (Free Lossless Audio Codec) is a high-quality audio format that provides lossless compression, meaning it retains the original quality without any loss of data or fidelity.
What's High Fidelity (HiFi)?
Tidal offers 3 plans for users to discover and explore Tidal's music service - TIDAL Free, TIDAL HiFi, and TIDAL HiFi Plus.
Tidal free users can stream music in Normal, or High. Tidal HiFi subscribers can stream music in Normal, High, and HiFi. Tidal HiFi Plus subscribers can stream music in Normal, High, HiFi, and Master (MQA). TIDAL's HiFi subscription devices music up to CD quality - FLAC-based 16-bit/44.1 kHz and Tidal HiFi Plus delivers up to MQA - 24-bit/352.8 kHz.
How to Stream FLAC on TIDAL?
Tidal offer FLAC streaming at CD-quality as part of its HiFi subscription plan. If you want to stream Tidal music in FLAC audio format, you need to pay the monthly subscription fee for $9.99, and also set the streaming quality to HiFi.
Part 2. How to Download FLAC from Tidal
You may want the FLAC format because it can be supported by various media players and devices where TIDAL is not available. However, when trying to download FLAC from Tidal, you'll find it the main frustration. The downloaded music can't be used outside of the Tidal platform. Moreover, HiFi or HiFi Plus members can only download music to your mobile device for offline playback, and it's not in FLAC.
How to Download Lossless FLAC from TIDAL?
You'll need a music tool called ViWizard Tidal Music Converter to extract the FLAC files from the Tidal desktop client first. Then the FLACs can be transferrable to a supported device.
Tool Required: ViWizard Tidal Music Converter
ViWizard Tidal Music Converter is a professional music downloader app designed for all music members to download songs, playlists, albums, artists for offline use. You can convert and download music tracks to MP3, M4A, M4B, WAV, AAC, and FLAC.
When downloading Tidal to FLAC files, ViWizard will embed the lossless audio and full ID3 tags to the downloaded music. You'll find the metadata such as the title artist, album, cover, genres, track number and more will be kept. The conversion speed is fast, within one click the conversion can start. You can then wait for the conversion to finish and the FLAC files will be stored on the hard disk on Windows PC or Mac.

Key Features of ViWizard Tidal Music Converter
Download any Tidal content, including songs, albums, playlists, and artists
Support exporting Tidal music to MP3, AAC, FLAC, WAV, M4A, and M4B
Preserve a whole set of ID3 tag information in the downloaded Tidal songs
Handle the conversion of Tidal music up to 5× faster speed and in batch
Pick either the Windows or Mac version of ViWizard Tidal Music Converter. Also make sure the computer is running the Tidal desktop app to access original music tracks.
Step 1

Select and add Tidal music tracks

To select and add Tidal music tracks to download, please make sure to log in to Tidal desktop app with an account. Open the ViWizard Tidal Music Converter, and then agree to launch or relaunch the desktop app. Now head over to the music tracks to drag and drop them to ViWizard's main interface.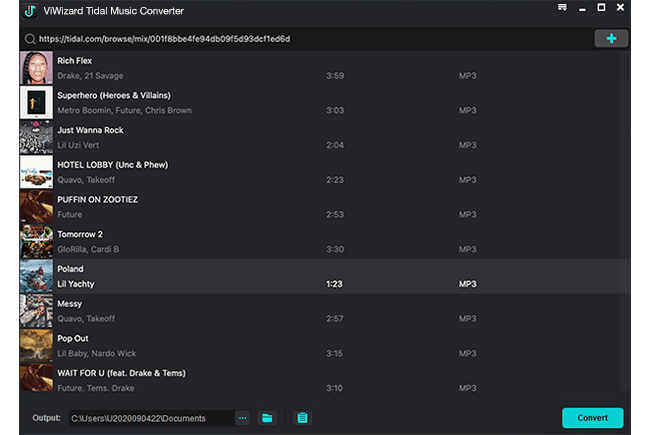 Step 2

Set file format as FLAC

Set the output format as FLAC in the app menu. Click on the menu icon in the upper-right corner > Preferences > Convert > Format, open the drop-down Format menu and select FLAC. Click on the OK button to save.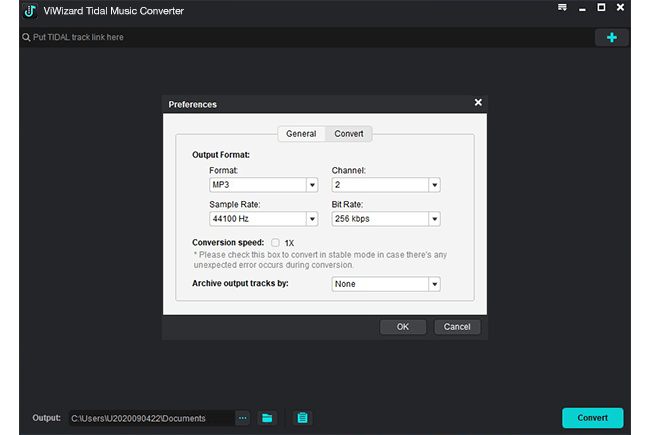 Step 3

Convert and download FLAC files

Back to the main interface of ViWizard, and click on the Convert button. ViWizard will start and finish the conversion at a faster speed. Once the music tracks are downloaded, head over to the Open button and check to see the FLAC files.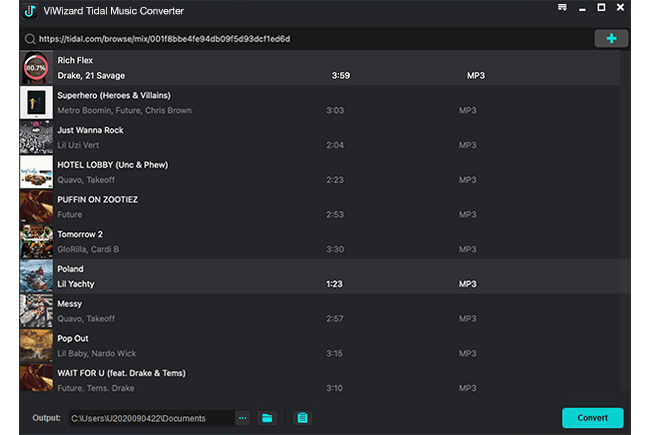 Conclusion
Although Tidal does not provide an official option to download its FLAC format, music members can benefit from the exclusives in this post called ViWizard Tidal Music Converter to achieve the same outcome. By converting and downloading Tidal music in FLAC, you can archive and enjoy your favorite music in its original, uncompressed form.