WAV format is known for uncompressed audio quality and are one of the popular options for audiophiles and music professionals. As a result, many TIDAL users seek ways to convert TIDAL music to WAV for devices or software that has WAV format, such as a CD burring software.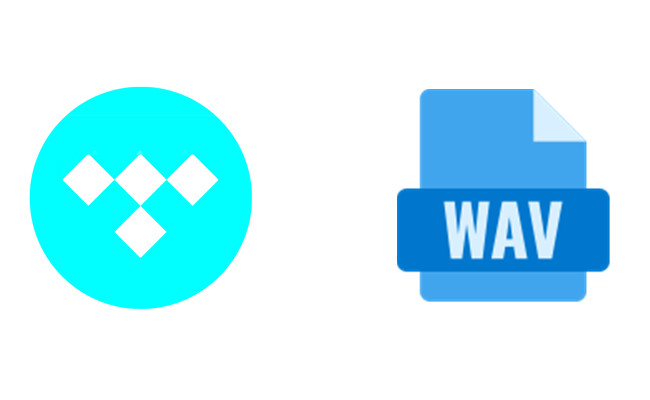 To make this process easier for Tidal users, we'd like to introduce some information about TIDAL and WAV and how users can convert and download TIDAL to WAV even without subscription required.
Part 1.

What Is TIDAL & WAV?

Before introducing the alternatives to downloading and converting TIDAL to WAV, we'll start with introducing TIDAL and WAV as precaution.
What is TIDAL?
TIDAL is a popular music streaming service that provides access to a vast library of various contents like songs, playlists, albums, artists and music videos. It offers high-quality audio streaming, including lossless formats such as FLAC (Free Lossless Audio Codec).
What Is WAV (audio file format)?
WAV (Waveform Audio File Format) is an audio file format developed by Microsoft and IBM and is a standard container format for storing uncompressed audio data. Files in WAV format are known for their high audio quality and fidelity, as they preserve the original audio data without any compression or loss of information. WAV files can store audio in various bit depths and sample rates. You can make WAV for professional audio production and playback.
Part 2.

TIDAL to WAV: What Are the Benefits?

Downloading music in WAV format from TIDAL can offer several benefits for users. WAV is an uncompressed audio format, which means it retains the highest quality and fidelity of the original recording. It is often preferred by audiophiles and music professionals due to its lossless nature and ability to preserve all the details and nuances of the music.

The WAV format is also supported by devices or software that hasn't integrate with the TIDAL app, such as some DJ software, video editing software and more. It's a great idea that TIDAL users want to download their music collections to WAV so the downloaded Tidal music files in WAV can be stored on the devices for personal use.

While TIDAL does not provide a direct option to download music in WAV format, users will have to use an alternative method to convert TIDAL to WAV. Go ahead.
Part 3.

TIDAL to WAV: What You Need

It can be challenging to convert TIDAL to WAV as TIDAL's offline mode is not available on desktop, where users deal with the WAV file format. What's more, the downloaded files are protected in Digital Rights Management (DRM) and are restricted to the TIDAL platform.

In most cases, converting TIDAL to WAV would require a software or online converter that supports TIDAL to convert and download music tracks from TIDAL to WAV. Here we'd like to introduce the best solution to use ViWizard Tidal Music Converter, which even don't require TIDAL HiFi or HiFi Plus subscription - a free account can help download TIDAL to WAV with high sound quality. If you want to download TIDAL music tracks to WAV with HiFi or MQA sound quality, you'll need an eligible subscription.
Best TIDAL to WAV Downloader - ViWizard Tidal Music Converter
ViWizard Tidal Music Converter is the best music solution for TIDAL users to convert and download music tracks to some popular file formats, including WAV. Added with amazing features, it allows Tidal HiFi, HiFi Plus and free users to select and add music tracks from the TIDAL desktop app to download. After that, users will need to follow the guide to customize some output parameters based on preferences such as output format, bit rate, bit depth, channel and sample rate within the software.
Once the WAV is set as the output format, within one click the conversion will start to embed lossless audio and full ID3 tags to the downloaded WAV files. And the files will be stored on the hard disk on the computer for personal use.

Key Features of ViWizard Tidal Music Converter
Free Trial
Free Trial
* Security verified. 5, 481,347 people have downloaded it.
Download any Tidal content, including songs, albums, playlists, and artists
Support exporting Tidal music to MP3, AAC, FLAC, WAV, M4A, and M4B
Preserve a whole set of ID3 tag information in the downloaded Tidal songs
Handle the conversion of Tidal music up to 5× faster speed and in batch
In addition to WAV, ViWizard also has the MP3, AAC, M4A, M4B, and FLAC output format support. ViWizard Tidal Music Converter is available on both Mac computers and Windows PC running the TIDAL desktop app. Once the programs are downloaded and installed, follow 3 steps can help convert and download Tidal music tracks to WAV.
Tutorial: How to convert and download TIDAL to WAV without subscriptions
Step 1

Select Tidal music tracks

Launch the ViWizard Tidal Music Converter and then choose to launch or relaunch the Tidal desktop app to provide the access to the music collection and Tidal's catalog. To select music tracks, just drag and drop them to the main interface of ViWizard. ViWizard will display the list of the added music tracks.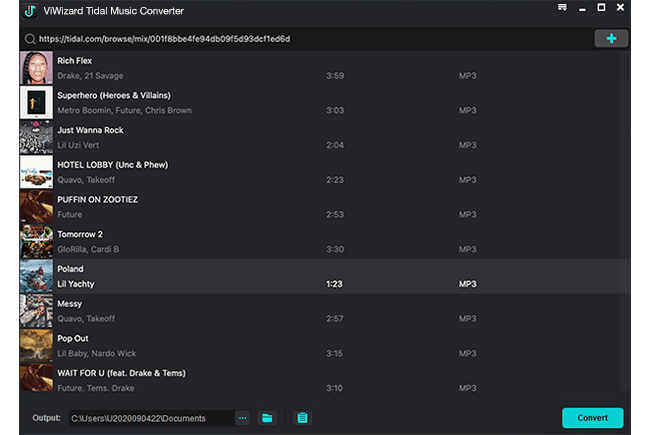 Step 2

Convert Tidal music tracks to WAV

To convert Tidal music tracks to WAV, set the output format as WAV. Click the menu icon at the top right of the window and select Preferences. Go to the Convert tab and locate the Output format option. Click on the chevron down icon next to Output format and select WAV in the context menu. You can also set other output parameters like Bit rate, Sample rate and Channel. Once set, click OK to save.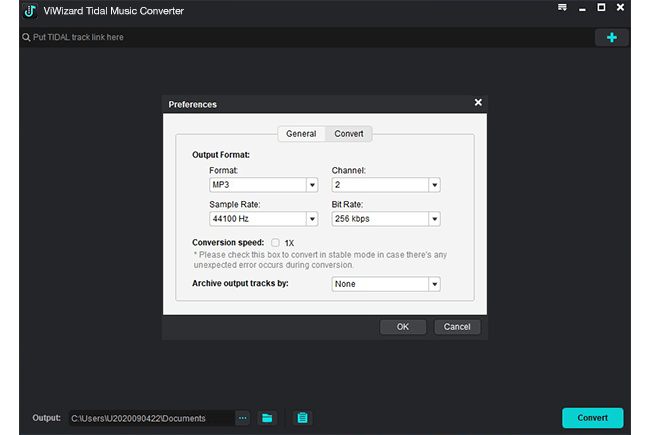 Step 3

Download Tidal music tracks to WAV

You'll be back to the main interface of ViWizard. Click on the Convert button to start the conversion. Wait until the conversion is complete, and click on the Open button to navigate to all the WAV files that the output folder contain. You now have the access to the WAV files as desired offline.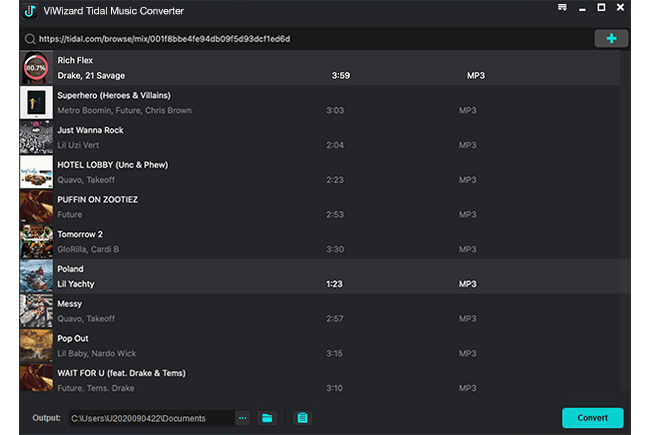 Conclusion
Whether you are a HiFi, HiFi Plus, or fee user of TIDAL, ViWizard Tidal Music Converter is the best solution for you to download Tidal music tracks to WAV losslessly. It will work on your Windows PC or Mac computer as expected. Just click on the Download and try it now.