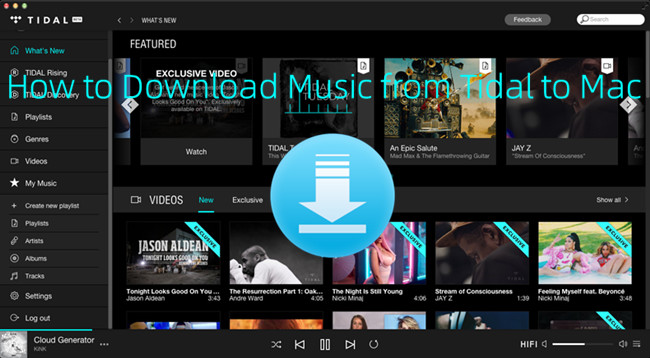 Are you a Mac user with a passion for high-fidelity music and an extensive library of favorite tunes on Tidal? While Tidal's Offline Mode provides a seamless experience for mobile users, it's essential to note that this coveted feature is exclusively available on the mobile apps for iOS and Android. As a Mac user, you'll require alternative methods to enjoy your favorite tracks from Tidal offline.
In this guide, we'll walk you through the most effective and user-friendly ways to download Tidal music on your Mac, allowing you to savor high-quality sound and enjoy your cherished playlists.
Part 1.

Can You Download Tidal Music on Mac?

Tidal has introduced offline download support, but only for smartphones and tablets, such as iOS and Android devices. This means even Mac users can download the official Tidal app for Mac and has an eligible subscription (either HiFi or HiFi Plus), it's frustrating that there's no Download option for Tidal music. You can only enjoy the online streaming of High, HiFi, or MQA quality.
Can I download Tidal music on my Mac for free?
Fortunately, even without official support for Mac offline downloads, there're alternative ways for both Mac users and those on Tidal Free to download Tidal Music for offline listening, and it's good! A Tidal Music downloader for Mac called ViWizard Tidal Music Downloader ensures the ability to download music from the Mac version of the Tidal desktop app. Whether you have the membership or not, you can always download and save your favorite music to your Mac for playback.
If you want to download Tidal Music for offline listening, ViWizard Tidal Music Converter emerges as the best music solution, as it allows you to download any tracks, playlists, albums, and artists to playable music files. It supports the downloading and conversion to MP3, M4A, M4B, WAV, AAC, and FLAC. Based on your subscription plan, lossless audio will be kept with the downloaded for seamless listening experience. Meanwhile, all the necessary metadata such as title, artist, album name and more will be embedded to the downloads.

Key Features of ViWizard Tidal Music Converter
Free Trial
Free Trial
* Security verified. 5, 481,347 people have downloaded it.
Download any Tidal content, including songs, albums, playlists, and artists
Support exporting Tidal music to MP3, AAC, FLAC, WAV, M4A, and M4B
Preserve a whole set of ID3 tag information in the downloaded Tidal songs
Handle the conversion of Tidal music up to 5× faster speed and in batch
Part 2.

How to Download Tidal Music from Tidal to Mac [Tutorial]

Before getting started, make sure to the Mac version of both Tidal desktop app and ViWizard Tidal Music Downloader.
Step 1

Select Tidal music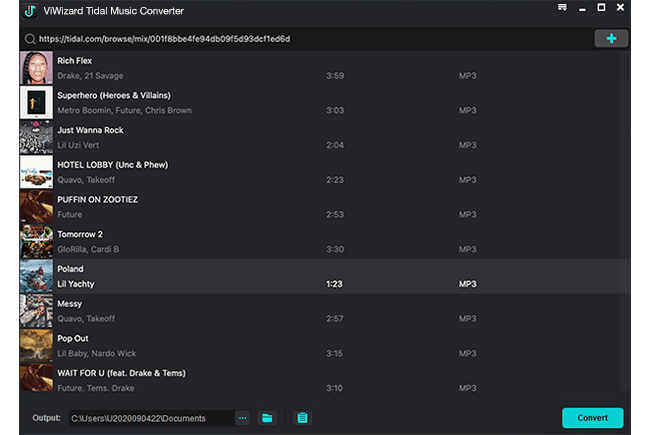 Launch ViWizard Tidal Music Downloader, and launches or relaunches the Tidal desktop app. Make sure a Tidal account is logged in to access the music collection and Tidal's music catalog. Now drag and drop the tracks to ViWizard's main interface to add them to download.
Step 2

Adjust audio format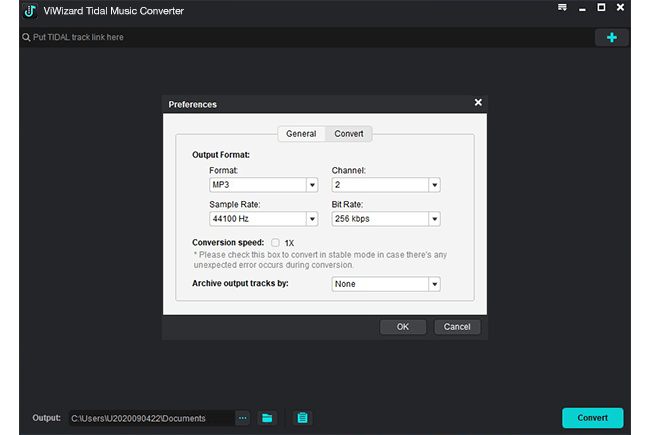 To adjust the audio format, click the menu icon at the top-right and select Preferences from the context menu. Go to the Convert tab, from there change the current format to a desired one, such as MP3, M4A, M4B, WAV, AAC, or FLAC. After that, click OK to save the change.
Step 3

Download and convert Tidal music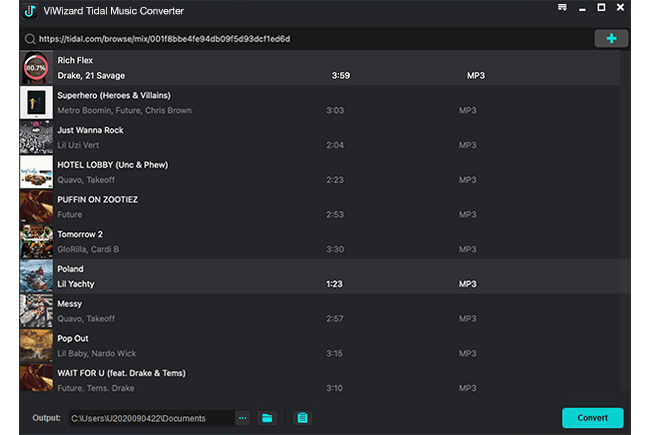 To start the downloading and conversion of the music tracks, click on the Convert button. The speed is super faster and the music tracks are downloaded in batch. Once done, open the converted menu and check for all the tracks or specific ones.
Part 3.

How to Transfer Downloaded Tidal Music to iPhone/iPad/iPod

You can transfer your Mac downloads to other devices such as your iPhone, iPad, and iPod and access them in the Music app for offline playback. Here's the step-by-step guide.
To transfer your Tidal downloads to iPhone/iPad/iPod:
Launch the Music app on your Mac.
Upload your Tidal downloads to the Music app. In the Music app, go to "File" in the menu bar, and select "Import" from the context menu.

In the Finder app that appears, navigate to the Tidal downloads in either .aiff, alac, .mp3, or .wav, and select the music files to open.
Once uploaded, connect your iPhone, iPad, or iPod to the computer via a USB cable. Your connected device will appear in the sidebar within the Music app.
Select the device to go into its settings.
Go to the Music tab, and check Sync music onto [Your device's name] > Entire music library or Selected artists, albums, genres, and playlists to select the content type you want to sync.

Click Apply, and wait until the Music app finish the syncing of the selected music.
Once done, click Done.
To access your Tidal downloads on iPhone/iPad/iPod:
Launch the Music app on your iPhone or iPad.
Go to "Your Library".
Go to the Downloaded section.
Under the downloaded section, your Tidal downloads will appear for offline playback.
Part 4.

FAQs about Downloading Tidal Music on Mac

Q1.Can I download music from Mac for offline listening on my mac?

A1.Currently Tidal's Offline Mode is only available for the mobile app. However, there are various third-party Tidal music downloader to download Tidal music directly to your Mac. One of the most popular option is ViWizard Tidal Music Converter.

Q2.Is using third-party software to download Tidal music secure?

A2.Downloading Tidal music with a third-party software is actually recording the audio playing in the background from the Tidal desktop app. However, the Tidal downloads should be only for personal use.

Q3.Can I download Tidal music on my Mac for free?

A3.Downloading Tidal music by using ViWizard Tidal Music Converter does not require an active Tidal subscription. If you are on Tidal Free, you can download Tidal music to your Mac for free.

Q4.Can I access the downloaded Tidal music on multiple devices?

A4.Yes, after converting Tidal music to a commonly-used audio format, such as MP3, you can transfer and enjoy the downloaded tracks on various devices, including smartphones, tablets, and computers.

Q5.How long do the Tidal downloads stay offline?

A5.As long as you save and keep your Tidal downloads on your Mac, the downloaded songs will remain available for offline listening without a time limit.