How do you listen to music now? I believe most people are using streaming services to listen to music nowadays. Apple Music is one of the most downloaded streaming services. From Apple Music, users can stream over 90 million songs, albums, podcasts, and playlists easily. To improve users' listening experience, Apple Music always keeps releasing new features, like Spatial Audio and Dolby Atoms.
Apple Music now is also compatible with Android devices, but you need an Android smartphone or pad with Android 5.0 Lollipop or later, or a Chromebook that supports Android apps. If your Android device does not meet these criteria, then you will not be able to use the Apple Music app on it. But don't be sad, in this article, we would like to introduce the 5 best Android equivalent to Apple Music for you. Let's have a look now.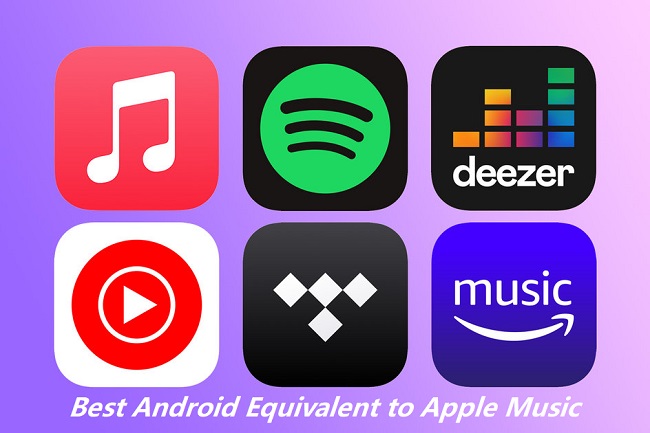 What Is the Android Alternative to Apple Music
Apple Music is excellent for streaming music from all over the world. But it has a limit on some Android devices. To improve the user experience of streaming music on your Android devices, here we will show you the 5 best Android music streaming apps.
1. Spotify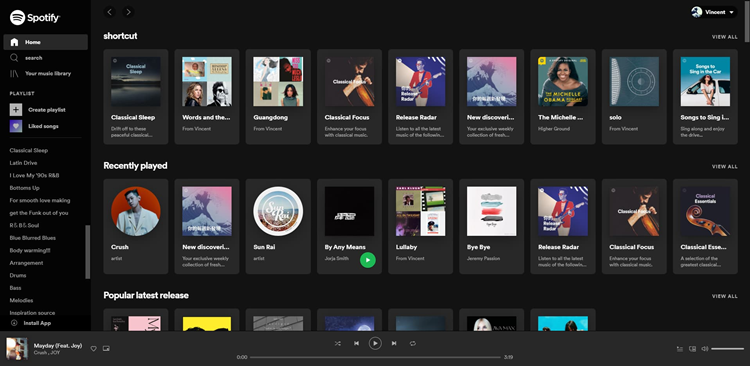 Spotify is one of the best music streaming services on Android devices. It has millions of songs, albums, and playlists from all over the world. And you can download the music you like for offline playing after you have subscribed to the premium plan.
Spotify has a huge library and millions of exclusive playlists and podcasts. The exclusive podcasts have contained a wide array of aspects which is attractive. Spotify pushes out a personalized playlist every week. The songs in the list are generated based on your usual listening habits, combined with big data algorithms. With this playlist, you can help to get better access to new music.
Price: $9.99 per/month
2. Tidal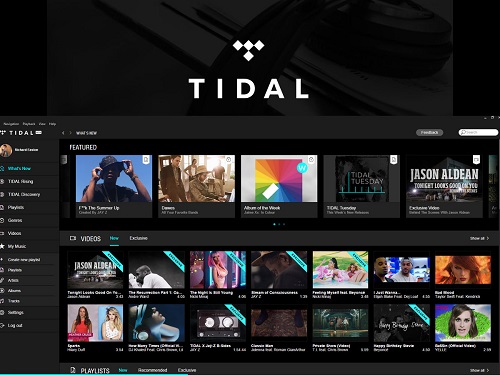 Tidal first joined the streaming music market in 2014. Tidal promised superior sound quality, music-focused content, and artist-friendly rewards, and it has delivered. Compare to other streaming services, it has offer optional Hi-Res Audio and long-form editorial pieces. In a word, it's a great choice for music lovers and editors.
It has a variety of listening options, including a new free streaming music plan. Free listening provides access to over 80 million songs as well as unlimited skips (the latter being unusual in the free streaming music space). Tidal HiFi Plan raises the sound quality to 1411kbps in the lossless FLAC format. You may also view lyrics while listening, see over 350,000 videos, listen offline, and no advertising. Tidal also has HiFi Plus, which includes all of the above capabilities as well as a large selection of higher-fidelity audio recordings that stream at an astonishing 9216kbps. It perfectly meets the needs of music enthusiasts for high sound quality.
HiFi Plan: $9.99/per month
HiFi Plus: $19.99/per month
3. Amazon Music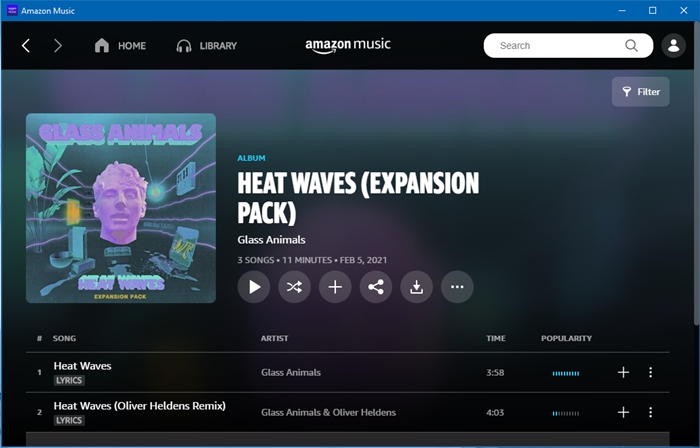 Amazon Music offers more than 90 million songs, albums, and podcasts as well. And it offers HD and Ultra HD audio. Amazon Music is a music streaming service released by Amazon; it has support for multiple Amazon devices, such as Amazon Echo. You can enjoy your Amazon Music on these Amazon devices easily.
Amazon Music also has offered a Prime plan for Amazon Prime members. Amazon Prime members can enjoy Amazon Prime Music free, but the library is smaller (only about 2 million songs). You can also enjoy ad-free listening, unlimited plays and offline playing. But if you want to enjoy the full library of Amazon Music, you can choose Amazon Music Unlimited which offers about 90 million pieces of music of high quality.
Amazon Prime Music: $7.99/per month
Amazon Music Unlimited: $9.99/per month
4. Deezer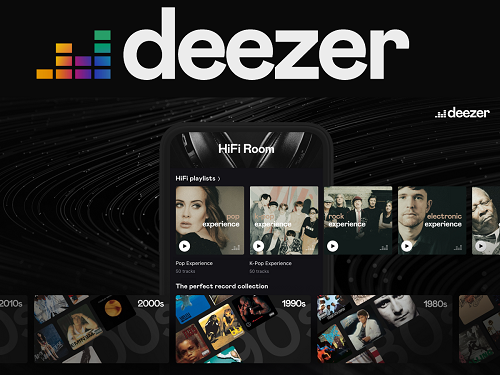 Deezer was launched by a French company and entered the mainstream market in 2016. Unlike other similar services, Deezer has chosen to go back to the traditional and has made the following aspects excellent, for example streaming music, live radio, podcasts, and exclusive video. And Deezer is compatible with multiple devices, you can enjoy Deezer music on a PC, a smartphone, a game console, a smartwatch and others.
Deezer's also has a large variety and suggestion categories, which are all worth exploring. Deezer allocates a segment of these to foreign rankings, containing top 100 music from countries such as the USA, Brazil, Mexico, and the United Kingdom. Fresh Picks of the Week features extensive compilations of the week's hottest current music, grouped into playlist categories. It enables the delivery of the world's music to your ears.
Price: $9.99/per month
5. YouTube Music

YouTube Music, a division of Google's entertainment division, distinguishes itself from competitors by integrating personalized playlists, search-by-lyrics features, official studio releases, and community contributions. YouTube Music has replaced Google Play Music as the company's exclusive music app. It's easy to access YouTube Music, you can use your browser to visit the web player or download the YouTube Music app on your desktop or smartphone.
The playlists that alter based on your location and time are incredible. Music songs stream in Low, Normal, and High audio quality levels, with bit rates of 48kbps AAC, 128kbps AAC, and 256kbps AAC, respectively. Premium users have access to high quality.
Price: $9.99 per/month
How to Play Apple Music on Any Android Devices with Ease
If you want to play Apple Music on your Android device without hassle, you should not miss this part. We have known that Apple Music is a streaming service. To protect the Apple Music content, most Apple Music audio files are in an encrypted M4P format which can't be played without its app. In order to play Apple Music on other devices, converting Apple Music to an open format is the key.
ViWizard Apple Music Converter is a professional Apple Music converter to enables Apple Music playable on any Android device. This program is able to convert Apple Music to MP3, WAV, AAC, FLAC, M4A and M4B with lossless quality. It can also convert audiobooks from iTunes and Audible. Users may change the sample rate, bit rate, channel, volume, and other characteristics of the output audio using the built-in options. All settings may be tailored to your requirements. When the conversion is complete, you can quickly transfer the converted Apple Music files to the device of your choice.

Key Features of ViWizard Apple Music Converter
Convert Apple Music to MP3, AAC, WAV, FLAC, etc.
Convert Audible and iTunes audiobooks to DRM-free audio format
Save all kinds of common audio files to other lossless audio formats
Customize and personalize the audio files according to your demand
Summary
In this article, we introduced 5 Android alternative to Apple Music to you. In terms of song libraries, Spotify and Amazon Music are good choices. Those with higher requirements for sound quality can go for Tidal, Deezer, or Amazon Music. If you're looking for an app that plays both video and audio, YouTube Music is suitable for you. Finally, don't forget that using ViWizard Audio Converter can help you play high-quality Apple music on any Android device.

Nick Orin is a review writer, software geek and Mac OS enthusiast. He spends all his free time in searching useful software and gadgets to share with others.