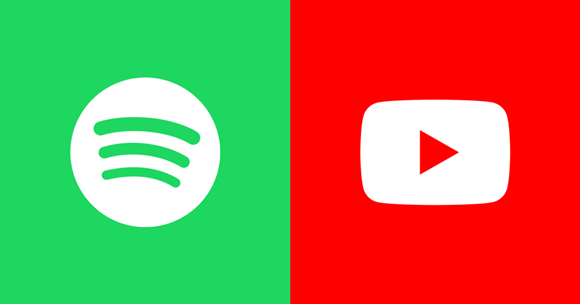 With the development of streaming music, more and more streaming music services emerge. However, ad the biggest name in streaming music, Spotify won a throne years ago. So far, more than 100 million users worldwide now pay for Spotify Premium. Globally, the number of subscribers on Spotify keeps growing.
While as the biggest name in streaming video, the strength of YouTube cannot be overestimated. If you're going to try and fight Spotify, you need more than great value, superior selection, and fancy new features — all of which the all-new YouTube Music has. So, Spotify vs YouTube, which service is the streaming king? We find out in this detailed comparison pitching Spotify vs YouTube Music. Let's get started.
YouTube Music vs Spotify 2019: Which is Best
1. Music Library
Spotify officially houses over 40 million tracks from a vast gamut of artists. Whether you're looking for Ariana Grande's latest album or the soundtrack from Harry Potter, Spotify won't let you down. Meanwhile, most of artists prefer to release their new tracks on Spotify in the first place.
As far, there is no accurate official number of tracks covered by YouTube. But given YouTube's close partnerships with labels, you certainly won't face issues with locating a particular track on YouTube Music. On top of that, YouTube is also home to thousands of non-label tracks which you won't find on any music streaming platform except for YouTube Music.
While Spotify won't make you disappointed as far as official songs are concerned, while YouTube Music should be dominant in the aspect of non-official music, especially non-label tracks, which you will be able to hear beyond what everyone else is tuning in to.
2. Music Discovery
Spotify is loaded with lots of daily recommendation, charts and special playlists. If you'd like to expand your library and discover new music, this is a good choice for you. Plus, Spotify hosts specific for moods and activities like workout playlists. That's not all. Spotify's algorithms curate special daily and weekly playlists for you.
YouTube Music's set of tools for discovery, in comparison, feels limited. There aren't a ton of playlists, nor do you have particular genres for moods or activities. There's a constantly updated mixtape based on your listening preferences. Other than that, YouTube Music doesn't offer much. YouTube Music can automatically download a mixtape of songs it thinks you might enjoy.
Compared with the music discovery, YouTube Music does have a few advantages. Spotify's sweeping catalog of playlists means it's the winner here. With Spotify, you have more control over what you'd like to listen.
3. Subscription Fees
Spotify's free tier lets you skip only a limited number of tracks per day, shows in-app advertisements, and you can't stream offline. The premium subscription costs $9.99/month. However, if you're a student, you only need to spend $4.99/month. There's also a family package which is priced at $14.99/month and allows six concurrent listeners.
YouTube Music's free plan is much less appealing and along with ads, requires you to have the screen constantly turned on. At $9.99/month, you can upgrade to YouTube Music Premium for an ad-free music streaming experience or spend $11.99/month instead to watch YouTube ad-free as well. The Premium's family subscription costs $15/month, and Students Plan costs $5/month.
Although both services offer the same premium pricing, Spotify comes out on top thanks to its excellent free plan. With the free account, you could listen to your favorites at easy compared to YouTube's free subscription.
4. Offline Downloads
Subscribing to the Premium Plan, you will have the right to download Spotify music and turn on Offline Mode on Spotify. But Spotify only has a device limit for downloads, which is 3 devices, each with a download limit of 3,333 songs, which is easy to remember and easy to hit for music addicts.
The service of offline download is only for partial premium subscribers. Under this service, you can enjoy music offline by downloading your favorite songs and videos to your mobile device. As a new feature called Smart Downloads, YouTube will automatically download up to 500 songs you've clicked the "like" button on.
When comparing the feature of downloading music, Spotify would take a larger advantage than YouTube. All Premium users on Spotify can easily to turn on the offline mode after downloading music in advance.
But that's not the end of the story. To break the limit, we only need a Spotify to MP3 downloader. Here we'll introduce the smartest Spotify music converter and the guide to convert Spotify music to MP3 so that you can listen to Spotify offline on any MP3 player and device without limit.
Comparison Table of Spotify and YouTube Music
| | | |
| --- | --- | --- |
| | Spotify | YouTube Music |
| Podcasts service | √ | × |
| Playlist Sharing | √ | × |
| User-Created Playlists | √ | × |
| Student plan | $4.99 with Hulu | × |
| Offline download | Yes | Premium (Partial) |
| Audio quality | Up to 320kbps | Up to 256kbps |
| Availability | 60 countries | 17 countries |
| Supported devices | Web, Android, iOS, Linux, Windows, MacOS | Web, iOS, Android, Windows Phone, Chrome OS |
Extra Tips: Download Music from Spotify to MP3
Although the service of downloading Spotify music for offline playback is available for each premium subscriber, there still exist some format limitations on the playing of Offline Spotify music tracks. For example, you are not allowed to listen to Spotify on the portable devices without the Spotify app. Here ViWizard Spotify Music Converter is suitable for you to solve the issue.

ViWizard Spotify Music Converter Key Features
Download Spotify contents like songs, albums and others with free account
Convert Spotify music to plain formats including MP3, AAC, FLAC, WAV, etc.
Simple and innovative user interface and fast and stable conversion speed
Highly compatible with the latest operating system of Mac and Windows
Step 1. Open ViWizard Spotify Music Converter and it will load the Spotify app automatically. Then navigate to your music library on Spotify to select one you want to save and add it to the downloading window of ViWizard by drag-and-drop.
Step 2. The next step is to configure the output audio format. There are several plain formats including MP3, FLAC, AAC, M4A, WAV, and M4B. You could set any one of these as the output audio format. Next, continue to adjust the bit rate, sample rate, and audio channel.
Step 3. After all the setting is well, you could click the 'Convert' button to download Spotify music and then ViWizard will move DRM-free Spotify music to your computer. At the same time, you could go to the 'Converted' list to browse your downloaded Spotify music.
After the downloading and conversion of Spotify music, you can also transfer Spotify music to YouTube for listening. Or you could copy your converted Spotify music to any other streaming music services and play the converted Spotify tracks on any MP3 player offline.