Hi all, recently planned to travel around all over the world by plane. How can I listen to Spotify when my phone or other portable devices all go into airplane mode? Does Spotify work in airplane mode? Whether there is any method to play Spotify music when my phone is in airplane mode? I would love your help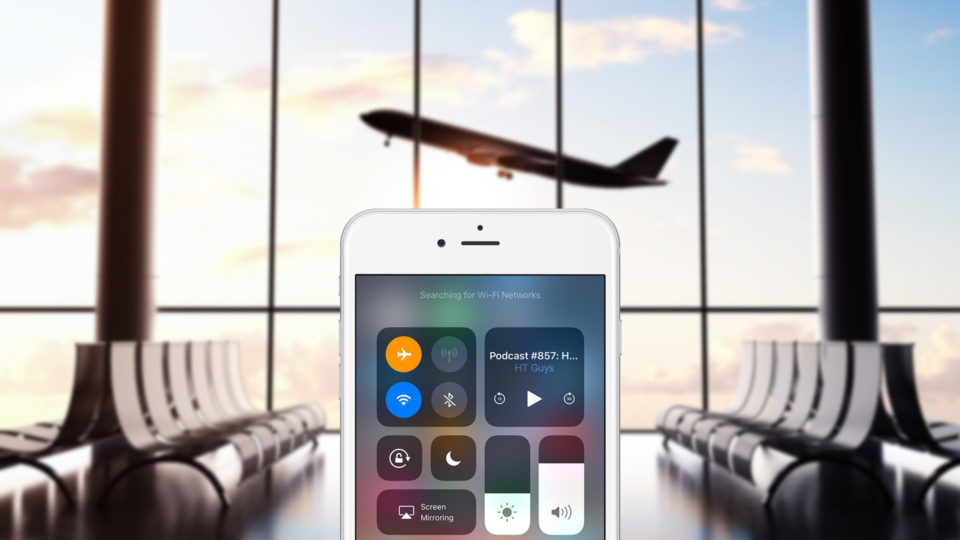 Spotify has users all over the world, so it is not surprising that some users would encounter the problem above. Airplane mode is a setting available on the smartphone and other portable computers when activated, suspends radio-frequency signal transmission by the device, thereby disabling Bluetooth, telephony, and Wi-Fi. And the mode is common in flight.
Airplane mode would interrupt the playback of Spotify online, but you can download music from Spotify to your device in advance. Then it won't be problem if we go somewhere without WiFi connection or our device turns on airplane mode. We can still listen to music from Spotify. Here are two methods to enable you to listen to Spotify in airplane mode.
Part 1.

FAQs about Spotify's Airplane Mode

Q1.Does Spotify Premium Work on Airplane Mode?

A1.In fact, when you don't have an internet connection, you cannot stream Spotify online. But if you have a Premium subscription, you can download songs in Spotify and then listen to them in airplane mode.

Q2.Can You Listen to Downloaded Spotify Songs on Airplane Mode?

A2.Sure, you are able to listen to those downloaded songs in Spotify. You only need to enable the Offline Mode on your device in advance.

Q3.How to Listen to Spotify on Airplane Mode without Premium?

A3.There is a method to help you listen to Spotify in airplane mode without Premium. That is to use a Spotify downloader. You can check out the details in Part 3.
Part 2.

How to Use Spotify in Airplane Mode with Premium

There are two tiers on Spotify - Spotify Premium and Spotify Free. When you subscribe to Spotify Premium, you have the ability to download and play your music without an internet connection - even in airplane mode.

Playing Spotify in airplane mode on your device can be a bit tricky since the service relies on an internet connection to stream music online. However, if you have a Spotify Premium subscription, you can download songs, albums, playlists, or podcasts to your device to play in airplane mode. Here's how you can do it:
Step 1. Download Spotify Music
If you want or need to play Spotify in airplane mode, you'll have to download what you want to listen to in advance when you're connected to a Wi-Fi or cellular data. This will require an active Premium subscription. Also, you'll need a device that's compatible with the Spotify app and offer a great offline music experience, such as a smartphone or tablet.
Note
The number of songs or podcasts you can download to play in airplane mode or offline mode depends on the available storage space on your device.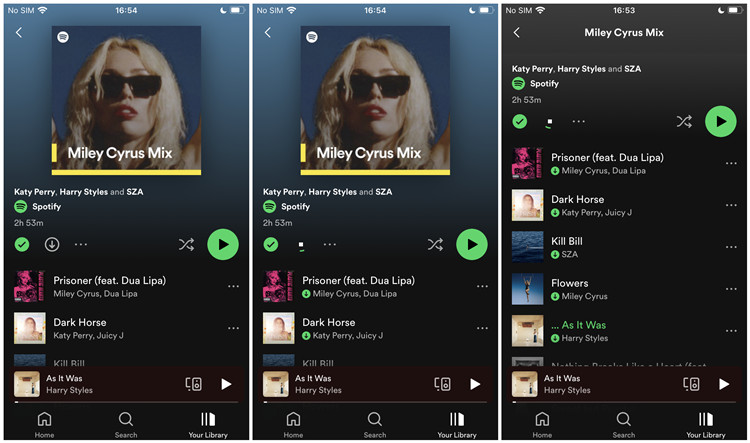 On your smartphone or tablet, open the Spotify app. Both iOS and Android smartphones and many tablets are compatible with the Spotify app, you can download it from Apple Store (iOS) or Google Play (Android).
Make sure your device is connected to a Wi-Fi network or cellular data.
Make sure to log in to Spotify with your Premium account.
Head over to what you want to play in airplane mode, such as your library.
Select any album or playlist to download, and tap on the Download button.
Wait until Spotify download the music to your library.
Step 2. Enable Airplane Mode
You can try to switch your device to airplane mode. When you are in airplane mode, Spotify will switch to its Offline Mode automatically and you can access and play your downloads only.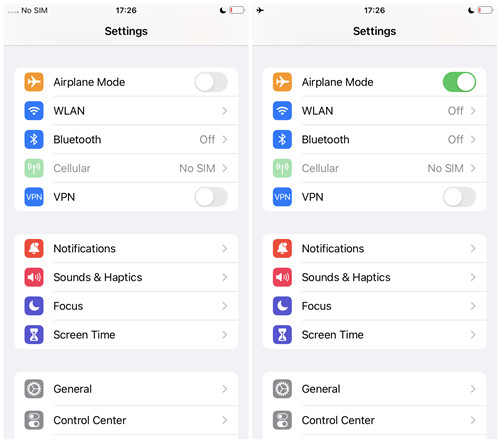 Note
Remember to download the content before you enter airplane mode, as you won't be able to download or stream new content while in that mode.
Step 3. Play Spotify in Airplane Mode
While in airplane mode, head over to your downloads and play it as you normally would. You'll find the downloaded music available in your library.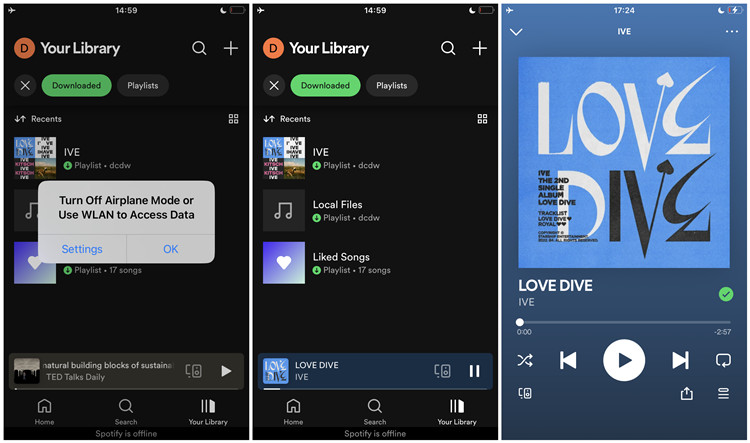 Open the Spotify app while in airplane mode.
Go to your library and select the Downloaded filter at the top to fitter the view of your downloaded music and podcasts only.
Select and play the downloaded playlists, albums, or podcasts, and enjoy listening to them during your flight.
Part 3.

How to Play Spotify in Airplane Mode without Premium

If you don't plan to subscribe to Premium specially for playing Spotify music during your flight, you can choose to download playable music files on the free tier, which can help achieve the same outcome.

With a professional Spotify music downloader, you can download songs, playlists, albums, artists, podcasts, and even audiobooks to your device and play them with any media player that supports the offline playback. ViWizard Spotify Music Converter is designed for both Premium and free users to download music for offline use. You can download the app in this post and start to download music into a commonly-used audio format, such as MP3. And the downloaded music will be kept with lossless audio and full ID3 tags and can be played with even the most common media players.

Both Windows and Mac computers are compatible with the ViWizard app. Then the music files can be transferred to a device, such as your iPhone, Android smartphone, iPad, or iPod Touch and enjoy Spotify during your flight.

Key Features of ViWizard Spotify Music Converter
Free Trial
Free Trial
* Security verified. 5, 481,347 people have downloaded it.
Download Spotify songs, albums, playlists, podcasts, audiobooks
Convert Spotify music to lossless MP3, AAC, FLAC, WAV, M4A, M4B
Support playing offline Spotify music on any device at any time
Compatible with Windows and macOS, as well as, the latest Spotify
Step 1

Select Spotify songs to download

Upon launching ViWizard Spotify Music Converter, Spotify will be opened automatically supposing you have installed Spotify on your computer. Then select songs, albums, or playlists which you want to download to your device. After choosing well, you could drag all songs, playlists, or albums from Spotify to the converter.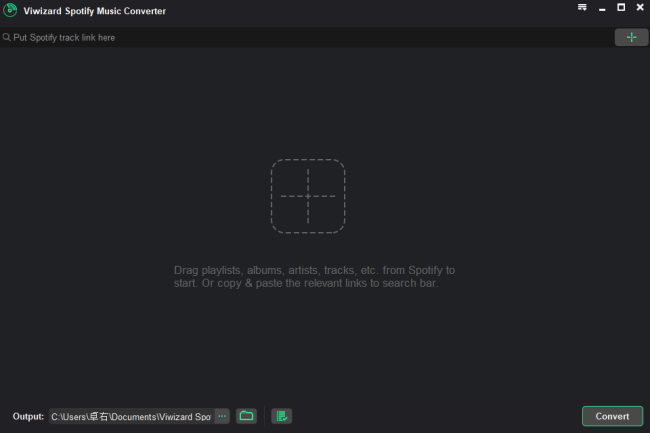 Step 2

Set the output audio parameters

When all songs or playlists are loaded into the converter successfully, you can simply click on the menu bar and select Preferences to customize your personal music. The output format, audio channel, bit rate, and sample rate can be adjusted according to your need. If you prefer to download music in a more stable mode, you can set the conversion speed as 1×.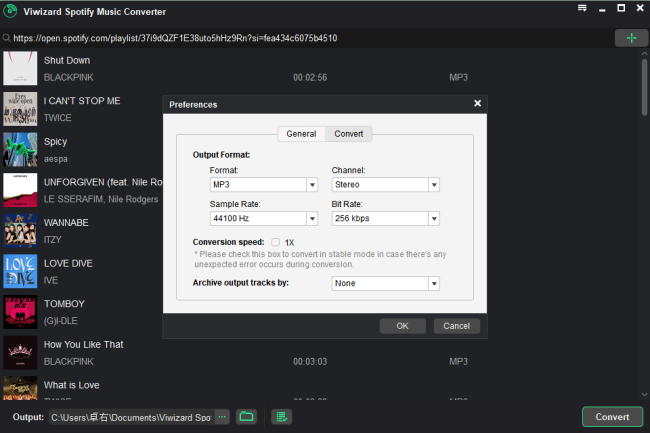 Step 3

Download Spotify music to MP3

When everything is set up, you can start downloading all songs, albums, or playlists to by clicking the Convert button. After several minutes, ViWizard software will save Spotify music to your computer losslessly. Then you can browse the history conversion and locate all the downloaded songs by clicking the Converted icon.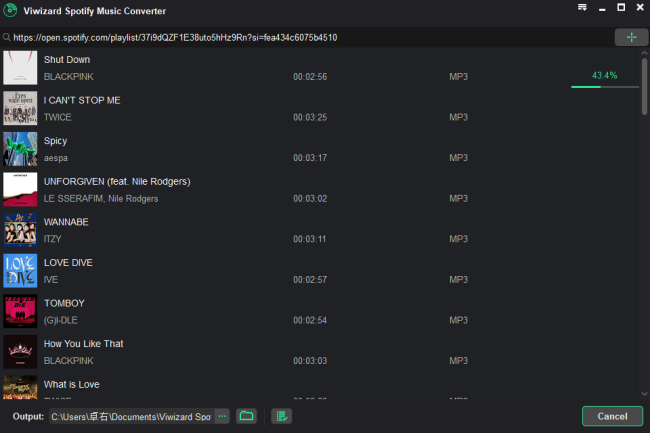 Step 4

Transfer Spotify music to devices

At present, you have achieved all music from Spotify in common file formats. You don't need to worry about the playback of Spotify music anymore. You only need to transfer all the converted music files to your portable devices where you want to listen to your music. Just connect your device to the computer and then start moving all the music files.
Part 4.

How to Fix Spotify Not Working in Airplane Mode

Why can't I listen to Spotify on an airplane? Maybe there are some problems with Spotify airplane mode. There are several methods for you to solve Spotify not working in airplane mode.

Solution 1. Make sure that you have downloaded all the Spotify songs to your music library in advance. If not, remember to save offline songs in Spotify on your device first.

Solution 2. Check whether you set Spotify on your device as Offline mode. If not, go to Settings > Playback and turn Offline on.

Solution 3. Update both Spotify and your device to the latest version. Then turn the internet connection off and try to play offline music on Spotify.

Solution 4. Make sure that your portable device supports offline listening. If not, you don't have the right to listen to Spotify music offline. But you can use ViWizard Spotify Music Converter to download Spotify music to your device for offline playing in airplane mode.
Conclusion
In short, you can download your favorite songs from Spotify with a Premium subscription and play them anytime when without an internet connection. At the same time, you could choose to use a Spotify music downloader like ViWizard Spotify Music Converter to get local Spotify music files with a Free Spotify account. All the downloaded Spotify songs can be compatible with any device. You will have no trouble in listening to Spotify music on the move or on a plane.