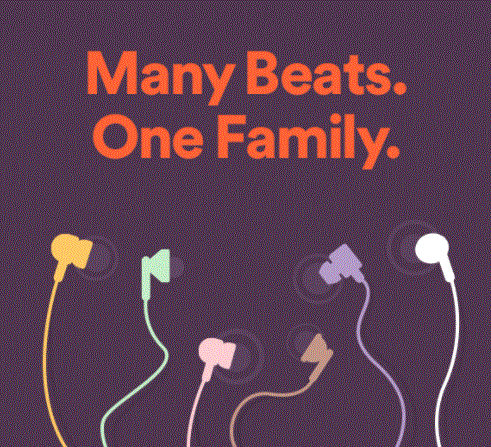 Spotify, one of the largest streaming music services in the world, has always been providing three main plans for its subscribers, including Free, Premium and Family. Each plan has its own strengths and limits. But if you ask which plan is the most worthy one, I'd like to give my vote to the Premium for Family as it costs only $5 more than Premium plan but could be enjoyed by up to 6 people at the same time. In other words, to get your whole family on Spotify Premium plan, you only need to pay $14.99 per month. In case you still feel unclear about Spotify Family plan, I've put together everything about Spotify Premium for Family in this post, including how to start and manage Family account, how to add family members, and other Spotify Family plan FAQs.
Spotify Family Plan Development & Price Change
In fact, Spotify introduced its family plans back in 2014. It originally started at $14.99 for two users a month, $19.99 for three, $24.99 for four, and $29.99 for five users. In order to catch up with the competition with Apple Music and Google Play Music, Spotify changed the pricing to $14.99 for six users within a Family account last year.
Except the price, the Spotify Family plan hasn't changed in terms of what it offers. With Spotify Family account, you and other five family members can get access to over 30 million songs for just one price payable on a single bill. It also allows each family member to operate separate accounts so that everyone gets their own playlists, saved music, personal recommendations, and the full Spotify Premium experience, like listen offline songs, download ads-free tracks, play any song anytime on any device, etc.
How to Sign Up Spotify Premium for Family Plan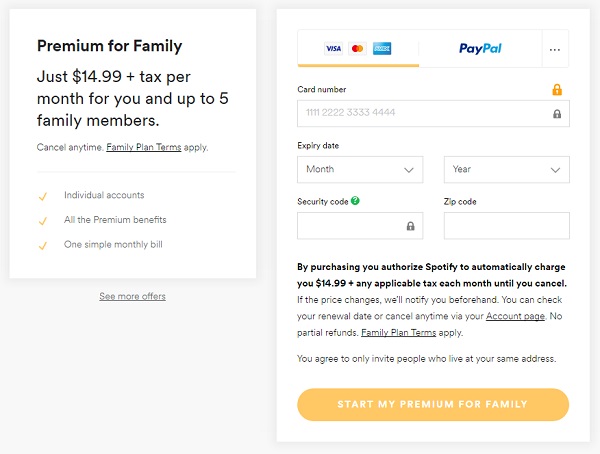 To start subscribing Spotify Family account, you should firstly go to sign up page spotify.com/family. Then click Get Started button and log in your Spotify account if you have already registered it as free users. Or you need to create a new user account there. Once logged in, you'll be navigated to the order page where you are required to choose the payment method and input your card info for subscription. At last, click Start My Premium for Family button to complete the subscribing.
After you successfully subscribed the Family plan, you'll be the account owner and authorized to invite or remove 5 family members on the plan.
How to Add or Remove Account from Spotify Premium for Family Plan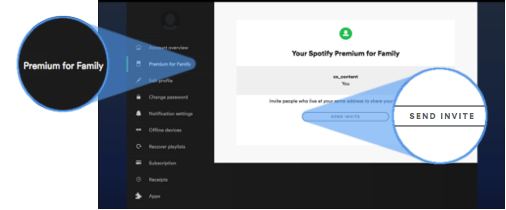 Managing users on your Spotify Family account is easy. No matter you want to add or remove the user, you can follow these steps:
Step 1. Go to Spotify account page: spotify.com/account.
Step 2. Click Premium for Family in the menu on the left.
Step 3. Click SEND INVITE.
Step 4. Enter the email address of the family member you want to invite and click SEND INVITE. Then a confirmation mail will be sent to you when they accept your invite.
Tips: To remove a member from your Spotify Family account, from Step 3, select the specific member you want to remove. Click REMOVE to proceed.
How to Change the Owner of Spotify Family Account
As a Family account owner is responsible for the plan's monthly payment, and managing the members, you may feel troublesome to handle all these stuffs. But don't worry. In this case, you can simply change the owner of the Family account to others. To get it done, the current owner first needs to cancel. When the remaining Premium time runs out and all accounts revert to Free, the new owner can resubscribe.
Other Spotify Premium for Family Plan FAQs
1. What will happen to my account if I join Premium for Family?
Once you sign up the Family pan, all of your account details will remain the same, including any saved music, playlists, and followers. Each member gets to keep their own individual account to play and save their own music.
2. How can I cancel the Spotify Family plan?
If you're the owner of Premium for Family, you can cancel the subscription any time. Then all members of your Family account will revert back to the Free service at the end of your current billing cycle. Or alternatively, you can simply downgrade to standard Premium plan on your subscription page. In result, all members in your Family plan will revert to Free except for you.
3. How to remove restriction and share songs to any device within Family plan?
As you may noticed, even after you subscribed the Premium for Family account, you are still limited to listen to your Spotify songs. It seems impossible to share the songs to any device, such as iPod, Walkman, and others. In fact, this is caused by Spotify's DRM policy. If you want to break the restriction and enjoy your Spotify songs on any player as you want, then you'll have to remove the DRM from Spotify at first place. To help you solve this trouble once and for all, you are suggested to test ViWizard Spotify Music Converter, a smart Spotify music tool used to download and extract any Spotify songs to popular formats, such as MP3, FLAC, WAV, AAC, etc. so that you can put them on any device for offline listening. Get the trial version for free as below to see how to convert Spotify songs to MP3 easily.