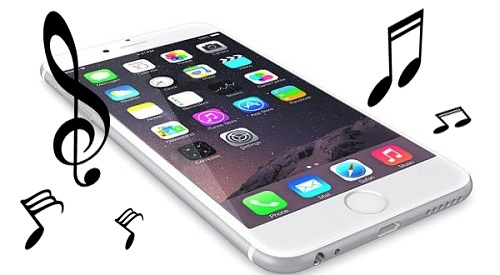 Q: I have collected many lovely Spotify songs and would like to use them as my iPhone ringtone. But I didn't seem to find the option to set Spotify music as ringtone on my phone. What should I do? Can you help? Thanks.
This could be a common request for most Spotify users especially those who are subscribing to Premium Plan as they can download music from Spotify for offline listening. However, the big obstacle is that those downloaded Spotify songs are encrypted in the format of Ogg Vorbis so that they cannot be used to create ringtones at all. But don't worry. In this post, we'll share a way to set Spotify song as ringtone iPhone.
Part 1. Method to Set Spotify Music as Ringtone iPhone
The positive side is that you can still set Spotify track as iPhone ringtone or Android ringtone. If you're looking for a way of setting Spotify music track as ringtone on your iPhone, we recommend looking into downloading and converting Spotify music to AAC or MP3. It's easier than you think, and with the help of a third-party tool like Spotify music converter.
Spotify music converter can be used to crack various commercial limitations from Spotify music as well as convert all Spotify songs to iPhone compatible formats. That's what we are talking about here. In the following article, we'll show you such an easy solution to help you set Spotify music as iPhone ringtone in a few steps only.
ViWizard Music Converter for Spotify is an exclusive music tool designed for Spotify users with which you can download and convert any Spotify track, album and playlist to common audio formats, including MP3, M4A, M4B, AAC, FLAC, and WAV, supported by iPhone or other devices. No matter you are using a Free or Premium account on Spotify, this smart tool will let you easily transfer Spotify songs to iPhone as ringtone.

ViWizard Spotify Music Converter Key Features
Download and convert Spotify music to various common audio formats
Remove various commercial limitations from Spotify music completely
Function as a Spotify music downloader, editor, ripper, and converter
Make Spotify music ringtone for both Android users and iPhone users
Work at 5× faster speed and save original audio quality and ID3 tags
Part 2. How to Convert Spotify to iPhone Ringtone
First of all, you'll need to use ViWizard Music Converter for Spotify to download and convert Spotify songs and playlists to iPhone supported formats. It will be best to save Spotify songs as MP3 or AAC, then make Spotify music your ringtone iPhone. Here we go.
1. Launch Spotify Converter and add Spotify songs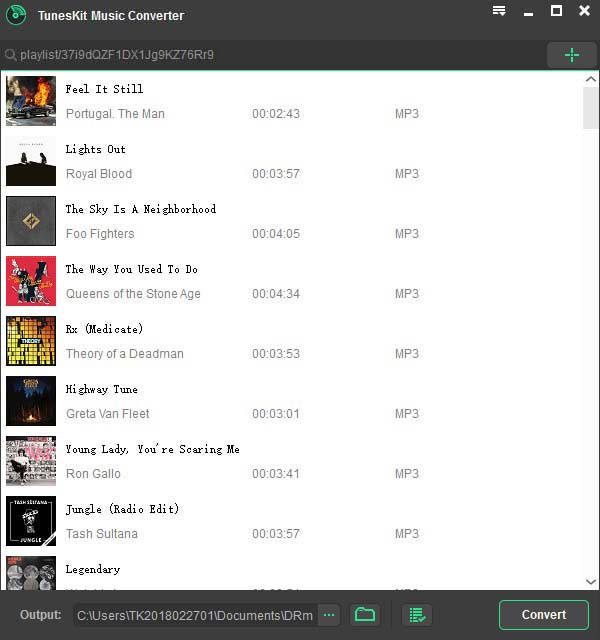 Open Music Converter for Spotify on your Mac or Windows. Then it will load the Spotify app automatically. Find any song or playlist that you'd like to make as iPhone ringtone, and drag it into the ViWizard conversion window. Or you can copy and paste the music link to the search bar and click "+" icon.
2. Choose the output format and set other settings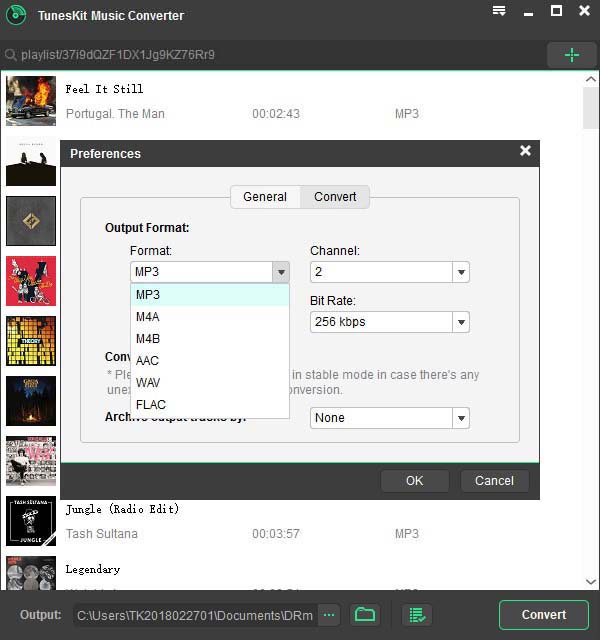 Click menu bar and select Preferences, then you can choose the output format there. You can choose any format like MP3 or AAC that was supported by iPhone. It also lets you set the audio channel, bit rate, conversion speed, etc.
3. Start to download and convert Spotify songs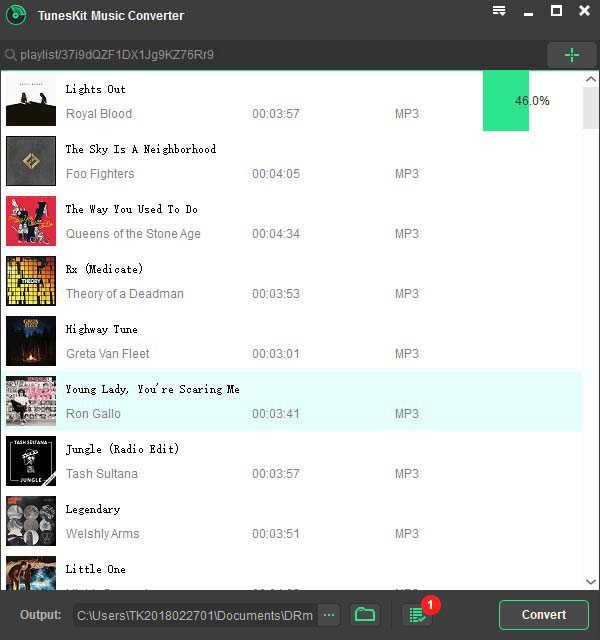 Now tap "Convert" button to start converting your Spotify tracks to MP3 or other common formats at 5× speed. If you want to convert the Spotify songs in stable mode without any conversion error, you need to choose the 1× speed in "Preferences" before conversion.
Video Watch: How to Set Spotify Tracks as iPhone Ringtone
Part 3. Steps to Use Spotify Music as iPhone Ringtone
Once the conversion is done, you can locate the well converted Spotify songs and use them as iPhone ringtone by doing a few tricks as below.
Use Spotify for Ringtone with Apple iTunes or Music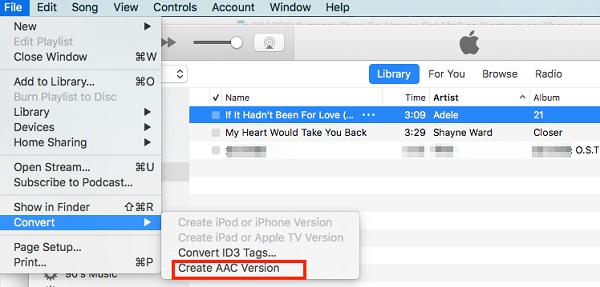 Step 1. Start by launching iTunes or Music on your Windows or Mac computer.
Step 2. Find the song you'd like to use as your iPhone ringtone from the folder on your computer.
Step 3. Right-click the song you want and select Song Info from the resulting drop-down list.
Step 4. Then click the Options tab at the top of the window to set your start and stop times of the ringtone.
Step 5. Once done, click OK at the bottom then go to File > Convert > Convert to AAC Version or in Music Create AAC Version.
Step 6. Drag the AAC version out of iTunes and into the folder of your choice after you see a new 30-second version of the song.
Step 7. Delete the 30-second version from iTunes and undo the Start Time/Stop Time changes to the original.
Step 8. Open the folder containing the 30-second AAC file you dragged out of iTunes, then change the file extension from .m4a to .m4r. Double-click it and it immediately gets added to iTunes' ringtone library.
Step 9. Sync your iPhone to iTunes and the song will now be in your ringtones list.
Make Ringtone from Spotify with GarageBand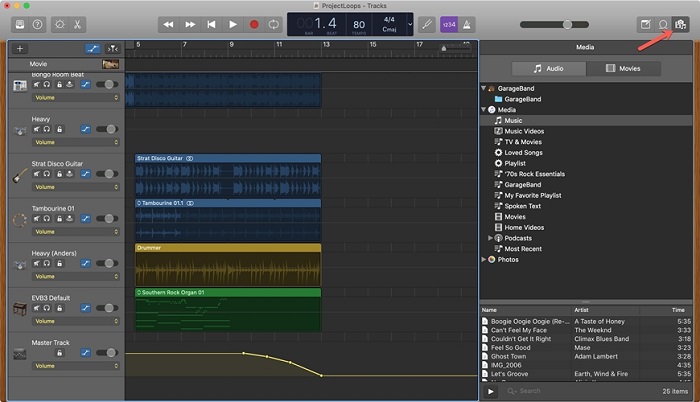 Step 1. On your Mac, open your Spotify song in GarageBand.
Step 2. Move your cursor to the bottom left or right corner of the track, then shorten the track to a 30-second audio clip.
Step 3. Then go to share it go GarageBand for iOS by choosing Share > Project to GarageBand for iOS.
Step 4. Select the GarageBand for iOS folder in iCloud Drive, then click Save.
Set Spotify music as ringtone with iPhone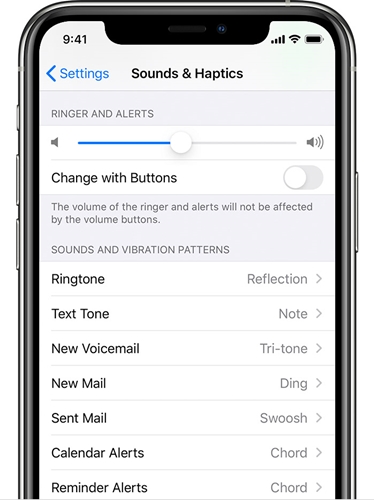 Step 1. Power your iPhone on and go to Settings > Sound & Haptics.
Step 2. Under Sounds and Vibrations Patterns, tap the sound that you want to change.
Step 3. Tap a Spotify song you sync and set it as the new sound of your iPhone.