Sharing is a great way to stay connected with our family and friends as it makes us more closely. Among all the stuff, digital items such as audiobooks are popular for sharing because they can be easily sent through the Internet.
When speaking of audiobooks, the largest catalog is from Audible. If you've got some interesting Audible books, you may like to share them with your friends or family members. But as Audible audiobooks are protected with DRM, some users especially those who are new to Audible may have no idea how to share books on Audible. If that's your case, you can follow this guide to find out the top ways to share Audible books with friends or family, including the official and alternative solutions.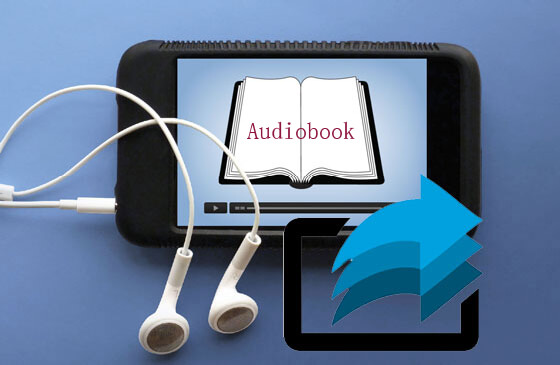 Part 1.

Can You Share Audible Books with Others?

Some newcomers to Audible may ask questions such as, "How does Audible work?" "How to buy books on Audible?" "Can I share an Audible book?"

For the question "Can I share an Audible book?", I can reliably tell you that the answer is definitely positive. As the leading audiobook retailer around the world, Audible not only allows you to download audio titles for offline listening but also enables you to share Audible books with others online in 3 ways. But if you try to share your downloaded Audible books with others, it doesn't work since all Audible books are encoded with DRM. Fortunately, we've got the best way to share your downloaded Audible books in Part 3.
Part 2.

Official Ways to Share Audible Books with Family/Friends

As we said above, Audible currently offers three official solutions for users to share their favorite audiobooks with others. Just perform the following steps to share books on Audible with others.

Note
Since April 2021, Audible has no longer offered the Send this Book program which was a feature that allowed you to send books to friends and family for free. So you can't continue to use this feature to share an Audible book.
Method 1. Share Audible Books via Sharing Feature
Although the 'Send this Book' feature is no longer available, there's another official way that is to directly share books on Audible by hitting on the share button. This way is useful for those who are not Audible members to receive the shared content since they can get Audible Free Trial.
How to Share Audible Books Directly
Open the Audible app or the Audible website.
Go to Discover or Library to find the book you'd like to share.
Tap into the title and select the Share button at the top right corner.
Within the share options menu, you can select where you will share your Audible book or choose the contact to send the Audible book to. Alternatively, you can copy the link of the audiobook to others.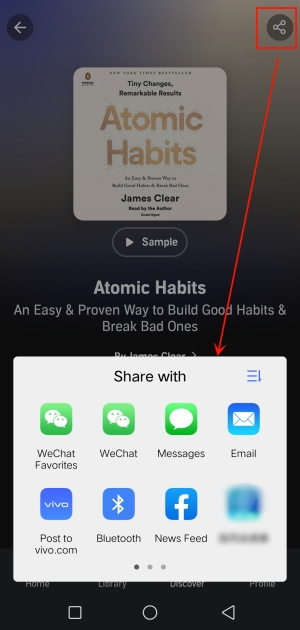 If the receiver hasn't an Audible account, he or she can sign up a new account to experience the Free Trial and then get 1 or 2 credits to buy your shared book.
Method 2. Share Audible Books with Amazon Household Sharing
Different from the 'Send this Book' feature, Amazon Household is a feature that allows Amazon members to share their Amazon or Audible content and payment methods with another Amazon account. You can link 2 adult or 4 kid Amazon accounts to share audiobooks.
This method is for how to share the entire Audible Library with family instead, which requires existing Audible members to create an Amazon Household Sharing account before you can set up Family Library and manage the Audible books in it to share.
Note
There are the things you can't share via Amazon Household:

* Credits for Audible Premium Plus membership;

* Titles in Audible Plus Catalog;

* Prime Reading Room for Amazon Prime.
Step 1. How to Set Up An Amazon Household Account
Go to Amazon Household from a web browser.
Select Add Adult, Add a Teen, and Add a Child here.

In the invite page, enter the required info - Their Name and Their Email, then Continue.

Click the "Sign up together on this device" link.
Enter the email address and password of the added member, then Verify Account.
Review the conditions on the screen, then Create Household.
Step 2. How to Share Audible Books with Family
Head to Manage Your Content and Devices.
Click the Content button, and select the Audiobook selection.

Then click Show Family Library > Add to Library button to choose the Audible books to share.
When it's done, the other members in the same Household account have access to the shared contents from the Family Library.
Please note that along with the shared Audible books from the Family Library, your payment info will also be shared with the other members of your Amazon Household account. If using Family Library Sharing is not preferred, we'd like to recommend 2 more methods to share Audible books with others - via gifts or files.
Method 3. Share Audible Books via 'Give as a gift' Feature
Audible also offers a gifting feature with its audiobooks. For Audible members, you can purchase an audiobook using your Audible credit or a credit card and then give your family or friends as a gift. Whether for sharing your audiobooks or sending an audiobook as a festival present, this feature offers great flexibility.
Visit audible.com and then head to the Browse or Library to choose a title you want to share.
On the title's landing page, select More options and choose Give as a gift.

On the invite page, select either Email or Print to send your gift.
Enter the recipient's email and name, before entering your name. And finish other required info.
After that, click Continue.
Confirm all the details of the gift audiobook, and select Buy with 1 credit or dollars to finalize audiobooks as gifts for others.
You will receive an email confirmation of your gift order.
Part 3.

Best Way to Share Audible Books with Family/Friends

Even the official methods to share Audible books work fine, we still have one more method - not official but perfect for those who want to share the true Audible books with friends without an extra cost.

From Part 1, you have known what makes sharing Audible content so difficult is because they are DRM-encoded files - even after downloading to devices. The best part of this method is that it can help share DRM-free Audible files with others as MP3s.

Luckily, all this can be done with a powerful Audible DRM removal like ViWizard Audible Audiobook Converter. It is a splendid Audible to MP3 converter specially developed for audiobook users to download and convert the protected Audible audiobooks to common formats including MP3, M4A, M4B, AAC, FLAC, WAV, and more with lossless audio quality. By applying the top-leading decrypting technique, this program can remove DRM protection in the process of conversion. Furthermore, the ID3 tags will be kept so you can share Audible books with the original version. Once this conversion completes, there're no more limits on the shared books.

Key Features of ViWizard Audible Audiobook Converter
Free Trial
Free Trial
* Security verified. 5,481,347 people have downloaded it.
Convert Audible audiobook to unprotected audio formats like MP3
Split Audible book into several smaller segments by chapter or by time
Support playing Audible audiobooks on any device or media player
Handle the conversion of Audible audiobooks up to 100× faster speed
From the Download box above, select either Windows or Mac version to download and install to the device. Now, let's see how to crack the DRM protection and share local Audible books with family members or friends.
Step 1

Add Audible Files to ViWizard

Before launching ViWizard Audible Audiobook Converter, make sure you've downloaded your shared Audible books first. And then you can add Audible audiobooks by either dragging the files to ViWizard or clicking the Add Files icon at the upper-left corner. If you want to share several books at once, ViWizard also allows you to add several files and it can convert them in a few minutes. To split the audiobook or change the volume or speed, just one-click the blue Edit icon next to each audiobook's name.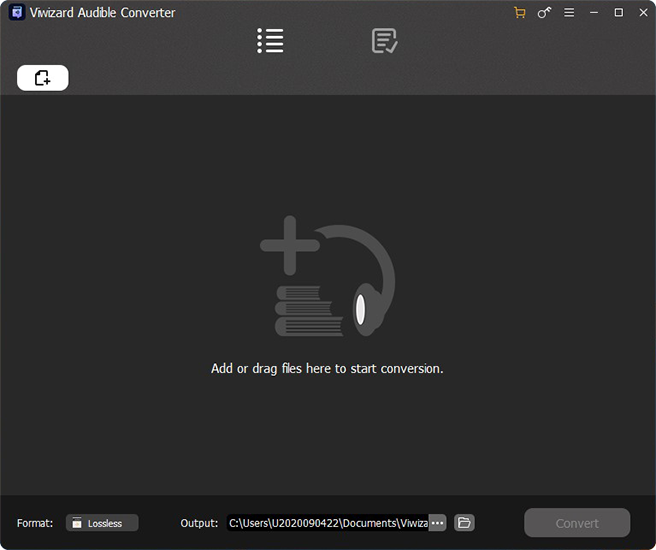 Step 2

Adjust Output Format for Audible Books

After uploading all the audiobook files to ViWizard, you can set your preference for audiobooks as you want. Just click the bottom corner Lossless tab, and it will open a new box. From here, you are free to change the output format, codec, channel, sample rate, and bit rate. After changing, don't forget to tap the OK icon. To share Audible books with others, we recommend you change the format to MP3.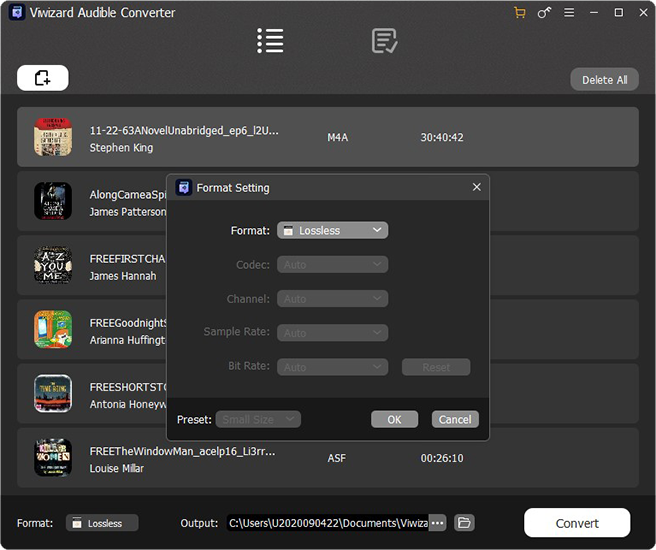 Step 3

Start Removing Restrictions of Audible Books

To remove DRM protection and start converting your Audible audiobooks, click the bottom right Convert button. Once the conversion is complete, go to the Converted history list, and you can easily view all your converted files. Of course, you can locate certain files by using the ViWizard search function. Done! Now, you can copy and send these Audible files to anyone you want to share without limits.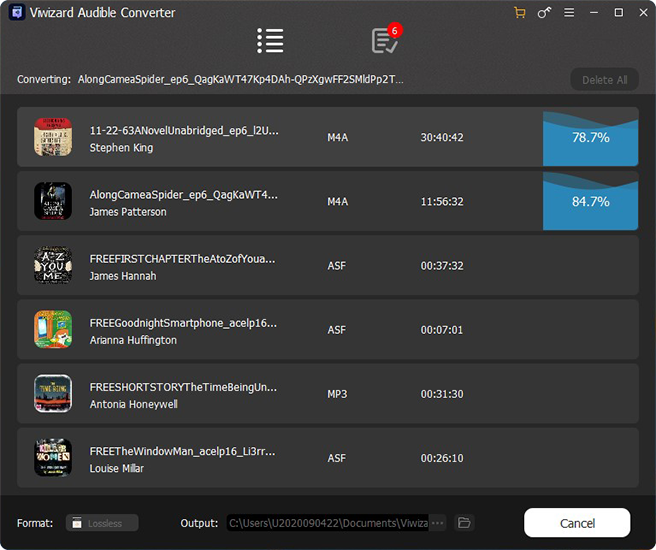 Bottom Line
To share Audible books with friends or family, you can use the three methods Audible provides. But the first and the last one are not totally free and the second one is mostly used within the family due to the information issue. You are highly recommended to convert Audible audiobooks to DRM-free MP3s by using ViWizard Audible Audiobook Converter because you are able to share Audible audiobooks with others without any limitations after the conversion.