Sharing is a great way to stay connected with our family and friends as it makes us more closely. Among all the stuff, digital items such as audiobooks are popular for sharing because they can be easily sent through the Internet.
When speaking of audiobooks, the largest catalog is from Amazon Audible. If you've got some interesting Audible books, you may like to share them with your friends. But as Audible audiobooks are protected, some users especially those who are new to Audible may have no idea how to share them. If that's your case, you can follow this guide to find out the top ways to share Audible books with friends or family, including the official and alternative solutions.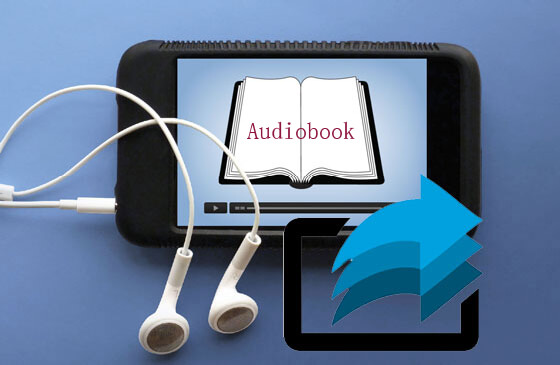 Part 1. Two Official Ways to Share Audible Audiobooks with Friends/Family
As the largest downloadable audiobook seller, Audible currently offers two official solutions for users to share their favorite audiobooks with others, while both have their advantages and disadvantages.
Method 1. Share Audible Books with Friends through 'Send this Book' Feature
The 'Send this Book' feature provided by Audible allows users to send their favorite audiobooks to others via email, text, or message, etc. The recipient who receives the item can redeem the book directly if he accepts.
To share Audible files, you can either do it via the Audible app on mobile devices or via the Audible official web page. Firstly, let's take the Audible app for Android or iOS as an example to show you how to send Audible audiobooks to your friends step by step.
'Send this Book' with Audible App
1. Simply open the Audible app and log in to your Audible account.
2. Go to the library of your account and you will see a list of the audiobooks you have purchased and downloaded.
3. Tap the "more" icon next to the book you want to send and choose the 'Send this Book' option on the popup menu.
4. Choose the method you want to share the book with your friend. Choose the "Send" button.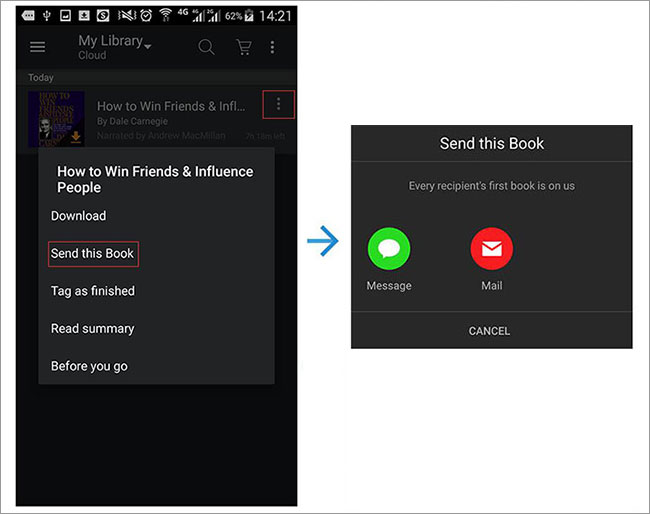 'Send this Book' on Audible Web Page
1. Visit Audible.com and log into your Audible account.
2. Go to the top menu, select "Library" and then "My Book".
3. Click on an Audible book in your library that you want to share with your friend and then hit the 'Send this Book' option.
4. Fulfill the form with an email address (separate them with a comma if you want to send multiple emails) and click the "Send" button.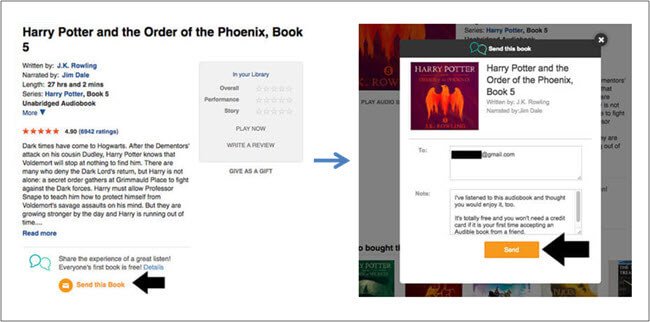 Note: By using 'Send this Book', you can share the purchased audiobooks with anyone you know. And it is completely free. However, in this way, only new users of Amazon Audible can get free books and it is limited to only one for each user. If the user is already a registered user for a while, then he won't be able to enjoy this privilege again.
Method 2. Share Audible Books to Family via Amazon Household Sharing
To improve the user experience of family members, Amazon has implemented the Family Library Sharing mechanism to let you and your family share digital media like games, apps, videos, music, and books freely and easily.
Step 1. Build Household Sharing Account
Generally speaking, you need to create the Amazon Household Sharing account before you can manage and share the Audible books and other digital items in your library with other family members of your Amazon Household. It allows you to add two adults and four kids at most.
1. Go to "Manage Your Content and Devices" and select the "Preferences" button.
2. Click on the "Households and Family Library" and the "Learn more about Households" button.
3. Select "Add Adult" button. Enter the name and email address of another adult you'd like to invite and click the "Continue" button. Then click the "Sign up together on this device" link.
4. Enter the email address and password of the second owner, then click "Verify Account".
5. Select to agree on the conditions, followed by "Create Household".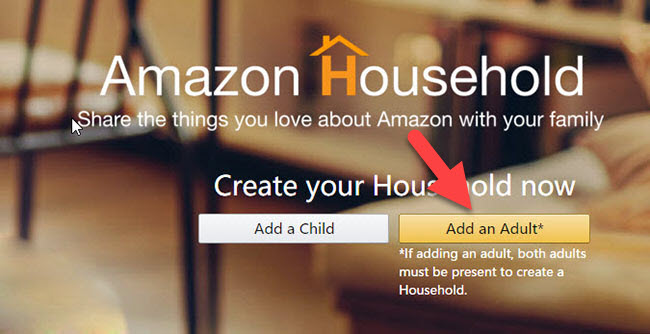 Step 2. Send Audiobooks
After you create a Household account, you can share Audible audiobooks with others.
1. Go to the "Manage Your Content and Devices" page of Audile from where you can choose the digital Audible book files to add to the library or remove from it.
2. Select the "Content" button. Choose the "Show Family Library" button, then choose the audiobook you want to share. Select the "Add to Library" button.
When it's done, the users in the same Household account can get access to all the shared contents from your family library. Using this method, you can share an Audible file with your family easily.

Note: With Audible Family Library Sharing, there is no limit on how many books you can share. But it requires you to have an Amazon Prime account to make the Household Sharing work. And the audiobooks from Audible Plus Catalog cannot be shared with Family Library Sharing. Also, please note that along with the Audible audiobooks, your payment info will also be shared with the people in your Amazon Household account. So, it is not recommended to share the Audible files in this way with unfamiliar friends except families.
Part 2. Alternative Way to Share Audible Audiobooks with Anyone without Limit
As we can see from the above-mentioned official solutions, both are not perfect yet. That's because Audible audiobooks are protected in AA/AAX format, due to which we cannot share the files beyond the Audible app, or approved devices or systems. Therefore, to share Audible books with friends like other common files without any limitation, you need to convert those Audible books to common formats.
In this case, all you'll need is a third-party software like ViWizard Audible AA/AAX Converter, the fastest and unique Audible converting tool that can convert Audible books from AA/AAX to MP3 without losing any quality. With this Audible converter, you are just a few clicks away to share them with your friends or family with no limit.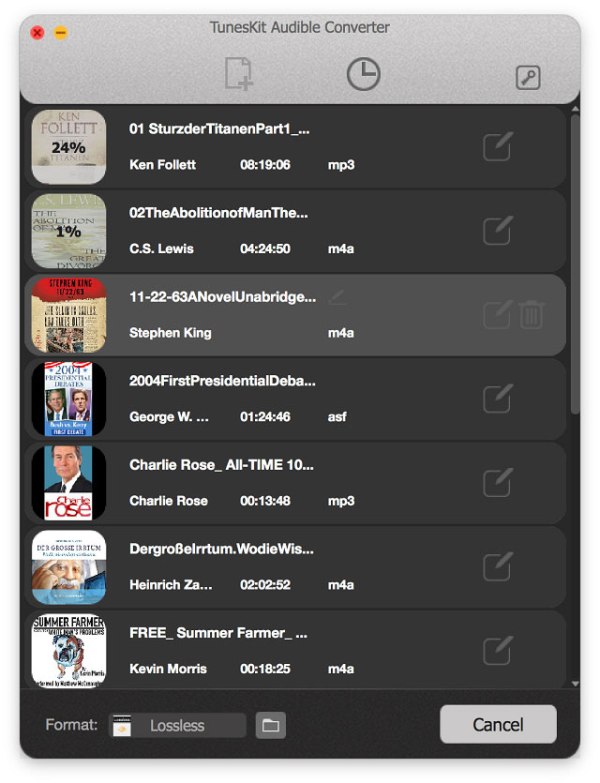 ViWizard Audible Audiobook Converter is fully compatible with the latest macOS and Windows systems. And it doesn't require working together with iTunes. You can download the free trial version according to your computer OS and follow these steps to see how to convert Audible books to common formats to send the Audible audiobooks to others.
Video Tutorial
Step 1. Load the downloaded Audible AA or AAX books from Audible library to ViWizard Audible Converter. You can drag the files to the software directly or add them via the "Add Files" button.
Step 2. Customize output profile by clicking the "Edit" icon. Then you can set the output format, audio bit rate, sample rate, etc. as you like.
Step 3. Click "Convert" button on ViWizard to convert Audible audiobooks to files with the extensions like MP3, M4A, AAC, OGG, FLAC, and much more. Ultimately, you can copy and paste the converted Audible books to share with any of your friends and families.
Bottom Line
To share Audible books with friends or family, you can use the two methods Audible provides. But the first one is not free and the second one is mostly used within family due to the information issue. You are highly recommended to convert Audible audiobooks because after the conversion, you are able to share Audible audiobooks with others without any limitation.