As one of the largest online digital stores selling spoken audio programs in the world, Audible has already become the best place for people to download audiobooks online. Currently there are over 200,000 downloadable books on Audible.com for us to choose from.
However, one problem we have to face while buying audiobooks from Audible is that the cost for most Audible books is high. Generally speaking, it costs around $30 for a bestseller or a new release. Due to the high price, many Audible users would spend a large sum of money to buy Audible audiobooks regularly. But in fact, they don't have to, as they have some great chances to download Audible books for free.
In the following article, we will show you 4 of the best ways to download Audible audiobooks free, even without a membership.
Method 1. Download Free Audible Books via Audible Free Trial
Are you new to Audible? Are you looking for the best way to download whatever audiobook, including the best sellers, new arrivals, editor's picks, etc. from thousands of audiobook sources on Audible? Then you should choose this method to get the Audible free audiobooks by using Audible's 30-Day Free Trial service.

What is Audible 30-Day Free Trial
This is a free trial program provided by Audible to let you enjoy their membership within 30 days totally for free, during which you are offered credit for one free audiobook. If you are an Amazon Prime member, you will get 2 credits.
It's a no-risk chance for you to try out the service in advance because you can cancel Audible membership without paying anything before the trial ends. Even if you choose to get out of the trial, Audible won't take back your audiobook and you can still keep the free Audible audiobook. But if you anyhow remain a subscriber to Audible after the 30-day free trial, you will then get 1 new audiobook and 2 Audible Originals per month by paying $14.95 monthly.
How to Get Audible Books for Free with Audible Free Trial
Now you can follow the steps below to learn how to easily get the free audiobook from Audible with its Free Trial service.
Step 1

Sign up/in an Audible Account

If you don't have an Audible or Amazon account, you should firstly sign up for a new account for Audible.com.
Step 2

Join Audible Free Trial Service

After signing into the Audible account, click the "Membership" column to start the free trial. And then you will be directed to the Cart page. Then you should move on to the next page to finish your credit card information and place the order. (You won't be charged if you stop the trial before it ends.)
Step 3

Browse Audible.com to Download Audible Audiobooks Free

Once you joined Audible's membership, you can browse the official website to find the specific audiobook you want to get for free. Then all you need is to add that audiobook to your cart and then purchase it with the free credit you got from the free trial membership.

That's it. Once the order is placed successfully, the audiobook will be added to your Audible library automatically. You can then either play it via Audible or download it to play on your iTunes or other authorized MP3 players for Audible.

Note: If you need to download a free Audible audiobook to listen to with your MP3 players, you should know that not all popular MP3 players are allowed to play the Audible books because of the protection applied to the audio by Audible. In this case, you should switch to the solution at the end to see how to play Audible audiobook on any MP3 player without restriction.
Method 2. Download Free Audible Audiobooks from Audible Free Listens
Audible allows users to listen to a rotating list of audiobooks. So, another good choice for getting audiobooks from Audible for free is to find out the free audiobooks offered by Audible.
In this way, you are also required to sign up for an Audible or Amazon account at first. Once done, you can sign in to your Audible account and search "free audiobooks" via the search bar on Audible.com. Then you will find a large number of free audiobooks being listed in the results. Select the titles you want to listen to and complete the order for free as instructed. After that, the free audiobooks will be added to your library for listening or downloading.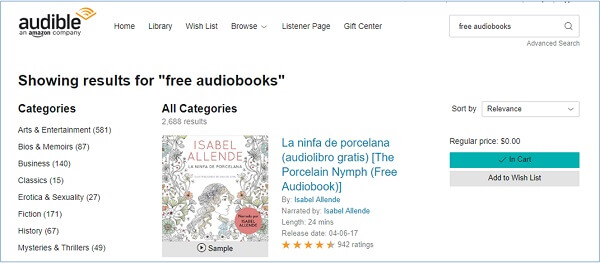 Method 3. Stream Free Audible Audiobooks through Amazon Prime Reading
If you are Amazon Prime members, you can also get free eBooks and also streaming Audible free audiobooks from the Prime Reading section. You are able to get unlimited access to a rotating catalog of audiobooks, which has around 300 audiobooks.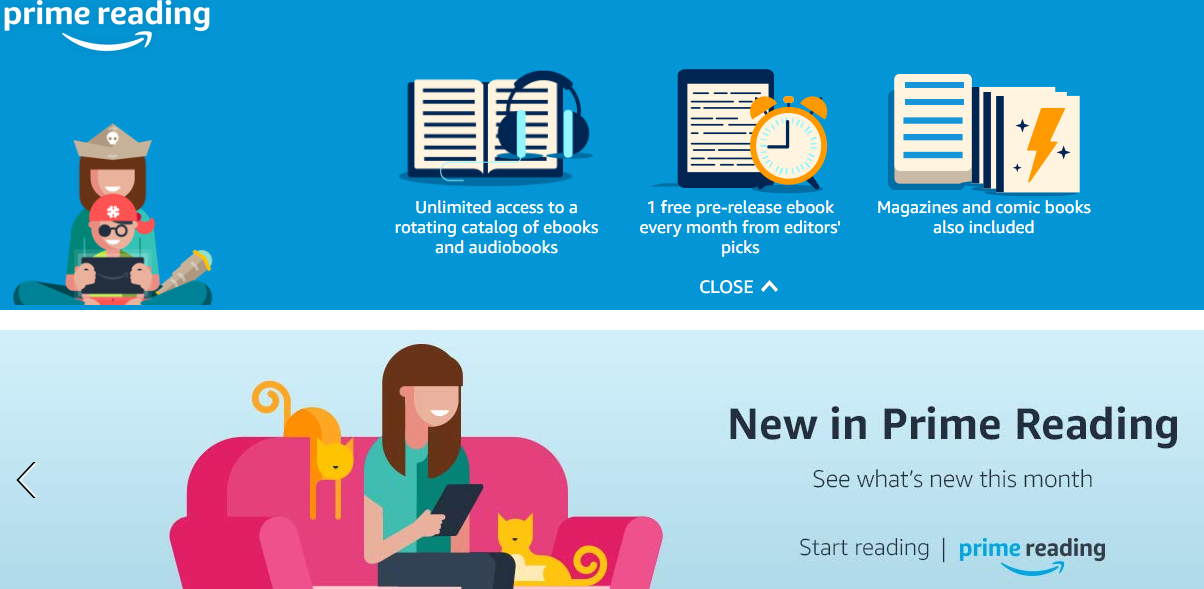 To start to listen to free audiobooks on Prime Reading, you should follow these simple steps:
Step 1. Log in to your Amazon Prime account. Then go to the Amazon Prime Reading page to find currently available audiobooks.
Step 2. Click the Read and Listen for Free button.
Note: Even if you are Prime members, you can't download the Amazon Prime free Audible books but only stream these titles for free. To download those books, you have to buy them first.
Method 4. Get Free Audible Books from Audible Plus Catalog
If you subscribe to Audible with Audible Plus or Audible Premium Plus, you are able to get access to the Audible Plus Catalog which contains thousands of audiobooks. Here is how to do: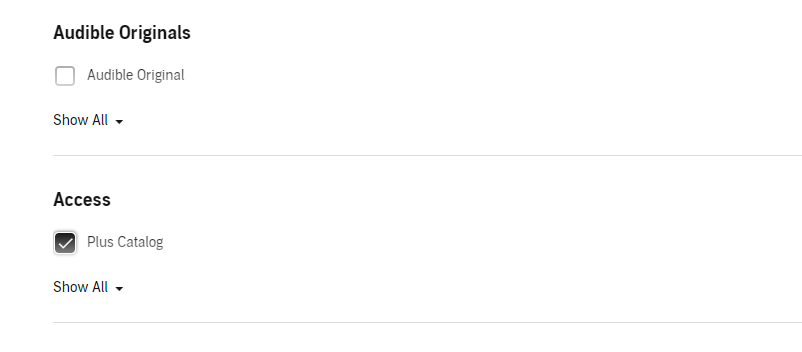 Step 1. Open your Audible app. Go to Advanced Search and tick the Plus Catalog option.
Step 2. Browse the audiobooks and find out the one you want to listen to. Click on the Play Now button to listen to it.
Best Solution to Get Audible Audiobooks in MP3
Any Audible audiobook, including Audible Free Listens, Audible Plus Catalog, and paid audiobooks, is encoded in AA or AAX audio format that can only be recognized by selected players. And the free audiobooks Audible offered usually start to charge after a period of time. You also cannot listen to the audiobooks in Audible Plus Catalog if your subscription expires even though you have downloaded them to your device. To play the Audible audiobooks on any audiobook player and device permanently, you should use some professional Audible AAX to MP3 converters to convert Audible books to MP3 or other common formats.
ViWizard Audible AA/AAX Converter for Windows/Mac is a dedicated Audible audiobook converter that can convert the protected AA, AAX audiobooks to common MP3, AAC, WAV, FLAC, M4A, M4R, OGG, etc. without using iTunes. It will lossless convert Audible books with original quality retained. Simply refer to this tutorial: How to Convert Audible Audiobooks without iTunes >>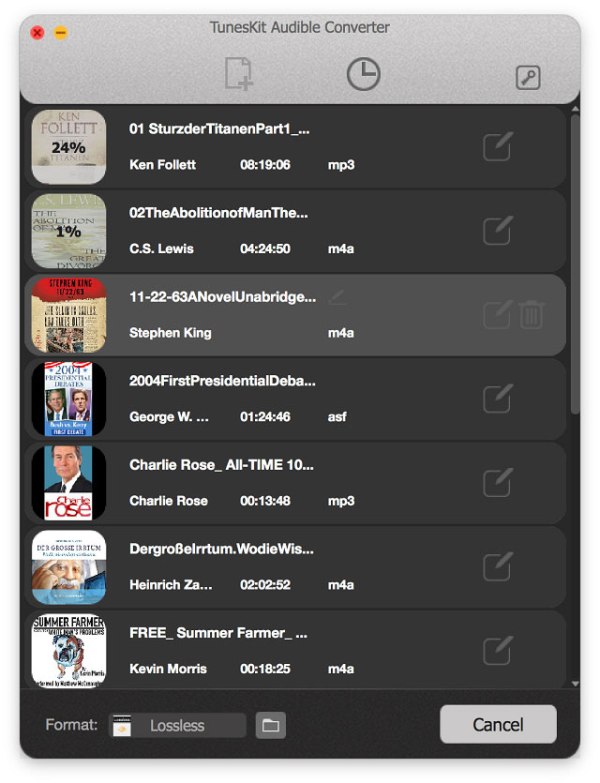 More Tips: If you prefer to convert both Audible and iTunes audiobooks, you are highly suggested to try another audiobook converter from ViWizard, called ViWizard Audio Converter.