As one of the largest online digital stores selling spoken audio programs in the world, Audible has already become the best place for people to download audiobooks online. Currently there are over 200,000 downloadable books on Audible.com for us to choose from.
However, one problem we have to face while buying audiobooks from Audible is that the cost for most Audible books is high. Generally speaking, it costs around $30 for a bestseller or a new release. Due to the high price, many Audible users would spend a large sum of money to buy Audible audiobooks regularly. But in fact, they don't have to, as they have some great chances to download Audible books for free.
In the following article, we will show you 4 of the best ways to download Audible audiobooks free, even without a membership.
Part 1.

How to Get Free Audible Audiobooks with Credits

Are you new to Audible? Are you looking for the best way to download whatever audiobook, including the best sellers, new arrivals, editor's picks, etc. from thousands of audiobook sources on Audible? Then you should choose this method to get the Audible free audiobooks by receiving credits with Audible's free trial of Premium Plus membership.
What is a credit?
Audible Premium Plus members receive credits of their membership benefits. With an existing Premium Plus membership, listener can use a credit to purchase any audiobook at $0.00. While Premium Plus members can receiver credits per month, credits are not included in the Plus membership.
Please Note:
Credits will expire 12 months after they are issued. If you cancel your membership, your credits will be lost along with your other membership benefits.
For new starters, you'll want to get 1 or 2 Audible titles for free with the free trial of Audible Premium Plus. Your Audible subscription for Premium Plus starts with 1 free book as part of a 30-day trial or 2 free books if you have Prime membership, which is good for free audiobooks - and big discounts on others. If you have been subscribed to Premium Plus for a while, you know that you receive credits per month, and don't hesitate to make full use of it, so you can get those audiobook forever - even after your lose your subscription, regardless of price.
1.1 Get 1 or 2 Credits with Time-Limited Free Trial
From here you can learn how to start your Audible free trial for Premium Plus if you are a new starter.
How to start Audible free trial for 30 days (for now)?
Step 1. Visit https://www.audible.com/ with a compatible web browser on your device.
Step 2. From the main screen you should find which time-limited offer is available, for example: get 30 days for free with one or two free audiobooks.
Step 3. Click the try button to get started.
Step 4. On the next page to sign up for Audible Premium Plus, enter all the necessary or optional information here to continue.
Step 5. Agree to use your payment method for your membership and purchases. Review Audible's Conditions Of Use and Amazon's Privacy Notice. After 30 days, your membership will be continued for $14.95/month until you cancel it. Learn how to cancel your Audible membership.
It's a no-rick chance for you to try out this offer in advance because you can cancel your Audible membership at any time as stated, just don't forget to purchase 1 or 2 audiobooks with the credits for free. Even after you choose to discontinue with the Premium Plus subscription plan, Audible won't take back those audiobooks purchased with a credit card, a credit or buy titles marked as "Buy for $0.00." Just find the titles with the 1 CREDIT label and purchase them with your credits. However, if you remain a Premium Plus members anyhow at extra cost, you will then get 1 new audiobook and 2 Audible Originals per month.
1.2 Purchase Titles with "1 CREDIT" for Free
Now you should have your credits. Head to purchase the title you want for $0.00. Titles that are available for purchase can be identified with the 1 CREDIT label.
How can you know if a title is included in the Plus Catalog or if it costs a credit?
As stated, titles that are available for purchase will have the "1 CREDIT" banner on them. Titles that cost a credit will say "Buy with 1 credit" on the detailed page.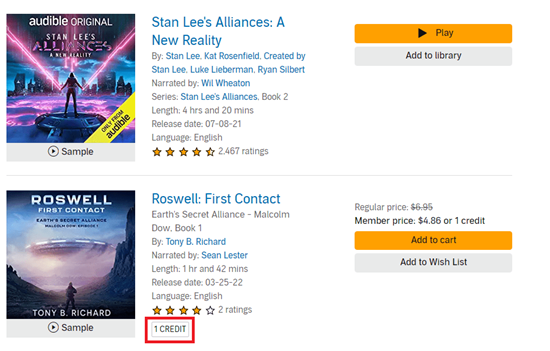 How to purchase titles with the 1 CREDIT label for free?
Pick your device and learn how to get audiobooks for free with your credits.
On Desktop site:
Step 1. Go to the Audible desktop site.
Step 2. Browse the site and click on the audiobook that you want to buy with credit.
Step 3. On the title check for the "1 CREDIT" banner or "Buy with 1 credit" on the detailed page.
On Android/iOS app:
Step 1. On Android or iOS, open the Audible app.
Step 2. Tap Discover.
Step 3. Search or browse for the title you want.
Step 4. Tap on the title.
Step 5. Tap Buy with 1 credit.
After you purchase that title with your credit, your audiobook will be sent to the Library section of the Audible app or site. You'll also receive and email confirmation of your purchase.
1.3 Download Audible Titles for Free
You can now download those titles and more to your device for offline play.
On Desktop site:
Step 1. Go to the Audible desktop site and then make sure to sign in. Since the Windows app has been discontinue, Plus members can only download titles from the audible.com on the desktop experience.
Step 2. Click Library from the top navigation bar.
Step 3. On the next page, click Audiobooks and then search for the title you wish to download.
Step 4. On the title, check for the Download button. Click Download.
Step 5. Once the download is finished, you'll get an AA/AAX file. Or if you have iTunes, the downloaded AA/AAX file can be opened with iTunes when prompts. If you open the downloaded AA/AAX file in iTunes, the Sync feature will be enabled to add that file to the Audiobooks section in the Apple Music Contents Menu. Learn how to sync Audible with iTunes.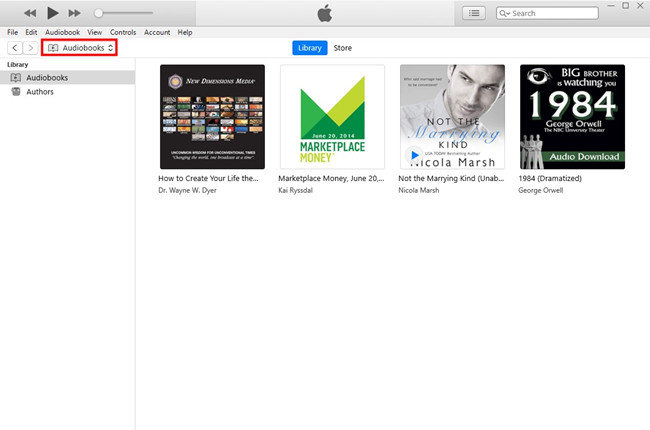 On Android/iOS app:
Step 1. On Android or iOS, open the Audible app.
Step 2. Tap Library at the bottom of the screen.
Step 3. Locate the title you'd like to download and tap on the cover.
Step 4. Once you tap on the cover of your audiobook, a progress bar will appear where the cover was.
That's how you can download Audible audiobooks for free on your device, so that you can listen to them offline with the compatible media players such as the iTunes desktop app, Books app (if you sync the Audible audiobooks to it), Audible Manager, and of course the built-in media player in the Audible app for Android or iOS. However, if you wish to transfer those downloaded AA/AAX audio files to other devices and listen to the audiobooks there, you may find those audio file formats are not supported to play.
For that, you'll want an Audible converter to convert AA/AAX audio files to a more universal one such as MP3. Then you will be impressed by how those audio files are supported on your device with lossless audio quality. Learn how to convert AA/AAX audio files to MP3 in Part 3.
If you wish to get some free credits on Audible, check another post: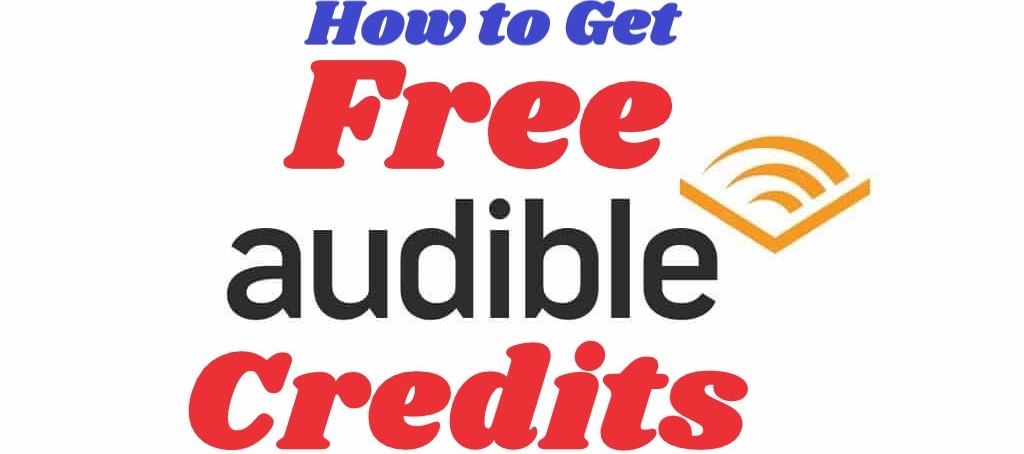 Part 2.

How to Get Audible Audiobooks for Free Listens

You should be aware that Audible has create a free catalog for listeners to benefit from. With a wide selection of free audiobooks available on Audible, it's convent to discover and start an endless listening for free. In addition to audiobooks, listeners can listen to podcast series in this collection. But without the Premium Plus or Plus membership, even you can listen to those titles for free on Audible desktop site, you won't access the Download button for them. You can only stream those with no trial or membership required.
Are Audible audiobooks for free listens really free?
Yes. This collection of free audiobooks is available without spending a credit. You just need a compatible browser to access the Audible Official and sign in with an Audible free account.
2.1 Get Audible's Collection for Free Listens
Step 1. Go to Audible desktop site for Free listens.
Step 2. Browse for the title you want.
2.2 Listen to Audible Audiobooks for Free
Step 1. Select the title, and check for the Play button on the detailed page.

Step 2. Select Play, and then the Cloud Player will appear on the screen and the title will start to stream.
Step 3. You now access the playback control on the Cloud Player.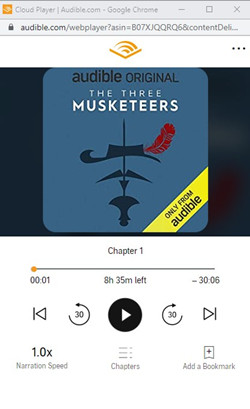 2.3 Add Audible Audiobooks to Library
Step 1. Return to the detailed page of the title, and check for the Add to Library button.
Step 2. Select Add to Library, and then Audible will add that title to your library.
Step 3. To view that title, back to the library page from the top navigation bar and find it.
Part 3.

How to Keep Audible Audiobooks for Free Listens Forever

Any Audible audiobook, including Audible Free Listens, Audible Plus Catalog, and paid audiobooks, is encoded in AA or AAX audio format that can only be recognized by selected players. And the free audiobooks Audible offered usually start to charge after a period of time. You also cannot listen to the audiobooks in Audible Plus Catalog if your subscription expires even though you have downloaded them to your device. To play the Audible audiobooks on any audiobook player and device permanently, you should use some professional Audible AAX to MP3 converters to convert Audible books to MP3 or other common formats.

ViWizard Audible AA/AAX Converter for Windows/Mac is a dedicated Audible audiobook converter that can convert the protected AA, AAX audiobooks to common MP3, AAC, WAV, FLAC, M4A, M4R, OGG, etc. without using iTunes. It will lossless convert Audible books with original quality retained.

Key Features of ViWizard Audible Audiobook Converter
Free Trial
Free Trial
* Security verified. 5,481,347 people have downloaded it.
Convert Audible audiobook to unprotected audio formats like MP3
Split Audible book into several smaller segments by chapter or by time
Support playing Audible audiobooks on any device or media player
Handle the conversion of Audible audiobooks up to 100× faster speed
More Tips:
If you prefer to convert both Audible and iTunes audiobooks, you are highly suggested to try another audiobook converter from ViWizard, called ViWizard Audio Converter.
How to convert Audible AA/AAX files to MP3s?
Pick either Windows or Mac version of ViWizard AA AAX Converter and start convert some AA/AAX files to MP3s for free!
Step 1

Add Audible AA/AAX Files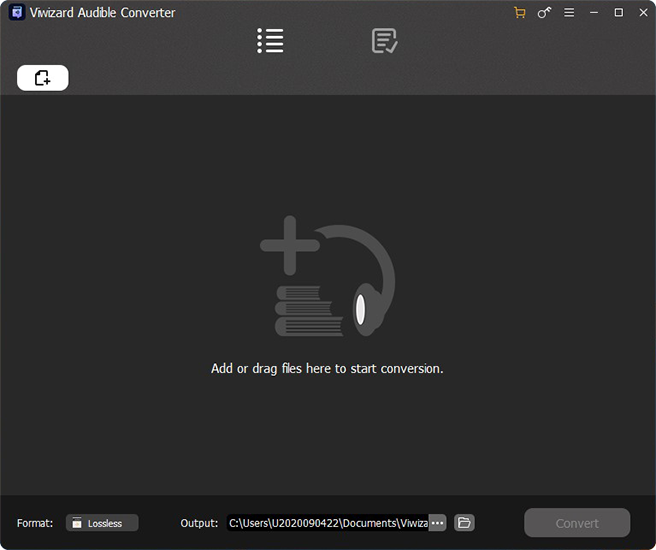 On Windows or Mac, launch the ViWizard AA AAX Converter, and head to the Add button. Then navigate the computer device to find and locate the downloaded AA/AAX files in the Finder or Windows Explorer. Select the AA or AAX file to open.
Step 2

Select Output Format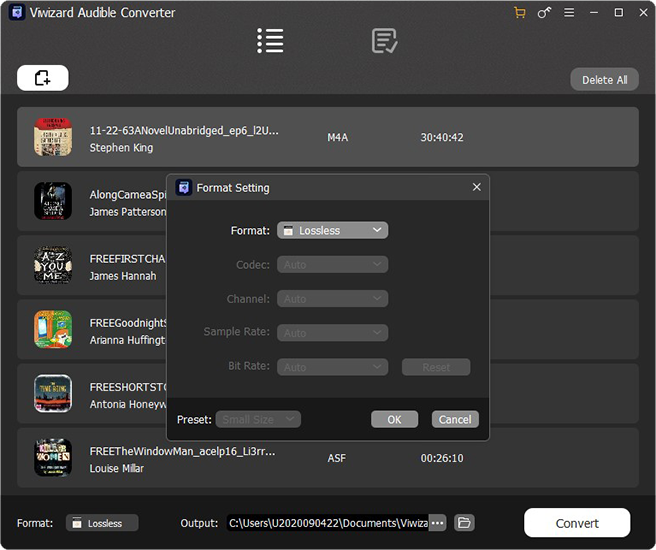 Once added, head to the Format tab at the bottom-left, where display the current audio format of file(s). Open the drop-down menu of the Format and then choose MP3. Click OK to save this change.
Step 3

Convert Audible Books to MP3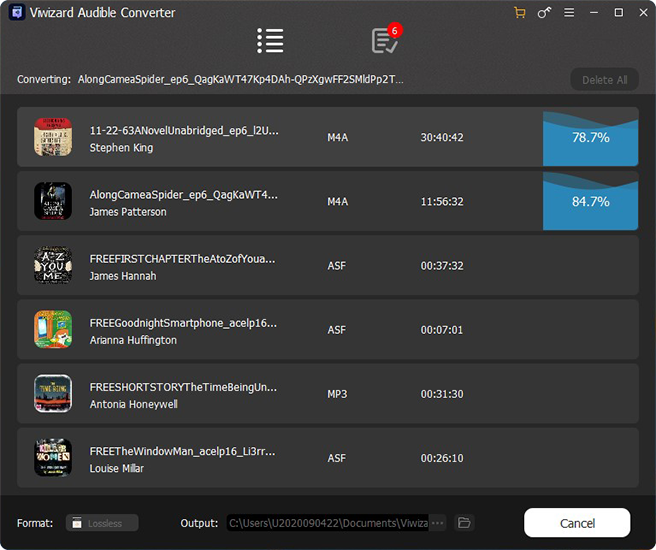 Now click the Convert button at the bottom-right, and the conversion will be at 30x super faster speed. Wait until the conversion is complete, then head to the file button on the right of the Output tab and browse for the converted MP3 file.