If you are an audiobook lover, then Audible subscription has ever worked for you at one point in your life. This is because it will offer you a monthly or an annual plan with credits. You can then use these credits to exchange for any of your favorite audiobook every month or better still roll over your unused credits on a given percentage of your credit card purchases. However, some people decide to cancel Audible membership for one reason or the other. Let's go through a complete guide on how you can cancel your subscription from Amazon Audible easily in 5 steps only.
Step 1. Log in Audible and Select Account Details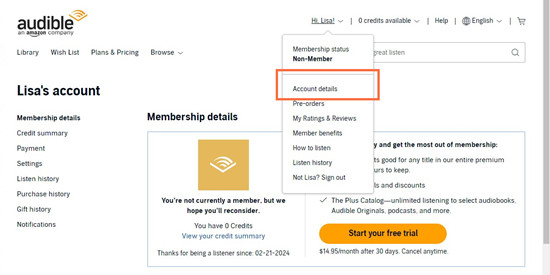 The first step is to log into your account from an Audible desktop site. Remember you cannot be able to go through with the cancelation using an Audible tablet app or phone. From where your name is, look for a drop-down arrow. Click on it and then select on 'Account Details'.
Step 2. Cancel Audible Membership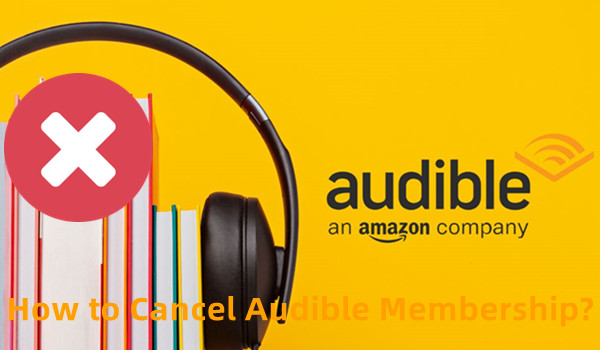 At the 'Account Details' is where you will be able to cancel your membership. Your membership details will be populated with various options including membership benefits, my pre-orders, sign out, and more. Go to the bottom of the page and click on 'Cancel membership'.
Step 3. Provide Reason Why You are Canceling Audible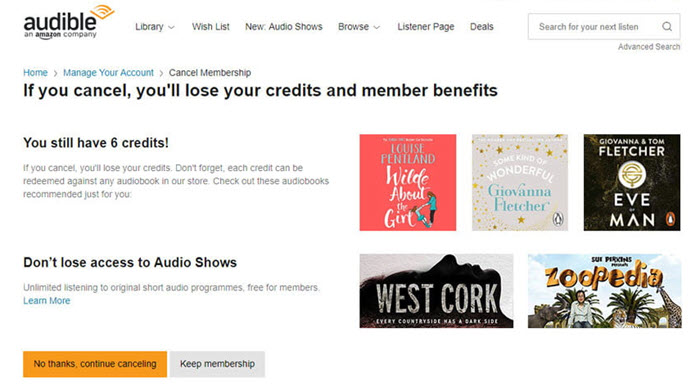 Audible will of cause need to know reasons for cancel Audible. You, however, will be required to pick one reason. These include, I'm having technical problems, I don't use it enough, Audiobooks aren't for me, and many other questions. Simply pick on a reason why you are canceling your membership and then click on 'No thanks, continue canceling' button.
Step 4. Confirm Canceling
The last step is to 'Cancel membership' whereby you will be required to click on that button. However, Audible will have a look at your reasons for canceling membership keenly. It may offer you various alternatives like a special plan or a pre-paid membership plan. Better still, Audible will leave it to you to decide if you are willing to take in their hard sell of three months at a discount of 30%. In the event that you are not interested in all of these, continue to the cancel button.
Step 5. Complete Canceling Audible Membership
Once you hit on the 'Finish Canceling' button, you would have successfully canceled audible membership. You then need to sign in again to your Audible account so as to confirm that you have canceled your subscription. You will then receive a message informing you that you have successfully unsubscribed from Audible. I guess you'll just have to go and listen to your old books at this point!
Highlights Before Canceling Audible Subscription
• Remember that it took you a good amount of bucks when subscribing to your Audible plan. This is why you need to take note of a few highlights before you finally hit that button.
• You will not be able to transfer your unused credits. Ensure that you use them before you cancel your membership because they will be canceled with the subscription.
• The prepaid plans don't need to be canceled because they will automatically expire at their due date. You only need to cancel your monthly recurring plan.
• It is better to cancel your subscription while at the trial period to avoid being billed when your trial expires.
• You are still able to purchase any audiobook of your choice even after you cancel Audible membership. However, you will not be able to enjoy the bonus features which subscriber does.
How to Continue Benefiting Even After You Canceled Audible
You may have canceled your membership but you will still be able to enjoy these goodies:
• Nothing actually happens to your audiobooks even after canceling membership. Your books are all yours for keep and you can still access them by visiting your browser library. These include even the free audiobooks that you got when you first signed up.
• It is still possible for you to purchase audiobooks even after the cancelation of your membership. Despite not being able to get certain benefits, you can still enjoy buying and enjoying your favorite audiobooks.
• There are still possible ways for you to find free Audible audiobooks. You may not be able to download free books from Audible but it is possible to stream various titles for free audiobooks. You can check from the corresponding sites for possible free titles.
Conclusion
The assumption is that there are lots of benefits when you have an Audible membership. This does not mean that there are no reasons to cancel Audible membership. Canceling is one option but there are other alternatives to canceling your subscription. You can decide to put your membership on hold once each year to cut down on costs. It is also beneficial to use a promotional code to reduce your membership fee as you get other bonuses as a member. Another option would be to tune your fellow audiobook lovers into Family Library Sharing and get returns.
More Tips You May Also Like