Years ago, man found a way to organize the information in a way that it was called a story. The collection of the information in the pages formed something called a book. With time, people got used to reading a book. And they also faced issues with the books like physical space and volume of the book, straining the eyes to read the text, and more.
With the advent of technology, developers developed tools that would read the book to you while you just had to listen. Such books were called audiobooks. Two very famous platforms took up to providing audiobook services. These were Audible and Storytel. Today, we compare both the platforms and come up with the best option out of the two. So, let's begin Storytel vs Audible.

Part 1.

Audible vs. Storytel: Which Is Better?

Audible is an online audiobook and podcast platform which is owned by Amazon.com. It lets the users stream and buy the audiobooks and other spoken forms of the content. But Storytel is a service that allows its users to stream audiobooks for your mobile phone. It is a digital subscription service that lets you download the app and subscribe to a package.

Before we dive into the detailed review of Audible and Storytel, we'd love to start with the simple comparison of the two services in the 5 most-concerned things: library size, user interface and experience, children mode and parental controls, and subscription plans. Let's find out how these can help optimize your listening experience with the two services.
1. Audible vs. Storytel: Library Size
Audible:
Audible has created the Plus Catalog to give both Audible Plus and Audible Premium members more to discover and fall in love with. The Plus Catalog is a growing selection that contains Audible Originals, audiobooks, and podcasts. It has partnerships with many popular authors and publishers, resulting in exclusive audiobooks and series that you won't find elsewhere. From celebrity narrated titles to Audible Originals, there's a lot to explore.
For audiobook lovers, it offers 200,000 titles. There are no limits on how many Plus Catalog titles you can add to your library or stream online. You can choose to eat them all! Your library on Audible is permanent, meaning the titles included are kept even after your membership expires, though access to them may be restricted. It's a perfect collection of books.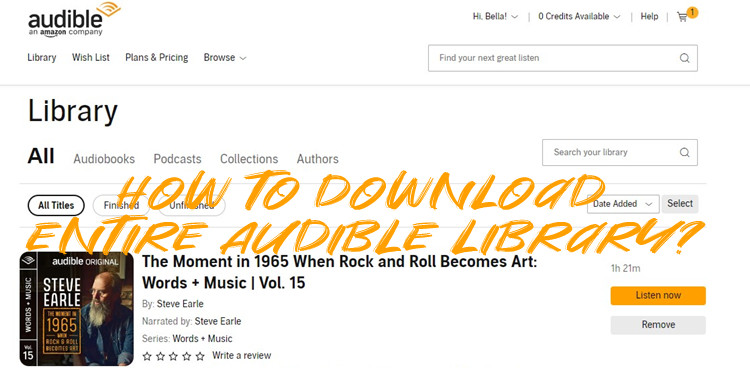 Storytel:
On the other hand, Storytel offers a global collection of over 400,000 titles. It's an impressive library that caters to a wide range of audiences. Storytel, too, offers its fair share of exclusives, often focusing on local talent and unique storytelling. If you're interested in discovering emerging authors or region-specific stories, Storytel might have some hidden gems waiting for you.
Library Size: Storytel
2. Audible vs. Storytel: User Interface
The user interface and overall user experience are critical factors when choosing an audiobook platform. We'll let you through the process to explore their availability on various devices and any unique features.
Audible: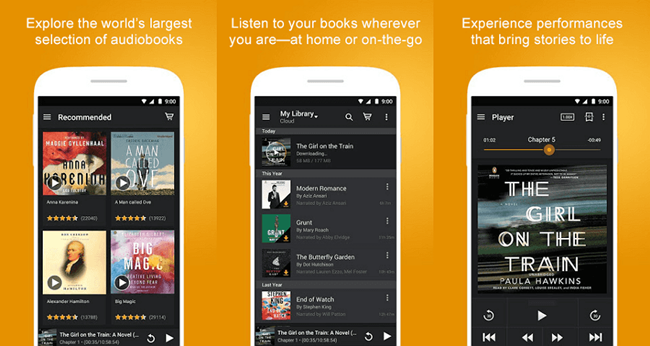 Audible offers a clean and intuitive user interface across its mobile app, web player, and other platforms. The app's design makes it easy to navigate your library, discover new titles, and manage your subscriptions. Users can easily switch between audiobooks, podcasts, and Audible Originals, ensuring a seamless experience.
For computer users, it's simple to browse and shop at Audible.com, just like at Amazon.com. When it comes to the user experiences, it's hard not to mention the download service. Audible offers its offline listening from its online website or applications for various devices.
Audible's mobile app is available for both iOS and Android devices, ensuring accessibility for a wide user base. Additionally, Audible supports web player, Audible app for Windows 11 and macOS, and other alternatives for Windows 10, including Audible Sync, Audible Manager. making it convenient for users who prefer to listen on their computers. Audible also offers compatibility with Amazon Echo devices, allowing for seamless integration with smart speakers.
Storytel:
Storytel's user interface is designed with user-friendliness in mind. The app and web player provide straightforward navigation, allowing users to explore the vast library effortlessly. The platform's interface is known for its simplicity, making it suitable for audiobook enthusiasts of all levels of tech-savviness.
With Storytel you can listen to audiobooks on your smartphone wherever and whenever you want. Since it's running on a global scale, you needs to customize some settings after you've downloaded the app such as the languages, default filters (Audiobooks, eBooks or both).
However, in terms of functionality, you might have the issues to download titles in the Storytel app to your mobile devices. For example, even you have downloaded a title, it can delete itself and prevent from some features like adding bookmarks or taking notes, which can be frustrating.
User Interface: Both Audible and Storytel are good. However, both can cause issues from time to time.
3. Audible vs. Storytel: User Experience
While both Audible and Storytel provide user-friendly interfaces, both Audible and Storytel provides great user experience with their unique features and advantages for different user preferences.
Audible:
1. Whispersync for Voice:
Audible's Whispersync for Voice feature allows users to switch seamlessly between audiobooks and eBooks, picking up where they left off. This is particularly useful for readers who enjoy both formats.
2. Audible Originals:
Audible offers exclusive content through Audible Originals, including podcasts, audio dramas, and more. These original productions enhance the listening experience with unique storytelling.
Storytel:
1. Multi-Language Support:
Storytel's extensive collection in multiple languages, including English and local languages, caters to a diverse audience, offering a rich listening experience.
User Experience: Both Audible and Storytel are good.
4. Audible vs. Storytel: Children Mode
For families and parents looking for kid-friendly content, both Audible and Storytel have options to cater to younger listeners.
Audible:
1. Audible for Kids:
Audible for Kids provides a curated selection of audiobooks suitable for children and teenagers. These titles are carefully selected to be age-appropriate and enjoyable for young listeners. You'll find a wide range of children's stories, from classic fairy tales to contemporary favorites.
2. Parental Controls:
Audible also offers parental controls, allowing parents to manage their children's listening experience, including blocking certain categories and specific titles, and ensuring select titles are age-appropriate. You can set these restrictions and customize the content your child can access.
3. Amazon Household Sharing and Amazon Kids+
You can share purchased titles with a Child profile through the Amazon Kids app on compatible Fire Tablets and Amazon Household Sharing.
Storytel:
1. Children's Audiobooks:
Storytel includes a variety of children's audiobooks in its library, covering different age groups and genres. This provides a wealth of engaging and educational content for children.
2. Family Plans:
You can share your subscription with family members, including kids with Storytel's Family or Family Plus plan. Under a single subscription, the whole family can enjoy their favorite audiobooks.
3. Kids Mode
Storytel's "Kids Mode" is a feature designed for parents who want to provide a safe listening environment for their children. Once Kids Mode is activated, the device your child uses will have access only to titles in the Children's category.
Children Mode and Parental Controls: Both Audible and Storytel are good.
5. Audible vs. Storytel: Subscription Plans
Let's compare the membership plans, pricing models, and benefits offered by Audible and Storytel to help you make an informed decision.
Audible: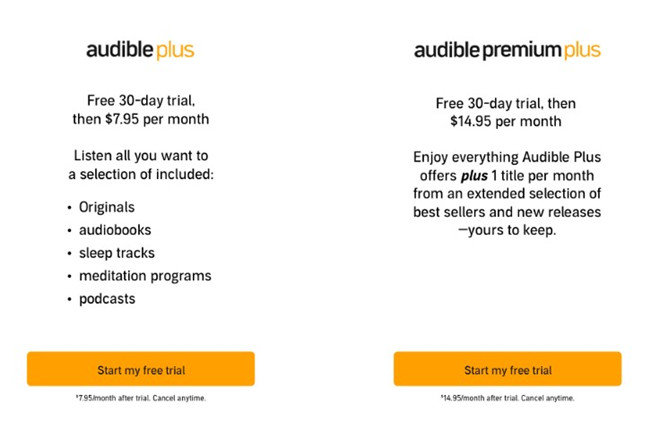 Audible offers two main membership options:
Audible Plus - $7.95/month: Audible Plus provides unlimited listening access to the Audible Plus catalog. You can explore a wide selection of audiobooks, podcasts, and Audible Originals within this plan.
Audible Premium Plus - $14.95/month: With Audible Premium Plus, you enjoy all the benefits of Audible Plus, plus a monthly credit. This credit can be used to purchase any audiobook in Audible's vast library, including titles labeled with 1 CREDIT in the Plus Catalog or in your library at no additional cost.
Audible also offers a generous 1-month free trial, during which you receive 2 free audiobooks. You can initiate this free trial using your Amazon credentials or an Audible account. After the trial period, the subscription continues at a rate of $15/month.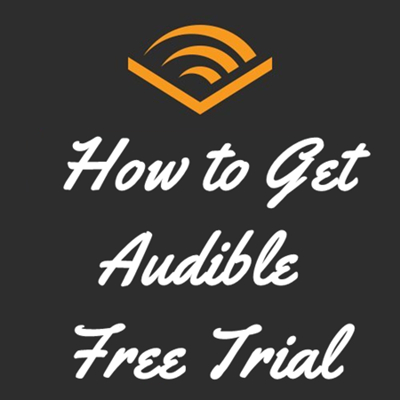 Storytel: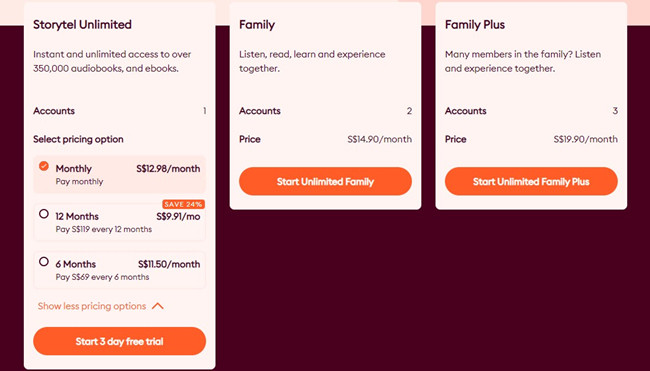 Storytel presents a range of subscription plans designed to accommodate different preferences:
Storytel Unlimited - $12.98/month: The Storytel Unlimited subscription offers instant and unlimited access to Storytel's extensive collection, which includes over 350,000 audiobooks and eBooks.
Storytel Family - $14.9/month: The Family subscription plan allows for 2 Storytel accounts in a household. It's perfect for families or individuals who want to share the Storytel experience.
Storytel Family Plus - $19.9/month: With the Family Plus plan, you can enjoy 3 Storytel accounts in one household, providing even more flexibility for multiple users.
For those interested in longer-term commitments, Storytel provides annual plans with significant savings:
Annual Unlimited Plan - Pay $119 every 12 months ($9.91/mo, SAVE 24%): The annual Unlimited Plan offers substantial savings, with a 24% discount compared to the monthly rate. It grants access to Storytel's extensive collection in multiple languages, including English.
6-Month Unlimited Plan - Pay $69 every 6 months ($11.50/month): The 6-Month Unlimited Plan offers a balance between savings and flexibility, allowing you to enjoy Storytel Unlimited for six months.
As of now, Storytel also provides a 7-day trial period, giving you the opportunity to explore their offerings before committing to a subscription.
Subscription Plans: Audible
Part 2.

Audible vs. Storytel: Pros & Cons
1. Audible: Pros & Cons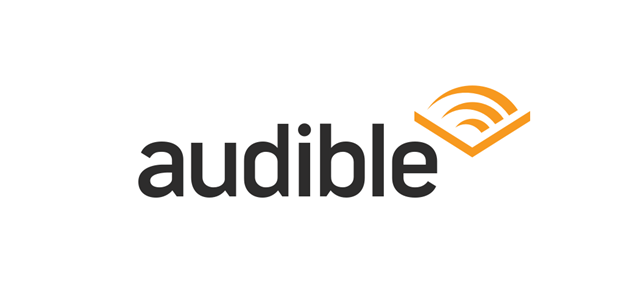 Audible, a service from Amazon.com Inc., offers a vast library of audiobooks. Whether you choose Audible or Storytel, you'll need to pay for the books, and Audible's subscription fee is from $7.95 to $14.95 per month, which comes with its own set of advantages and disadvantages.
Pros of Audible:
Keep Forever: Even if you cancel your subscription, the free audiobook you receive each month is yours to keep. It remains in your library indefinitely.
Easy Exchanges: Audible allows you to exchange audiobooks for free if you're not satisfied with your choice. You have up to 365 days to return a purchased book, offering flexibility in your selections.
High-Quality Sound: Audible ensures top-notch audio quality, delivering clear pronunciations and excellent sound for an enjoyable listening experience.
Plus Catalog: With an Audible subscription, you gain access to the Plus catalog—an ever-expanding collection of audiobooks. Audible continuously adds new titles to the Plus catalog, giving you fresh listening options.
Whispersync for Voice: Whispersync for Voice lets you sync your audiobook with the corresponding ebooks. This feature allows you to seamlessly switch between listening and reading, enhancing your overall experience.
Free Titles: Audible's subscription provides you with one or two free audiobook(s) per month, depending on your subscription plan. If you finish your audiobook before the month ends, you'll need to purchase additional titles at a 30% discount.
Cons of Audible:
Limited Device Compatibility: Audible books are restricted to specific players and devices. Some users may encounter challenges when trying to play Audible books on certain devices like MP3 players, smart TVs, or smartwatches. Additionally, Audible books can only be played through the Audible app, which may occasionally experience issues like crashing.
But this problem can be solved now! What you only need to do is to convert Audible AAX books to MP3 with ViWizard Audible Converter. ViWizard Audible Converter is a smart audiobook digital solution developed for Audible users. It lets the Audible users download the selected audiobook and convert the downloaded file formats like AA, AAX to universally accepted formats like lossless audio, MP3, M4A, M4B, AAC, FLAC, WAV, etc at a speed of up to 100X. Once you convert the files to the given formats, you can use the new files with any popular players or devices. And since the conversion is lossless, the quality of the audio is preserved as-is. You can follow this tutorial: How to convert Audible AA/AAX to MP3.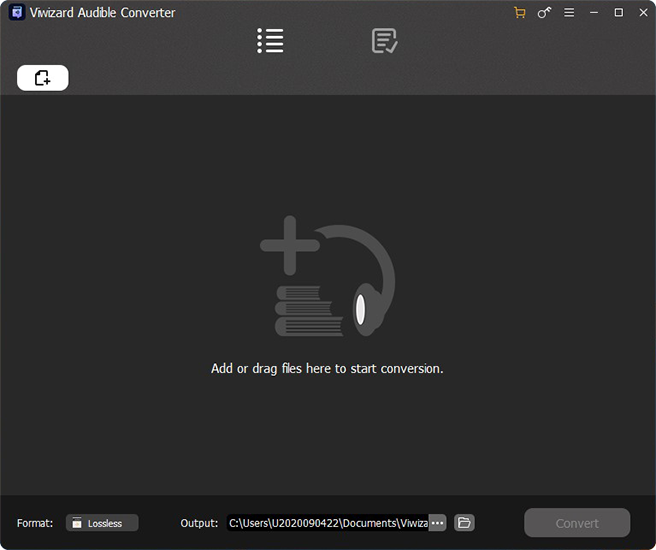 2. Storytel: Pros & Cons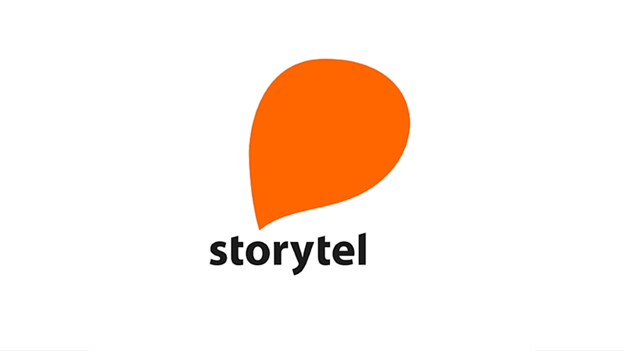 Storytel offers a user-friendly audiobook experience with a subscription cost that may vary by region. The simplicity of its service sets it apart, making it a viable choice for audiobook enthusiasts.
Pros of Storytel:
Unlimited Access: With Storytel, you can enjoy an unlimited number of audiobooks and eBooks each month within your subscription plan. You have the freedom to choose between reading an eBook or listening to an audiobook, giving you a versatile reading experience.
Cost-Efficient: Storytel is budget-friendly, especially if you consume more than one book per month. What's great is that you don't need to pay extra to access both eBooks and audiobooks, making it a cost-effective option.
Seamless Sync: Storytel's service automatically synchronizes your progress between eBooks and audiobooks. This feature simplifies your reading experience, allowing you to seamlessly switch between the two formats. For instance, if you're on chapter 5 of an audiobook, opening the same book in eBook format takes you to the same point.
Caters to Different Audiences: Storytel caters to various audiences, including the Indian audience, by providing access to works by Indian authors and regional writers. This diverse selection enhances the cultural and linguistic experience for readers.
Varied Content: Storytel offers more than just full-length novels. You can explore short stories, poems, serialized content, and a wide range of literary forms to suit your preferences.
User-Friendly Features: The Storytel player includes a sleep timer and speed adjustment for personalized listening. You can control the playback speed to match your pace and set a sleep timer for added convenience. Additionally, you can easily navigate chapters, bookmark pages, and customize the background and text size when reading eBooks.
Cons of Storytel:
Limited Collection: In comparison to some other audiobook platforms, Storytel's collection may be considered somewhat limited. If you're looking for an extensive library, you might find it more limited on Storytel.
Active Subscription: To continue enjoying any audiobook on Storytel, you need to maintain an active subscription package. This means that you'll need to keep your subscription up to access the audiobooks.
Part 3.

Audible vs Storytel: Comparison Table
| Aspect | Audible | Storytel |
| --- | --- | --- |
| Library Size | 200,000 titles, including bestsellers and exclusive content | 500,000 titles with a focus on regional content |
| User interface | User-friendly, with apps for smartphone and computer | Simple and straightforward apps and web interface |
| Children Mode | Audible for Kids, Parental Controls, Amazon Kids and Household Sharing | Kids Mode, Family Plans, Parental Controls |
| Subscription Plans | Audible Plus and Audible Premium Plus, 1 or 2 free audiobook(s)/month | Various plans, including Unlimited, Family, and more and varies by region |
| Price | $7.95/month for Audible Plus, and $14.95/month for Audible Premium Plus | Varies by region, starting from %9.99/month in U.S. |
| Offline Listening | Download audiobooks for offline listening | Download audiobooks and ebooks for offline use |
| Device Compatibility | Compatible with select players and devices | Supported on smartphones, tablets, and web browsers |
Best for a Beginner: Audible
For beginners entering the world of audiobooks, we recommend starting with Audible's subscription priced at $14.95 per month. Audible offers a solid foundation with all the essential functions and features to get you started. While it may have one or two slightly confusing features, it provides a user-friendly experience overall.
Audible's extensive library, including bestsellers and exclusive content, is an excellent place to explore popular titles and genres. The user interface is designed to be accessible and straightforward, with apps available for smartphones and computers, making it easy to enjoy audiobooks on various devices.
One key advantage of Audible for beginners is its clear subscription structure, such as Audible Premium Plus, which includes one or two free audiobook(s) per month. Additionally, Audible's exchange policy allows you to swap audiobooks if you're not satisfied with your selection. The ability to retain your audiobooks even after canceling your subscription offers flexibility.
As you gain experience and confidence in your audiobook preferences, you can consider exploring other platforms like Storytel. While Storytel has its unique features, it's essential to note that it may not work as smoothly as expected for beginners, and some features may lack alternatives or may not be accessible through the website.
Later, if you find that Storytel aligns better with your preferences, you can explore it with a more experienced audiobook perspective and your Audible audiobooks collection. You can make your Audible library yours to keep forever in some universally-used audio formats with ViWizard Audible Converter, removing the DRM from the AA or AAX format files.

Key Features of ViWizard Audible Audiobook Converter
Free Trial
Free Trial
* Security verified. 5,481,347 people have downloaded it.
Convert Audible audiobook to unprotected audio formats like MP3
Split Audible book into several smaller segments by chapter or by time
Support playing Audible audiobooks on any device or media player
Handle the conversion of Audible audiobooks up to 100× faster speed