Years ago, man found a way to organize the information in a way that it was called a story. The collection of the information in the pages formed something called a book. With time, people got used to reading a book. And they also faced issues with the books like physical space and volume of the book, straining the eyes to read the text, and more.
With the advent of technology, developers developed tools that would read the book to you while you just had to listen. Such books were called audiobooks. Two very famous platforms took up to providing audiobook services. These were Audible and Storytel. Today, we compare both the platforms and come up with the best option out of the two. So, let's begin Storytel vs Audible.

Part 1. Audible vs. Storytel: Which is Better?
Audible is an online audiobook and podcast platform which is owned by Amazon.com. It lets the users stream and buy the audiobooks and other spoken forms of the content. But Storytel is a service that allows its users to stream audiobooks for your mobile phone. It is a digital subscription service that lets you download the app and subscribe to a package.
Before we dive into the detailed review of Audible and Storytel, we'd love to start with the simple comparison of this two services in the 3 most-concerned things: collection of books, user experience and membership plans. Let's find out how these can help optimize your listening experience with these 2 services.
1. Audible vs Storytel: Collection of Books
Audible:
Audible has created the Plus Catalog to give both Audible Plus and Audible Premium members more to discover and fall in love with. The Plus Catalog is a growing selection, which contains Audible Originals, audiobooks and podcasts. For audiobook lovers, it offers 760k titles! There's no limits on how many Plus Catalog titles you can add to YOUR LIBRAYR or stream. You can choose to EAT THEM ALL! See how to downloade entire library>>
YOUR LIBRARY is a permanent one on Audible, the titles included are kept even after the membership is expired, but of course the access to them won't remain. You'll have a perfect collection of books. Go to Plus Catalog>>
Storytel:
The best part of Storytel is it offers 500k titles on a global scale. You can find your story with Storytel's collection, including international bestsellers and exclusives local authors.
Collection of Books: Audible
2. Audible vs Storytel: User Experience
Audible:
For computer owners, it's simple to browse and shop at Audible.com, just like at Amazon.com. When it comes to the user experiences, it's hard not to mention the download service. Audible offers 2 methods to download the titles on its website or in its app for offline listening.
Since now Audible has discontinued with the Audible app for Windows, Windows users must have the alternatives to the Audible app - AudibleSync, which helps download YOUR LIBRARY, or AudibleManger, which shuttles downloads from the service to a PC. Mac users need to be running OS X and iTunes 3.0 or greater. At Audible.com, browse to a title to add it to cart and purchase it, then the choices show up in YOUR LIBRARY. A few clicks can transfer the content to the computer, where the software above intercepts it.
Storytel:
With Storytel you can listen to audiobooks on your smartphone wherever and whenever you want. Since it's running on a global scale, you needs to customize some settings after you've downloaded the app such as the languages, default filters (Audiobooks, eBooks or both).
You can turn on the children mode in Storytel to let chidren only have the access to contents for children, while Audible offers another subscription plan called Amazon Kids+ to help provide educational content.
However, in terms of functionality, you might have the issues to download titles in the Storytel app to your mobile devices. For example, even you have downloaded a title, it can delete itself and prevent from some features like adding bookmarks or taking notes, which can be frustrating.
User Experience: Audible
3. Audible vs Storytel: Membership Plans
Audible:
Most Audible users have a membership, for which there're 2 options: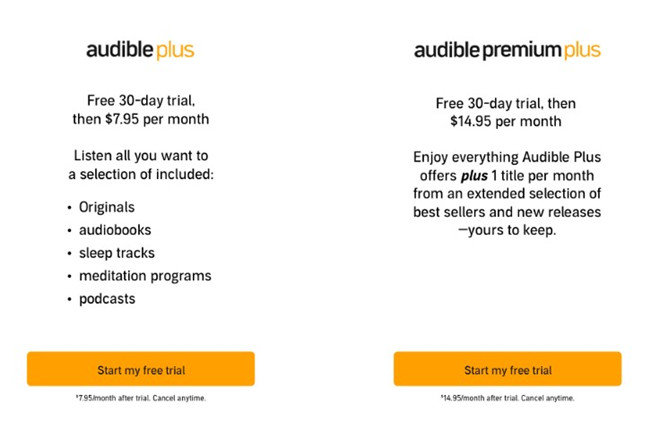 Audible Plus - $7.95/month
The Audible Plus subscription ensures members the crucial unlimited listening - but to the Audible Plus catalog.
Audible Premium Plus - 14.95/month
Audible Premium Plus members have the same access to the Plus Catalog, plus 1 CREDIT a month to purchase a title with a 1 CREDIT label included in the Plus Catalog (and YOUR LIBRARY) at no additional cost. See how to use the credit well>>
Tips: As it stands now, Audible offer 1-month free trial with 2 free audiobooks. You can use Amazon credentials or an Audible account to sign in to Audible.com to have this time-limited free offer, later continues with $15/month. See how to get Audible free trial>>
Storytel:
Similar to Audible, Storytel offers subscription plans however at a much cheaper price than Audible's. If you are interested, choose the subscription that suits you best.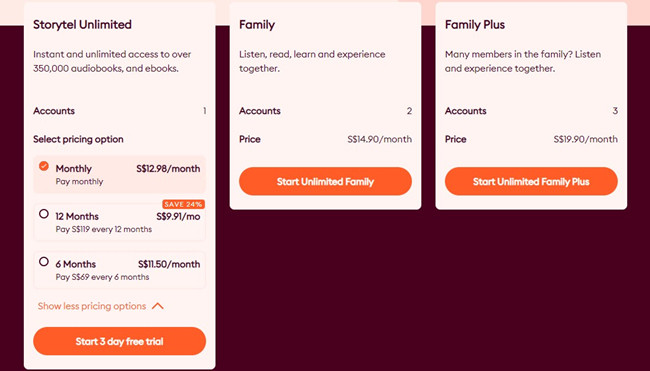 Storytel Unlimited - $12.98/month
The Storytel Unlimited subscription give the instant and unlimited access to Storytel's collection with over 350k audiobooks, and eBook. Besides the monthly plan for Unlimited, you can select an annual plan between $119 for 12 months or $69 for 6 months.
If you are more than one person in the household that would like to listen or read to Storytel from your own device, at the same time, you can choose Storytel's Family subscription plan.
Storytel Family - $14.9/month
The subscription plan Family includes 2 Storytel accounts.
Storytel Family Plus - $19.9/month
The subscription plan Family Plus includes 3 Storytel accounts.
Tips: As it stands now, you can have a 3-day trial on Storytel.
Membership Plans: Storytel
| | | |
| --- | --- | --- |
| | Audible | Storytel |
| Collection of Books | √ | |
| User Experience | √ | |
| Membership Plans | | √ |
Best for a Beginner: Audible
For a Beginner, we recommend to start with Audible for $15/month then switch to Storytel. Audible have all the basic functions and features for a beginner - expect for one or two confusing features, while Storytel's features won't work fine as expected and there's no alternatives to access the same features website that Storytel doesn't have. You can create YOUR OWN COLLECTION OF BOOKS on Audible then keep it in some common audio formats with this ViWizard Audible AA/AAX Converter.
ViWizard Audible Audiobook Converter Key Features
Losslessly convert Audible books without account authorization
Convert Audible books to common formats at 100X faster speed
Freely customize parameters of output audiobooks
Split audiobooks into small segments by time frame or by chapters
Part 2. Audible vs. Storytel: What You Should Know
Let us take a detailed review of Storytel and Audible to see which one is the best option for you to choose:
Audible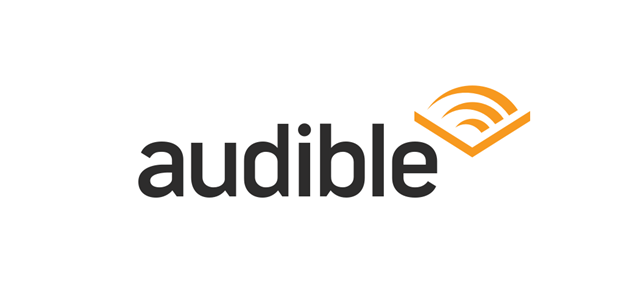 1. Audible Review: Pros & Cons
Audible is a service provided by Amazon.com Inc and it boasts of a library that has almost all the books available in the audio format. Whichever you choose, Audible or Storytel, you need to pay for the books. You can subscribe to Audible service for $14.95 per month. If you subscribe to the service, you get one audiobook free each month until the service is enabled.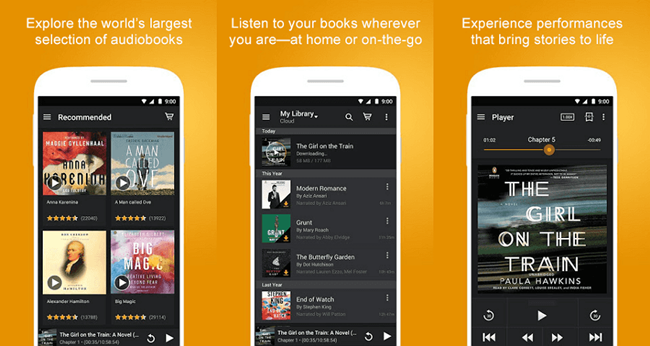 Pros of Audible:
● Own forever: Even if you end the subscription to the services, the free audiobook you get every month can be retained.
● Exchange books: Swapping the audiobook is free, in case you don't like the audiobook. You get the time of around 365 days to return the purchased book.
● High quality: You get high-quality audio which ensures that you listen to the correct pronunciation of the words.
● Plus catalog: If you subscribe to Audible, you can listen to any books in Plus catalog which is always renewed by Audible. Every month, Audible will add some new books into Plus catalog.
● Whispersync for Voice: Whispersync for Voice makes it possible to sync audiobook and the corresponding ebooks. Then you can combining listening and reading or switch between them easily.
Cons of Audible:
● Only one book: You get only one audiobook for free every month. Hence, if you are done with one book, you have to pay to listen to the second book if the month has not ended yet. You have to buy the second book at a 30% discount.
● Limited players and devices: Audible books can only be played on limited players and devices. Many user feel disappointed when trying to listen to play Audible books on MP3 players, smart TVs, or smartwatches. And you can only play Audible books on Audible app while Audible app is attached by errors like Audible keeps crashing from time to time.
But this problem can be solved now! What you only need to do is to convert Audible AAX books to MP3 with ViWizard Audible Converter. ViWizard Audible Converter is a smart audiobook digital solution developed for Audible users. It lets the Audible users download the selected audiobook and convert the downloaded file formats like AA, AAX to universally accepted formats like lossless audio, MP3, M4A, M4B, AAC, FLAC, WAV, etc at a speed of up to 100X. Once you convert the files to the given formats, you can use the new files with any popular players or devices. And since the conversion is lossless, the quality of the audio is preserved as-is. You can follow this tutorial: How to convert Audible AA/AAX to MP3.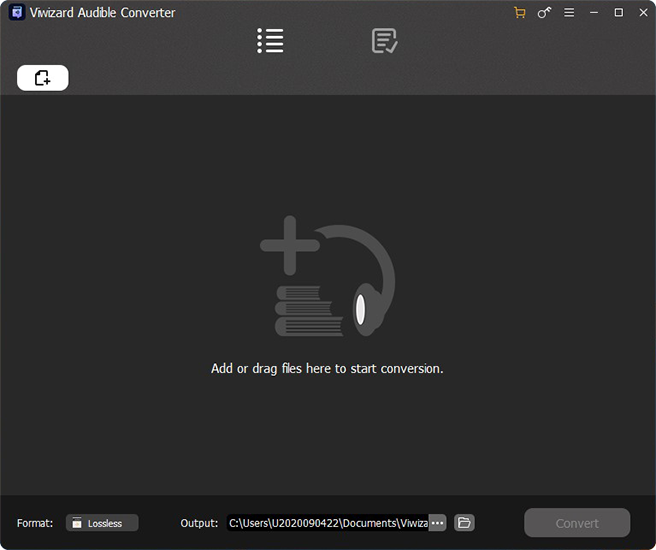 Storytel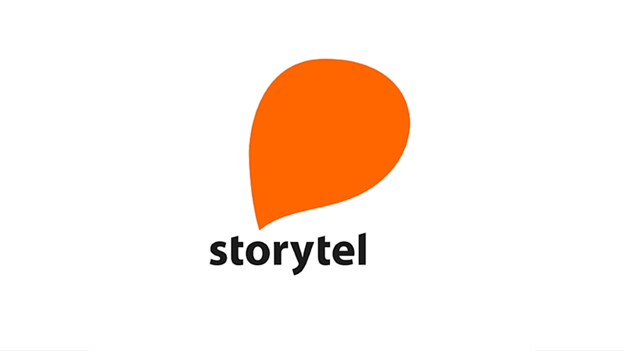 2. Storytel Review: Pros & Cons
With Storytel, the subscription costs $9.99 per month. But, the best part is, you can listen to as many books as possible even if the month has not ended. Moreover, you get 14-day free access to the service.
Pros of Storytel:
● Unlimited audiobooks and eBooks: Access to unlimited audiobooks and eBooks in a month. Hence, you can either choose to read an eBook or you can listen to the audiobook.
● Cheaper: Cheaper than Audible considering that you listen to more than one book per month. Moreover, to access both eBooks and audiobooks, you don't need to pay extra.
● eBooks and audiobooks: The service automatically synchronizes the user's progress with both the eBooks and audiobooks. This makes it easier for you to switch between the two. This means that if you are listening to chapter 5 in an audiobook, and if you open the same book in eBook format, it automatically opens up chapter 5.
● For Indian audience: As far as the Indian audience is concerned, this service lets you access the works of Indian authors and writers. It also provides access to regional writers and their works.
● Category: With Storytel, you can access short stories, poems, and serialized content along with full-fledged novels.
● Sleep timer: The Storytel player has the facility of the sleep timer and speed adjustment. With the speed control, you can decide how fast or slow you need to listen to the story. And if you fall asleep within the sleep timer time window, it automatically closes the app.
● Bookmark: You can easily change the chapters, bookmark the page, and also change the background and text size when you are reading an eBook.
Cons of Storytel:
● Limited collection: Storytel has a limited collection if you compare it with Audible.
● Subscription: You need an active subscription package to keep on listening to any audiobook.
Part 3. Audible vs. Storytel: Conclusions & Suggestions
Having gone through the review of Audible and Storytel and the comparison of Storytel vs Audible, now you can see for yourself which service you would like to choose. The article clearly explains the competition of Audible vs Storytel. If you prefer Audible, then here is the tip for you to improve the listening on Audible by using ViWizard Audible Converter.
More Audible Tips & Tutorials