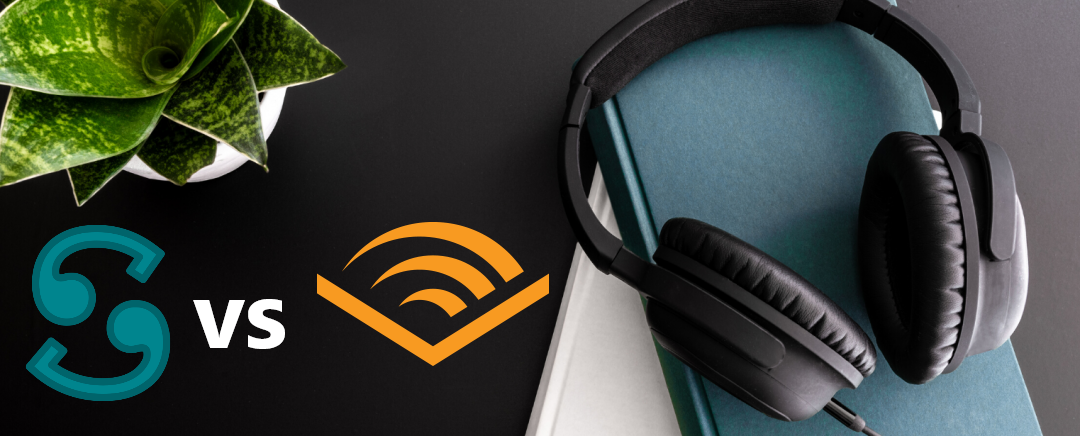 Life these days has taken such a hectic route that maintaining a work-life balance has become a task for many people and in this fast-paced world finding time for hobbies like reading can be a bit taxing. Hence, many people are now shifting to audiobooks.
Audible and Scribd are two audiobook platforms from different sources. Audible is an online podcast and audiobook platform owned by Amazon and Scribd is an e-book and audiobook subscription service. It gives access to 1 million e-books and is also known as the largest digital library. In this comparison of Scribd vs Audible, we will see which subscription is better in terms of material availability, audio quality, pricing, and much more. Let's delve into the details of Scribd and Audible and find out which platform is preferable.
Part 1. Audible vs Scribd: What You Need to Know
Audible:
Audible is an audiobook subscription service launched by Amazon. It is an audiobook and podcast streaming platform. The Audible subscription claims to offer you over 2, 00,000 audiobooks that you can start listening to by downloading the Audible app. The Audible subscription costs $14.95. Amazon Audible also allows you to buy the books and they will stay with you even after you cancel the subscription.
Scribd: 
Scribd is an e-book and audiobook subscription service that claims to own 1 million titles. It also hosts 60 million documents on its open publishing platforms. It was founded in March 2007 and it serves its subscribers with a variety of reading material like eBooks, magazines, documents published by other subscribers. It also has sheet music, audiobooks, and much more. However, Scribd does not allow you to buy books. Its subscribers have to rent the books they wish to read.
Part 2. Audible vs Scribd: Which is Better?
Now let's dive deep into the difference between these 2 services. Go through the whole comparison and you will have a clear mind of which one fits you better.
2.1 Audible VS Scribd: Books Collection & Your Library
Audible: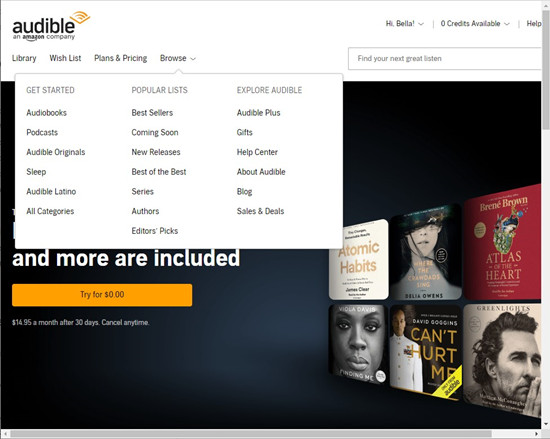 Audible library contains 4,70,000 books making it the world's largest digital library. Even if you don't have the subscription, Audible still provides some free audiobooks for you to listen to on its web app with the built-in cloud player. But in most cases, you may want others included in the Plus Catalog. The Plus Catalog is created by Audible to give its subscribers more of what they love and more to discover. It contains Audible Originals, audiobooks, and podcasts including exclusive series.
Now you must want to know how to build up you own library on Audible, which is pretty straightforward. Just select and add the desired tiles to your library and you can have the direct access to your library. Of course, with the Audible subscription you have more abilities such as to download thousands of titles to listen offline. Note that once you have built up your own books library, it's permanent on Audible. This means the titles included are kept even after you lost your membership. But you won't have the access to the Plus titles.
Or of course you can choose to purchase one or two titles at an extra cost. Just head to add them to the cart and proceed to checkout, the books are yours to keep forever, even no membership is activated. We'll explain about this a little further in the part of subscription plan. If interested, go to Plus Catalog to get some inspirations.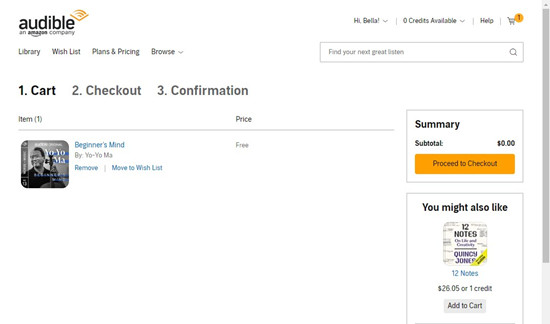 Scribd: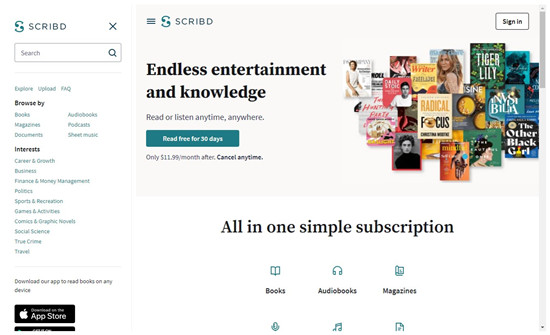 Similar to Audible, Scribd provide a digital library with millions of ebook, audiobooks, and more. In addition to books, you're allowed to explore more like podcasts, sheet music, documents and magazines (ex: Time) with your subscription. You can read as many books as you like in a month. You're also allowed to access millions of those written works such as essays or short stories, which are contributed by the members themselves.
When it comes to the non-audible content, Scribd is a clear winner. That is to say, if you prefer ebooks, magazine or new articles, you should choose Scribd instead of Audible. And if you are a musician, it's best for you to have some sheet music on Scribd since buying sheet music is expensive.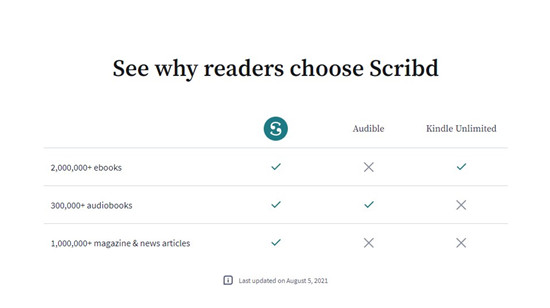 Books Collection & Your Library: Audible
2.2 Audible VS Scribd: Key Compatibility & Functionality
Audible: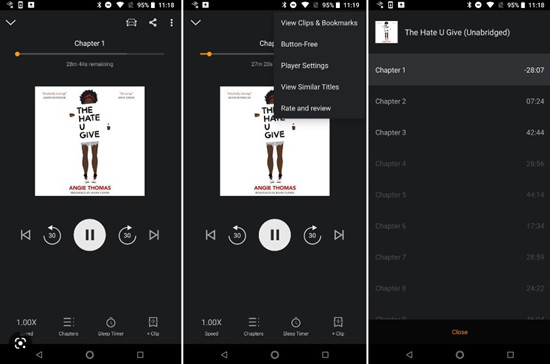 For starters, Amazon Audible is accessible on its official website by using a web browser. Just open the web browser and enter "audible.com" in the address bar and you're good to go. Or if you prefer the application, Audible also provides several options. For one, you can have AudibleSync - the official alternative to the discontinued Audible app for Windows on your PC to download your library. For another is AudibleManager, which shuttles downloads from a service to a PC. If you have iTunes on Mac or PC, you can even merge your Audible library into your iTunes audiobooks collection. Learn how to sync Audible with iTunes for Windows & Mac.
If you prefer to use a mobile device to access Audible, Audible offers more compatibility. For starters you can have the Audible app for Android from Google Play or Audible app for iOS from the App Store. Then you can basically use all the Alex-enabled devices, such as Amazon Echo to play Audible. Learn how to listen to Audible on Amazon Alexa.
Scribd: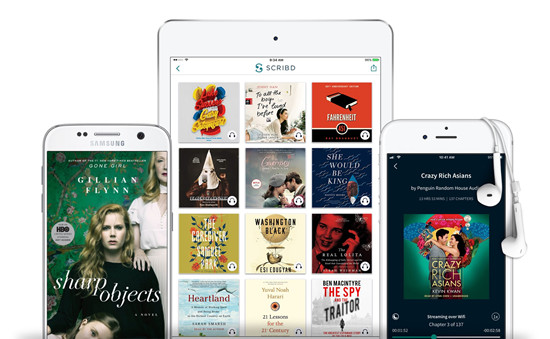 For starters, you can visit the Scribd website using a web browser on all your devices. Just enter "scribd.com" on the address bar and hit enter you can start to browse to the contents here. You can also focus on the Scribd app when it comes to the actual use. If you use an iPhone or iPad with iOS 14 or newer, you can have the Scribd app in the Apple App Store. Or if you have an Android device, the Scribd app is available for Android 5.0 (Lollipop) or newer on Google Play.
There's a limit on how many browsers or devices you can use to access Scribd. So please make sure you don't access the Scribd collection using more than 3 different browsers or computers within a 24-hour period. However, you should may encounter with a connect issue of you are using the Nook GlowLight, Kobo and most versions of the Kindle.
Key Compatibility & Functionality: Audible
2.3 Audible VS Scribd: Audio Quality
Audible:
Amazon Audible has the best audio quality so far. The high-quality Audible formats give an audio quality of 64kbs.
Scribd:
Scribd has a comparatively lower audio quality than Audible of just 32kbs. It gives a terribly hissy and digital sounding audio which are generally not preferred to listen to and are too rash to the ears.
2.4 Audible VS Scribd: Subscription Plan
Audible:
You have two subscription plans on Audible - either Audible Plus ($7.95/month) or Audible Premium Plus ($14.95/month). As the names say it, no matter which one to choose, you can have the Plus catalog to listen to millions of titles online or offline with no limits. But what comes along with the Audible Premium Plus is 2 free Premium audiobooks per month for personal collection. Since Audible Premium Plus members has 1 or 2 (for Amazon Prime members) CREDIT per month to purchase a title with 1 CREDIT label included in the Plus Catalog at no extra cost. Learn how to use credit well on Audible.
To purchase titles on Audible, you also have a discounted price. More than that, you won't miss out on great sales on Audible such the Audible 2 for 1 and more. Learn how to find Audible 2 for 1.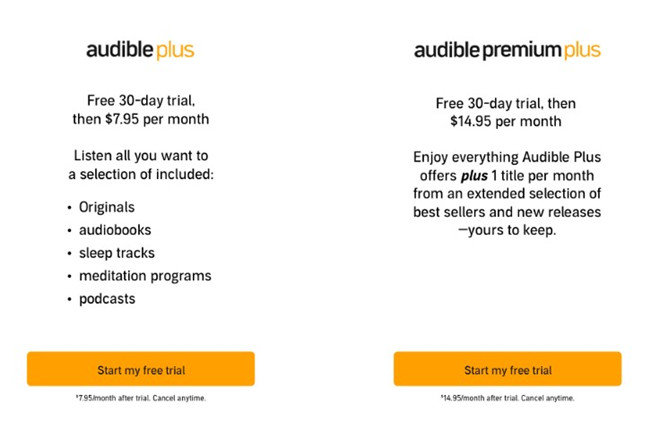 Can't decide which subscription plan to choose to start your Audible journey? Read our reviews to the difference between Audible Plus and Premium Plus.
You should also take advantage of Audible's time-limited free trial to experience it. As it stands now, Audible is offering 30 days free trial for new starters with 2 free titles. Just head to audible.com and sign up for it! Cancel anytime via Account Details. And you still have those free audiobooks you purchased with credits and your library is kept well on Audible. Learn how to sign up for Audible's time-limited free trial for 1 month and more.
Scribd:
A Scribd subscription is your ticket to Scribd's world of books. For $11.99 per month, you'll get access to Scribd's library of bestsellers, award winners, obscure indie titles and reader favorites. Get started on Scribd. With a subscription, you get to read thousands of professionally published, popular books in a wide variety of genres.
In addition, you get personalized recommendations, as well as curated lists from the Scribd editors to discover your next favorite read. The only drawback of the Scribd services is that it won't allow you to but the material. There're no such Audible credits on Scribd. It only allows you to rend the material you wish to read instead. Cancel at any time you want on the Your Account page! And you'll still have access to your personalized profile and many documents shared by Scribd's vibrant community.
Just like Audible, Scribd also offers time-limited free trial for 30 days, and later to continue with $11.99/month after.
Subscription Plan: Both are Good.
2.5 Audible VS Scribd: Advanced Support
All the audiobooks downloaded from Amazon Audible are owned by the subscriber. In most case, the Audible does not play on your device - even the most MP3 player for your audiobooks, then you must convert it to MP3 format. An amazing tool called ViWizard Audible AA/AAX Converter can help you convert Audible AA/AAX audiobooks to MP3, then you can transfer the files to your devices easily for offline play. If interested, get started from the download box below. Pick either the Windows or Mac version of ViWizard Audible Converter. Learn how to convert Audible AA/AAX to MP3 on Mac & Windows.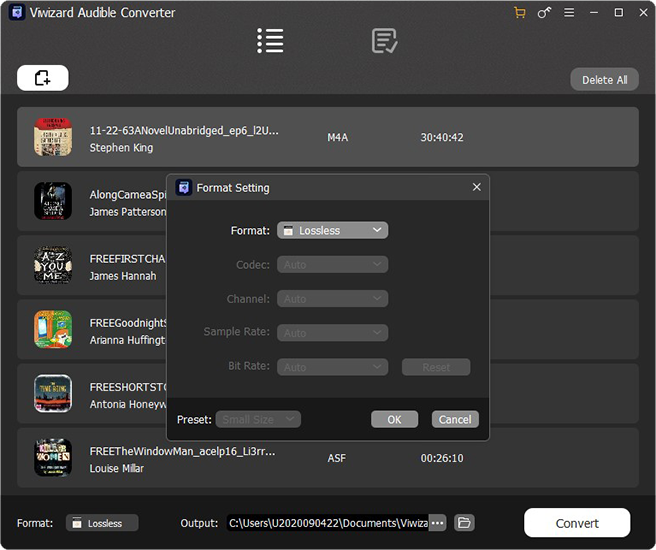 ViWizard Audible Audiobook Converter Key Features
Losslessly convert Audible books without account authorization
Convert Audible books to common formats at 100X faster speed
Freely customize parameters of output audiobooks
Split audiobooks into small segments by time frame or by chapters
Part 3. Audible vs Scribd: The Final Thought
Both the audiobook services are great and it is very difficult to compare them and make a final decision. But we recommend Audible for a beginner. Since Audible will have all the basic functions and features you need to listen to audiobooks on almost all your devices. And the library is the biggest in the world that includes the Harry Potter series. So you must be able to find your love. With the help of ViWizard Audible Converter, you can even build up your own audiobook collections for the best backup.
If you are a person who enjoys reading e-books, magazines, and other documents then Scribd is your go-to place. The drawback with Scribd is that it does not have good audio quality. But it does offer a variety of readings to the subscriber.
We suggest to sign up for the free trial of Amazon Audible and Scribd first to see which one suits your taste.