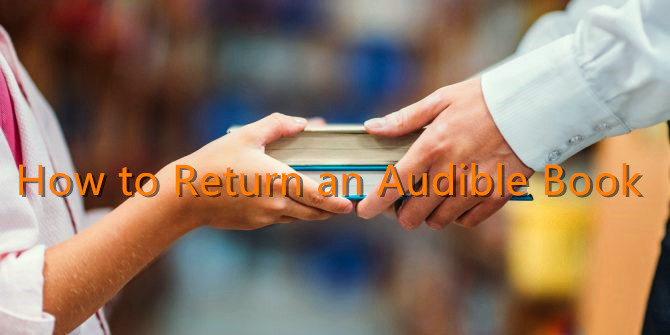 Audiobooks are a great way of getting stories in a revolutionized way, instead of reading. This makes for a good pastime activity as you can chill listening to the good vibes in the audio-based story. If you're an avid audiobook buff, you must have purchased your desired books from Audible. There are times, however, some books don't meet your expectations. Fortunately, Audible officially supports returning titles within 365 days of the original purchase date. In the coming soon parts, we will show you how to return Audible books and give you a tip to keep Audible books after returning them. Let's have a look!
Part 1. Can You Return Audible Books?
From search engines, we found that many Audible newcomers asked: can I return an Audible book? The answer is obviously positive. Whether you don't want the book anymore, bought the book by mistake, don't like the entire narration, or for whatever reason, you can make a return of your Audible audiobook.
There are a few points that you need to note before returning an audiobook for a hassle-free procedure:
• The audiobook must have been purchased within 365 days for it to be legible for return.
• Only those titles purchased with credits are available to refund.
• You will get your Audible credits back if return a book on Audible.
• You need to be an Audible Premium Plus member so that you are eligible to initiate a return.
• The return procedure is only available on the Audible website.
Part 2. How to Return Audible Books on Mobile/Computer
Audible's website offers great convenience for listeners when acquiring and listening to the audiobooks in their catalog. You can initiate a return and refund on the desktop website or mobile site. The following are the steps you can follow to return an Audible book.
2.1 Return an Audible Book on Desktop
Exchanging an Audible book on the desktop site is pretty easy to navigate, check out the steps below:
Step 1. Visit Audible.com, and click on the icon at the top of the homepage with your name saluted.
Step 2. Select Account Details on the dropdown menu.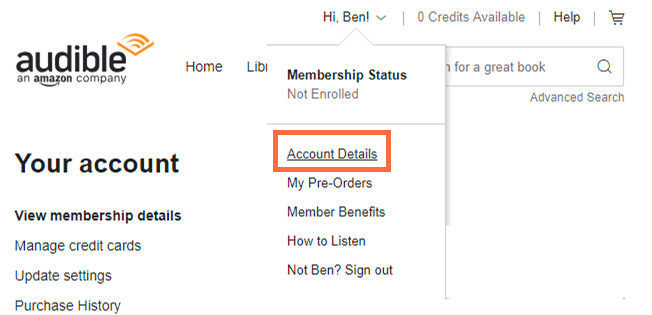 Step 3. On this page go to Purchase History on the left side of the homepage.
Step 4. Find the book you want to return, and click Return this Title > Confirm.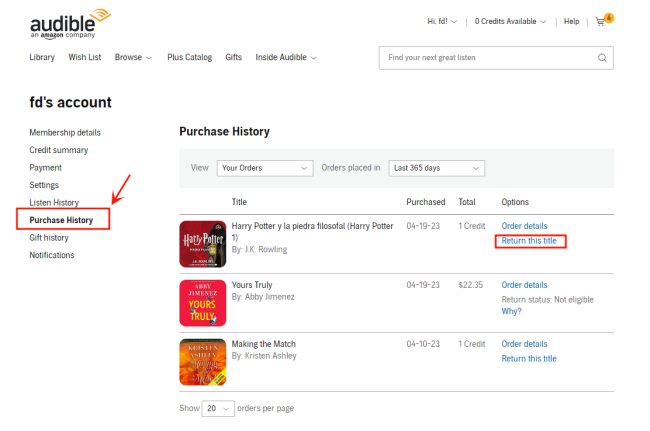 Step 5. Once the return is successful, a window will pop up to say "1 Credit has been returned to your account".

2.2 Return Audible Books on Mobile
You can't open the Audible app to return a title, so you need to use the mobile site whether you're on a phone or tablet. The procedure to return Audible books on the mobile site is similar to the desktop site's procedure, the difference being in the layouts.
Step 1. Open a browser and go to the Audible website.
Step 2. Log in to your account and tap the three horizontal lines icon in the upper left corner.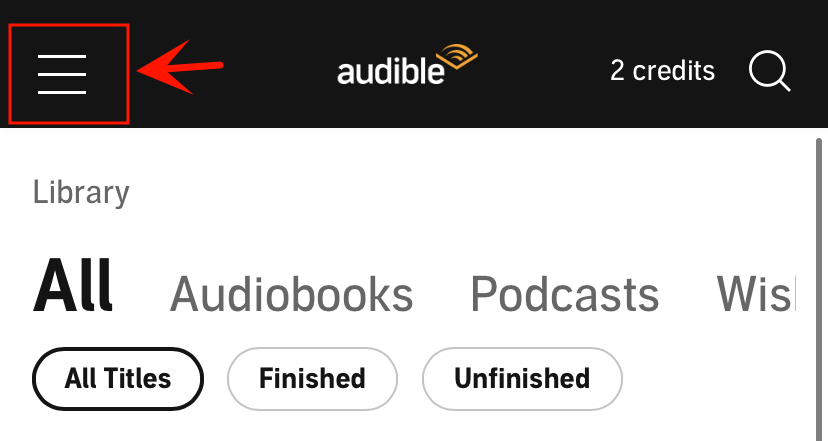 Step 3. Tap your profile and head to Purchase History.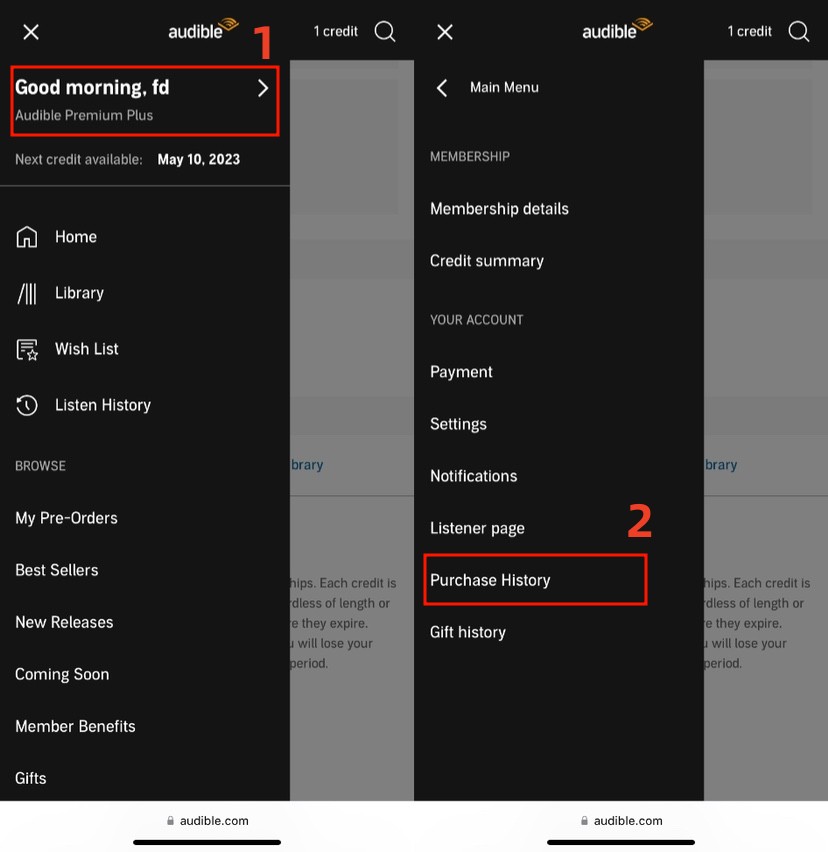 Step 4. Select the book you'd like to return.
Step 5. Tap Return this title under the book and confirm your return.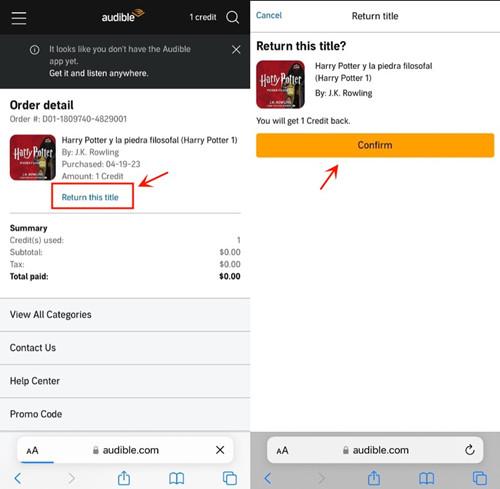 Step 6. You will get a pop-up box to tell you "1 Credit has been returned to your account".
Note: All credits received from returning a title expire 12 months after they are issued. So make full use of these credits to purchase your desired Audible audiobooks.
Part 3. How to Keep the Audiobooks After Returning
We all know that after returning items, we can't access them anymore, and the returned Audible book is no exception. In case some people want to keep returning Audible books or listen to them sometime later, we suggest a good way --- download Audible books and convert them to MP3 before returning them. If you have downloaded your returned book, the downloaded file still store on your device even though you returned it. So it is a great way to keep credits for several books. But don't return books so frequently.
However, the downloaded Audible files are in protected AA/AAX formats, which means you can only play them on Audible. In this situation, we recommend you install ViWizard Audible Audiobook Converter to help you encrypt and convert AA/AAX to MP3 and other formats at 100X speed. In this way, you are free to play Audible audio titles on any media player or device you want. Also, the converted Audible books are saved locally and you can easily locate them in ViWizard software. Scroll down to see how to back up your returned book.
ViWizard Audible Converter Key Features
Convert Audible AAX/AA to MP3 and others with Lossless quality
Convert Audible audiobooks to common formats at a 100X faster speed
Freely customize lots of parameters of output audiobooks
Split audiobooks into small segments by time frame or by chapters
Step 1

Add Audible Files to ViWizard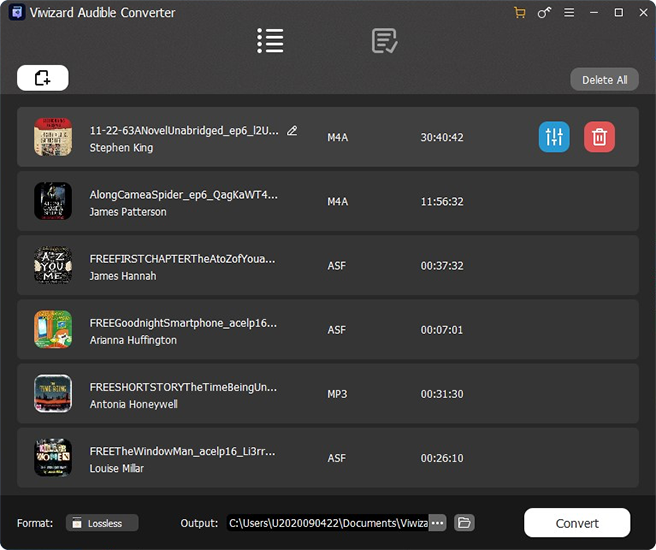 Before launching ViWizard Audible Audiobook Converter, you need to download Audible books first. And then you can add Audible audiobooks by either dragging the files to ViWizard or clicking the Add Files icon at the upper-left corner. Also, you are allowed to add several files and convert multiple Audible books at once because it supports batch conversion. If you have the need of splitting the audiobook or changing the volume or speed, just one-click the blue Edit icon next to each audiobook's name.
Step 2

Adjust Output Format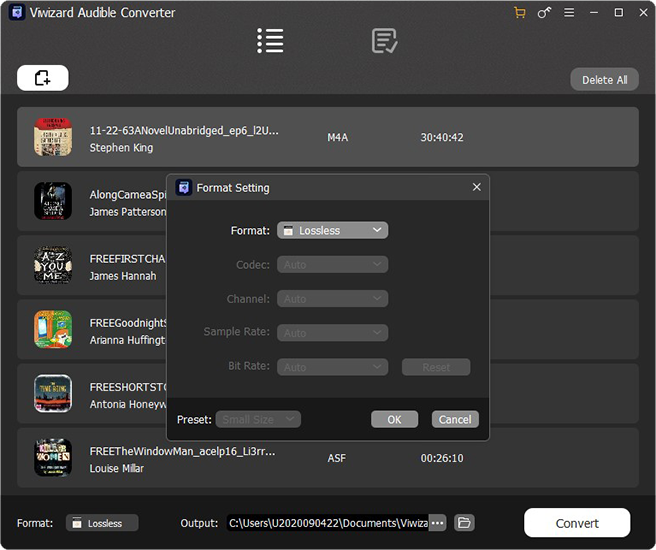 After uploading all the audiobook files to ViWizard, click the Format button and choose the output audio format as you want. Currently, it supports lossless audio, MP3, and much more. Set MP3 as the output format, then you can stream Audible books on any media player and any device. Besides, you can freely adjust the audio parameters like the codec, channel, bit rate, and sample rate.
Step 3

Start Converting Audible Books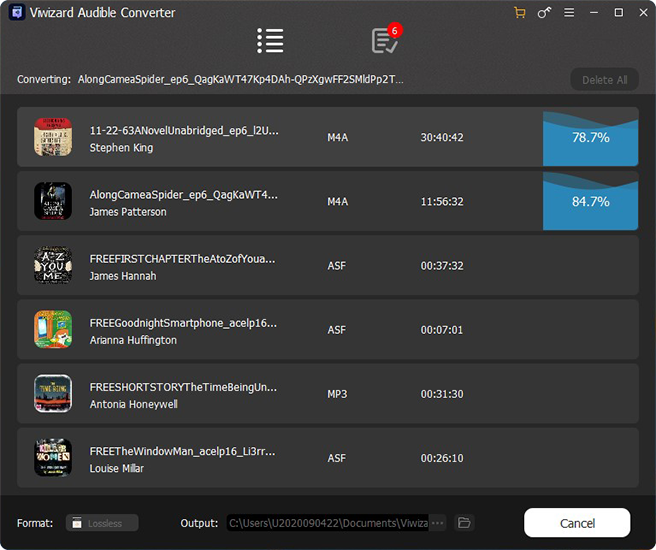 To start converting your Audible audiobooks, click the bottom right Convert button. Once the conversion is complete, go to the Converted interface, and you can easily view all your converted files. Of course, you can locate certain files by using the ViWizard search function. Thanks to its built-in playback, you can enjoy the converted audiobooks in the ViWizard.
Frequently Asked Questions about Audible Return
Q1. How many Audible books can I return?
A: Indeed there is no official answer to this question. The limit on returns depends on the percentage of titles you have returned and varies from person to person or book to book. And if your membership is so active membership that Audible will accept any number of returns.. Audible monitor returns for any abuse, such as frequent return of titles after prolonged listening, or returns of multiple titles at a time. If you do that, Audible will reach out to you, and you will be blocked from exchanging audiobooks.
Q2. Why can't I return my Audible book?
A: Audible now only supports returning books purchased by credits. If you can't return a certain book, maybe it is bought with dollars that are not eligible to return. And if you reach excessive returns, Audible will impose restrictions on your return.
Q3. Can I keep returning Audible books?
A: Of course. As long as you have downloaded the book, you can find them on your device, or you can convert them to MP3 using ViWizard Audible Converter to stream them without any limit.
Q4. What type of refund will I receive?
A: Credits. Since October 17, 2022, Audible has not accepted returns for titles purchased with a credit card. Only titles purchased with an Audible credit are eligible for return.
Q5. Can Non-members return Audible books?
A: Non-members can contact Audible Customer Service to return or exchange 2 titles every 6 months.
Q5. Does the credit I received from the refund expire?
A: Yes, the credit will expire if you don't use it within 12 months.
Conclusion
Being able to return Audible books is one of the perks of Audible that you can benefit from. So if you don't like the audiobook bought from Audible, you can easily return it through both the desktop and mobile sites. Additionally, we highly recommend you back up your Audible books by using ViWizard Audible Converter so that you can listen to them on any device anytime anywhere you like.