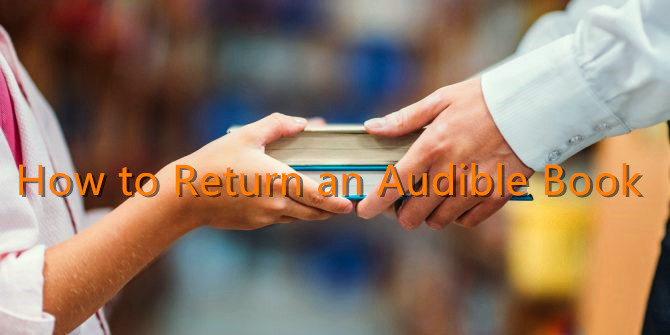 Audiobooks are a great way of getting stories in a revolutionized way, instead of reading you listen. This makes for a good pastime activity as you can chill listening to the good vibes in the audio-based story.
Audible is one of the sites where you can get audiobooks and it is viewed as an online library for your audiobook needs. Just like getting books, you may at one point get an audiobook and it does not meet your expectations. You would really love to return Audible book for an exchange or maybe a refund.
Reasons Why You Want to Return an Audible Audiobook
The good news is that at Audible, you can make a return of your Audible audiobook. There are many reasons that can compel you to want to return an Audible audiobook as seen below.
• Poor sound quality characterized by some hitches such as skipping.
• If the audio is in an unfamiliar language.
• If you bought the audiobook by mistake.
• If you did not like the book at all.
• In case you do not like the narrator or the entire narration.
With any of the above reasons, feel free to return your audiobook without any hurdles. Let us have a glimpse on how you can return Audible audiobook
How to Return an Audible Audiobook: 2 Ways
To return an Audible audiobook, you need to be a valid account holder and have also made a purchase of the audiobook within 365 days. The exchange policy is risk-free and gives you a chance to sample other narrators' works.
The following are the steps you can follow to return Audible book for both platforms, desktop, and mobile site.
1) Desktop Site
For the desktop site, you need to first log in to your account through its official website. Once logged in to your account, click on the icon at the top of the homepage with your name saluted. On clicking this menu icon, a dropdown menu is going to be revealed.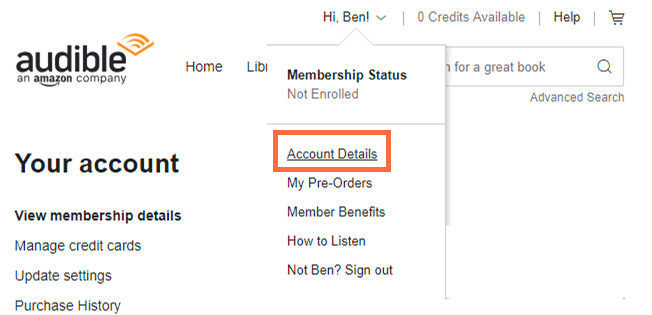 Step 1: On the dropdown menu, click on 'Account Details' and you are going to be redirected to another page. On this page select 'Purchase History' on the left side of the homepage. On the purchase history, you can refine the search parameters according to your orders and the date the purchase was made. As the return is only valid for 365 days from the date of purchase, you can set 365 days in the date box.
Step 2: You then select the audiobook that you want to return and click on 'Return Title' under the options bar against the audiobook selected.
Step 3: Next, you select the reason as to why you want the book returned and click on 'Return Title' to complete the procedure.
2) Mobile Site
Audible has a mobile site for convenience and ease when acquiring and listening to the audiobooks on their catalog. The procedure to return Audible book on mobile site is similar to the desktop site's procedure, the difference being on the names and layouts.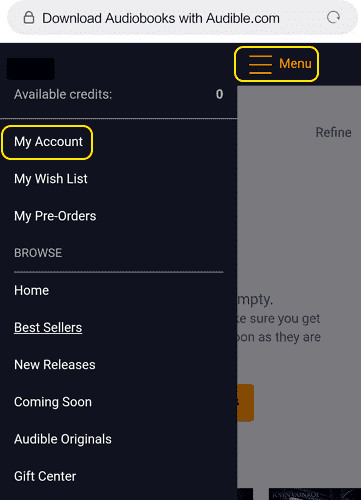 Step 1: To proceed on the mobile platform, you first need to log in to your account on Audible's website. Once logged in tap the menu icon located on the upper left part of the home screen, represented by three vertical dots.
Step 2: A dropdown list will emerge where you are supposed to click on the 'My Account' menu icon to proceed. This action leads you to another page where you need to click on the 'Purchase History' icon to view your audiobook purchases.
Step 3: On the purchase history, click on the book that you want to return and click on 'Return Title'. You will be prompted to give a reason for your return then click on 'Return Title' after you indicate the reason for returning the audiobook. The return process is finalized by this step.
Points to Note When Returning an Audible Audiobook
The following are some of the points that you need to note when returning an Audible audiobook for a hassle-free procedure.
• The audiobook must have been purchased within 365 days for it to be legible for a return.
• The return procedure is only available on the Audible website. The mobile and desktop applications cannot initiate a return; however, the mobile site has been optimized to initiate returns.
• You need to be a signed up Audible member or you to be able to initiate a return.
• Refunds for returned books will be in the medium of exchange that you used in buying the Audible book. For example, if you made a purchase using Audible credits, the credits will be refunded to you. Same applies to the use of coupons and other media.
• In cases where the return has been used more frequently than usual, Audible's support team may reach out to you for inquiries.
Conclusion & Suggeston
Being able to return Audible books is one of the perks from Audible that you can benefit from. The process is simple and easy to follow with the goal of ensuring you get the book that you want. So if you don't like the audiobook bought from Audible, you can easily return it though both the desktop and mobile sites.
Additionally, we highly recommend you to back up your Audible books by using ViWizard AA/AAX Audible Converter. It will help you remove the DRM protection and convert AA, AAX to MP3, FLAC or other common audio formats at 100X faster speed, so that you can listen to them on any device anytime anywhere you like.