"Audible Rewards is our new rewards program to help level up your listening. For every 3 credits you use, you'll get a $10 reward coupon that will be delivered to you via email. Eligible customers may receive a maximum of four $10 coupons until the program ends on June 30, 2023."
With the blessings of Audible, audiobook lovers can immerse themselves in the fabulous world that over 200,000 Audible titles bring. After the release of Kindle Rewards, Amazon launched the Audible Rewards program in November 2022. Like the above description on the Audible website, Audible gives customers a $10 reward coupon once 3 credits were used. It is a good way to make the most of Audible membership and save money. Now, scroll down to see how to use Audible rewards.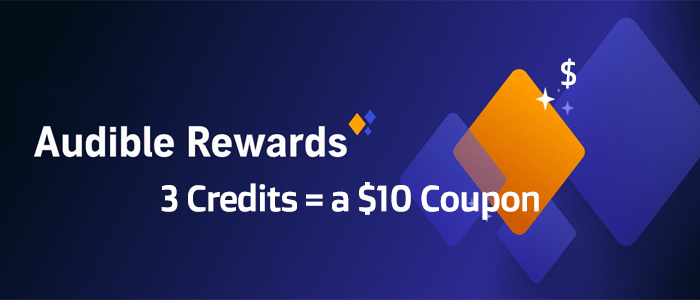 Part 1. How Audible Rewards Works
Note that the Audible Rewards program is just available to all Audible Premium Plus and Silver members who live in the US. Every time you spend 3 credits for purchasing, you will reward with a $10 coupon and you can get up to $40 coupons for an audiobook. This new initiative is to reward people who buy Audible titles with credits and offset their later purchases with coupon value. Don't have enough credits? Wanna get free credits? Click and read this post: Audible Credit Tips: Get Free Audible Credits
In addition to this way, Audible also offered an alternative way called bonus reward challenges to earn rewards. Audible provided a $5 reward coupon for Audible Premium Plus or Silver Plan Members once they listen for 20 minutes a day for 5 days between January 17-31. But it's a pity that this deal can't be accessible after January 31, 2023.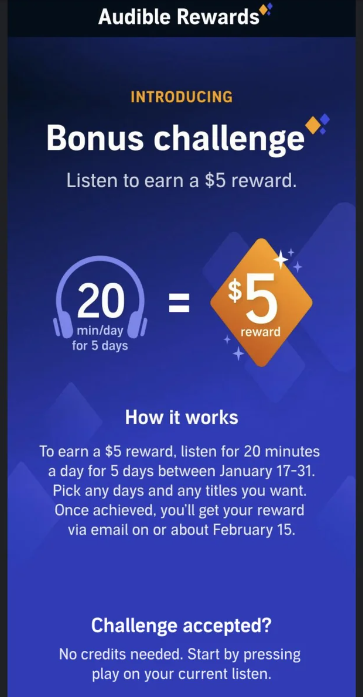 Before receiving the email from Audible Rewards, ensure you have opted into receiving Sales and Offers emails. If not, you can't get the promotional emails. From Audible Email Preferences page to manage your notification and set your preference, please tick Sales and Offers to enable it.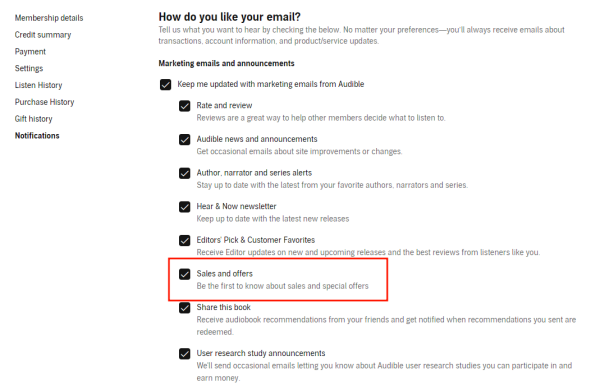 Part 2. How to Redeem and Spend Audible Rewards
Once you've achieved a reward, Audible officially emails your coupon within 10 days. And you need to redeem your reward coupons in 14 days. Therefore, after you get a reward coupon, redeem it first and then spend it when purchasing an audio title.
Step 1. Redeem Audible Reward Coupon
Redeeming Audible Rewards is simple, just follow the redemption instruction provided in the email Audible sent.
Step 2. Spend Audible Rewards
Note: In order to spend the reward coupon please pay with your credit card from the Audible desktop site or mobile site. Coupons can't be used in the Audible app.
On Desktop
1. Go to the Audible website, and search for your desired book.
2. On the detail page of the title, click Add to cart.
3. Go to the shopping cart in the upper-right corner.
4. Select Purchase with $X.XX, and your reward coupon will be automatically applied.
5. Click Proceed to Checkout > Complete Purchase to confirm your purchase.

On Mobile
1. Open a browser on your mobile device and visit Audible.com.
2. Locate and tap on the audiobook you want.
3. Select Buy for $X.XX to purchase, and tap the Confirm Purchase button to proceed with the checkout.
4. Your coupon balance will automatically be deducted from the subtotal of your purchase.
Tips: Listen to Audible without Limit via ViWizard
Although Audible allows users to download their purchased book for offline listening, they can't play downloaded audiobooks on any platform other than Audible, because the downloaded audio files are in AA/AAX format and are protected by DRM technology. So in that situation, what should you do if you prefer to stream Audible on other devices without the Audible app?
All you need is ViWizard Audible Audiobook Converter. As its name suggests, it is an amazing Audible downloader and converter. With the help of ViWizard, you can convert the protected AA and AAX audio books to common formats, MP3, M4A, M4B, AAC, FLAC, WAV, and more with lossless audio quality. Furthermore, its 100X conversion speed offers great flexibility and convenience for you.
ViWizard Audible Converter Key Features
Convert Audible AAX/AA to MP3 and others with Lossless quality
Convert Audible audiobooks to common formats at a 100X faster speed
Freely customize lots of parameters of output audiobooks
Split audiobooks into small segments by time frame or by chapters
Step 1

Drag Audible Files to ViWizard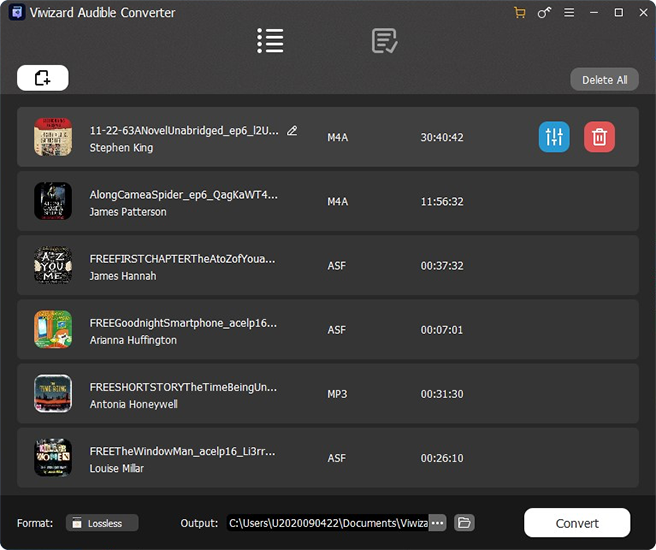 Launch ViWizard Audible Audiobook Converter, and then you can add Audible audiobooks by either dragging the files to ViWizard or clicking the Add Files icon at the upper-left corner. Also, you are allowed to add several files and convert multiple Audible books at once because it supports batch conversion.
Step 2

Adjust Parameters for Audiobooks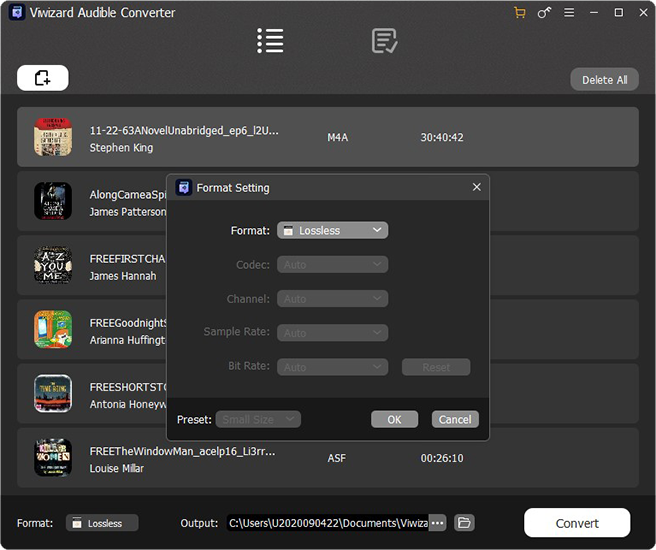 After uploading all the audiobook files to ViWizard, click the Format button and choose the output audio format as you want. Currently, it supports lossless audio, MP3 and much more. Besides, you can freely adjust the audio parameters like the codec, channel, bit rate, and sample rate. If you have the need of splitting the audiobook, or changing the volume or speed, just one-click the blue Edit icon next to each audiobook's name.
Step 3

Start the Conversion of Audible Books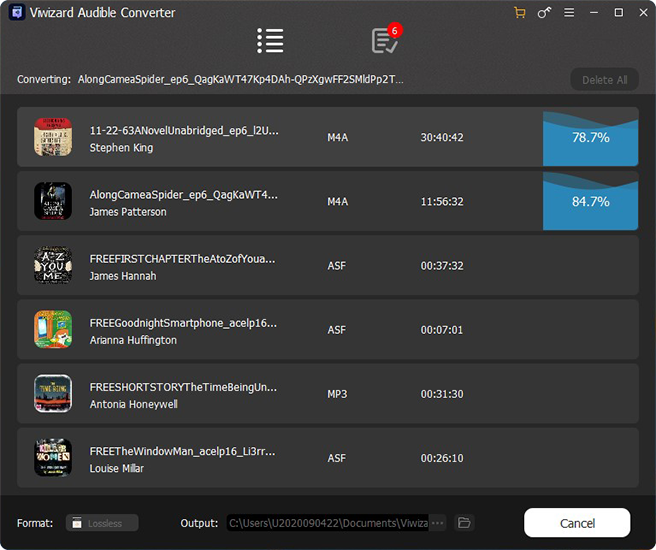 To start converting your Audible audiobooks, click the bottom right Convert button. Once the conversion is complete, go to the Converted interface, and you can easily view your converted files. Of course, you can locate certain files by using the ViWizard search function. Thanks to its built-in playback, you can enjoy the converted audiobooks in the ViWizard.
Frequently Asked Questions about Audible Rewards
From the scattered information on search engines, we collected some questions you may interested in and give you our answers.
Q1. Can Amazon digital rewards be used for Audible?
A: Sort of and not directly. Many Amazon Prime users would be rewarded $1 or $2 digital credits if they choose a slower delivery method for their package. And these Amazon digital rewards also called No-rush rewards can be directly used to buy Kindle books at a reduced price. Also, you can use the credits to buy an ebook with Audible Narration and a matching Whispersync. Then, add Audible Narration to Kindle books to listen to Audible and read on Kindle.
Q2. How to stop the charges to the credit card from Amazon Digital and Audible?
A: To cancel a subscription you purchased with your credit card: on the Amazon website, log in with the same account that subscribed to the service. Go to Your Memberships and Subscriptions. Select Manage Subscription next to the subscription you'd like to cancel. Select the End Subscription option and confirm.
Q3. When will I receive my reward coupon?
A: It takes up to ten days to receive an email about your earned reward after using three credits. All you need to do is update your email box and enable Sales and Offers so that Audible can send the email including a reward coupon for you.
Q4. Does the Audible Reward coupon expire?
A: Yes. The Audible coupon will be expired and invalid if you don't redeem it within 2-weeks after you receive the Audible email. Take advantage of the fact that you need to redeem and spend your reward coupon immediately.
Q5. Can I redeem multiple reward coupons at one time?
A: Yes, you are allowed to use multiple reward coupons at one time. All of the coupons you've earned are combined into your account and can be used at once. And if there is any coupon remaining, that may be applied to your next non-credit purchase.
Conclusion
Concluding, if you are paying for Audible membership, it is time to make the most of your subscription, credits, and rewards. The above parts introduce Audible rewards and guides to spending Audible rewards. Wait for what? Enjoy Audible by using its reward coupon before this deal ends on June 30, 2023. After purchasing and downloading your favorite audiobooks, try to listen to them and convert them via ViWizard Audible Audiobook Converter, then you can freely play them without limits.