In the jungle of audiobook services, there is no doubt Audible speaks loudest. For those who love reading, Kindle is as famous as Audible. If you are a loyal fan of Audible and Kindle both, you are so lucky! You can read and listen to Audible simultaneously with the Audible Narration. Add Audible Narration to an ebook, and you can enjoy reading and listening simultaneously and seamlessly. This article today will teach you how to add Audible Narration to Kindle books. Scroll down when you're ready.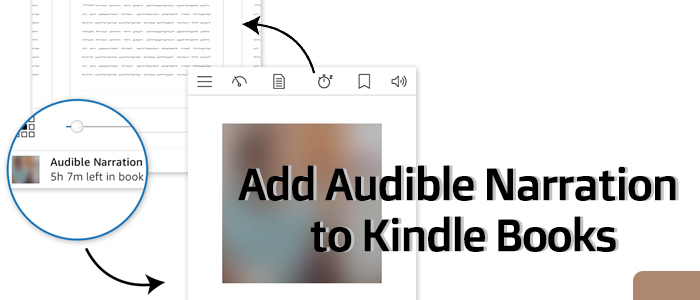 Part 1. Frequently Asked Questions about Audible Narration
There is such a large amount of scattered information on the search engine that you can't exactly learn about Audible Narration. Here we collect and summarize all the information and questions you may be interested in. Scroll down to check out!
Q1. What is Audible Narration?
A: Audible Narration refers to Amazon's audio version of Kindle books as of 2023. It is the Kindle audio companion but isn't available for all Kindle books. If some ebooks support the option "Add Audible Narration", you can upgrade your purchased ebooks which brings you a better experience.
Q2. Is Audible Narration the same as Whispersync?
A: No, they are different but complementary. Audible Narration is a kind of Audible book while Whispersync is a function that allows you to switch seamlessly between listening to your audiobooks and reading your companion Kindle eBooks without losing your place. Anyway, books with Audible Narration work with Whispersync. Without the ebook matching Audible Narration, you can't reach the sync between listening and reading via Whipersync.
Q3. How does Audible Narration work?
A: Adding Audible Narration to your ebook purchases gives you the same audio as the audiobook/Audible version. Once you have purchased Audible Narration for your ebooks, you can seamlessly switch between reading and listening with the Whispersync for Voice feature. Put another way, both the audiobook and the ebook will automatically sync without losing your place. Moreover, Audible Narration allows you to read with real-time text highlighting while listening.
Q4. Where to find Kindle books with Audible Narration?
A: To get ebooks with Audible Narration, just visit the Amazon Kindle Books with Audible Narration page. On that page, you can browse and purchase a sea of Audible Narration-enabled Kindle books.
Q5. How much does Audible Narration cost?
A: The price of Audible Narration is totally up to the book, and varies from book to book.
Part 2. Guides to Add Audible Narration to Kindle Books
From Part 1, you may understand how Audible Narration work. In the following part, we undoubtedly give you detailed tutorials to add and use Audible Narration on Kindle.
Get Audible Narration to Kindle Books
Before switching between reading and listening, you need to add Audible Narration to your book and purchase it. It is easy to operate.
From Kindle Store
1. Head to Kindle Store on your Kindle device' Home page.
2. From Kindle Store, you are allowed to browse books. Or you can tap the Search Kindle box at the top of the page to search for the book you want.
3. Go to the book's description page, and tap Add Audible narration checkbox under the Buy now button.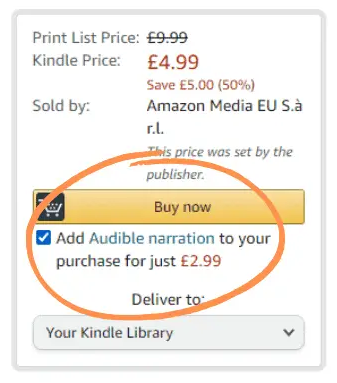 4. Tap the Buy for $X.XX or Buy now with 1-click button to seal the deal.
5. The book will automatically download and display in your Kindle library.
From Amazon Platform
1. Open the Amazon website and sign in to your account.
2. Browse and choose which book you want to buy.
3. On the title's detail page, tick the option Add Audible narration to your purchase and click the Buy now with 1-click button to confirm your purchase.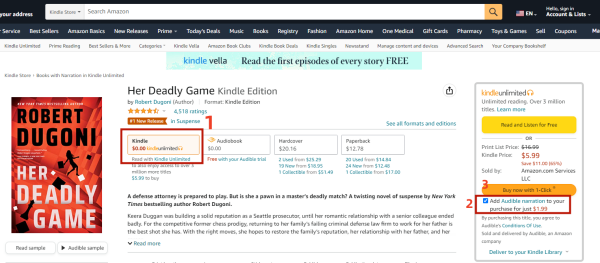 4. After purchasing successfully, it will be delivered to your Kindle library.
Switch between Reading and Listening with Audible Narration
Once you add Audible Narration to the ebook and purchase it, you can find the headphones icon alongside the title of the book. That indicates the book is available for audio narration. Now immerse yourself in the audio-visual feast that Audible Narration and Whispersync together bring.
1. Launch the Kindle app on your mobile or go to Library on your Kindle device.
2. Tap the book you'd like to read and listen to.
3. At the bottom of the Kindle playback, you will see Audible Narration and select Tap to Download below.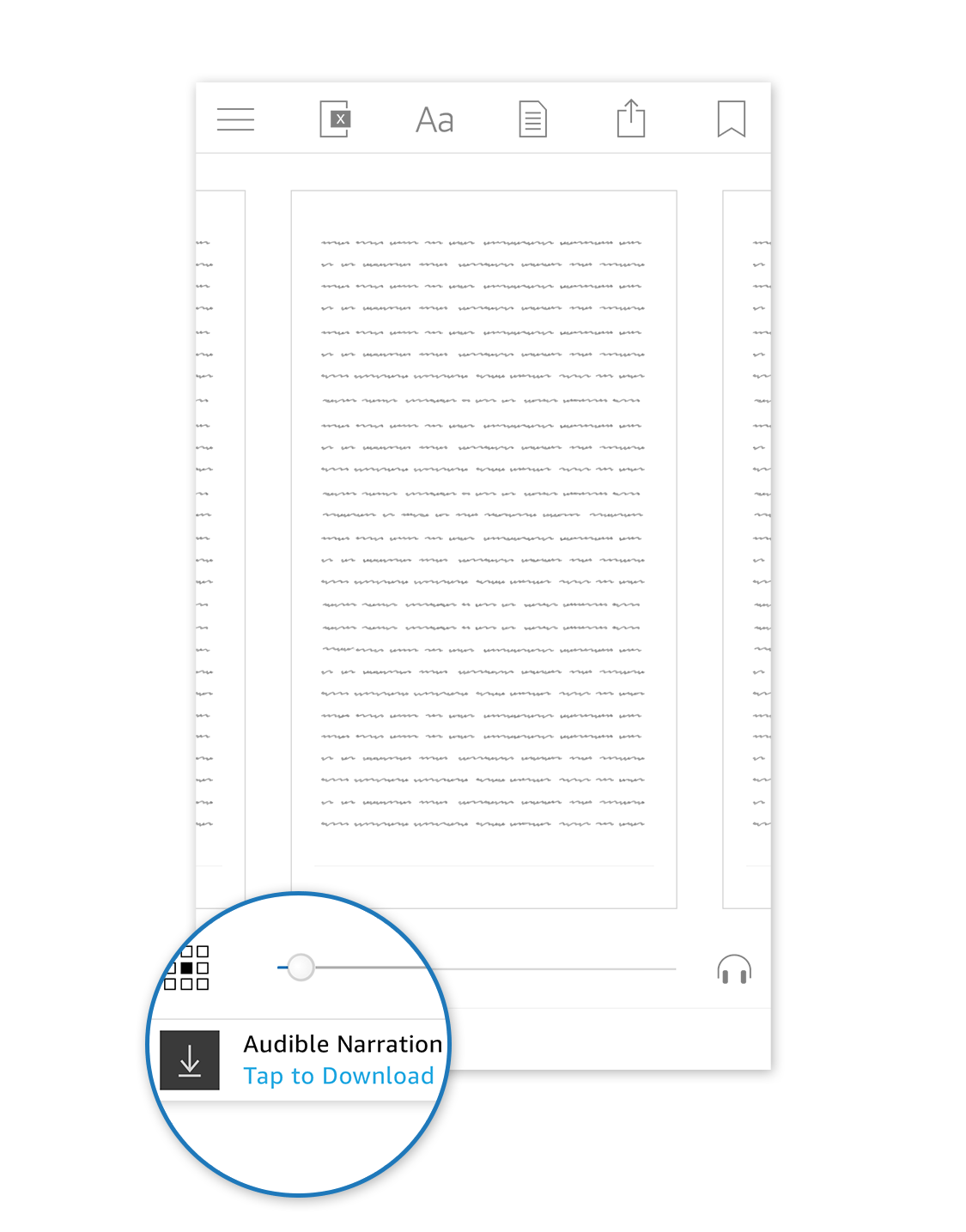 4. After downloading, tap the Play icon to start listening which will lead to the appearance of the Audible player.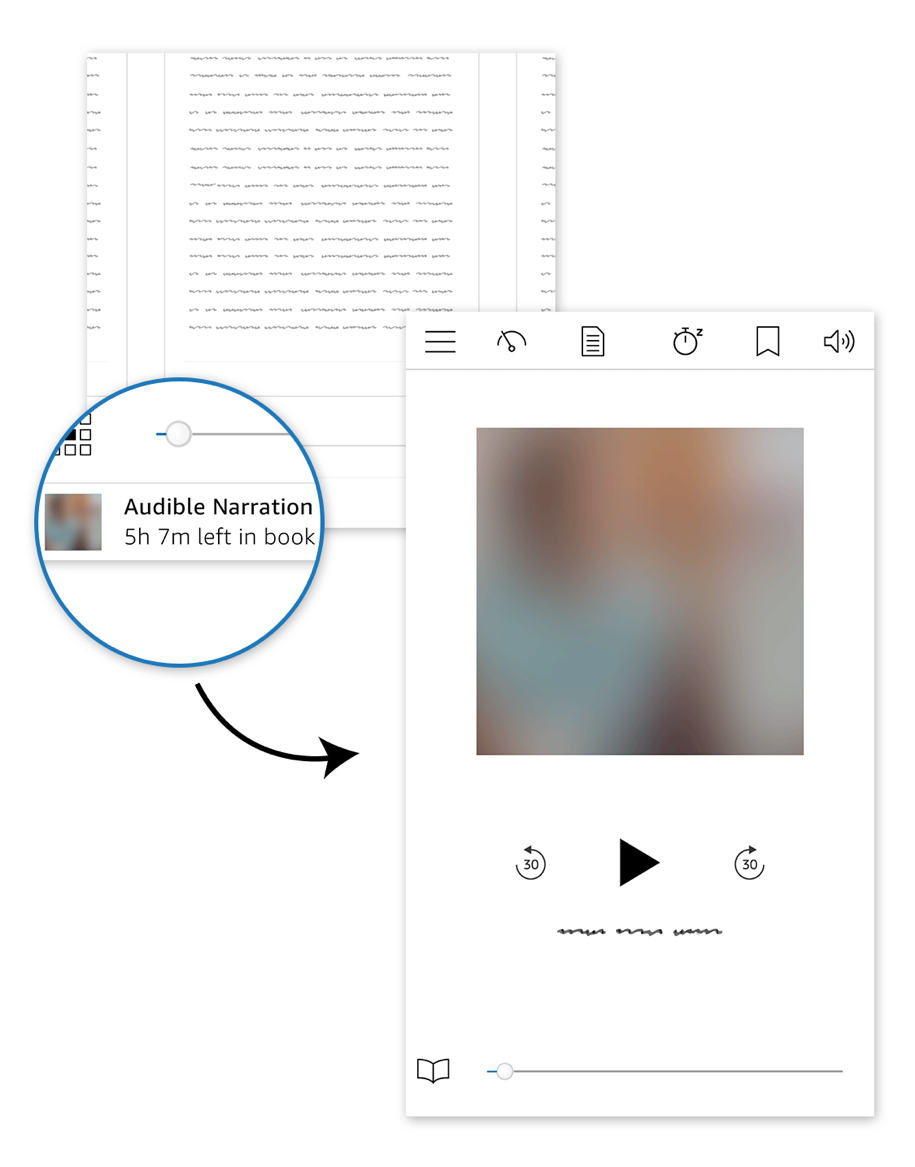 5. Now, you are free to tap the Book icon to read and tap the Audible player to enjoy listening.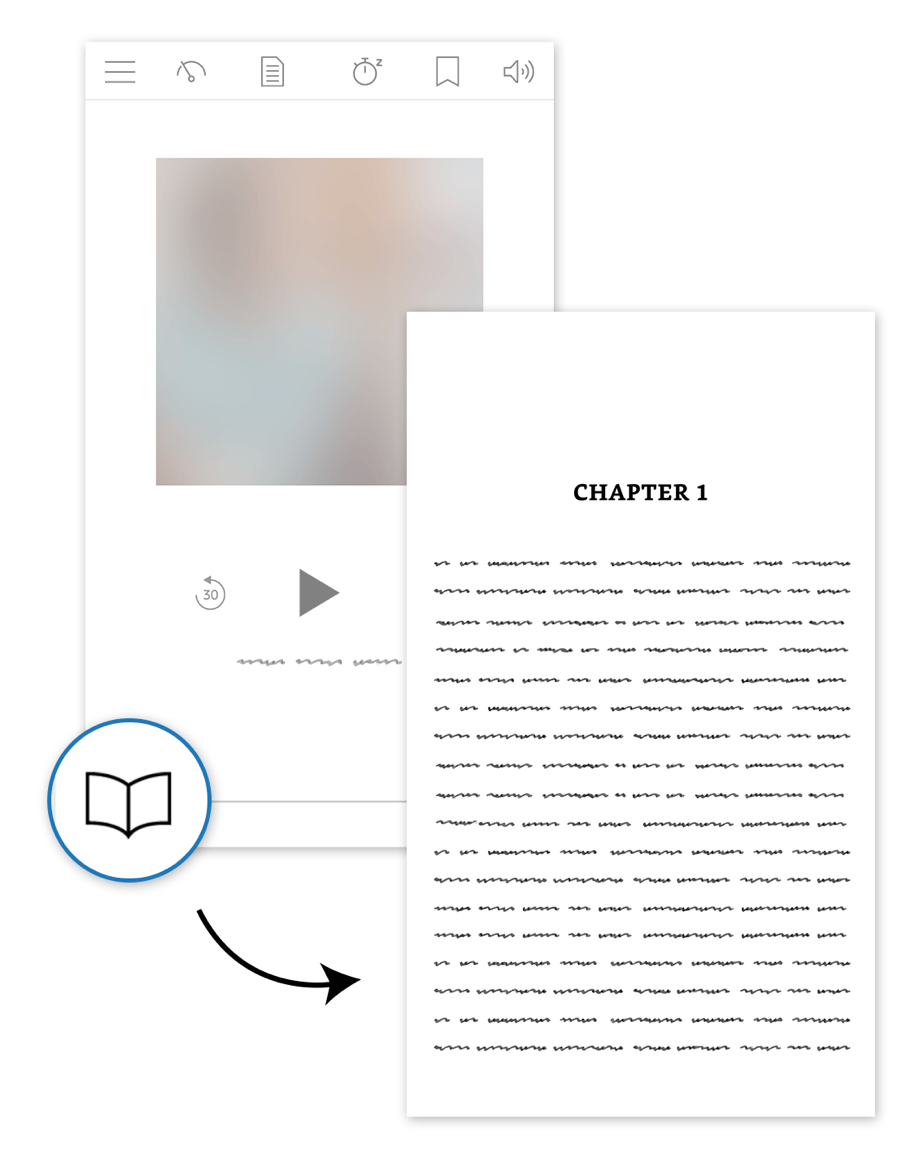 If you just want to listen to Audible books on your Kindle device, you can check out this article: How to Listen to Audible Audiobooks on Kindle Tablets
Part 3. Solutions to Audible Narration Not Showing Up on Kindle
When collecting information of Audible Narration, we find some users have encountered an issue that Audible Narration can not show up in the Kindle app. If you are haunted by this problem, try the following solutions.
Solution 1. Check if the book supports Audible Narration or not
The issue of the Audible Narration icon not showing up may be because either you have not added audible narration, or the narration is not available for this book.
Solution 2. Update the title
If you have added Audible Narration to your book recently, it may need updating. To update this book, just close the app down and reopen it, which forces the Kindle app to refresh your library including Whispersync and your purchased Audible Narration.
Solution 3. Turn on the Whispersync function
If the Whispersync function is off, then your ebooks can't be played and synced. On your Kindle device, navigate to Manage your Content and Devices > Preferences > Device synchronization (Whispersync settings) to confirm the feature is turned on.
Solution 4. Listen to Audiobooks with ViWizard Audible Converter
If your Audible Narration still can't work on Kindle or sync with Kindle, try to purchase the audiobook to listen to it. You can enjoy your purchased audio title on Audible online or download it for offline listening. But there is a limitation for your downloaded audiobook: it only can be played on the Audible app. There may be a hassle for you if you'd like to listen to audiobooks on other MP3 players.
Therefore, we recommend ViWizard Audible Audiobook Converter. It is a splendid tool that can not only convert Audible books to any format you want but also supports playing the converted books in ViWizard. Moreover, it saves a lot of your time because of its 100X conversion speed. With ViWizard, you don't need to worry about any audio quality loss.
Key Features of ViWizard Audible Audiobook Converter
Losslessly remove DRM from Audible without account authorization
Convert Audible audiobooks to common formats at 100× faster speed
Freely customize lots of parameters like format, bit rate, and channel
Split audiobooks into small segments by time frame or by chapters
Step 1

Input Audible AudioBooks to ViWizard

Make sure you have downloaded the audiobooks you purchased before converting. And then click the upper-left icon Add Files where you can add several files at once. Or, another easier way, drag and drop the files into the ViWizard software. Moreover, ViWizard offers edit options so that you can change the audio speed, split the audiobook, and edit tags. All these can be done by clicking the blue Edit icon across the title.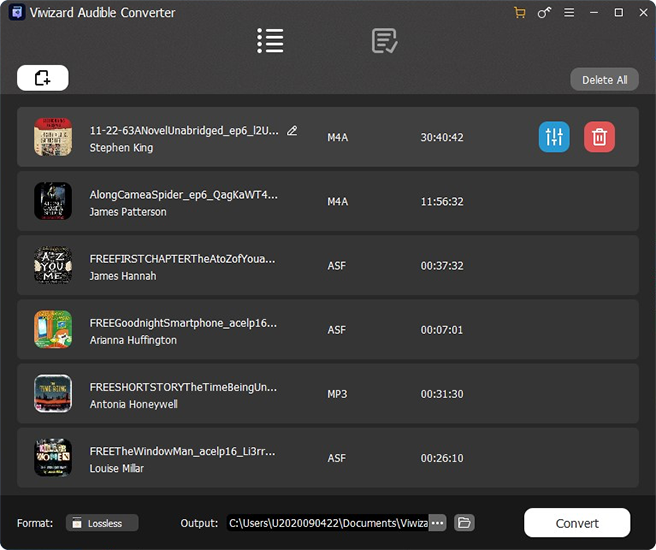 Step 2

Set Preference for Audible Books

After you add Audible files, you are able to customize parameters as you like. Just click the bottom left Lossless icon, and you can get access to adjust the output format, codec, channel, sample rate, and bit rate. After finishing the adjustment, remember to click the OK icon. The MP3 format is the most common and popular, you can transfer MP3 files to any audio app you like and play them on any device.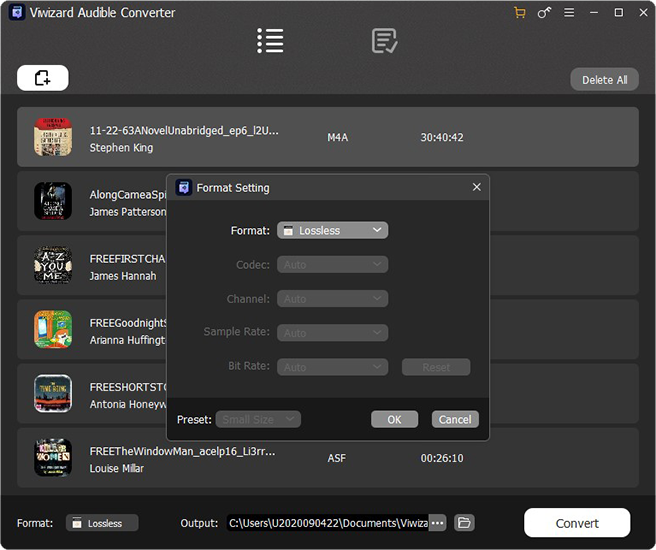 Step 3

Start the Conversion of Audible Books

To start converting your Audible audiobooks, one-click the bottom right Convert button. After conversion, go to the Converted interface, you can easily view your converted files. Also, you can locate certain files with the ViWizard search function. Thanks to its built-in playback, you are allowed to enjoy the converted audiobooks in the ViWizard. And now you can listen to the audiobook in ViWizard and read the corresponding ebook on Kindle.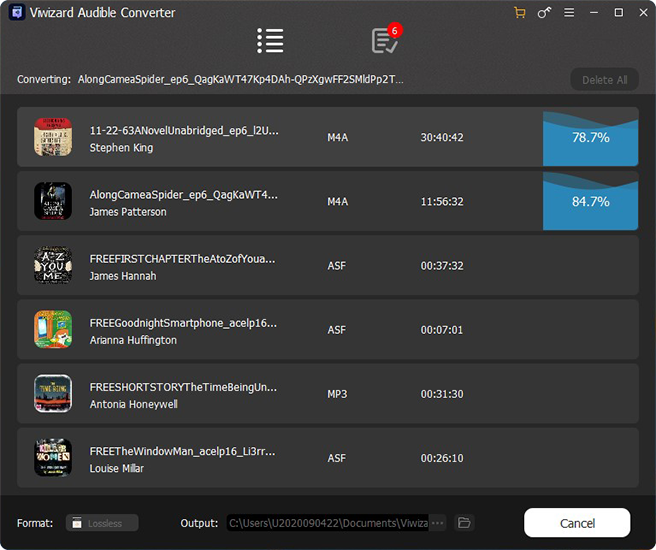 Summary
After finishing the above parts, you may know how to add Audible Narration to Kindle books. Try our guides to get Audible Narration to Kindle books and switch between reading and Listening on Kindle with Audible Narration. What's more, if Audible Narration can't show up on Kindle, you can install ViWizard Audible Audiobook Converter to listen to audio titles without limits. Listen to the converted audiobook while reading, and relish the wonderful world it brings. Go for it!