With a wide section of audiobooks in Audible, it's common for users to sync Audible across devices like computer devices (Windows & Mac) , mobile devices (Android & iOS) or more like echo devices, which is a simple process - only if you know what to clicks and taps.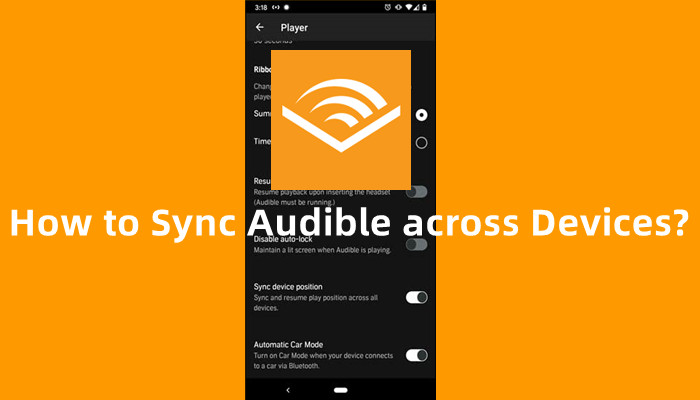 This article will introduce detailed instruction for how to sync Audible books across devices using settings or apps. For the new Audible not syncing across devices issue, we also like to offer the best alternative to troubleshoot it.
Part 1. How to Sync Audible across Devices using Settings
In Audible, Whispersync for Voice is a feature that lets users continue listening on different compatible devices. When it comes to sync Audible across devices, there's another feature - Sync Device Position to help users for how to sync Audible books across devices. On Android or iOS device, you can turn on the Sync Device Position option easily in the Settings.
Here we're running iOS and Android phone to show you how to sync Audible across devices like these 2 devices using the Sync Audible books position feature.
Step 1. Use Sync Audible Books Position on iOS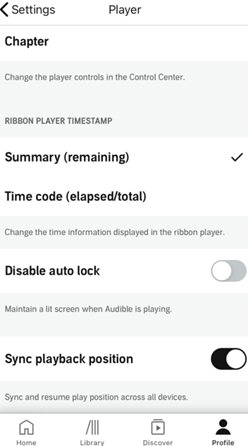 For starters, we suggest connect the iOS to a Wi-Fi internet connection to save data cost. Then from the Home Screen to open the Audible app for iOS > Profile > Settings > Player > Sync Device Position with the "Sync and resume play position across all devices", then turn this option on.
Note: Considering that there might be an iTunes audiobook collection, books listed in the iTunes category won't sync across your devices because this feature is for Audible titles. You need to sync Audible to iTunes on the computer devices first.
Step 2. Refresh the Audible Books Position on Android
Still, please save data cost to connect the Android device to a stable Wi-Fi internet connection. Then from the Home Screen or apps list, open Audible > Library > Titles. Use swipe-down on the screen until a spinning arrow appears, release to refresh the library.
Part 2. How to Sync Audible across Devices using Apps
Considering that iTunes audiobooks are not to sync across devices using the Sync Device Position feature, we'd like to introduce how to use iTunes to sync the Audible across devices - like desktop and iOS devices.
Step 1. Sync Audible to iTunes on Computer Device
For starters, you should make sure your computer device has been authorized to connect the Audible account to iTunes. On Windows or Mac, please open the iTunes app to go to Account > Authorizations > Authorize This Computer, then enter Apple ID and Password to confirm this authorization.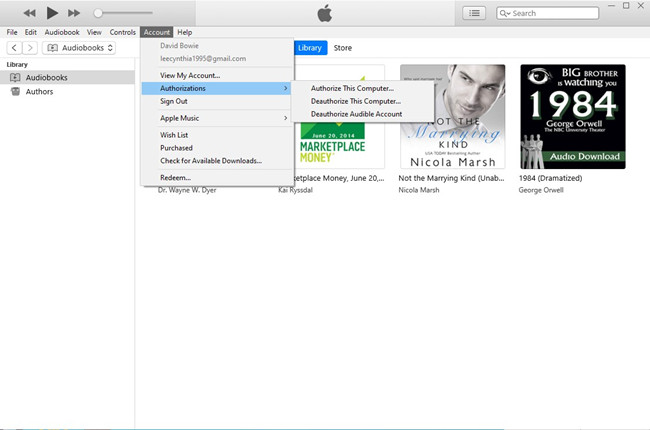 Once the Audible account has been authored in iTunes to access the Audible audiobooks, you can go to Audiobooks section > Books to see the titles synced from audible.com.
Step 2. Sync iTunes to Music on iOS Device
Since now the Audible books have been synced from Audible to iTunes, it's time to sync iTunes to Music for the iOS device. For starters, keep the iTunes app running and use an USB cable to connect the iOS device with the computer device. Once the devices are connected with success, the trusted iOS device will prompted in iTunes.
In iTunes, click on your device icon next to Apple Music content options menu [Audiobooks] > Music > Sync Music > Apply to sync Entire music library with the synced Audible titles from iTunes to the Music app. Later on iOS device, you can see the synced Audible books in the Music app with success!
Part 3. Best Alternative to Fix Audible Not Syncing across Devices
Chances are that either using the Sync Audible Position in the Audible app for mobile or using iTunes won't sync Audible across devices, or the devices are limited to phones. No worries, there's the best method to have the Audible books on the device you want - transfer Audible books across devices instead!
When it comes to sync Audible across devices, transferring Audible downloads across can make more senses then using Sync Audible Position feature or iTunes app. However, the Audible downloaded AA/AAX files won't sync across devices until an Audible converter that help to convert AA/AAX files into compatible MP3s.
Thing You'll Need: ViWizard Audible AA/AAX Converter
For how to sync Audible books across devices, Here we'd like to recommend a powerful tool to convert the AA/AAX files to MP3s - ViWizard Audible AA/AAX Converter. Or if the iTunes audiobooks are needed to transfer across devices, there's another ViWizard software - ViWizard Audio Converter to help download and convert audiobooks from iTunes to MP3s.
ViWizard Audible Audiobook Converter Key Features
Losslessly convert Audible books to MP3 without account authorization
Convert Audible audiobooks to common formats at 100× faster speed
Freely customize the output audio parameters such as sample rate
Split audiobooks into small segments by time frame or by chapters
Step 1. Convert AA/AAX Files into MP3 on Computer Device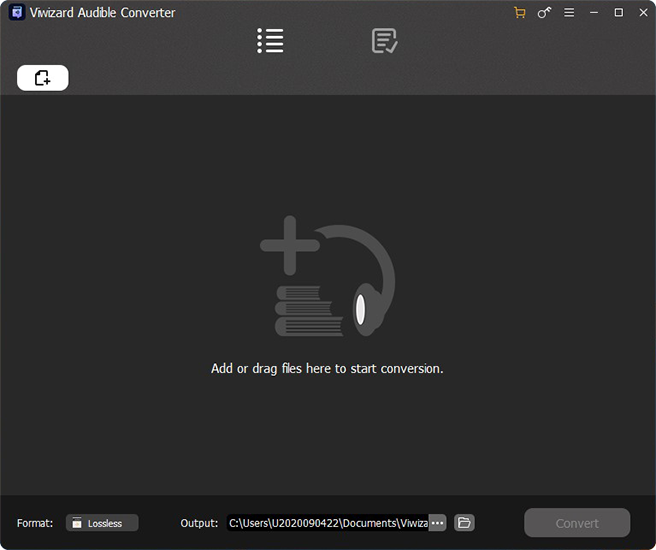 On computer devices like Windows or Mac, choose the correct version of ViWizard Audible Converter from the Download box above. Once the download completes, open the ViWizard app > Add Files button, then in the pop-up to navigation to the location where the AA/AAX files are stored to Open.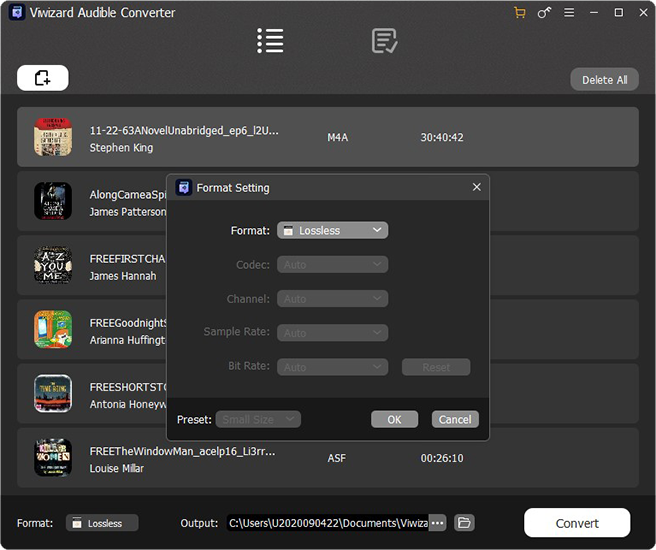 Once the AA/AAX files are added to ViWizard, from the bottom of the screen to go to Format > Format: MP3, then click OK to save this output format change. Back to the main screen, click Convert to start the conversion.
Step 2. Transfer Audible MP3s across Devices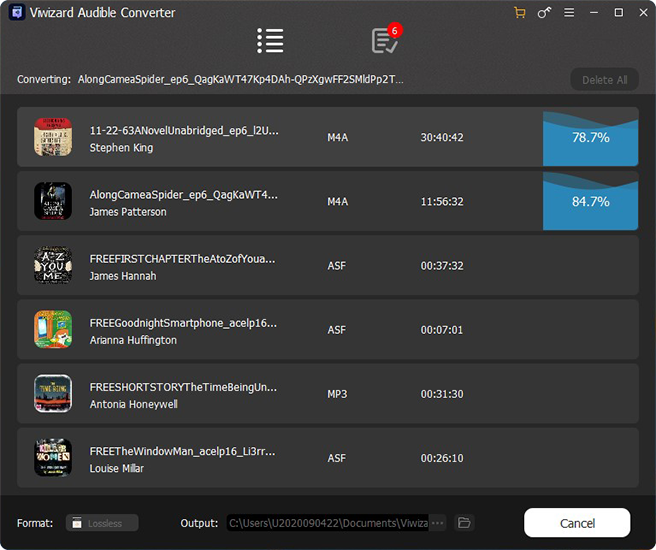 Once the conversion completes, from the top of the screen to open the Converted menu to browse to all the MP3s files on the computer device. To transfer Audible to another device, use a USB cable to connect it to the computer, then use Windows Manger or Finder to transfer all the Audible MP3s to it.