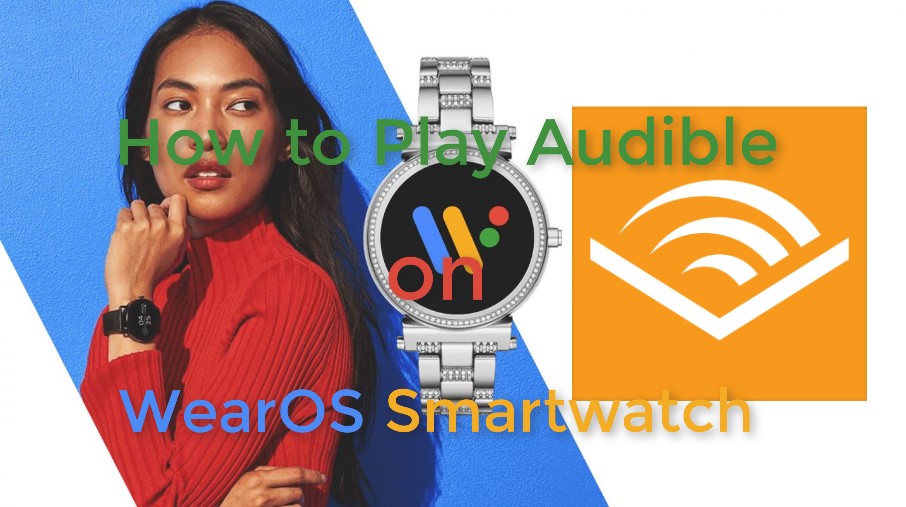 When we are running or working out, what else can we listen to except for music? Most people will choose audiobooks and Amazon's Audible will be the best choice. While Apple Watch owners can have the benefits to the Audible app on their devices, the app is still not available on more popular smartwatches, such as those running on Wear OS.
"I've been using Audible since around 2017, and love the quality and selection of audiobooks on the service. With the release of Wear OS 3 on the Google Pixel Watch, the Samsung Galaxy Watches 4/5, and others, Android users such as myself finally have viable, non-fragmented smartwatch options. The user base is growing as is support on the platform, and developing a Wear OS app would help attract those users to your service as a cross-platform solution to their needs. I know I would love to listen to audiobooks on a run, for instance." - Reddit
Audible app is still one of the much-requested features on the Wear OS smartwatch. Now in 2022, it's still not available through a software update. It's disappointing that Wear OS never supported the Audible app, but we've set out to find some alternative methods to put your favorite Audible titles to your Wear OS. You'll just need to transfer your downloaded audiobook file to an audio file format that's compatible with the Wear OS. After that, you can start to transfer the files to your Wear OS smartwatch and play the files there.
Part 1. How to Make Audible Audiobook Compatible with Wear OS
Audible creates the Plus catalog to give both Audible Plus and Audible Premium members millions of Audible books to stream online and listen to offline.
There're multiple methods and alternatives apps can help to transfer the files to your Wear OS smartwatch. The real problem is, Audible audiobooks are in protected AA or AAX format, which is not supported by most of the smartwatches. Sure there is a way out. ViWizard Audible Converter can help to convert the AA/AAX files to 16 audio files formats.
| | |
| --- | --- |
| | Audio Files Formats |
| Audible Downloads: | AA, AAX |
| ViWizard Converter Supports: | Lossless, MP3, M4A, AAC, AC3, OGG, AIFF, APE, FLAC, WAV, WMA, WMA, M4B, M4R, MKA, AU |
ViWizard Audible Converter is an audio converter that designs to losslessly remove protection from Audible audiobooks and convert them to MP3, AAC, FLAC, WAV, and other popular formats. In this way, you can play your Audible audiobooks on any device you want. This converter even supports 100X converting speed and batch conversion. Next, we will share how to play Audible audiobook on Wear OS smartwatch.
ViWizard Audible Audiobook Converter Key Features
Losslessly convert Audible books without account authorization
Convert Audible audiobooks to common formats at 100× faster speed
Freely customize lots of parameters of output audiobooks
Split audiobooks into small segments by time frame or by chapters
Part 2. How to Convert Audible Audiobook for Wear OS
You can start to download the correct version of the ViWizard Audible Converter to either Widnwos PC or MacBook. You should also check your device's supported audio files formats and you can follow this guide to convert the Audible AA/AAX files to MP3s.
Step 1. Import Audible Audiobook to ViWizard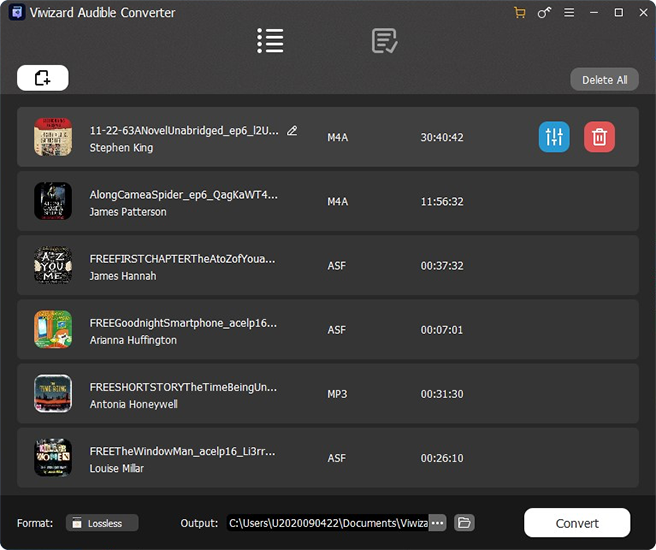 Launch the ViWizard Audible Converter and download the audiobooks you want to convert in advance and simply drag the file to the converter.
Step 2. Change the Output Settings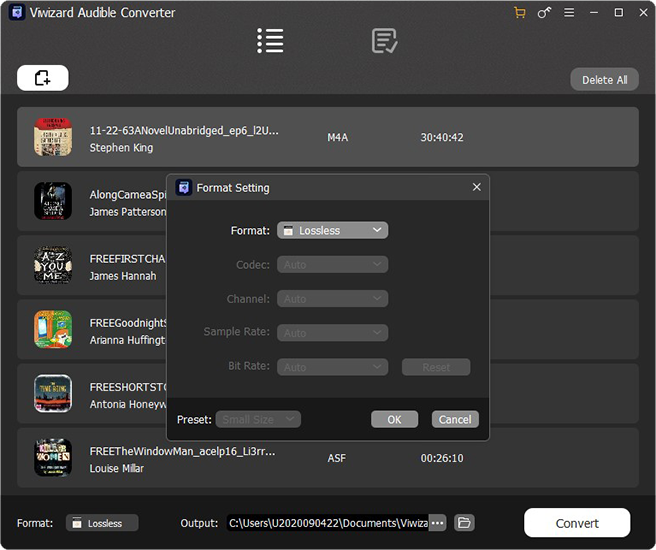 After that, you can click and open the format panel, change the output format to MP3. You can also change other parameters, such as codec, channel, sample rate, and bit rate. Then, click "OK" to save changes. If you want to split the audios by chapters, you can click the "Edit" icon and select "split by chapters".
Step 3. Convert Audible Files to MP3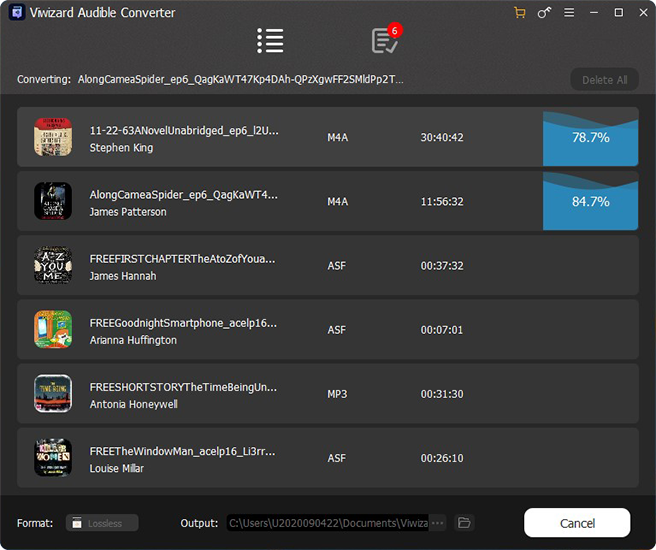 When you first click "Convert", there will be a pop-up window to remind you to register. You can enter your register email and license code to register. Now, click "Convert" again and all you left to do is wait for the process to end. When the conversion is done, you can find the converted audiobook under "Converted History".
Part 3. How to Sync Audible Audiobook to Wear OS Smartwatch
You can try to play the audiobook before we sync it to your wear os smartwatch. After you make sure the audiobook is playable outside Audible, you can start to transfer the audiobook to Wear OS smartwatch.
Step 1. Upload Converted Audiobooks to Google Play Music
First, Sign in to Chrome and go to Google Play web Player. Please Make sure you're using the same Google account you use with your smartwatch. Open the menu sidebar and click the "Upload music". Drag and drop files or choose files to upload the converted audiobooks.
Step 2. Download Google Play Music on Wear OS Smartwatch
Press the upper button on your watch to view all apps. Tap Play Store. Find and install Google Play Music. You can find it by tapping the search icon at the top of the app, or simply scroll down the list of Apps on your phone until you find it, then tap the install icon.
Step 3. Download the Songs for Offline Listening
Now that you have Google Play Music installed, you can sync the converted songs to your watch for listening. Better still, you can download them for offline playback. After that, you can pair true wireless earbuds with your smartwatch and stream the Audible audiobook without a phone.
Part 4. How to Put Audible Audiobook to Wear OS [Samsung Galaxy]
As stated, you can transfer the files directly to your Wear OS smartwatch by using some alternatives apps or your current devices. Here we'd like to take the example of Samsung Galaxy Watch to import the converted files.
For Samsung Galaxy Watch:
You'll need to transfer the converted files to your mobile device, then import music to your Galaxy Watch.
How to Import Files to Your Galaxy Watch
Step 1. Launch Galaxy Wearable on your mobile device.
Step 2. Tap SETTINGS > Add content to your watch.
Step 3. Tap Add tracks.
Step 4. Select files and tap DONE.
How to Play Files on Your Galaxy Watch
You can now listen to the Audible titles using the Galaxy Watch without connection to your mobile device. You'll also need to download the music app on your device.

Step 1. On the Apps screen, tap the Galaxy Apps icon.
Step 2. Browse and download music app in the Galaxy Apps.
Step 3. Launch the app to play the imported files.
Conclusion
Although Wear OS smartwatches do not support Audible now, you can still convert Audible books to MP3 to upload to Wear OS smartwatches or any devices. Go to give this a shot now!