Nowadays, the hottest and most fashionable devices are all designed for sportsmen: smartwatch, fitness tracker, truly wireless earbud, and so on. Vice versa, these devices also make sports a new fashion. Although Apple Watch almost dominates the smartwatch market, for Android phone users, Apple Watch is a dead end. It's silly to buy an iPhone for the use of the Apple Watch, so Wear OS smartwatch is a better choice if you are using Android devices, as it was also developed by Google.
When we are running or working out, what else can we listen to except for music? Most people will choose audiobooks. As we all know, Audible only launches an app for Apple Watch and there's no Audible app for the Wear OS smartwatch. If you want to listen to Audible audiobooks on Wear OS smartwatch, you have to transfer your audiobook file to your watch first. The real problem is, Audible audiobooks are in protected AA or AAX format, which is not supported by most of the smartwatches. Sure there is a way out. This post is going to tell you how to convert Audible AA/AAX to popular formats and how to play Audible on Wear OS smartwatch.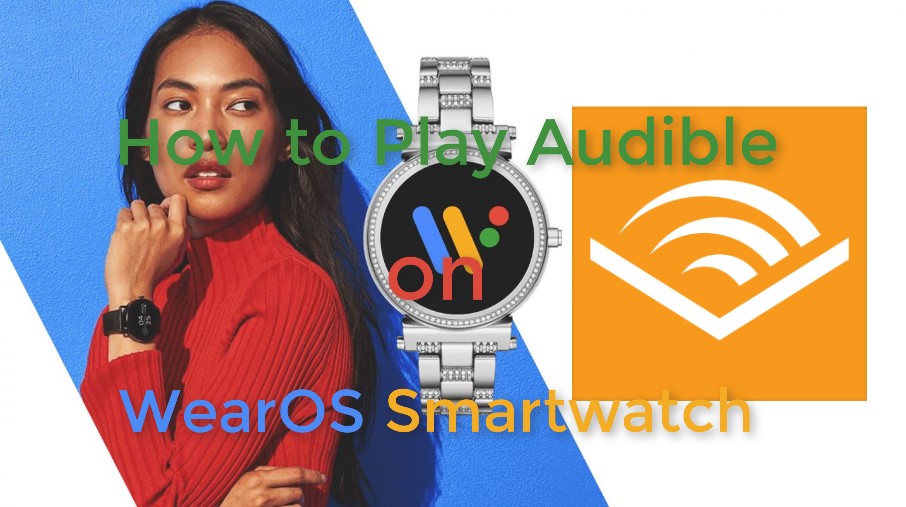 Part 1 - How to Make Audible Audiobook Playable - Audible Converter
To make your audiobook playable, all you need is ViWizard Audible Converter. ViWizard Audible Converter is an audio converter that designs to losslessly remove protection from Audible audiobooks and convert them to MP3, AAC, FLAC, WAV, and other popular formats. In this way, you can play your Audible audiobooks on any device you want. This converter even supports 100X converting speed and batch conversion. Next, we will share how to play Audible audiobook on Wear OS smartwatch.
ViWizard Audible Audiobook Converter Key Features
Losslessly convert Audible books without account authorization
Convert Audible audiobooks to common formats at 100× faster speed
Freely customize lots of parameters of output audiobooks
Split audiobooks into small segments by time frame or by chapters
Step 1. Import Audible Audiobook to ViWizard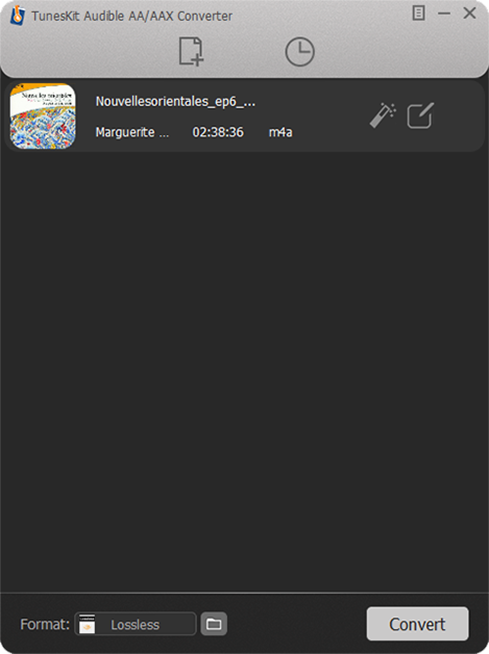 Before everything starts, you will need to download and install ViWizard Audible Converter on your computer. After that, launch ViWizard Audible Converter and download the audiobooks you want to convert in advance and simply drag the file to the converter.
Step 2. Change the Output Settings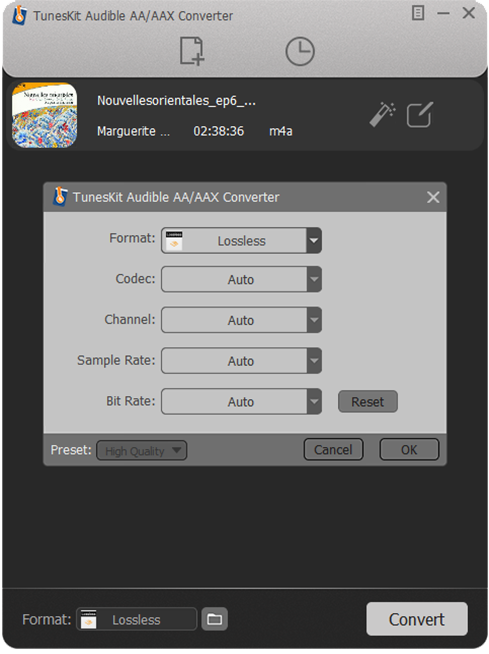 After that, you can click and open the format panel, change the output format to MP3. You can also change other parameters, such as codec, channel, sample rate, and bit rate. Then, click "OK" to save changes. If you want to split the audios by chapters, you can click the "Edit" icon and select "split by chapters".
Step 3. Convert Audible Files to MP3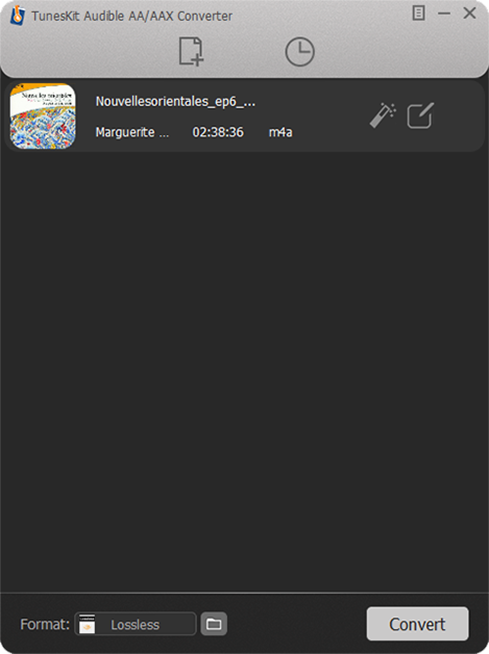 When you first click "Convert", there will be a pop-up window to remind you to register. You can enter your register email and license code to register. Now, click "Convert" again and all you left to do is wait for the process to end. When the conversion is done, you can find the converted audiobook under "Converted History".
Part 2 – Sync Audible Audiobook to Wear OS Smartwatch
You can try to play the audiobook before we sync it to your wear os smartwatch. After you make sure the audiobook is playable outside Audible, you can start to transfer the audiobook to Wear OS smartwatch.
Step 1. Upload Converted Audiobooks to Google Play Music
First, Sign in to Chrome and go to Google Play web Player. Please Make sure you're using the same Google account you use with your smartwatch. Open the menu sidebar and click the "Upload music". Drag and drop files or choose files to upload the converted audiobooks.
Step 2. Download Google Play Music on Wear OS Smartwatch
Press the upper button on your watch to view all apps. Tap Play Store. Find and install Google Play Music. You can find it by tapping the search icon at the top of the app, or simply scroll down the list of Apps on your phone until you find it, then tap the install icon.
Step 3. Download the Songs for Offline Listening
Now that you have Google Play Music installed, you can sync the converted songs to your watch for listening. Better still, you can download them for offline playback. After that, you can pair true wireless earbuds with your smartwatch and stream the Audible audiobook without a phone.
Part 3 – Additional: Best Wear OS Smartwatch
Which smartwatch has wear OS? Which is the best smartwatch loaded Wear OS? To answer these questions, we are going to introduce the best 3 Wear OS watch in 2021 in this part. There are many other excellent smartwatches are loaded with Wear OS. For the space limit, we cannot include all of them in this passage.
1. Samsung Galaxy Watch 4
Samsung Galaxy series is always popular among smartwatch lovers. And it is worth it. You will find this Samsung Galaxy Watch 4 has 16GB storage, 2 days duration time, Qi wireless charging. It also supports Wi-Fi, Bluetooth, and GPS.
2. TicWatch Pro 3
TicWatch Pro 3 is also available with both iOS and Android. What's surprises me is the duration time is up to 72h and even 45 extra days in Essential mode.
3. Fossil Sport
This is one of the best smartwatches, which is available with Android and iOS. With 4GB storage and 2 days duration time, it is a powerful smartwatch you may like.
Conclusion
Although Wear OS smartwatches do not support Audible now, you can still convert Audible books to MP3 to upload to Wear OS smartwatches or any devices. Go to give this a shot now!
More iTunes music DRM removal tips