Samsung Galaxy Watch Active is neck and neck with Apple Watch Series 4 in many aspects. However, when it comes to the audiobook listening feature, the Galaxy Watch and the Galaxy Watch Active seem to lag behind the competition. Listening to audiobooks on the wearable device when you are jogging or working out is a new fashion because it is phoneless and it perfectly combines exercising and learning.
The light and dynamic Samsung Galaxy Watch Active is supposed to be the best choice since it is more than phoneless but it feels nothing on your wrist. Can you use Audible on Galaxy Watch? The bad news is, the Audible smartwatch app developed so far is only for Apple Watch. And if you buy your audiobooks on iTunes, listening to them on Apple Watch is, of course, a lot more convenient. Apple Watch sounds holding the upper hand on this. But, is there really no luck for Samsung Galaxy Watch? ViWizard Audio Converter will give you the answer you hope to get. No matter you want to listen to audiobooks on Samsung Galaxy Watch, ViWizard can make that come true.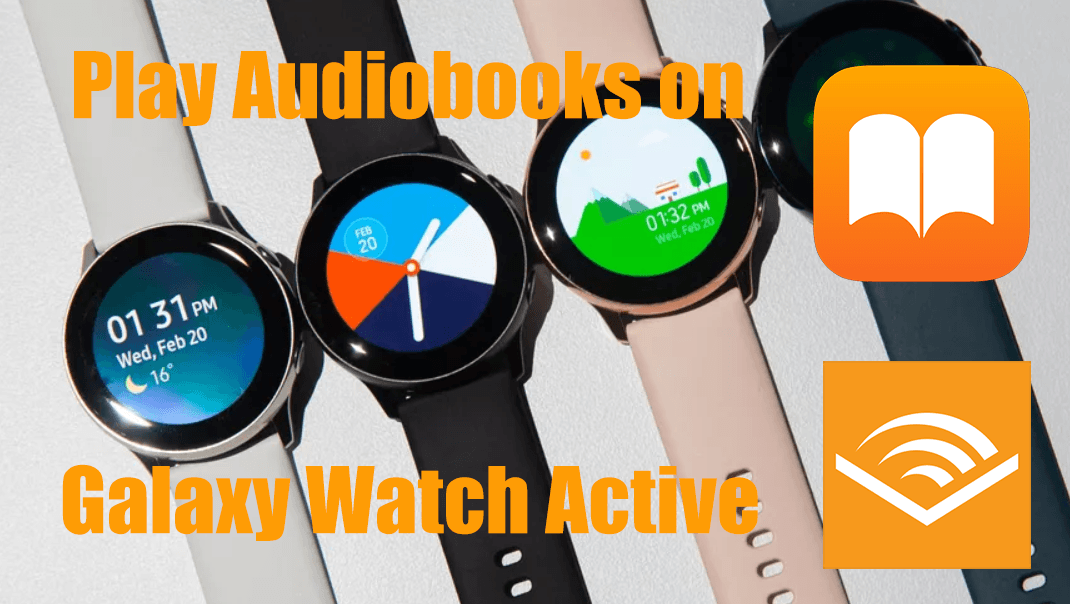 Part 1.

Can I Listen to Audiobooks on Samsung Galaxy Watch?

"Can I listen to audiobooks on my Samsung Galaxy Watch?" It's a question that has left many audiobook enthusiasts wondering. Unfortunately, the official Audible app, widely available on many platforms, has yet to make its way to the Samsung Galaxy Watch. To make matters more challenging, audiobooks formatted in AA or AAX are protected by Digital Rights Management (DRM). This layer of protection prevents these audiobooks from being played on unauthorized media players, including the Music app on your Galaxy Watch. This limitation can be particularly frustrating for those who value the convenience of a smartwatch for their audiobook streaming needs.
The Solution: Converting Audible Books to MP3
To bridge this gap, we'll explore a workaround that involves converting your Audible books into MP3 format. Once transformed, these MP3 audiobooks can be effortlessly played on your Samsung Galaxy Watch. The tool of choice for this transformation? The ViWizard Audible Converter for your Audible titles, and the ViWizard Audio Converter for both your Audible and iTunes audiobooks.
Part 2.

How to Convert iTunes and Audible Audiobooks for Playing on Galaxy Watch

The ViWizard Audio Converter is a dedicated audiobook converter designed to address the challenge of playing Audible audiobooks and iTunes audiobooks on devices like the Samsung Galaxy Watch. This versatile tool is engineered to perform a dual mission: converting audiobooks and removing the protective layers that often encase them. This removal of protection makes it possible to transfer and enjoy your audiobooks seamlessly on your Galaxy Watch.
Why ViWizard Audio Converter?
The ViWizard Audio Converter offers a range of output formats to cater to your preferences. Supported formats include MP3, WAV, AAC, FLAC, M4A, and M4B. This flexibility ensures compatibility with various devices and players, including your Samsung Galaxy Watch. One of the standout features of this converter is its remarkable speed. It supports a blazing 30X faster conversion rate, saving you valuable time. Additionally, it diligently preserves ID3 tags, ensuring that your audiobooks are well-organized and easily identifiable, even after conversion.
For a comprehensive understanding of how the ViWizard Audio Converter works for converting your favorite audiobooks into MP3 format, the best way is to experience it firsthand. In the following sections, we'll guide you through the steps to convert your Audible and iTunes audiobooks into a Galaxy Watch-compatible format.

Key Features of ViWizard Audio Converter
Free Trial
Free Trial
* Security verified. 5, 481,347 people have downloaded it.
Convert songs, albums, and playlists from Apple Music to MP3
Remove DRM protection from Apple Music, iTunes, and Audible
Save the converted audios with the original quality and ID3 tags
Support the conversion of up to 100 audio formats to others
Step 1

Import Audible Audiobooks or iTunes Audiobooks to ViWizard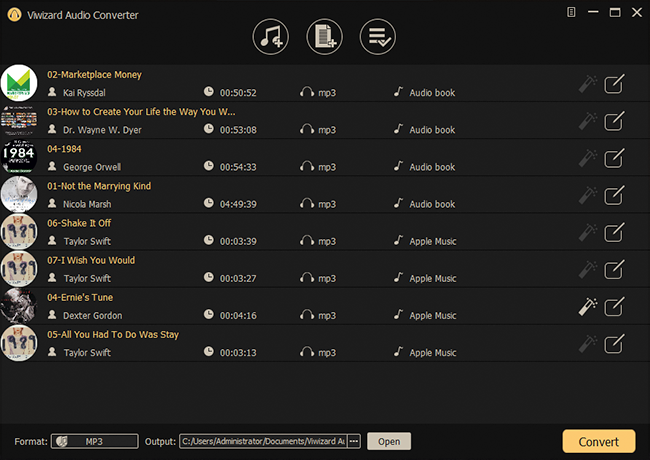 First, you need to install ViWizard Audio Converter and launch it together with iTunes. Before the conversion, please download the audiobooks you want to convert in advance. Then from the main interface, click the Add Files

button on the central top and click it to add iTunes audiobooks or Audible AA and AAX files to ViWizard. Drag media files to the ViWizard window is a more direct and faster way to load files. If you are converting iTunes audiobooks, remember to authorize iTunes to play the audios.
Step 2

Adjust Output Settings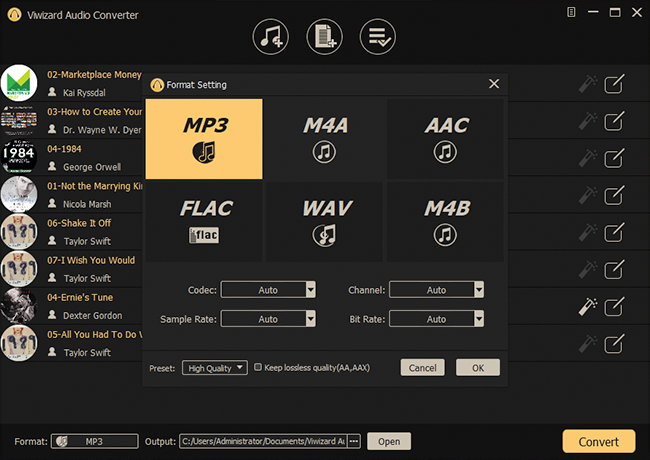 After the songs are all loaded to ViWizard, open the Format panel at the left bottom to select an output format. Samsung supports MP3, AAC, M4A, OGG, and WMA. Here we advise you to go for the most universal audio format-MP3 format. Next to the "Format" panel is the Output path. You can click it to relocate your converted songs wherever you want instead of the default folder. Format and Output Path are the basic settings, there are still many extra features for you to grope.
1) Under the "Format" panel, you can fine-tune the codec, channel, sample rate, bit rate, and quality of the audio files.
2)

Use this magic stick icon can adjust the volume, speed, and pitch of the converted audiobooks.
3)
This "Edit" icon enables you to tailor the tags and split the audiobooks.
Step 3

Convert Audiobooks to Galaxy Watch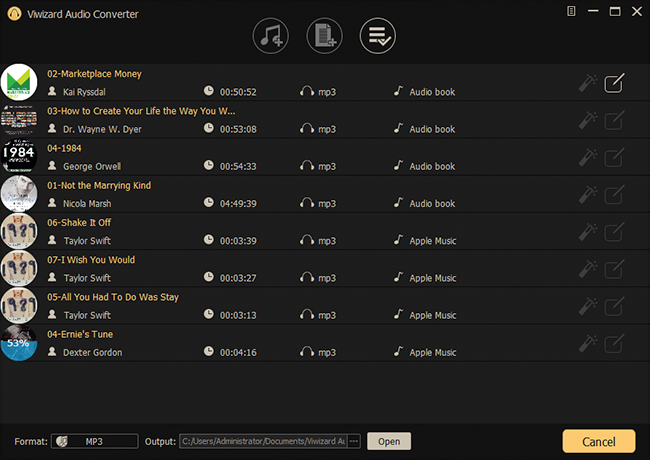 When you are done with all the settings, you can press the Convert button at the bottom right to start the conversion. Once the conversion finishes, you can easily open the converted audio under the Converted History

.
Part 3.

How to Export Converted Audiobooks to Galaxy Watch

Have got the converted audiobooks? Good. The next step is to import audiobooks to Galaxy Watch. Then you can play Audible books on Samsung Galaxy Watch for offline playing. There are 2 methods you can follow to import and play Audible on Samsung Galaxy Watch.
3.1 Use Galaxy Wearable for Android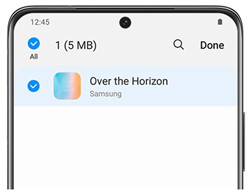 The Samsung Galaxy Watch Active allows Android users to export the converted audiobooks from their phone to the watch. Here's how to do it:
Begin by connecting your phone to your computer via Bluetooth or USB. Transfer the converted audiobooks to your phone. Alternatively, you can sync them to a cloud storage service and then download them to your phone.
On your Samsung Galaxy Watch, open the Galaxy Wearable app.
In the Galaxy Wearable app, tap "Watch Setting."
Select "Manage content" or "Add Content to Your Watch."
Tap "Add Tracks" and choose the audiobook files you want to export to the watch.
Tap "Done" to confirm the importing process. You may receive a notification to grant permissions when transferring audiobooks.
After the import is complete, pair your Galaxy Buds with your Samsung Galaxy Watch Active. This allows you to stream the converted Audible audiobooks or iTunes audiobooks from the Music app on your watch. Now, you're all set to enjoy Audible books on your Samsung Galaxy Watch.
3.2 Use Gear Music Manager for iOS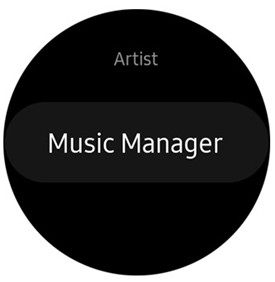 If you're an iOS user with at least an iPhone 6 running iOS 12 or later, you can use the Gear Music Manager on your Galaxy Watch 3, Active, Active 2, Galaxy Watch, Gear Sport, Gear S3, Gear S2, and Gear Fit2 Pro. Here's how:
Ensure your computer and watch are connected to the same Wi-Fi network.
Open the Music app on your watch and tap the phone icon to change the music source to the watch.
Swipe up on the "Now playing" screen, then tap "Music Manager" at the bottom of the Library.
Tap "START" on the watch to initiate the Gear Music Manager.
On your computer, open a web browser and navigate to the IP address shown on your watch. Confirm the connection to your watch.
Once connected, you can manage your watch's music library from the web browser.
Tap "Add New Tracks" in the browser to launch a file-selection dialogue box.
Choose the audiobooks you want to add to your Galaxy watch and then tap "Open."
After the transfer is complete, tap "OK" on the browser and "DISCONNECT" on your watch. Now, you can start listening to your audiobooks on your Samsung Galaxy Watch.
Part 4.

How to Play Converted Audiobooks on Galaxy Watch

Controlling and playing your converted audiobooks on your Samsung Galaxy Watch is a simple process. Here are the key functions you'll use for a seamless audiobook experience:
1. Volume Control
Adjust the playback volume by using the dedicated volume control button on your Samsung Watch. Tap it to increase or decrease the volume to your preference, ensuring a comfortable listening level.
2. Next Track
Easily transition to the next track or chapter in your audiobook by tapping the "Next Track" button. This feature allows you to navigate through your audiobook with ease.
3. Play or Pause
Initiate or pause the playback of your audiobook currently playing on your Samsung Galaxy Watch using the "Play" or "Pause" button. This control grants you the flexibility to pause and resume your audiobook as needed.
4. Previous Track or Restart
To return to the previous audiobook track or restart the current one, rely on the "Previous Track" or "Restart" button. This feature offers convenient management of your audiobook playback.
The Bottom Line
Because Audible audiobooks and iTunes audiobooks files are encoded files which can't be moved to other devices. So you need to convert them to a supported format of Galaxy Watch, such as MP3, for correctly playing. Now, you can get the trial version of ViWizard Audio Converter for free by clicking the download button. And whether you want to listen to iTunes audiobooks on Samsung Galaxy Watch, or stream Audible audiobooks to Galaxy Watch Active, you can easily manage it.