I like listening to audiobooks of Audible. But I find that I can't play audiobooks on my Samsung TV. I really want to do this. So, what should I do? Thanks for any answer
Audiobooks can bring listeners to the scenes the books create easily and give the listeners another kind of experience. For children, they are happy to listen to audiobooks since many of them find that is more interesting than just reading; For old people, they can do morning exercise while listening to audiobooks; For running fans, they can play audiobooks on the smartwatches when they are running.
There are many platforms providing audiobooks: Audible, iTunes, and many others. Audible is one of the biggest audiobooks sellers. Millions of audiobooks like Where the Crawdads Sing and Zombie Lake are just there for you. However, it still has some restrictions like the limited supporting devices and the DRM. For these reasons, we cannot play Audible audiobooks on Smart TVs like Samsung TV. Fortunately, we already found a method good enough to solve this problem. Now, let's see how to play Audible audiobooks on Samsung TV.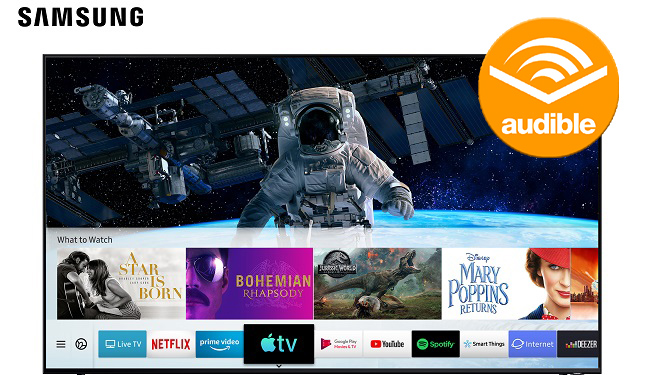 Part 1.

How to Play Audible Books on Samsung TV via Browser

Using the built-in web browser on your Samsung TV is a convenient way to enjoy Audible books if you have an active Audible subscription. It provides a direct and straightforward method to access your audiobooks on a larger screen. Sit back, relax, and enjoy your Audible book on your Samsung TV.
Make sure your Samsung TV is powered on and connected to the internet.
Using your TV remote control, press the Smart hub or Home button to navigate to the home screen of your Samsung TV.
Look for and select the global icon labeled "Web" or something similar on the home screen. If you don't see it, go to the "Apps" section and look for it there.
In the web browser's address bar, enter "www.audible.com" using the on-screen keyboard or your remote control.
If you have an existing Audible account, choose "Sign In" or "Log In" on the Audible website.
Use the on-screen keyboard or remote control to input your Audible username and password.
After successfully logging in, go to your Audible library. You'll find a list of your audiobooks.
Browse your Audible library to find the audiobook you wish to listen to on your Samsung TV.
Click or select the audiobook, and a "Play" option should be visible. Click or select this option to start enjoying your Audible book.
Alternatively, if this method doesn't suit your needs, you can consider the alternative method of converting Audible books to MP3 and playing them on your Samsung TV via a USB drive, which we'll cover in the next part.
Part 2.

How to Convert Audible Books for Playing on Samsung TV

If you're looking to enjoy Audible books on your Samsung TV without the need for an active Audible subscription or an internet connection, one of the most efficient methods is to convert your Audible audiobooks into MP3 format. To accomplish this, we recommend using ViWizard Audible Converter, a powerful tool specially crafted for Audible audiobook owners. ViWizard Audible Converter offers numerous advantages, enabling you to play your audiobooks on various devices, including your Samsung TV.
Tool Required: ViWizard Audible Converter
ViWizard Audible Converter possesses the capability to transform Audible audiobooks, which are typically in the AA/AAX format, into universal formats like MP3, FLAC, AAC, and others. This grants you the flexibility to play your audiobooks on a wide range of devices, eliminating compatibility concerns. Moreover, ViWizard Audible Converter removes the DRM (Digital Rights Management) from your Audible audiobooks, granting you the freedom to enjoy your audiobooks without any restrictions.
Unlike some other converters, ViWizard Audible Converter doesn't need iTunes account authorization or the installation of the Audible app. You only need to download he audiobooks previously from the Audible platform, and the tool handles the reset. It retains important ID3 tags, such as its title, artist, author, and chapter information, ensuring a seamless listening experience.
ViWizard allows you to choose from a variety of output formats, including lossless options, to preserve the original quality of your audiobooks. Unlike some other conversion tools, ViWizard Audible Converter operates independently, eliminating the requirement for iTunes account authorization or the installation of the Audible app. The best part? ViWizard ensures that important ID3 tags, such as title, artist, author, and chapter information, are preserved throughout the conversion process, resulting in a seamless listening experience.

Key Features of ViWizard Audible Audiobook Converter
Free Trial
Free Trial
* Security verified. 5,481,347 people have downloaded it.
Convert Audible audiobook to unprotected audio formats like MP3
Split Audible book into several smaller segments by chapter or by time
Support playing Audible audiobooks on any device or media player
Handle the conversion of Audible audiobooks up to 100× faster speed
Are you eager to see how this converter works? You'll be pleased to know that using ViWizard AA/AAX Converter to convert and transfer Audible audiobooks to your Samsung TV is a breeze, requiring just three simple steps. The fastest way to learn is by doing, so why not download and install it right now and follow my instructions to get started?
Step 1

Import Audiobooks to ViWizard

When you already installed it, you need to prepare your AAX or AA files. Just download them from Audible. Then launch this ViWizard Audible Converter. Look at the picture below. On the top of this page, there are two conspicuous buttons. You can use the Add Files button to load AAX/AA files. Or drag and drop the files directly to the software from your computer.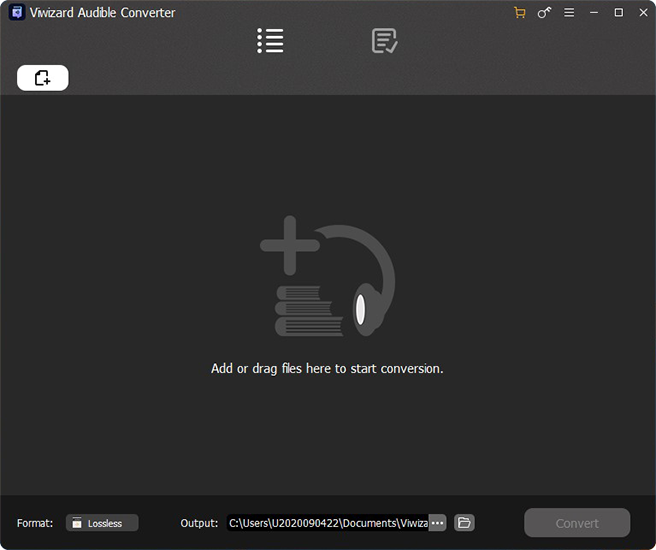 Step 2

Choose the Target Format

Click the Format button located at the bottom left corner of this page. To get Audible audiobooks on Samsung TV, you can choose the MP3 format which is supported by Samsung TV. You can see there are many other popular formats such as M4A, AAC, M4B, and so on. You can also adjust the codec, channel, sample rate, bit rate of the output audio files. Click the OK button to go on converting. For Lossless quality, you may not be able to adjust the parameters, just keep the original data.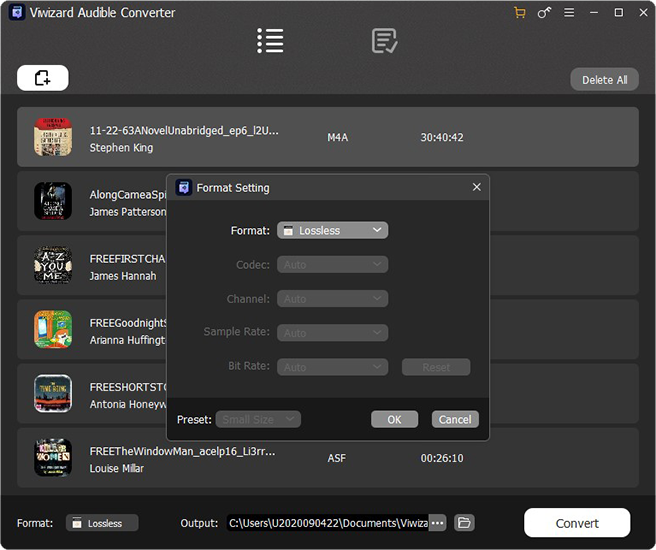 Step 3

Convert Audible Audiobook for Samsung TV

This is the last step before you get Audible audiobooks on Samsung TV. Just click the Convert button on the bottom of ViWizard and wait for a while. Click the Converted button to see your converted files. You can also open them through the Search button.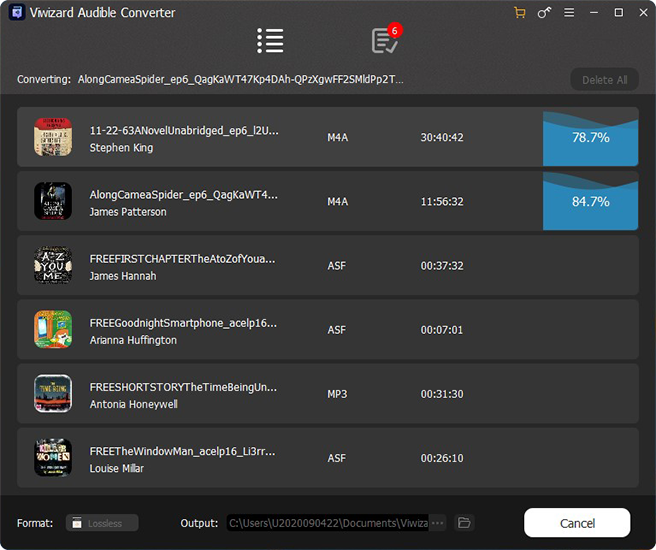 Part 3.

How to Play Audible Books on Samsung TV via USB

You will find the Audible books in MP3 files on your device. Now start transferring you Audible books to your USB drive. Then you can sit back and enjoy your beloved Audible books on your Samsung TV at once.
Step 1

Transfer the MP3 Audiobooks to the USB Drive
Insert your USB drive into your computer. Make sure it's empty or has sufficient free space to store your MP3 audiobooks.
Locate the folder where ViWizard Audible Converter saved your converted MP3 audiobooks, typically in a destination folder you specified during the conversion.
Right-click on the selected files and choose "Copy."
Open your USB drive by double-clicking on its icon or opening it from "This PC" (Windows) or the desktop (Mac).
Right-click inside the USB drive and select "Paste" to copy the MP3 audiobooks to the USB drive.
Step 2

Play the MP3 Audiobooks on Your Samsung TV
Plug the USB drive into a USB port at the back of your TV or the Mini One Connect.
Using your Samsung TV remote control, press the "Source" button.
Select "USB Device" or "Connected Device" (label may vary based on your TV model).

Use the remote control to navigate through the files on the USB drive and find the folder containing your converted Audible MP3 audiobooks.

Highlight the audiobook you want to listen to and press "Enter" on your remote. The audiobook will begin playing on your Samsung TV's audio system.
Conclusion
Today we talk about how to play the Audible audiobook on Samsung TV with the help of ViWizard Audible AA/AAX Converter. With ViWizard, you can convert Audible audiobooks into MP3 within 3 simple steps. Then you can transfer the converted Audible books to Samsung TV with a USB drive. From now on, you do not have any limitations on listening to Audible audiobooks. You can enjoy them anytime, anywhere, on any device! If you'd like to know more about ViWizard, simply click the download button below.