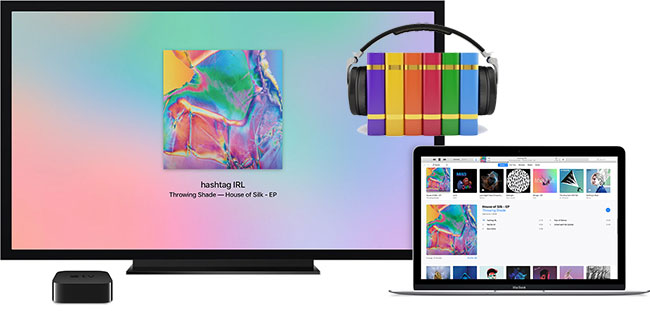 "How to listen to Audible on Apple TV? I have tried the option to select 'Computers' from the main menu and then click 'General' on my Apple TV 4, but some of the audiobooks which are in iTunes don't show up here. Did I do anything wrong and how to solve it? Urgent help."
Amazon Audible is the biggest audiobook seller from its Audible.com website. Due to the format limitation(AA/AAX), books bought from Audible.com can't be accessed by Apple TV. That is why you can't find your books sometimes. Besides, though Apple TV supports a lot of video apps like NetFlix, Hulu, Plex, TED, etc., there are few audiobook apps let alone Audible app as of the time being. Are there other alternatives to play Audible on Apple TV? Absolutely, please just read on.
Part 1. Play Audible on Apple TV through AirPlay
Although there is no Audible app on Apple TV, you can apply for AirPlay to listen to Audible on Apple TV. AirPlay is a special feature of Apple devices/players to stream contents between each other. As long as you have another AirPlay compliant device/player such as iPhone, iPad, iPod Touch, iTunes, you can cast the audiobooks which are playing on your device to your Apple TV. Here I take the iPhone to illustrate how does it work.
Step 1. Install and launch the Audible app for your iPhone and then start to use it to play any Audible book.
Step 2. Make sure both your iPhone and Apple TV are connected to the same WiFi network stably. If you have already done that, you can skip this step.
Step 3. Swipe up from the bottom of your iPhone. It should show you the Control Center with multiple control options.
Step 4. Locate and press the AirPlay icon. It will pop up the available devices.
Step 5. Select the destination device - your Apple TV. Generally, it should connect immediately and cast Audible book to Apple TV.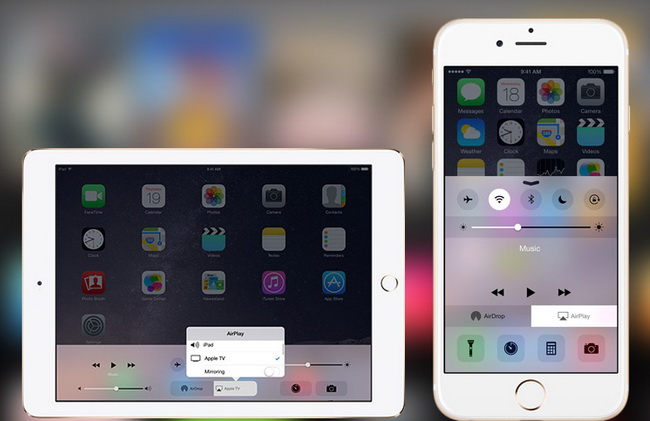 Part 2. Use iTunes Home Sharing to Transfer Any Audible Audiobooks to Apple TV
AirPlay does provide a feasible solution to stream Audible books on Apple TV, but it requires you to authorize the Audible audiobooks to play well on your iOS devices or iTunes first, else if you don't have the account and password it won't work at all. In addition, you need to have AirPlay compliant devices and sometimes the WiFi connection is not so stable. So this solution is not perfect though. For your convenience, you can also use the second method to get rid of protection on Audible audiobooks and put Audible books on Apple TV easily just like iTunes audiobooks.
ViWizard Audible Converter is a powerful audiobook decryption tool that has the unique feature to crack Audible files without an account and iTunes easily. Just throw in your files and click the "Convert" button, then ViWizard will do the remaining job for you. No questions asked and no other hassles. What's more, since audiobooks are usually long, if you'd like to make it easier to navigate through your chapters, you can also simply split the Audible AA/AAX files by chapters.
Still not sure how it works? No problem. ViWizard offers a functionally the same trial version, you can test it out to see if it meets your requirements to play Audible on Apple TV or not. It supports running on both Windows and Mac computers. Now I will walk you through the steps to listen to Audible AA/AAX files via Apple TV.
How to Convert Audible AA/AAX Books to Common Formats
Before converting, please make sure you have saved the Audible files on your computer offline. Else you need to download them through iTunes or Audible Download Manager.
Step 1. Download and install ViWizard AA/AAX Audiobook Converter on your Mac or PC.
Step 2. Launch ViWizard software, you can import your Audible files by simply drag & drop or you can click Add Filesmenu to choose the files directly.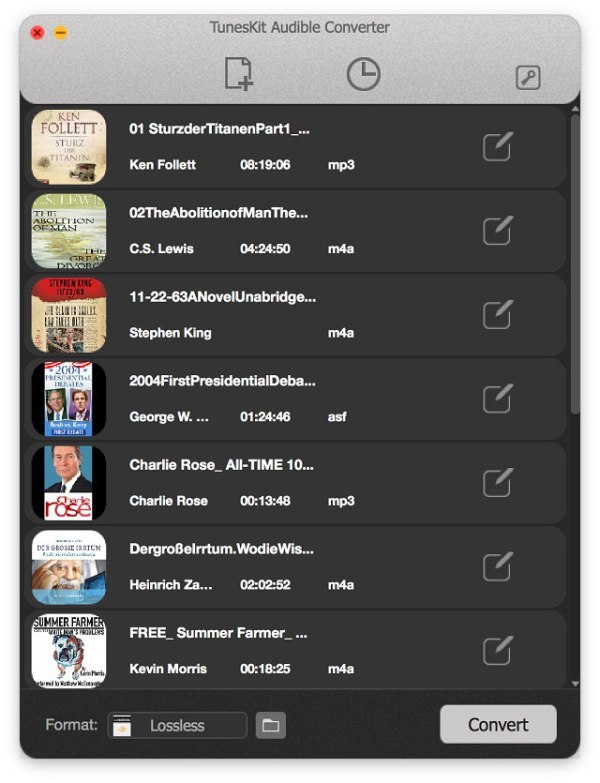 Step 3. Choose the output format for your Apple TV from the Format button. You can choose the M4B or M4A if you want to keep the chapters. Else if you want to split the files by chapters, it is highly recommended you choose the most popular format MP3.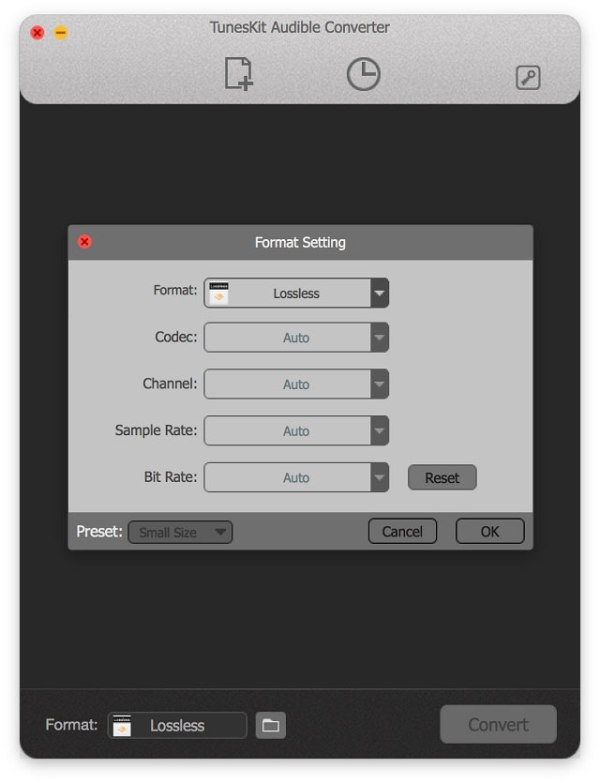 Step 4. After that, you can click the Convert button to take off any protection on Audible audiobooks and encode your audiobooks to common audio files in batch.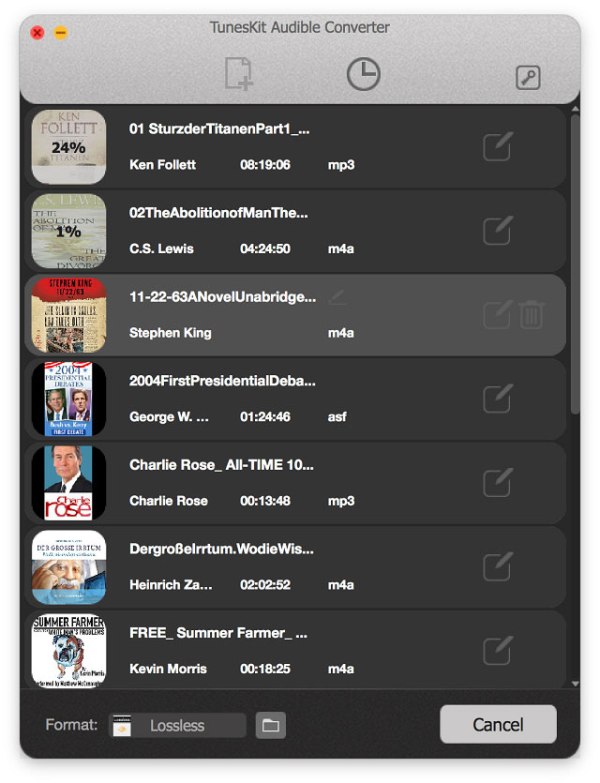 How to Play Audible on Apple TV
Without the protection, there won't be a problem for Apple TV to access the Audible books from the iTunes library. Then you can add the Audible audiobooks to the iTunes library as well as turn on the iTunes Home Sharing so that to stream Audible books on Apple TV. Here is a guide for you to use iTunes Home Sharing to listen to Audible books on Apple TV.
Step 1. First of all, you need to import Audible books into iTunes. Open iTunes on the computer and go to File > Add File to Library. Locate the converted Audible books and click the Add to Library button.
Step 2. Next, you should set up iTunes Home Sharing. How to do it? Just launch iTunes and go to File > Home Sharing. Choose the Turn On Home Sharing option.
Step 3. Go to the Edit > Preferences > Sharing button. Choose all the Audible books that you want to play on Apple TV. iTunes library will be sync to the Apple TV.
Step 4. On Apple TV, log in to iTunes Home Sharing. Navigate to Computers > Audiobooks to play Audible books on Apple TV.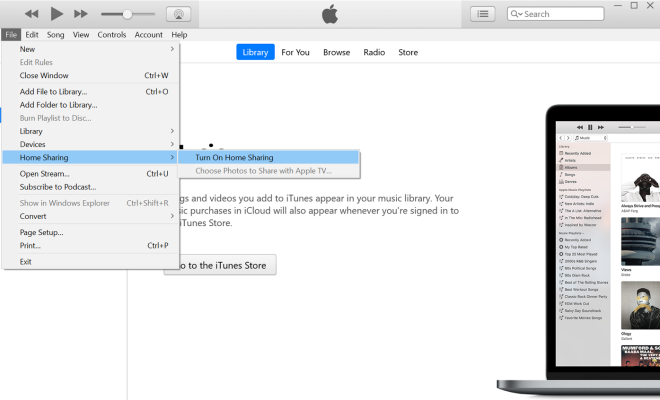 Conclusion
Which method do you think is better to play Audible on Apple TV? Personally, I think that you can choose the first one if you have two iOS devices and want to stream Audible books on Apple TV temporarily. And the second one is the best solution for Audible fans who listen to many Audible audiobooks on multiple devices since it will convert Audible books to enable them on any device.