I love using audible, but it sucks that there is no Audible app for the Apple TV. There isn't even an app for the Firestick which is ironic. But what have other Audible users been doing to play their audiobooks through their tv?
-- From Reddit.
The most appealing thing about Apple TV is its entertainment service including music, live sports, movies, and TV. There is a wide selection of applications for you to choose from, such as Spotify, Apple Music, Netflix, HBO, Prime Video, and more. Since Apple TV focuses on providing video services, there seem few audiobook services. It is without a shadow of a doubt that Audible is the biggest audiobook seller. However, the Audible Apple TV integration has been not available up to now. Even so, this shouldn't disrupt the flow of your favorite audiobooks. So this article will share 2 available ways to play Audible on Apple TV.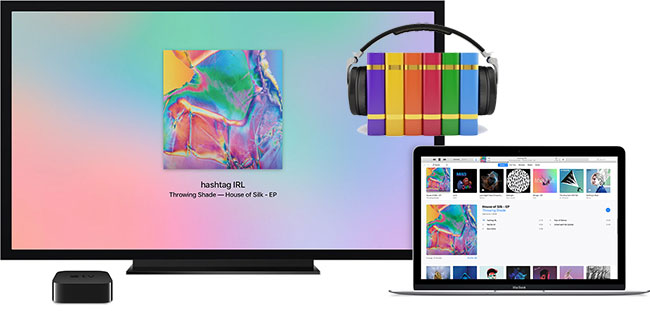 Part 1.

FAQs about Audible Apple TV

Here we also collected some common questions about Audible and Apple TV. You can have a look.

Q1.Is Audible on Apple TV?

A1.No, the Apple TV Audible app is not available now. But you are allowed to use Audible Airplay to stream Audible from iOS devices on Apple TV, which is the most convenient method.

Q2.Why is Audible Airplay not working on Apple TV?

A2.There is an increasing number of users complaining that Audible does not support Airplay to Apple TV in 2023. When cast previously downloaded books to Apple TV, Audible Airplay works properly. While switching to the newly added audio titles, Audible Airplay not working happens with an error message saying "At this time, AirPlay and AppleTV are not compatible with Audible. We are very sorry for any inconvenience this may cause you." Hence, in this case, I'd like to recommend you use iTunes Home Sharing to play Audible audiobooks on Apple TV.

Q3.Can I put downloaded Audible audiobooks on Apple TV?

A3.No. Due to the Audible file format limitation, books bought and downloaded from Audible can't be directly accessed by Apple TV. That is why you can't find your books on your devices sometimes. But we offer a feasible way to get downloaded Audible books on Apple TV by using an Audible Converter that helps you remove Audible limitations.
Part 2.

Play Audible on Apple TV through Airplay

Although there is no Audible app for Apple TV, you can apply Audible Airplay to listen to audiobooks on Apple TV. Airplay is a special feature of Apple devices to stream content between each other. If you own an iPhone or iPad, you can find the Airplay option on the Audible app.

Here I take the iPhone to illustrate how it works. Of course, iPad or other iOS devices can apply the following steps. First, make sure both your iPhone and Apple TV are connected to the same WiFi network stably.
Option 1. Airplay Audible on Apple TV via the Audible App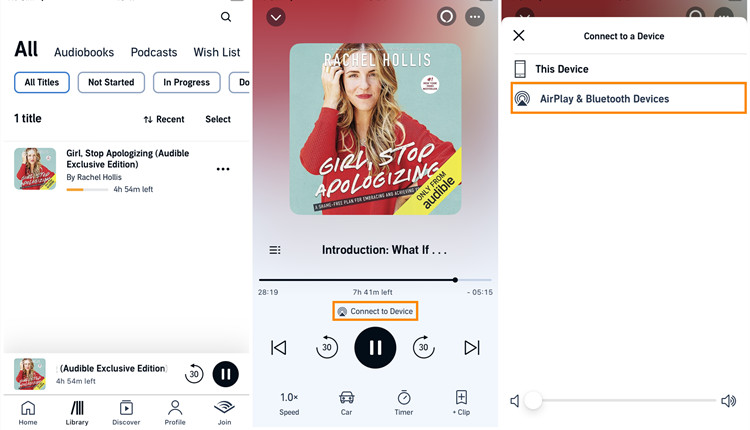 Step 1. Launch the Audible app on your iPhone and then go to Library to play any Audible book.
Step 2. On the Now Playing screen, you will find the Airplay icon under the progress bar.
Step 3. Tap it to select Airplay Devices. From the available devices list, choose your Apple TV.
Option 2. Airplay Audible on Apple TV via Control Center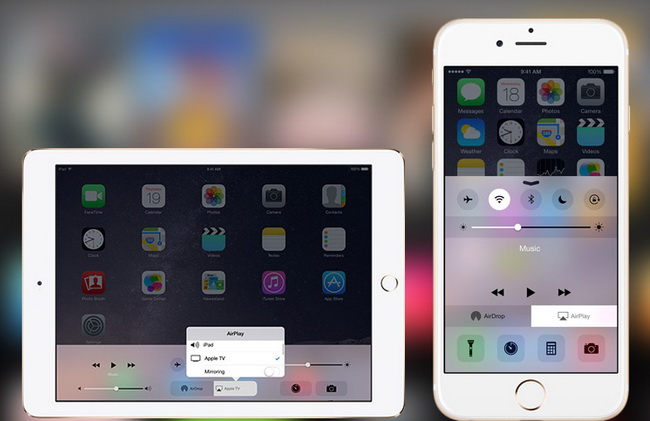 Step 1. Open Audible and start streaming an audiobook you owned.
Step 2. Swipe down from the top right-hand corner of your screen to open the Control Center.
Step 3. Locate and press the Airplay icon. It will pop up the available devices.
Step 4. Select the destination device - your Apple TV. Generally, it should connect immediately and cast the playing Audible book to Apple TV.
Part 3.

Play Audible on Apple TV through iTunes Home Sharing

Audible Airplay does provide a feasible solution to stream Audible on Apple TV, but more and more users said the Airplay isn't working for the Audible app. In addition, sometimes the WiFi connection is not so stable to reach a smooth experience. So this solution is not perfect though, especially for Android Apple TV users. For your convenience, you can also use an Audible Audiobook Converter to get rid of protection on Audible audiobooks and put Audible books on Apple TV easily.

ViWizard Audible Audiobook Converter is a powerful audiobook decryption tool that has the unique feature to crack DRM from Audible files without an account and iTunes easily. Once you have the downloaded Audible books, ViWizard can do the conversion automatically for you. No questions asked and no other hassles. You are able to choose to export Audible books in MP3, AAC, FLAC, M4A, M4B, AC3, and more universal formats. With this wonderful tool, the lossless quality along with the ID3 Info can be kept.

Key Features of ViWizard Audible Audiobook Converter
Free Trial
Free Trial
* Security verified. 5,481,347 people have downloaded it.
Convert Audible audiobook to unprotected audio formats like MP3
Split Audible book into several smaller segments by chapter or by time
Support playing Audible audiobooks on any device or media player
Handle the conversion of Audible audiobooks up to 100× faster speed
Still not sure how it works? No problem. ViWizard offers a functionally the same trial version, you can test it out to see if it meets your requirements to play Audible on Apple TV or not. It supports running on both Windows and Mac operating systems. Now I will walk you through the steps to download Audible books and then put Audible audiobooks on Apple TV.
3.1 Download Audible Books as Local Files
Before converting, please make sure you have saved the Audible files on your computer. Then you can click the download link above to install ViWizard Audible Audiobook Converter.
Step 1

Import Audible Files to the Converter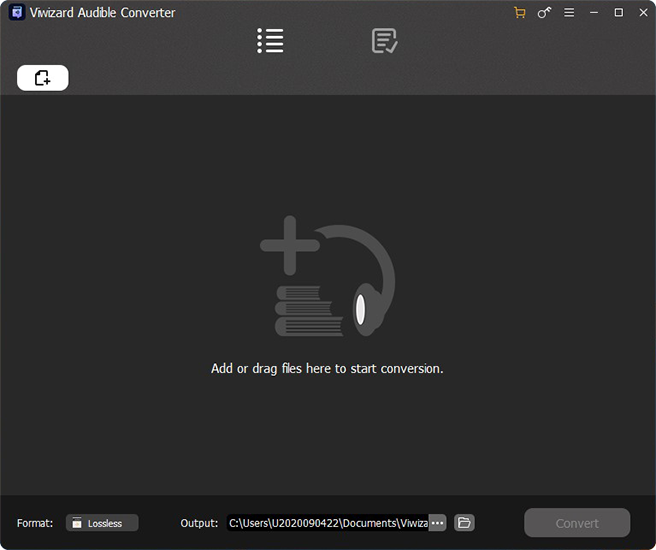 Now launch the ViWizard program on your desktop. Locate the Audible books on your device. Usually, they are in AA or AAX formats on your computer. After that, simply drag and drop them into the ViWizard Audible Audible Converter. By hitting the + icon in the upper-left corner, you can also load the Audible files.
Step 2

Pick Output Format and Parameters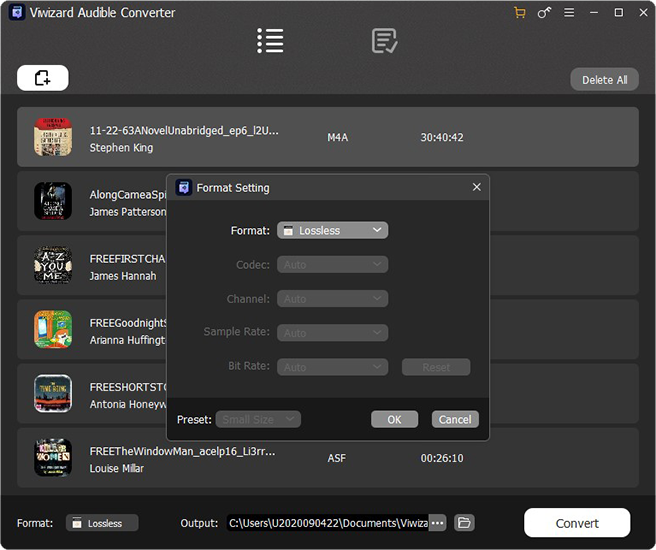 Click the Format box in the bottom-left corner to alter the output format. I suggest MP3 due to its adaptability. ViWizard also includes a number of useful choices for customizing your output audio characteristics such as the codec, channel, sample rate, and bit rate, which you may adjust or leave alone. When you've completed all of the options, click the OK button. If you'd like to make it easier to navigate through your chapters, click the Edit icon next to each book and then you can split the Audible by chapters. On the built-in editor, you can also change the narration speed or adjust the Audible volume.
Step 3

Download Audible for Apple TV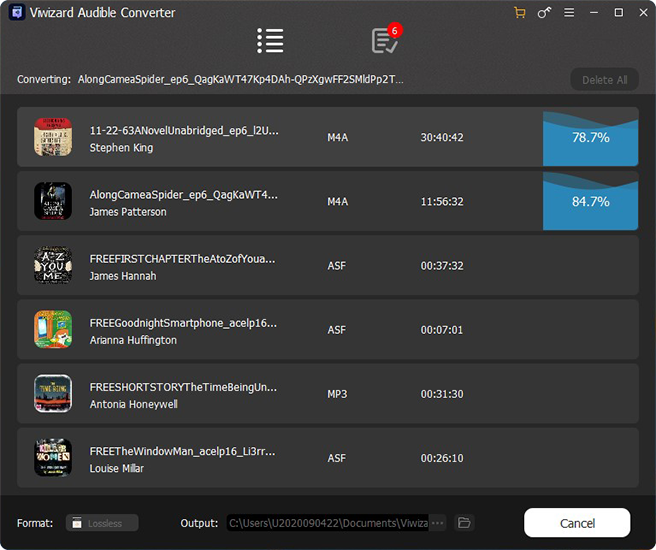 Then, to convert all of the Audible files at once, click the Convert button. Even if you convert numerous files, the process will be much faster because the speed is 100X faster. When the conversion is finished, click the Converted icon to open the converted Audible files, and the format will be changed to playable MP3 without DRM restriction.
3.2 Put Audible books on Apple TV
Without the protection, there won't be a problem for Apple TV to access Audible books from the iTunes library. Then you can add the Audible audiobooks to the iTunes library as well as turn on iTunes Home Sharing to stream Audible books on Apple TV. Here is a guide for you to use iTunes Home Sharing to listen to Audible on Apple TV.
Step 1

Set Up Home Sharing on both Apple TV and Computer

Open Settings on Apple TV, then go to Users > Accounts > Home Sharing.
Turn on Home Sharing, then enter your Apple ID and password.

Launch iTunes on your PC or Mac and head to File > Home Sharing > Turn On Home Sharing.
Step 2

Play Audible on Apple TV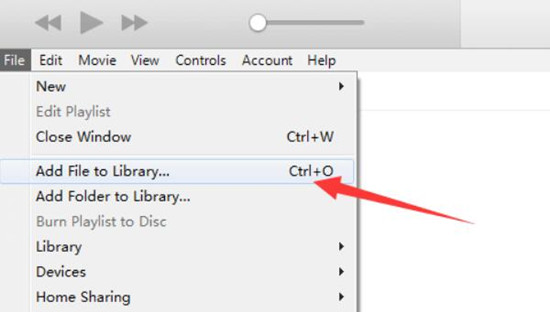 On iTunes, go to File > Add File to Library to locate and input the converted Audible books.
From the top menu, select Edit > Preferences > Sharing. Choose all the Audible books that you want to play on Apple TV. iTunes library will be synced to the Apple TV.
On Apple TV, log in to iTunes Home Sharing. Navigate to Computers > Audiobooks to play Audible books on Apple TV even if there is no internet connection.
Summary
Which method do you think is better to listen to Audible on Apple TV? Personally, I think that you can choose the first one - Audible Airplay if you have an iOS device and want to stream Audible books on Apple TV temporarily. And ViWizard Audible Audible Converter with iTunes Home Sharing is the best solution for Audible fans who listen to many Audible audiobooks on different devices. Because ViWizard has the power to convert Audible books to physical files which enables Audible books to be played on any device without the Audible app.