Perhaps you have already started to listen to Amazon Audible audiobooks a long time ago, but you may have not paid a lot of attention to the format of Audible files. That may be due to the fact that usually the Audible audiobooks are played through the Audible app or iTunes only, and you rarely have the chance to see the downloaded Audible files. As an Audible new user or audiobook enthusiast, it is really important to learn the Audible file format, if you want to get the most out of audiobooks in your devices and players. In this article, you will learn what format are audible books and how to play Audible audiobooks on more devices by changing Audible format to MP3.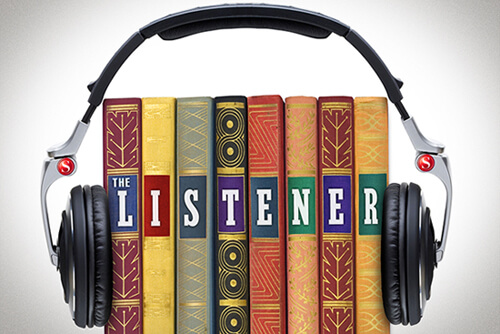 What Format are Audible Books in
In general, there are 2 formats of Audible audiobooks with the extension of .aa or .aax, which both have security technologies to protect the intellectual property rights of audiobook providers. Now we are going to compare AA with AAX from different aspects.
Quality of Audible Format
AA is the standard Audible audio format and it is divided into three subsidiary formats (2, 3, 4) according to different audio quality. Format 2 is in a bit rate of 8Kbps, like AM radio. Format 3 is in a bit rate of 16Kbps, like AM radio. Format 4 is in a bit rate of 32Kbps and the quality of sound is just like standard MP3 audio. AAX, in 64Kbps, is a new enhanced format that has the best audio quality like a CD.

Audible Book Format Comparison
If you want to get the best audio quality for your downloaded Audible files, it is recommended to change the Audible download format to AAX before you download. Though AAX has the best quality, it is the largest in size which takes up bigger space and longer time to download. For the customers who have low internet speed or limited space and time, it is better to choose the AA format. The common thing for both formats is that they are all protected by Audible. You need to authorize the file to your device before you can play it.
What Format Does Audible Use for Mobiles
You may know that Audible released the Audible App for Android/iOS. For mobile users, a big change is the Audible books format. When you download Audible books on the Audible app for Android or iOS, the audiobooks are in AAXC format.
Tip: Audible gradually stops offering AA format which is of lower quality, with the aim of offering audios in higher quality. If you purchased Audible books in AA before, you are free to download this audiobook in AAX again from Audible, which is totally free. Later, let's see how to download Audible books for listening.
How to Download and Listen to Audible Books
Currently, Audible files support a lot of devices including Windows PC and Mac computer, and mobile devices like phones, tablets, MP3 Player, etc. But you need to follow the specific Audible official instruction to use the right Audible App and player.
1. For Mac or Windows computers, you can use Audible desktop to download and play Audible audiobooks on computer directly.
2. For mobile devices like phones and tablets, normally you can install the Audible app for Android or iOS, then you will be able to download and play Audible books with it.
3. For MP3 players, you can refer to instruction 1 above to download Audible files to your Windows PC first, then you can transfer Audible books to MP3 player.
It seems Audible books can be played on lots of devices, however, due to the limitation of Audible file format, you can only play them on extremely limited devices compared with Spotify or other services. What is more, every time you are requested to input your Audible user name and the Audible password to authorize the device. Last but not least, you need to download Audible App or iTunes all the time for your new devices which is a waste of time. It is really depressing because sometimes we do need to play on more devices without the restrictions. If you have a strong desire to bypass this limit like me, go to the next part.
How to Change Audible Format to MP3 and Play on More Players
Good news: this problem is solved today with the powerful ViWizard Audible AA/AAX Converter which integrates the feature to remove Amazon Audible protection and keep 100% quality. Just download the trial version to have a try and you will understand how well it performs. Almost all the tasks are done automatically at the fastest speed (100X). There are two versions, ViWizard Audible Audiobook Converter for Windows and ViWizard Audible Audiobook Converter for Mac. I will take the Windows version for example to show you how to convert Audible files. Please make sure you have already downloaded the Audible AA or AAX files to your computer.
Step 1

Load Audible Audiobooks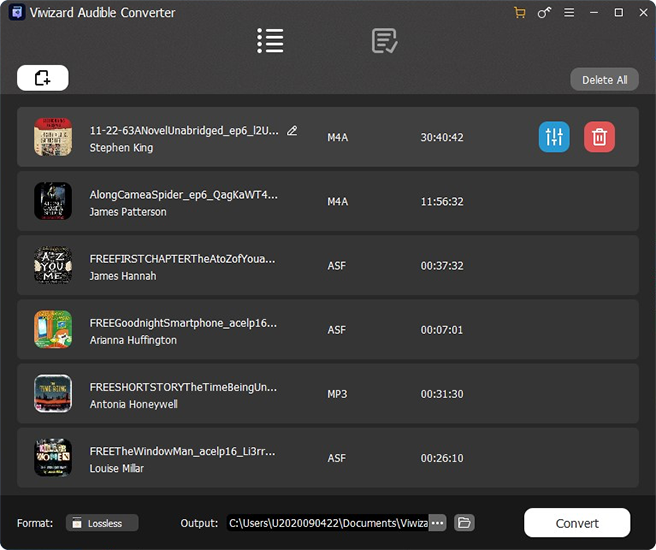 You can drag the AA or AAX files to the software easily. You don't even need to input the Audible user name and password because ViWizard can handle that directly.
Step 2

Choose the Audible Book Format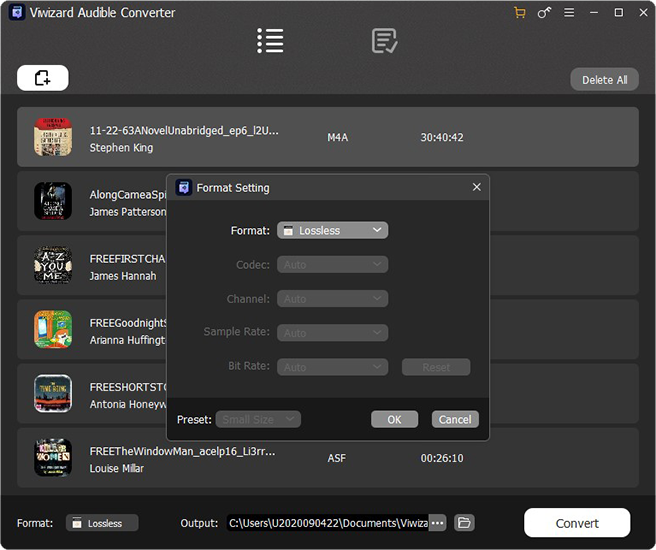 Generally, you can choose Format button and MP3 which is the most popular audio format. But it is OK if you want other formats like WAV etc.
Step 3

Change Audible File Format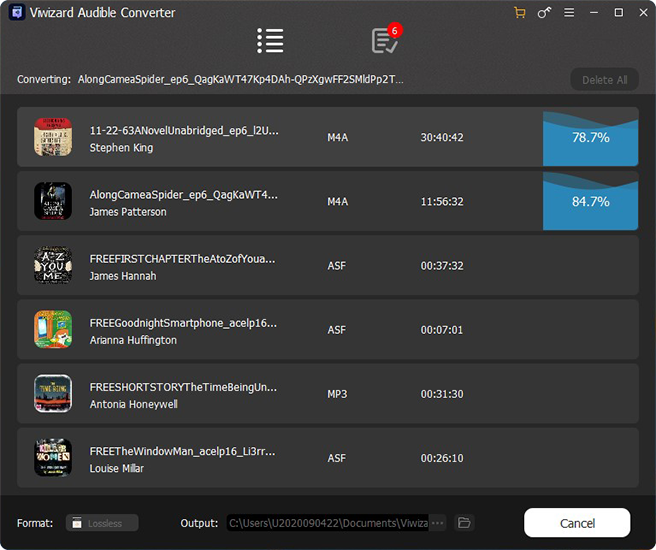 Click the Convert button. When it is finished, you can transfer the converted files anywhere without any limitations and you will be able to play them on most players that support MP3 easily. You no longer need the Audible app or iTunes all the time.
Conclusion
In this post, you have learned what file format does Audible use, the differences between Audible formats, and how to convert Audible format to MP3 or other formats easily. With only a smart converter, ViWizard Audible Converter, you are able to play Audible books on any device without any limits.