Perhaps you have already started to listen to Amazon Audible audiobooks a long time ago, but you may have not paid a lot of attention to the Audible audiobook format. That may be due to the fact that usually Audible audiobooks are played through the Audible app or iTunes, and you rarely have the chance to see the downloaded Audible files. The reality is, if you want to get the most out of audiobooks with different devices and players, it is really important to know the Audible file format.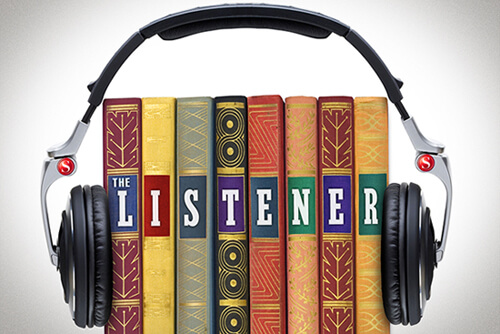 In this article, you will learn what format are Audible books and how to play Audible audiobooks on more devices by changing the Audible file format to MP3.
Part 1.

What Format Are Audible Books

In general, there are 3 formats of Audible audiobooks with the extension of .aa, .aax, and .aaxc, which both have DRM technology to protect the intellectual property rights of audiobook providers. Here we'll give you a clear look.
1.1 Audible Download Format from audible.com
Thanks to Audible Cloud Player, PC or Mac users have the ability to listen to and download Audible books even without the Audible app. Previously, Audible offered options for listeners to select download format between Audible Enhanced Format and Audible Format 4. The former stands for the AAX format while Audible Format 4 refers to the AA format.

However, since 2020, Audible has gradually stopped offering AA format which is of lower quality, with the aim of offering audio in higher quality. So there is no option to download Audible in the AA format. That is, the downloaded Audible books file format from the Audible site is AAX with DRM protection. If you purchased Audible books in AA before, you are free to download this audiobook in AAX again from Audible, which is totally free.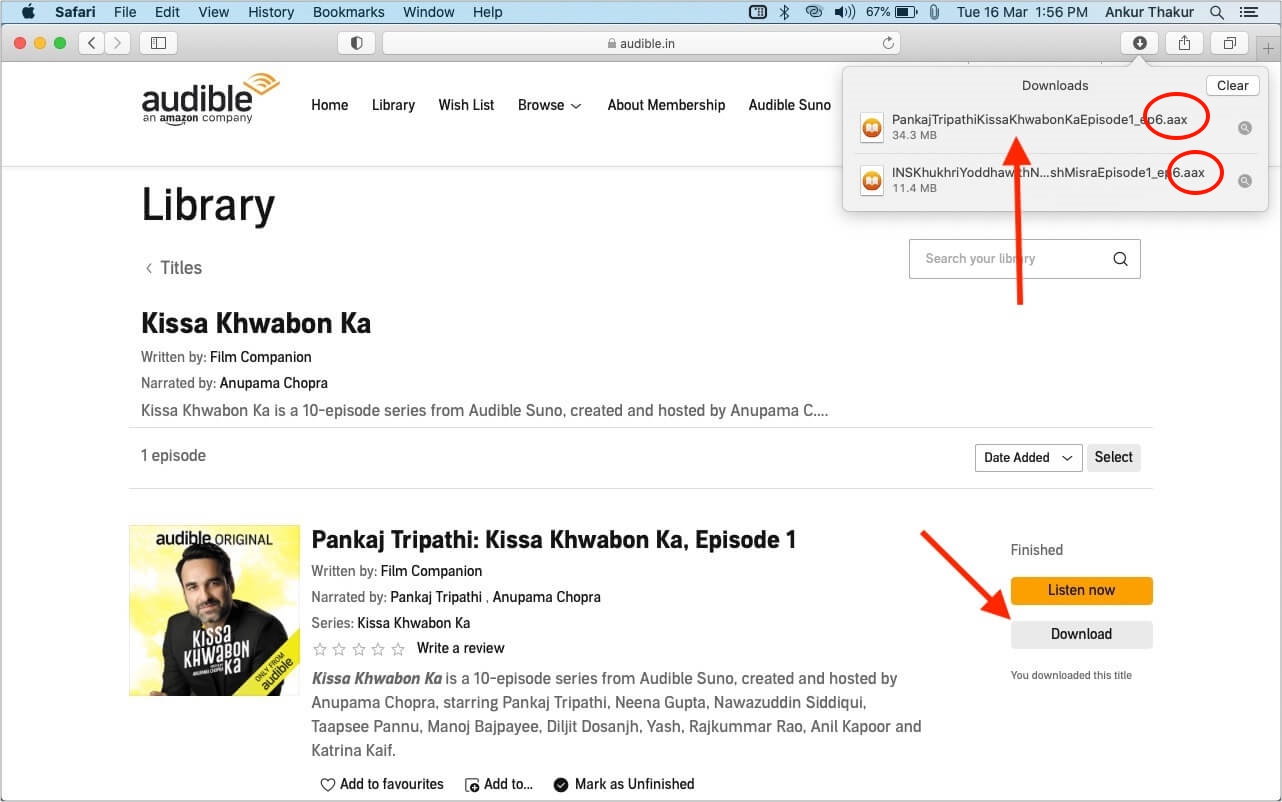 AAX Audible Format is encrypted M4B and encoded in variable quality AAC format. Generally, this new Audible Enhanced Format has the best audio quality at 64 kbit/s, 22.050 kHz, which sounds like a CD. Though AAX has the best quality, it is the largest in size which takes up bigger space and longer time to download.
1.2 Audible Download Format from the Audible Android App
In addition to the above formats Audible used, Amazon Audible also created the AAXC format for Android users. When you download Audible books on the Audible app for Android, the audiobooks are in AAXC format. You can find the Audible Android download location through this path: Files\Internal storage\Android\data\com.Audible.application\files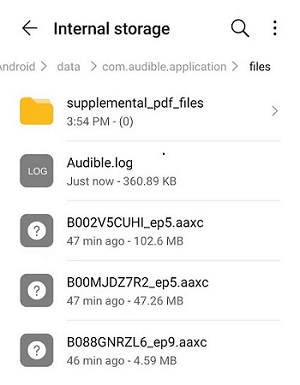 Likewise, the Audible AAXC files are encoded with DRM so you cannot play them directly. If you want to download Audible books in AAX instead of AAXC on your Android device, please go to the Audible official site. Or provided that you may want to get Audible MP3 format, check the following link to enter our previous exploration.

How to Convert Audible AAXC to MP3 [2023]
Find that your Audible books are saved in the format of AAXC from the Audible app for iOS and Android? Let's see how to convert Audible AAXC to MP3 in this article.
Part 2.

How to Download Audible Books for Listening

Currently, Audible is compatible with a bunch of devices including PC, Mac, Android, iPhone, iPod, Kindle, and more. With these devices, you can freely download Audible books for offline listening. But note that all downloads from Audible can only be played within the Audible player due to the protected Audible file format. If you prefer to have direct access to Audible files listening, converting Audible file format to MP3 is prior.
2.1 Listen to Audible Files on PC/Mac
Step 1. Open a browser and enter audible.com to log into your credentials.
Step 2. On the Audible Cloud Player, click Library to access your purchased audio titles.
Step 3. Hit on the Download option next to each title and it will start downloading.

Step 4. Once downloaded, find the Audible file from the Downloads folder and open it with iTunes.
Step 5. After opening it in iTunes, it will ask you to go to the Audible website to authorize your Audible account.
Step 6. And click on Activate in iTunes to complete the authorization.
Step 7. Back to iTunes to start listening your to Audible books.

2.2 Listen to Audible Files on Android/iPhone
Step 1. Launch the Audible app and go to Library from the bottom.
Step 2. Tap the cover of an audiobook to start downloading.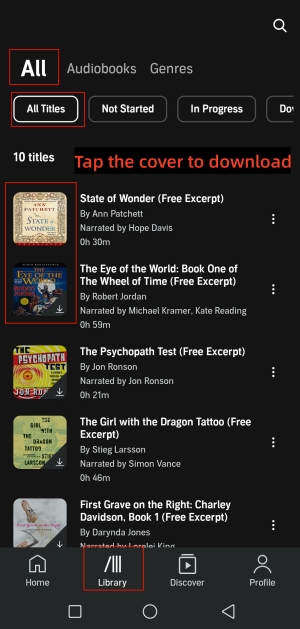 Step 3. When the downloading is complete, under the All tab, find the Downloaded section.
Step 4. Pick the downloaded Audible file to have listening.
Due to the limitation of the Audible book format, you can only play them on extremely limited devices. What is more, every time you are requested to input your Audible user name and the Audible password to authorize the device. Last but not least, you need to download the Audible app or iTunes all the time for your new devices which is a waste of time. It is really depressing because sometimes we do need to play on more devices without restrictions. If you have a strong desire to bypass this limit like me, go to the next part.
Part 3.

How to Convert Audible File Format to MP3

The biggest good news is that this problem is solved today with the powerful ViWizard Audible Audiobook Converter. This unique and innovative AAX converter integrates the feature to remove Audible DRM protection and convert Audible books from AA/AAX to MP3 or other plain formats. As long as you saved Audible books in AA or AAX, ViWizard can finish the conversion without requiring you to authorize your Audible account. By using a top-leading decryption technique, you have no need to worry about any audio quality, chapter, or ID3 info loss. For better listening, it even provides options to adjust the sample rate and bit rate. Almost all audiobooks are downloaded automatically at a 100x faster speed within the ViWizard software.

Key Features of ViWizard Audible Audiobook Converter
Free Trial
Free Trial
* Security verified. 5,481,347 people have downloaded it.
Convert Audible audiobook to unprotected audio formats like MP3
Split Audible book into several smaller segments by chapter or by time
Support playing Audible audiobooks on any device or media player
Handle the conversion of Audible audiobooks up to 100× faster speed
Just download the trial version to have a try and you will understand how well it performs. Please make sure you have already downloaded the Audible AA or AAX files to your computer.
Step 1

Load Audible Files to ViWizard

Fire up the ViWizard Audible Audiobook Converter after installation. Locate the exact Audible download location on your device, and then drag the AA or AAX files to the software easily. Or you can click the + Add button from the upper-left corner to import Audible files. Once loaded in the converter, you can notice them in the main window. If you think the audiobook is too long, click the Edit icon to split the audiobook by time, chapter, and segments. On the editor, ViWizard also allows you to change the volume, speed, and pitch according to your needs.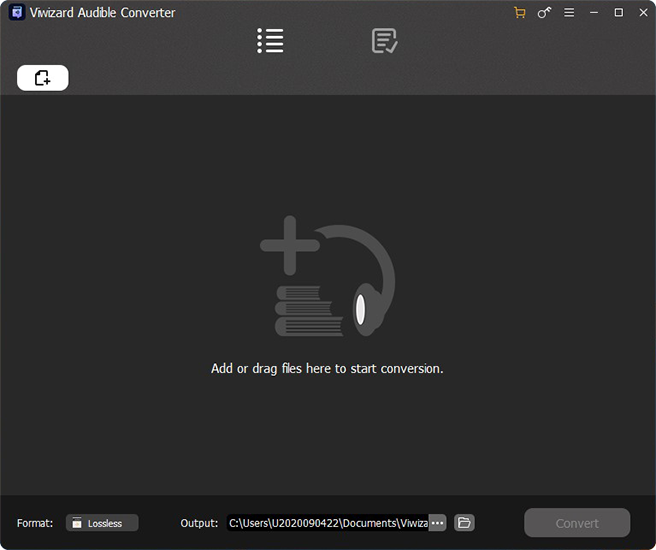 Step 2

Set the Output Format as MP3

After adding Audible files, you can customize parameters according to your needs. Just click the bottom corner Lossless tab, and it will open a new box. From here, you are free to change the output format from MP3, M4A, M4B, AAC, FLAC, WAV, and more. Based on your needs, the MP3 format should be the target format. Also, the codec, channel, sample rate, and bit rate are available to adjust to level up experience. After changing, don't forget to hit on the OK button.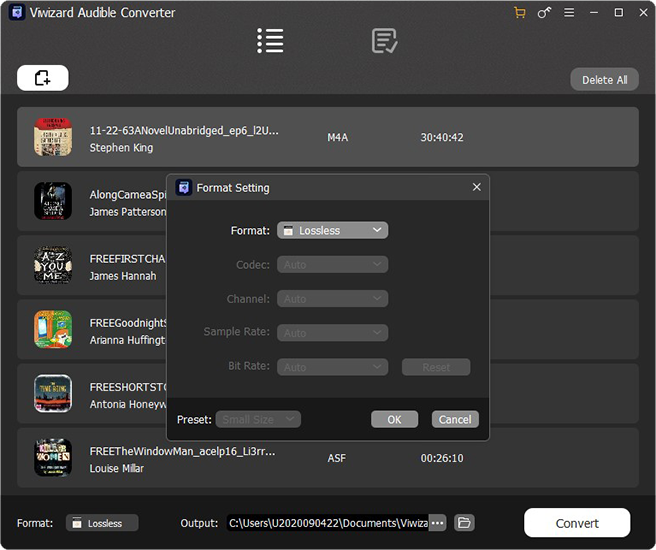 Step 3

Convert Audible File Format to MP3

Lastly, hover the cursor and click on the Convert button to start converting Audible files to MP3s. After conversion, go to the Converted interface from the top, you can easily browse your converted Audible MP3 files. On the history list, click the folder icon and you will find it in the local folder. Now, double-click the Audible file and you can enjoy it with the built-in media player or any player you like. If necessary, transfer them to your MP3 player, smartphone, or other devices for listening.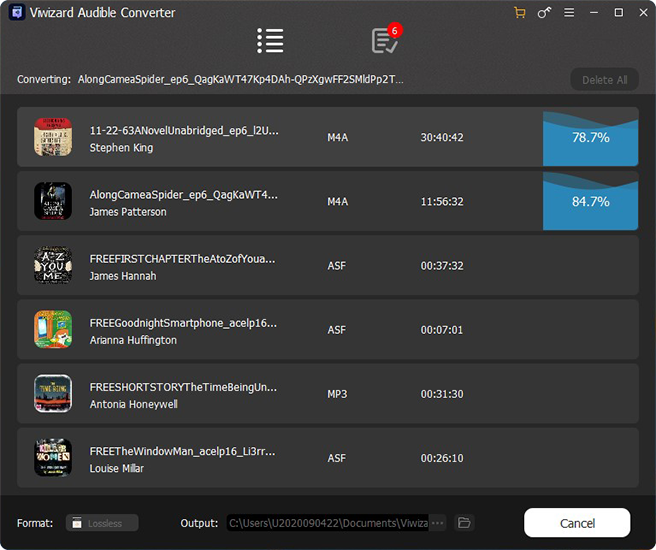 Conclusion
In this post, you have learned what file format does Audible use, how to listen to Audible files, and how to convert Audible file format to MP3 easily. With ViWizard Audible Converter, you are able to play Audible books on any device without any limits.