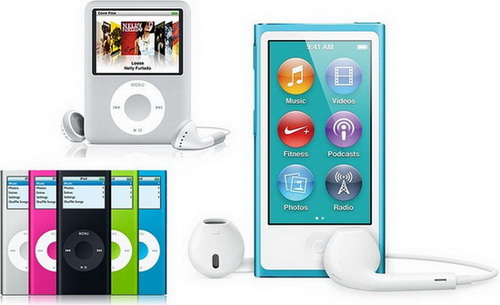 I'm receiving this error message exactly: "My Audible audiobook plays well on the computer. But after loading it to my iPod through iTunes, it simply stops and won't play at all. Any ideas about this? Can I put Audible books on my iPod with other methods?"- Wyatt Allen
As a portable media player with a great aesthetic, iPod has dominated the digital music player market in the US market since 2004. And it quickly becomes the best-selling digital music player of all time. iPod supports various kinds of files like music, podcasts, audiobooks. It is common sense that all files work well on iTunes can be imported to the Apple iPod if the file size allows. Considering the news released from Apple and Audible, We've updated this article with more detailed instructions and workable suggestions.
However, when it comes to iPod Support, the process and results are varied based on different iPod models. Read slow.
Part 1. How to Get Audible App for iPod Touch
The easiest method to get Audible books on the iPod is using the Audible app for iPod - if supported on the available iPod model.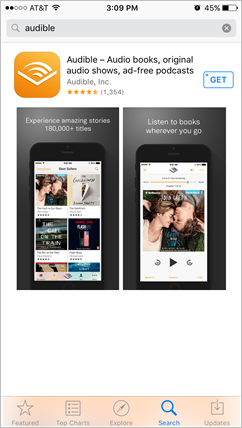 Audible has native support for iOS devices including iPhone, iPad and the most-concerned iPod touch - Apple's last iPod model - which is announced to be discontinued until supplies are gone. An iPod touch is called as an iPhone without the phone and its users can still access to Apple's exclusives like the App Store to have the Audible app for iPod.
To Get Audible App for iPod Touch
Note: To access apps from the App Store, an internet connection and Apple ID are needed.
1. From the App Store, search and download Audible app for iPod.
Or ask Siri to install Audible App on the iPod:
1. Use this voice command: "Search the App Store for Audible." or "Get the Audible app."
2. After the installation, launch the Audible app.
3. From the Welcome to Audible screen, check if the appropriate Marketplace is selected to access to Audible.
4. Still on the Welcome screen, tap either Get Started or Sign In button to enter Audible username or Amazon credentials.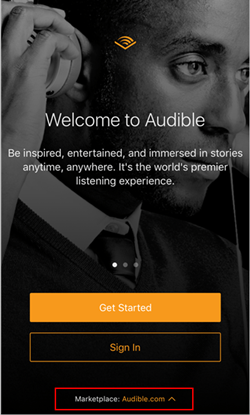 You can access to Audible books on the iPod touch now.
Part 2. How to Transfer Audible Books to iPod Touch
If the Audible app for iPod is not to prefer, or the Audible app is not supported on some iPod models including iPod Nano or iPod Shuffle, there's one more methods to have the Audible books in almost all iPod models - transfer the downloaded Audible books from iTunes to iPod Touch.
Download Audiobooks from Audible
Frist there should be a downloaded collection of Audible audiobooks from Audible.com. Make sure there're AA/AAX files on desktop or from here go to the website to download them with an active Audible membership.
Note: For iPod Nano or iPod Shuffle device, the common AA/AAX formats are not supported, please make sure select the compatible formats with the device from the audible.com. Or a powerful Audible AA/AAX Converter here to convert the existing AA/AAX files to new formats should be acceptable.
To Transfer Audiobooks from iTunes on iPod Touch
In 2003, the iPod and its iTunes music software helped introduce users to digital music services. As the time, it's also avaiable for iPod users using iTunes to access the media on iPod Touch. To enable the Audible books on iPod Touch's Books app's audiobooks section, from here to have them in iTunes.
Thing You'll Need: iTunes for Windows PC or Mac
If there's an AA/AAX audiobooks collection on desktop, it's simple to transfer them from iTunes to Apple Books.
Add Downloaded AA/AAX Audiobooks to iTunes
1. On desktop, navigate to select the AA/AAX Audible books files.
2. Drag and drag the files to iTunes.
Or in the iTunes app:
1. Click on File button at the top and then Add File to Library or Add Folder to Library.
2. In the pop-up window, navigate to the folder where the AA/AAX files are stored in.
3. Select and click Open to add these files to iTunes.
From here the downloaded Audible files can be streamed well in iTunes for Windows PC or Mac. To transfer them to iPod Touch, some works are needed.
Note: Make sure the Audible account has been connected with iTunes via the Authorizations in Account at the top.
Transfer Added AA/AAX Audiobooks to iPod Touch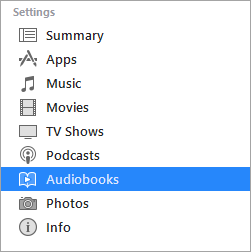 1. Connect the iPod with the computer.
2. Once connected, find and click on the device icon next to the Music section or Audiobooks section.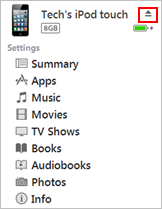 In the device view, you can also access to the audiobooks on the iPod in the Audiobooks under On My Device section.
3. Under Settings section, click the Audiobooks tabs.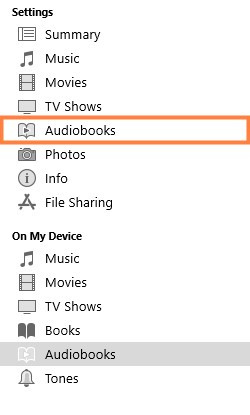 4. Tick the Sync Audiobooks and then Apply.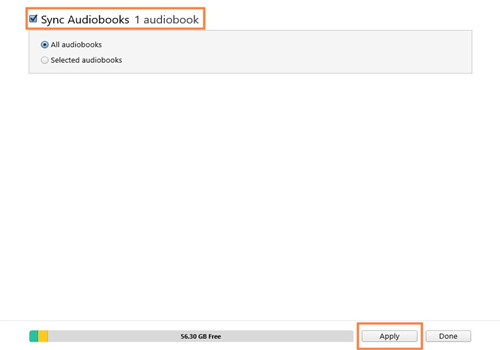 After the Audiobooks are transferred from iTunes on desktop, the titles will be added to Audiobook section of the iPod's Books app.
Access to Transferred AA/AAX Audiobooks on iPod Touch
1. From the Home Screen, tap the Music app.
2. Tap the More options button (horizontal 3 dots icon) in the bottom right corner.
3. Select Audiobooks.
Now the Audible books are here and should work fine with the iPod, tap a desired book to start streaming!
Note: Most iPod models have limits on file size. We recommend splitting the audiobooks longer than 20 hours into small pieces or chances are that the books can stutter or stop.
Tips: Apple said it will continue selling remaining iPod Touch devices at $199 apiece until no more supplies in 32GB, 128GB and 256GB models. Feel free to have a new piece to keep the books or read on to learn how to enable them across iOS devices.
Part 3. How to Enable Audible Books across iOS Devices
The lineup expanded over decades to include the iPod Mini, iPod Nano and iPod Shuffle, in addition to the classic iPod. When it comes to an end, there're more options to keep the iPod Touch or leave it. Besides the iPod, there are still a lot of models and other iOS devices that can have the Audible books further, however the AA/AAX formats are still setting limits.
No worries. From converting AA/AAX Audible audiobooks into compatible formats to splitting the Audible books into small chapters, ViWizard Audible AA/AAX Converter can help! With this powerful tool, the whole process to transfer Audible books will be much easier, while all the methods from above still work fine.
ViWizard Audible Audiobook Converter for Windows/Mac is one of the best programs for converting AA/AAX formats to a bunch of new formats, including MP3, AAC, FLAC and more, so on with the chapter info kept. It also has a edit-supported editor that can enable users to split Audible audiobooks into small parts to suit the size of iPod Touch. The best part of it is it can keep 100% original quality during converting process while the 100X converting speed can overshadow most similar products on market.
Key Features of ViWizard Audible Audiobook Converter
Losslessly remove DRM from Audible without account authorization
Convert Audible audiobooks to common formats at 100× faster speed
Freely customize lots of parameters like format, bit rate, and channel
Split audiobooks into small segments by time frame or by chapters
Convert AA/AAX Audiobooks to MP3
1. Launch ViWizard Audible Converter either for Windows or Mac.
2. In ViWizard, click the Add Files button to navigate to the location where the downloaded AA/AAX files are stored in.
3. Click Open to add these AA/AAX file to ViWizard.
To split the output Audible audiobooks into smaller chapters:
4. Click the blue Edit icon to open the window, choose No split, Split every, Split into or Split by chapters options to edit the audiobook.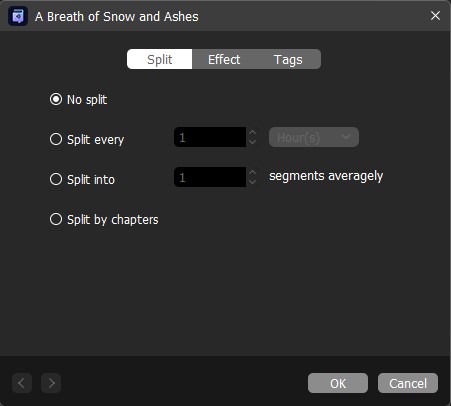 5. Click OK to save this change.
To convert the added AA/AAX Audible audiobooks files:
6. Click the Format tab at the bottom and set the output format as MP3.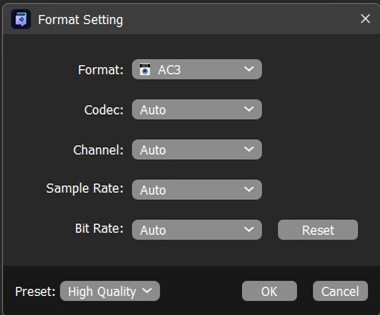 7. Click OK to save this setting.
8. Click the Convert button to start converting the AA/AAX formats into MP3.
Conclusion
Here are the two different methods to listen to Audible Books on iPod. If the device model support Audible app for iPod, using the app is more convenient to access Audible books. For other iPod models, some works are needed to download the AA/AAX files from audible.com and can use iTunes to transfer Audible books to iPod. However, since now it's the end of iPod line, it's acceptable to convert AA/AAX files into MP3 for more iOS devices. ViWizard Audible Converter can be downloaded with a simple click!