"My Audible audiobook plays well on the computer. But after loading it to my iPod through iTunes, it simply stops and won't play at all. Any ideas about this? Can I put Audible books on my iPod with other methods? " - Wyatt Allen
As a portable media player with a great aesthetic, iPod has dominated the digital music player market in the US market since 2004. And it quickly becomes the best-selling digital music player of all time. iPod supports many kinds of files like music, podcasts, audiobooks. It is common sense that all files played well on iTunes can be imported to the Apple iPod if the file size allows. However, the supported playback formats may vary on different models. Regarding the problem of Allen, I will show you the right ways to import Audible to iPod. Depending on the model of your iPod, please follow the related tips accordingly.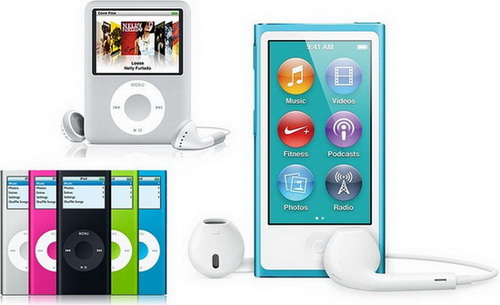 How to Put Audible Books on iPod Touch
An iPod touch is basically an iPhone without the LTE cellular data connection. Audible has native support for iOS devices like iPhone/iPad/iPod touch so that you can play all formats of audiobook files including AA and AAX without even using iTunes. To get started to listen to Audible audiobooks, you just need to download and install the Audible app on the iPod touch from the Apple App Store. After that, you can follow the screen wizard step by step to play Audible on iPod touch.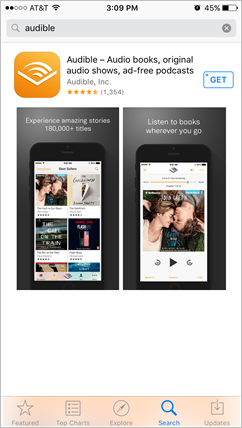 1. Launch the Audible app with your account name and password.
2. Go to the Library tab to locate your purchased audiobooks and click the one you want to start streaming.
3. If you want to listen offline, you can also tap the Download button to download the audiobook. After that, you should be able to enjoy Audible on iPod without internet connection.
If you use multiple iOS devices to listen to Audible, you might want to sync the position of the audiobook you are listening to. You can follow these steps to sync the position on all iOS devices.
1. Open the Audible app on your iPod touch.
2. Tap the Profile button and choose the gear icon.
3. Tap Player and toggle the Sync playback position switch off then turn it on.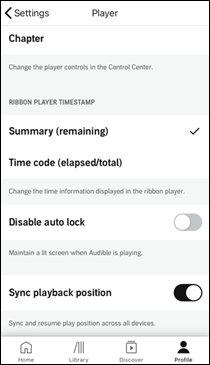 How to Get Audible Books on iPod Nano/Shuffle
What can you do if you have an iPod like Shuffle/Nano which doesn't support installing any apps? Can you still transfer and listen to Audible audiobooks on iPod with iTunes? It depends on the format. Generally, the Shuffle supports the format 2 and 3 while the format 2, 3 and 4 are compatible with Nano. Both of them don't support the latest Audible enhanced format AAX yet. So when you download the books from the Amazon Audible website, please select the compatible formats to ensure they are playable on your devices before syncing with iTunes. Here is the trip on how to transfer Audible to iPod nano, shuffle and others with iTunes.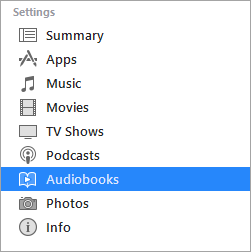 1. Connect your iPod to the computer where you have downloaded all your audiobooks with a USB cable.
2. Launch iTunes, you should see the device icon on iTunes. Please click the device icon, iTunes will show you all the files which are allowed to sync to iTunes.
3. Click the Sync only checked songs and videos button. Click Apply button.
4. Click Settings > Audiobooks button and then click Sync audiobooks > All audiobooks. Click Apply to put Audible on iPod nano or iPod shuffle. Click the Eject icon.
Note: Most iPod models have limits on file size. You'd better split the audiobooks longer than 20 hours into small pieces. Otherwise, Audible audiobooks may suddenly stutter or stop when you listen to them.
Bonus Tip: Convert Audible to MP3 to Play on Any Device
There are still a lot of old models of iPod which are not compatible with Audible formats especially the latest Audible enhanced audio format AAX. If you happen to find Audible not compatible with iPod you own, then the above solutions may not work for you.
What is more, even if the format is supported, sometimes you just can't sync some of the big files due to the small storage. No worries, you can also convert Audible books to a more popular format and split the large file into small chapters with a converter. In this way, any playback-related problems which we talked about above can be solved too.
ViWizard Audible Audiobook Converter for Windows/Mac is one of the best programs for converting AA/AAX formats to a bunch of new formats such as MP3, AAC, FLAC, WAV, M4A, M4B, WMA, and so on with the chapter info kept. The best part of it is that it can keep 100% original quality during converting process while the 100X converting speed is surprisingly faster than any other tools in the market. And you are also able to cut the huge Audible audiobooks into small parts so that you can transfer them to iPod without enough storage. You can download the free trial version of this converter to convert Audible files and see whether they are available on any devices after conversion. Here is a user guide for your reference.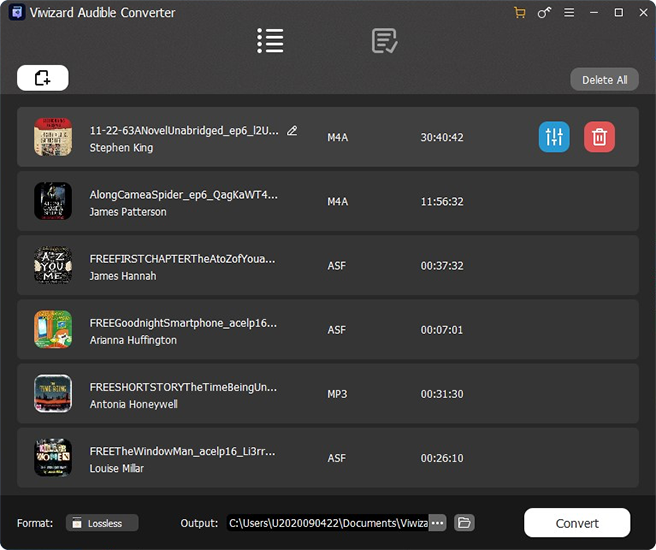 1. Launch this converter on either Windows or Mac computer and drag the Audible books into it.
2. Choose the Format button and choose MP3.
3. Click the Convert button to convert Audible books to MP3 and find the MP3 files at the Converted button. 
Summary
Here are the two different methods to listen to Audible on iPod. If you use an iPod touch, using the Audible app is more convenient. For other iPod models, you can use iTunes to transfer Audible books to iPod. When you find Audible not compatible with iPod touch or other iPod models, just use the universal method to transfer Audible to iPod, that is, convert Audible to MP3 with ViWizard Audible AA/AAX Converter. With this step, you can even play Audible on any devices or players that do not support Audible before.