When you are cleaning up your computer you may find that you have saved many media files in the past. These media files, downloaded at some point in time, may contain a wide variety of audio and video. If you are considering what player to use to play these files, VLC Media Player is a very good choice. VLC Media Player is a powerful player, it supports over 20 audio and media formats which can easily play your files.
Nowadays, many people enjoy listening to Audible audiobooks. Audible allows premium users to download the audiobooks for offline playing within its app. To integrate your local media library, you can use VLC to play and manage all media files. Today we will tell you how to play Audible on VLC Media Player with ease. If you want to know-how just keep reading this article.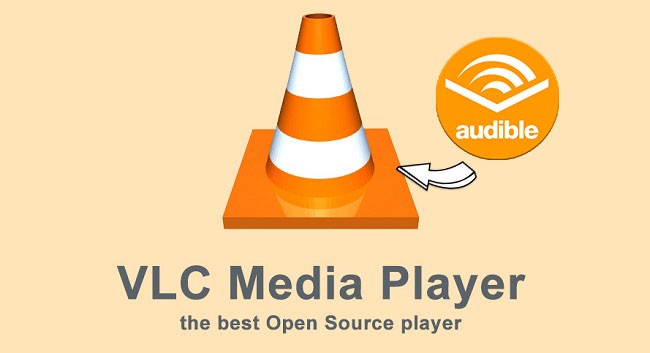 Why Audible Can't Be Played on VLC Directly
Audible is the most popular audiobook streaming service which has been released for over 10 years. It has over 200,000 audiobooks, interviews audio, tv shows audio, and thousands of original content. Since Audible is a streaming service, the Audible audiobooks are in a protected AA/AAX format which can only be played in the Audible app. If you add the Audible books to other players directly, you will find that the player can't recognize the protected Audible files.
So what should we do? Is there any help? The answer is to remove the protection of Audible audiobooks and convert them to a supported format of VLC, such as MP3. To make sure the conversion will be finished stably, we have selected a professional Audible audiobooks converter for you in the next part.
Supported Formats of VLC Media Player: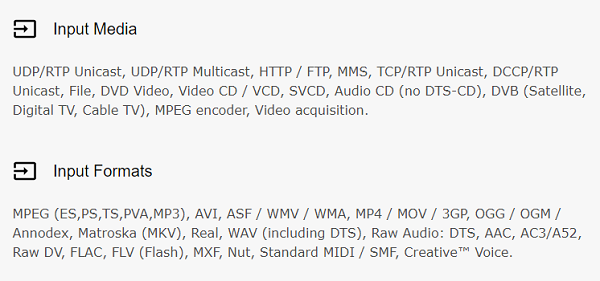 Professional Tool You'll Need
Are you wondering how to play AAX on VLC? Pitifully, VLC can't play Audible AA/AAX files because the Audible AA/AAX files are encrypted. In order to play Audible AAX audiobooks on VLC Media Player, you will need ViWizard Audible AA/AAX Converter.
This converter can download Audible audiobooks to MP3, WAV, AAC, FLAC, and others at 100x faster speed. With the built-in settings, you can split the audiobooks into small segments. The parameters of the output audio are adjustable, such as sample rate, bit rate, channel, codec, volume, and so on. The ID3 tags of each audio will be saved too.
ViWizard Audible Converter Key Features
Convert Audible AAX/AA to MP3 for playing on VLC
Convert Audible audiobooks at a 100X faster speed
Customize some parameters of output audio
Split audiobooks into small segments by time frame or by chapters
How to Convert Audible Books to VLC
Want to know how to convert Audible audiobooks to VLC with ease? You can follow the following guide to convert Audible audiobooks to MP3 for playing on a VLC player. Before we start, click the download button to install the ViWizard Audible Audiobooks Converter on your computer. There are two versions (Mac and Windows) for you to choose from.
Step 1

Add Audible Files to the Converter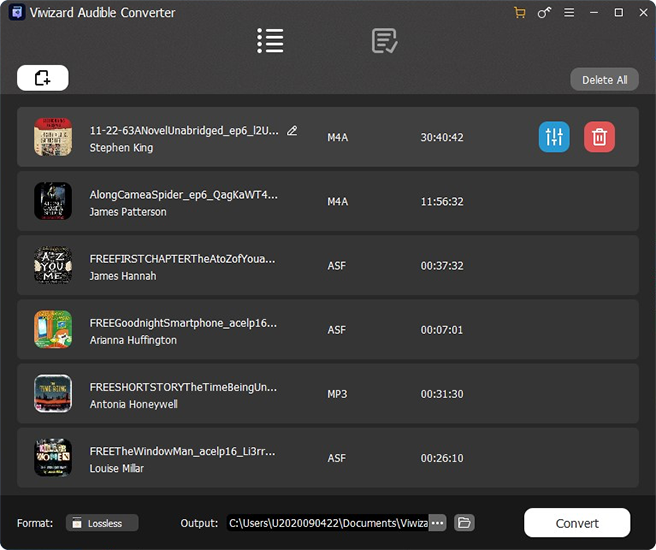 Before you may convert Audible files, you must first download them. After downloading, locate the AA or AAX files on your computer and drag them to the ViWizard Audible AA/AAX Converter in batch mode. By pressing the Add button, you can also load the Audible files.
Step 2

Choose Output Format and Parameters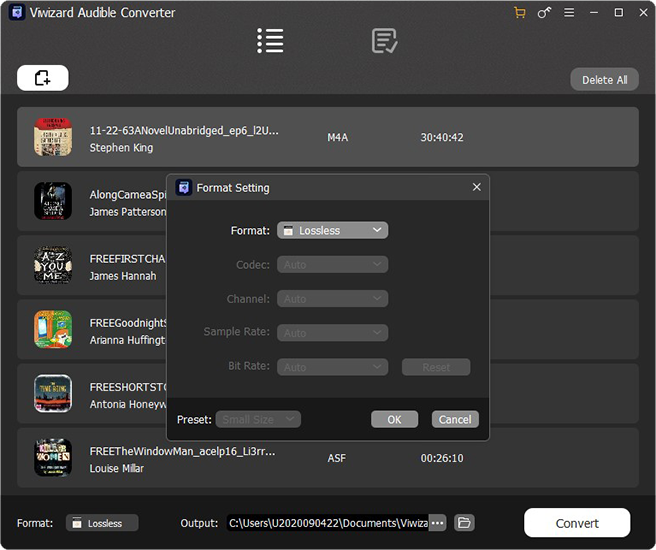 Click the Format button in the bottom-left corner to alter the output format. Because of its high quality and adaptability, I suggest MP3. It will save you a lot of time if you want to play the output files on multiple devices. ViWizard also includes a number of useful choices for customizing your output audio characteristics such as codec, channel, sample rate, and bit rate, which you may adjust or leave alone. When you've completed all of the options, click the OK button.
Step 3

Start to Convert Audible to VLC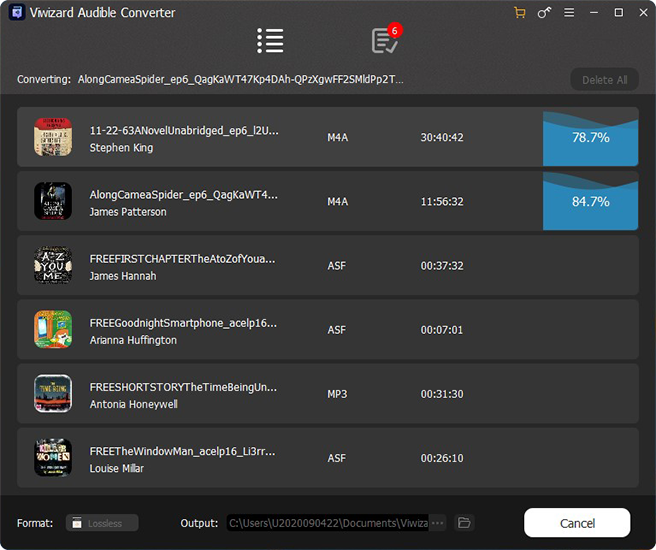 Then, to convert all of the Audible files at once, click the Convert button. Even if you convert numerous files, the process will be much faster because the speed is 100X faster. When the conversion is finished, click the Converted icon to open the converted Audible files, and the format will be changed to the new one.
How to Play Audible Books on VLC Media Player
You can locate the downloaded Audible audiobooks on your computer's hard drive. Now you can add the MP3 Audible files to VLC and you can play the Audible books on VLC without hassle. VLC Media Player is available on Windows, Mac, iOS, and Android now, here we will show you how to play Audible on VLC on different devices.
On Mac and Windows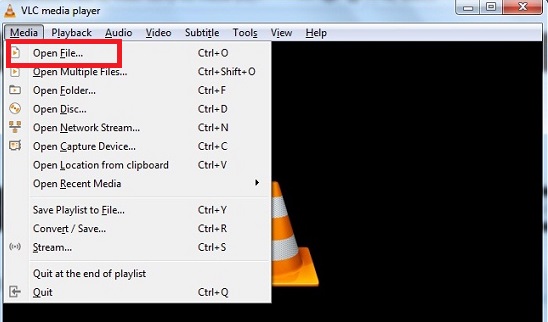 Step 1. Open the VLC Media Player on your PC or Mac.
Step 2. In the player's interface, select Media from the menu bar.
Step 3. Select the Open File option to locate and choose the folder with converted Audible files
Note: You can also navigate to the folder with converted Audible files and drag and drop the files to the VLC playlist.
On iOS Device

Step 1. Connect your iPhone to your computer with a USB cable. Then launch the iTunes app. On the menu bar, select the iPhone symbol.
Step 2. On the left-sidebar, select the Apps option and scroll down to choose the VLC Media Player.
Step 3. Open the converted Audible audiobooks folder on your PC and drag and drop the music to the VLC Documents section.
Step 4. Open and play the Audible audiobooks files on your iPhone's VLC application.
On Android Device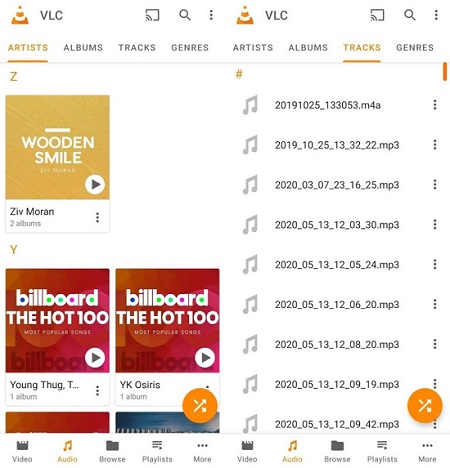 Step 1. Use a USB cable to connect your Android phone and PC to transfer the converted Audible audiobooks to your phone.
Step 2. Use the VLC Media Player application on your phone and press the Audio button at the bottom.
Step 3. To explore media files, go to Menu > Audio.
Step 4. On the right side of any music, click the Three-dot icon and select Add to Playlist.
Step 5. Give the playlist a name or add it to one that already exists. To save, press the OK button.
Step 6. To listen to the Audible audiobooks, click the Menu > Playlists tab.
Summary
Now you may know how to play Audible on VLC Media Player. Audible audiobooks are encrypted AA/AAX files that can't be played without its app. To play Audible on VLC, you need to convert Audible books to MP3 with ViWizard AA/AAX Audiobook Converter. After the conversion, the Audible audiobooks can be played on VLC without limit.