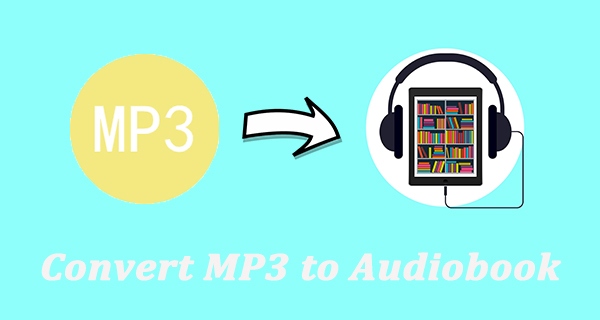 When it comes to audiobooks, the universal format used by many audiobook converters is MP3; however, when it comes to Apple devices, the format is M4B. This format contains almost everything you might need, such as chapter markers, hyperlinks, and even cover images. Another advantage of the M4B format is it is bookmarkable. This means that you can bookmark a chapter or page and return to it whenever you resume playing.
But if you convert MP3 to an audiobook, then there are two ways to go about it. For those who want to convert MP3 to an audiobook with chapters, you have come to the right place. This article will help you understand those two ways, and you can pick one method at your convenience.
Part 1. How to Make an Audiobook from MP3 through iTunes
If you have the iTunes app on your computer that runs Windows OS or macOS 10.14 Mojave (or earlier), you can finish this work easily. Since the iTunes is the alternative to the Music app and share the same functionality, you'll go through a very similar process in the Music app to make your MP3 files to audiobooks.
To add mp3 file to iTunes:
For starters, please make sure the mp3 file is imported to iTunes already. Or you can add the file or folder that contains all mp3 files to iTunes from there.
1. Open iTunes.
2. From the top menu select File > Add File to Library or Add Folder to Library.
3. Navigate to find all the mp3 files or folder that contains them in Windows Explorer or Finder. Select the item and open it.
4. Now the mp3 file is under the Recently Added tab under Library in the side menu (at this time the Apple Music Contents menu is selected as Music.)
To make an audiobook from mp3 file in iTunes:
Please follow these steps to change the genre and media kind of the iTunes MP3 files.
1. Select Music in the Apple Music Contents menu at the top of the side bar.
2. Locate and select the mp3 file from iTunes.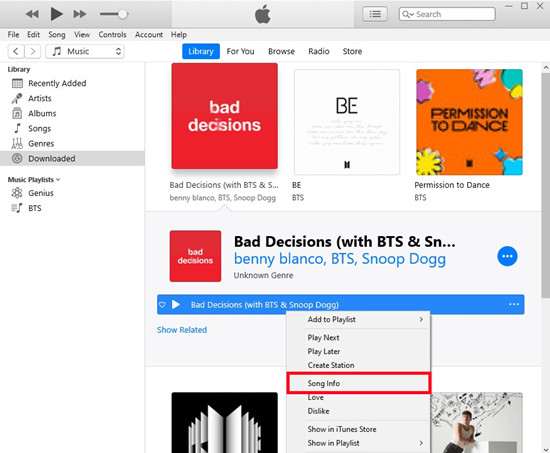 3. Right-click on it to select song info in the options menu.
4. Choose the Details tab and see the genre under it. Click the chevron down icon on the right to select Books & Spoken.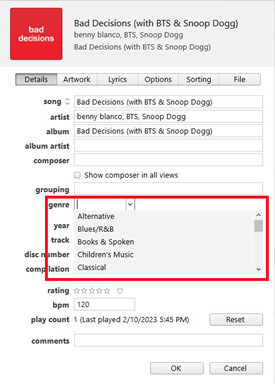 5. Choose the Options tab and see the media kind under it. Open the drop-down menu on media kind to select Audiobook.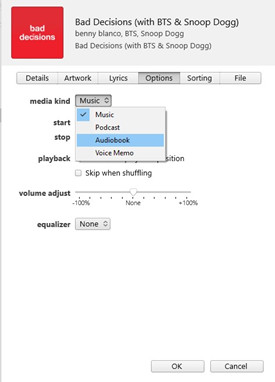 6. Click OK.
7. Now back to the MP3 file to see the change with the genre displaying "Books & Spoken".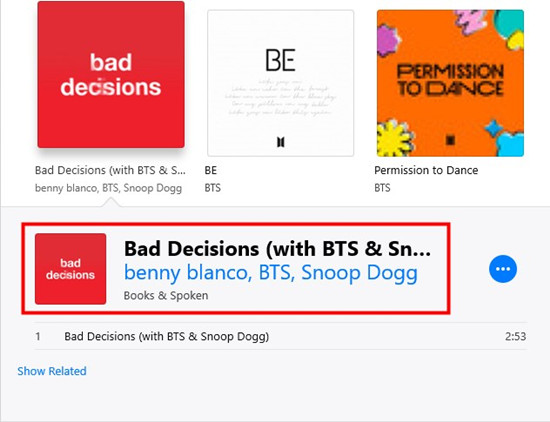 8. At the top of the side bar, open Apple Music Contents menu to select Audiobooks from Music.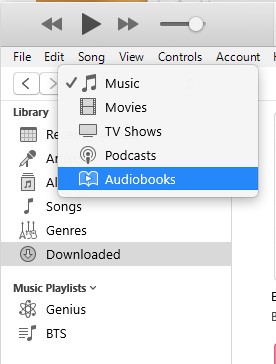 9. Now the original MP3 file is here under the Audiobooks section in iTunes.
How to Convert MP3 to an Audiobook (M4B) through iTunes
You can take advantage of iTunes to convert your MP3 audiobook file to AAC.
To convert MP3 to AAC in iTunes:
1. Select the mp3 file under the Audiobooks section.
2. Choose File from the top menu > Convert > Create AAC version. Now iTunes will start converting and it will be done within seconds.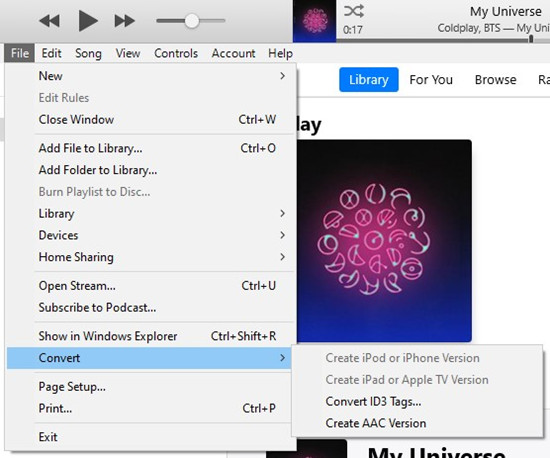 3. Head to the Recently Added tab under Library in the side menu.
4. Drag and drop the item to your desktop and you see the file extension is .m4a.
However, this is not the perfect solution since the file format is not changed and matched with any audiobook players that support M4A, M4B and more. Or if you want the M4B - the audiobook file format that will make more sense, head to the Part 2 to meet 2 options, and both of them have more supported output formats.
Part 3. How to Convert MP3 to an Audiobook (M4B) with ViWizard
M4B - The audiobook file format
As LABS mentions, a file with an M4B extension, is an AAC encoded, MPEG-4 audio file, usually used within the Apple ecosystem to bundle audiobooks files. In addition to storing audio content, M4B file format also supports digital bookmarking (so that you can resume listening from the point you left off last time), and chapters markers (a feature similar to that found in DVDs).
For those who want to learn how to convert MP3 to Audiobook into different formats, you need to use an audio converter tool. The recommended tool is ViWizard Audio Converter . For Apple users, method one will be sufficient, but if you are an Android user, you will have to change the format because it won't work that way. So, what you can do is convert the MP3 to either M4B or M4A format. This fantastic audio converter is easy to use. The intuitive and easy-to-understand interface makes it one of the best audio converters. You can use this tool to convert MP3 into multiple other formats, such as WAV, FLAC, and AAC. Moreover, all the songs will be converted at 5X speed, which means you won't have to wait for a long time.
Please note that ViWizard Audio Converter is available for both Mac users and Windows users. You will first have to download and install ViWizard Audio Converter on your computer and then follow the steps mentioned below. Don't worry; you don't need to be a tech expert to start using ViWizard Audio Converter.

ViWizard DRM Audio Converter Key Features
Losslessly remove DRM from Audible audiobook & iTunes audiobooks
Convert DRM M4P to MP3, AAC, WAV, FLAC, M4A, M4B
Retain 100% original quality and ID3 tags
Convert Apple Music songs to MP3, M4B, AAC
Convert between DRM-free audio file formats
By now, you have learned that ViWizard Audio Converter is the best tool to use to convert MP3 to audiobooks with chapters. The files will be converted fast and downloaded in the local folder of your computer, which you can later transfer to the device where you want to listen to the audiobook.
Step 1

Launch ViWizard Audio Converter and add MP3 files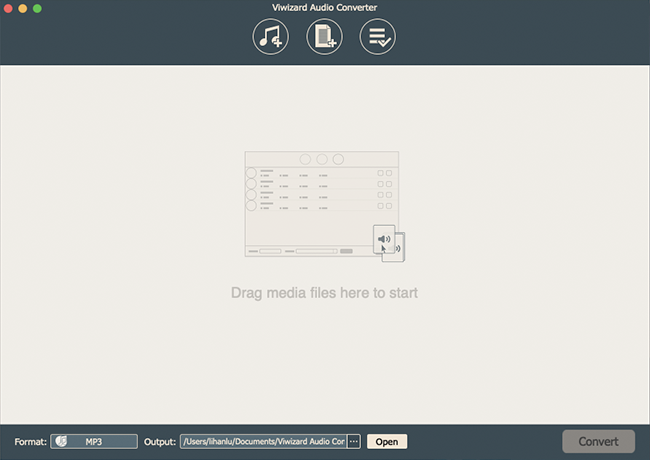 Download and install ViWizard Audio Converter on your computer. Now, launch it. The main screen will give you two options to upload the MP3 files that you want to convert to audiobooks with chapters. You can drag and drop the files; else, click on the Add Files option to manually add the MP3.
Step 2

Set output format for Audiobook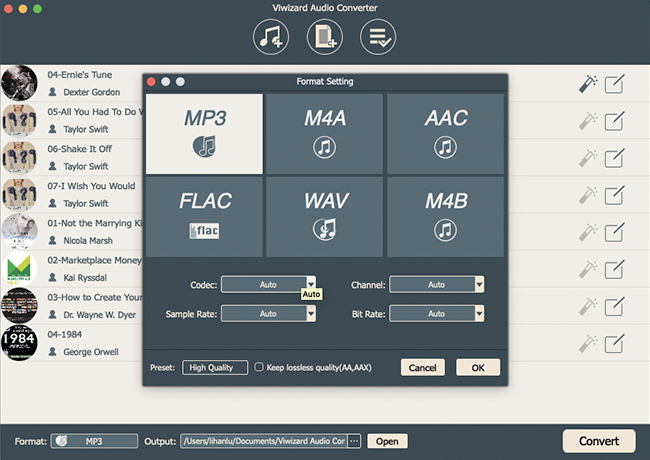 After the songs are added to the audio converter, you can make some changes to the output format and audio parameters. Since you want to convert MP3 to Audiobooks with chapters, the recommended format to choose is M4B and M4A. Along with that, you can change codec, channel, sample rate, and bit rate.
Step 3

Convert MP3 files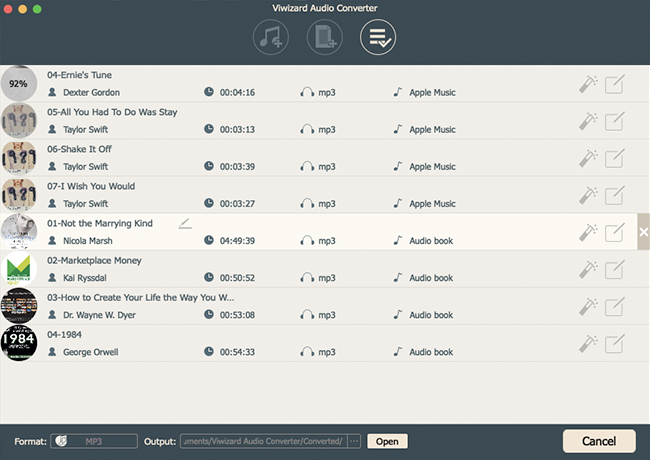 Once you are satisfied with the changes you have made, please click on the convert option. ViWizard Audio Converter will convert the MP3s at 5X speed. Next, click on the file option to locate the downloaded file on your computer. Now, your Audiobooks are ready with chapters.
Conclusion
Now you have learned how to convert MP3 to Audiobook in Windows and Mac. For iTunes users, as mentioned earlier, method one will be enough, but if you want to convert the audiobooks with chapters in different formats, try ViWizard Audio Converter. To download, please visit the official website of ViWizard Audio Converter.