Q: "Can I listen to my Audible books on my Fire TV device at home? If so, how can I do that? Thanks in advance!" – Jonathan from Audible Community
Amazon Audible can be a great way to stay at home while instantly streaming an incredible story for learning. If you want to play Audible audiobooks through TV instead of phone or tablet, Amazon's Fire TV can help you out. Next, let's move to the detailed instructions on how to play Audible on Fire TV easily with 2 methods.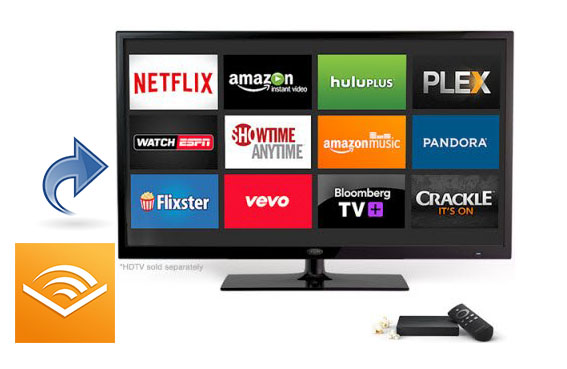 Part 1. Play Audible Books on Fire TV through Audible App
According to Audible Official, users can access the Audible books on every Fire TV device including Fire TV, Fire TV Stick, and Fire TV Cube, etc. But you need to register to the same Amazon account on every device. Then install the Audible app on one and then you will be able to access it on the others. The following is how to install the Audible app and play Audible book on Fire TV.
How to Install Audible on Fire TV
Step 1. Open your Fire TV device after connected it to your TV and then use the "Search" function to type in "Audible" to find the app. You can also go to the "Apps" category to locate it.
Step 2. Once the Audible app is brought up, you can click the "Get" button to start downloading it.
Step 3. After the Audible app is installed, you can then download and play the audiobooks you want for listening.
You do not need to download the Audible books. You can stream the titles in your library through Fire TV. On the other hand, that means you need always keep the TV connected to internet.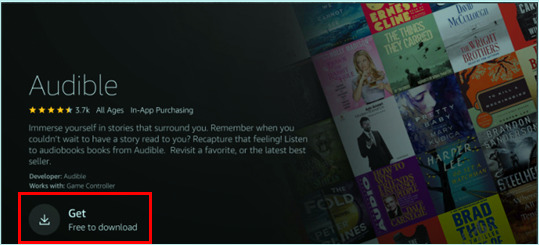 How to Play Audible on Fire TV
Step 1. You can load the Your Audible Library section of Audible on Fire TV. But this section only lists no more than 100 books. To see the one which is not on this list, press the Menu button on the remote. Choose the My audiobooks option and search for this book.
Step 2. Tap the Listen Now button under a title to listen to this Audible book on Fire TV.
Step 3. The Player Screen will appear. You can use the remote to control the playback of Audible books on Fire TV.
Pros:
• It is not difficult to use.
• Support stream Audible books on Fire TV.
Cons:
• From the Amazon community and Reddit, many users report various problems about playing Audible on Fire TV, such as missing books, distorted books, and others.
• The library on Fire TV only shows 100 titles. And when you search, you have to enter the correct full name.
• You cannot listen to Audible on Fire TV offline.
• You have to install the Audible app on Fire TV.
Part 2. Transfer Audible Audiobooks to Fire TV After Converting to MP3
Another way to play Audible books on Amazon Fire TV is to convert Audible books to MP3 or other common audio formats and save them to your local computer. By doing so, you can easily transfer Audible audiobooks to Fire TV or any other unauthorized devices such as PSP, Sony Walkman, Creative Zen, Zune, Blackberry, etc. via USB. So how can you listen to Audible on Fire TV by converting format?
Well, what you need is a powerful Audible to MP3 converter such as ViWizard Audible Converter. This smart program is specially designed to convert Audible books with no need for your account or iTunes app. It's able to convert Audible books from AA/AAX to MP3, M4A, M4B, FLAC, WAV, etc. at a 100X faster speed while keeping chapters and lossless audio quality.
Features of ViWizard AA/AAX Audible Converter:
Convert Audible AA/AAX to MP3, WAV, M4B, etc.
Download Audible books with lossless quality
Convert Audible audiobooks at 100X speed
Easy to use with a clear UI
Quick Guide to Play Audible on Fire TV:
First, you need to install ViWizard Audible Converter on your Mac or PC computer after clicking the Download button above. After that, just follow the simple tutorial below to learn how to use it.
Step 1

Add Audible AA/AAX Files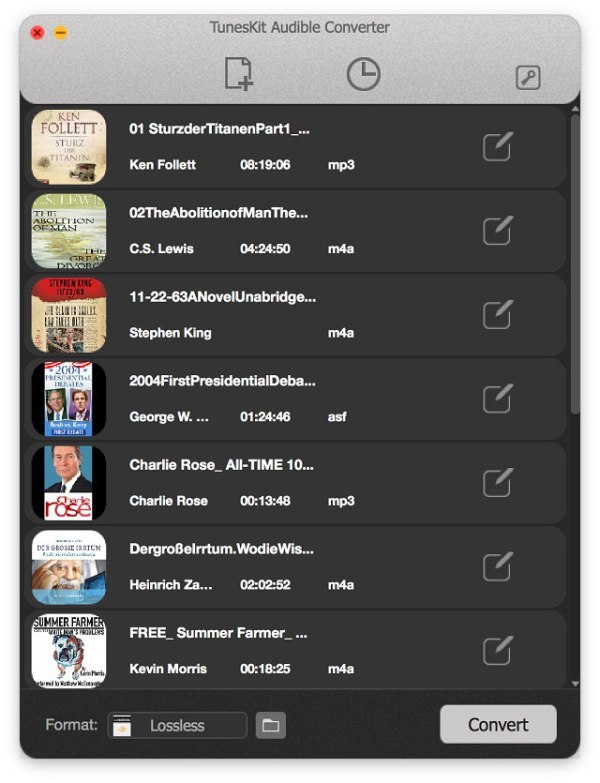 Run ViWizard Audible Converter on your desktop, and then click the "Add" button to import the Audible audiobooks you want to convert to the program or simply by dragging and dropping. If you haven't downloaded these books in advance, you can read the guide here: How to Download Audible Audiobooks.
Step 2

Select Output Format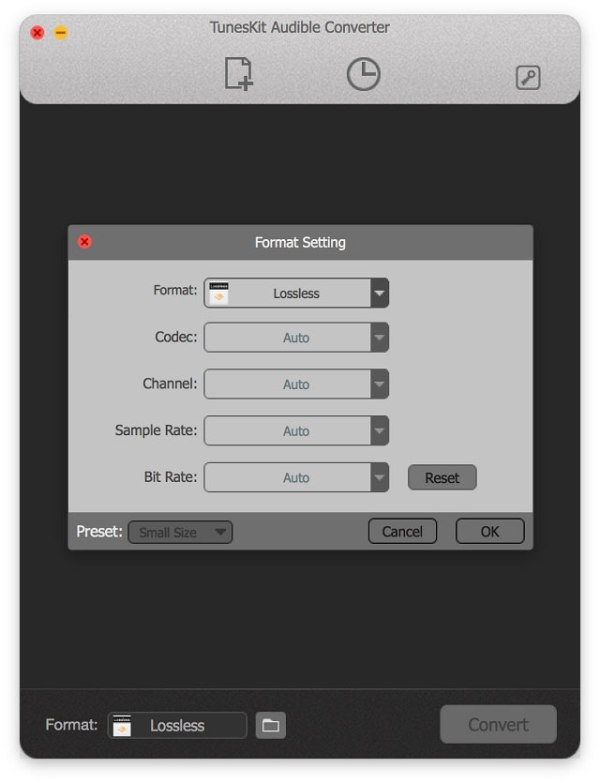 Next press the "Format" panel at the lower-left corner and you're allowed to choose an output format for your audiobooks.
Step 3

Convert Audible Books to Fire TV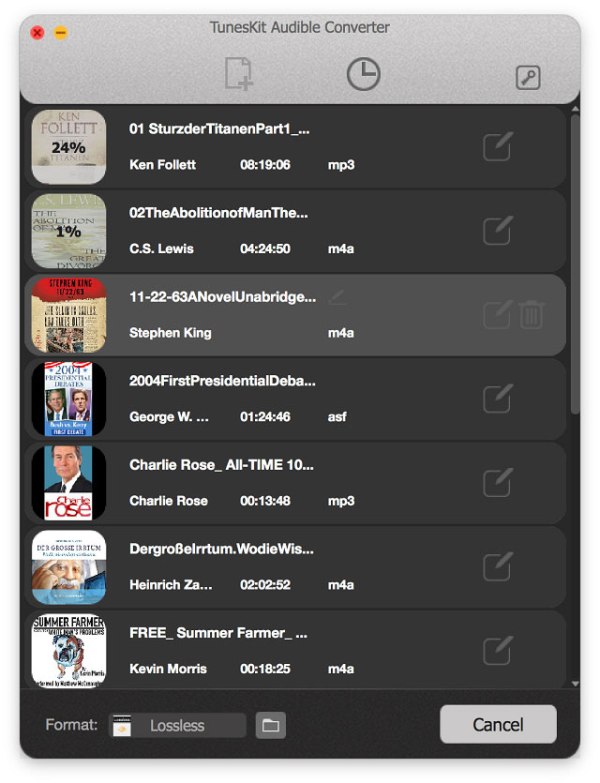 Now simply click the "Convert" button after everything is set, and ViWizard will start to encode the Audible audiobooks for you. Wait for a few minutes, and you will get all MP3 Audible audiobooks on the local folder of your computer.
Step 4

Transfer Converted Audiobooks to Fire TV

In this step, you can connect your USB flash drive to your computer, and then copy and paste all these Audible audiobooks to your drive. Next, plug the drive into your Fire TV set-top box and start playing it now.

Pros:
• You can listen to any Audible books on Fire TV.
• The playback is stable and smooth since it is offline playing.
• You can listen to Audible books on other devices.
Cons:
• You need a USB drive or other transferring tool to transfer files to Fire TV from computer.
• You need a Windows or Mac computer to convert Audible books.
The Bottom Line
So these are two ways to play Audible on Fire TV. The first method is easy to access but might bring you many problems, which have not been solved, according to reports from users. That's why we recommend you to try ViWizard Audible AA/AAX Converter. It's capable of making all Audible books compatible with Fire TV or any other devices that do not support Audible in the past so that you can get the most of purchased audiobooks and transfer them to any device or player as you like.