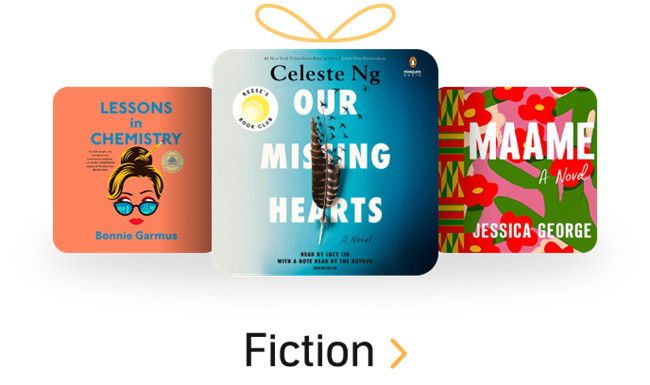 Gifting is the perfect to connect with others like lovers, friends and families as it makes the feeling warm. Among all the stuff, digital items such as a audiobook are popular for gifting. For audiobook lovers, there's nothing like a new or awaited title for the best gift.
Amazon Audible must be the most flexible option for users with an Amazon account to choose a book, even the exclusives like titles ONLY FROM AUDIBLE can be accessed.
The best part of Audible is that it features the gifting with its books for Audible members. You can use Audible credit or a credit card to purchase a gift audiobook, and send it to those even don't how their own Audible accounts.
Part 1. How to Gift an Audible Book (for Givers)
About "Give as a gift":
"Give as gift" feature is the alternative to the once "Share this book" to send a title to others - no Audible account or Amazon Music account required. However, since the "Share this book" has been cancelled, this "Give as a gift" option is popular among users o gift an old favorite or an upcoming release.
For:
Receivers: You should have an email at least.
Givers: You should have an Audible account with an active Audible membership.
Step 1. Search an Audible Audiobook You Want to Gift
To start with, we should have an Audible book. From here we can search or discover a title as a gift for others.
1. On Mac or PC, go to audible.com.
2. To discover a new title, use Browse > Audiobooks to browse the selection and find the title to send as a gift. To find an added title in your library, use Library > All > Search bar to enter the title's name to locate it.
Don't know what titles on Audible are the best? Here're our recommendations:
Audible Audiobooks in Holidays & Celebrations:
Step 2. Purchase Audible Books as Gifts
1. Once selected, select More options on the title's detailed page.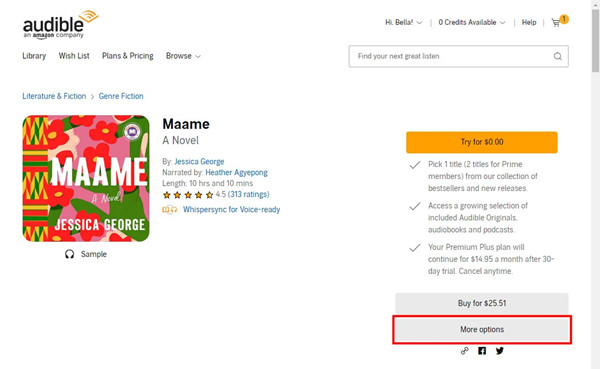 2. Choose "Give as a gift".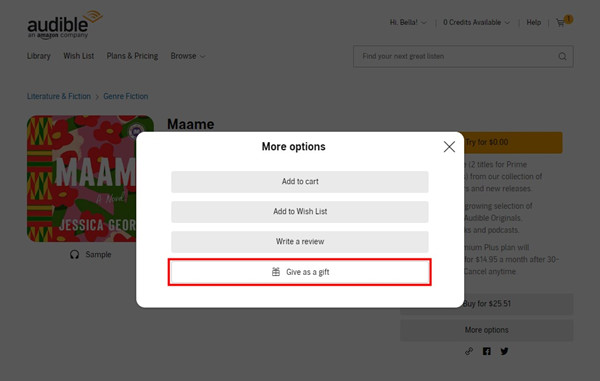 3. In the pop-up Gift details, select between Email ("We'll send the gift for you") and Print ("Print and hand-deliver yourself") to send this title in a preferred method.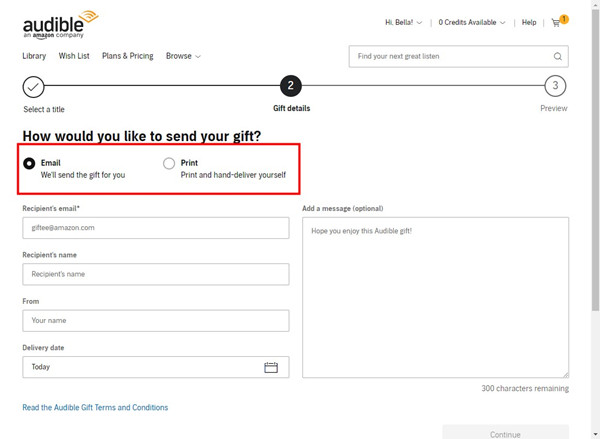 4. Before entering "From [You name]", enter the Recipient's email and Recipient's name.
5. Next decide what date to send it. The date will set as the default "Today". To choose another date, click the calendar icon and select the date when the recipient will receive the gifted book.
6. You can also consider adding a note with the gifted book. After a note has been created, click Continue. You will go to the Preview of this gift purchase.
Step 3. Send Audible Books as Gifts
1. Confirm all the Gift details and information, then select Buy.
2. You will now receive an email confirmation of this order. Go to the email box to confirm.
Done! Now the selected Audible book will be given to the receiver as a gift!
Part 2. How to Add a Gifted Audible Audiobook to Your Library (for Receivers)
As receivers you may wish to know how you can receive a gifted audiobook from others. All you can try to do is to find the original email you received from Audible with your gift. Then you can download it for offline play. If you're also an Audible user, you'll want to add it to your Audible library.
Step 1. Check for the Email from Audible
1. Head to your email box and sign in.
2. Look for the email you received from Audible with your gift.
3. Click "Redeem gift". If you receive a printed-out gift, skip this step and go directly to https://adbl.co/41LmhWf to log in your Audible or Amazon account.
Step 2. Redeem Your Gift
1. From there you'll need to enter the exact code you received in the box, and then click "Redeem" at the top of the page. The promotional code for your gift should already be included in the space provided at the top of the screen.
2. If it isn't, enter the code found in your email or card manually in the space at the top of the screen before clicking "Redeem".

Step 3. Add Your Gift to Your Library
1. After clicking "Redeem" you will be directed to a "Thank You" page telling you your audiobook is available to listen to.
2. To find the gifted audiobook in your Audible library, open Library from the top Navigation bar at the top of the page.
3. In your library, browse or search for the gifted audiobook. From here you can play or download it.
Bonus Tip: How to Give an Audible Audiobook as a MP3 Audio File
Even the "Give as a gift" feature works fine to GIFT AN AUDIBLE BOOK, you can still make use of a powerful AA/AAX converter to convert your Audible downloads into MP3s or other format files, so that you have the ability to send them as gifts to others. This way, you gift an audiobook in MP3s or CDs at no extra cost!
While these methods sound perfect, users will need a method to overcome the most difficult part of the process - DRM-removal. You'll find the Audible downloads from audible.com are AA/AAX files instead, which prevents from more personal uses - sharing with others. Don't despair. Our ViWizard Audible AA/AAX Converter can help to convert the existing Audible downloads into MP3s at a 100x super faster speed.
Best Audible AA/AAX Converter – ViWizard Audible Converter
ViWizard Audible Converter is a designed AA/AAX converter for those who have a selection of AA/AAX audio files downloaded from the Audible desktop site. This ViWizard software works fine on Mac and PC. You can download ViWizard Audible Converter's windows version or mac version below. Once a selection of AA/AAX audio files is added to ViWizard, within a few clicks the output formats can be set as MP3, M4A, M4B, FLAC, AAC, WAV with 100% lossless quality kept. And the full ID3 tags will be embedded in each audio files after the conversion.
ViWizard Audible Audiobook Converter Key Features
Losslessly convert Audible books to MP3 without account authorization
Convert Audible audiobooks to common formats at 100× faster speed
Freely customize the output audio parameters such as sample rate
Split audiobooks into small segments by time frame or by chapters
Step 1

Add an Audible Audiobook in AA/AAX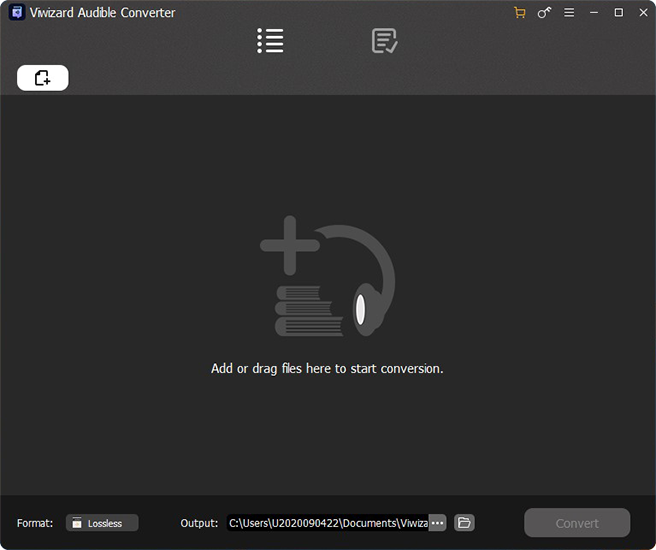 Launch the ViWizard AA AAX Converter and head to find and click the Add button from the top of the screen. Then navigate your computer to find and locate the AA/AAX audio file in the Windows Explorer or Finder to open.
Step 2

Customize the Output Format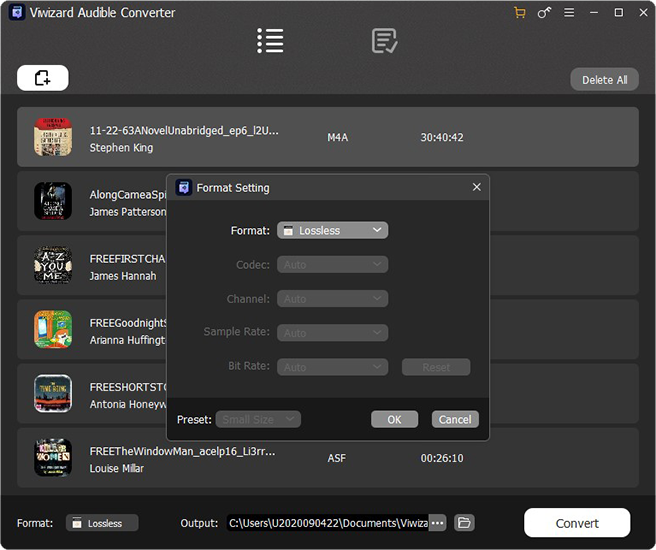 Once added, click the Format tab at the bottom of the screen. Open the extended options menu of the Format option, and then choose MP3 or other desired file formats. You can also customize codec, channel, sample rate, bit rate and preset here. After you're set, click OK to save the changes.
Step 3

Start the Conversion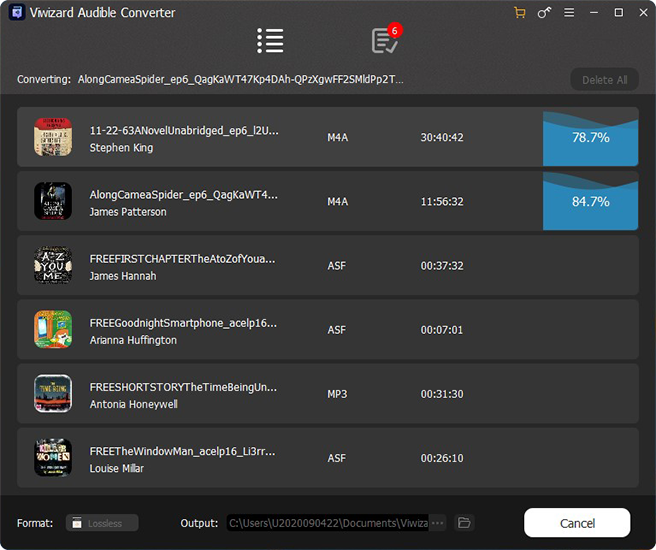 Don't hesitate to click the Convert button to start the conversion at a 100x super faster speed. Once the conversion is completed, click the File button to browse for all the converted audio files.
Step 4

Send the MP3 Audio File to Others

To send those Audible audiobooks to others as MP3s, just send an email to the contacts with those audio files should work as expected.