As December already came, one of the most important holidays of the whole year is just around the corner. So, have you ever started to decorate the house and get into the festive spirit of Christmas yet? To get into the holiday mood, Christmas movies and music are certainly great. But don't forget the Christmas holiday-themed audiobooks as well. Imagine how amazing it will be when the Christmas audiobooks playing in the background while you are having family parties, decorating the Christmas trees, or on a holiday trip to visit your friends. Here in the following article, we are listing 5 of the top-rated Christmas audiobooks that the whole family is sure to enjoy during the holidays of all time.
Top List of 5 Best Audiobooks for Christmas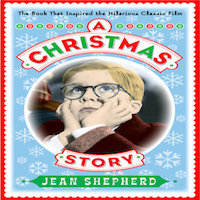 Top 5. "A Christmas Story" by Jean Shepherd
Written by humorist Jean Shepherd, the book that inspired the 1983 movie classic is unabridged and read by the legendary Dick Cavett. This audio production gathers together in one hilarious volume the gems of autobiographical humor that Jean Shepherd drew upon to create this enduring film. The pieces that comprise A Christmas Story, coalesce in a magical fashion to become an irresistible piece of Americana, quite the equal of the film in its ability to warm the heart and tickle the funny bone. So, if you love the movie, then this audiobook for Christmas is a great addition to your digital library for this holiday season.
Top 4. "How the Grinch Stole Christmas" by Dr. Seuss
Consistently rated as one of the best Christmas stories for kids, "How the Grinch Stole Christmas" was published nearly 60 years ago and still remains one of the most-loved holiday stories. The audiobook edition is read by the lovable Walter Matthau and clocks in at a short 12 minutes, making it a great Christmas audiobook for kids and family. In the story, the Grinch, whose heart is two sizes too small, hates Who-ville's holiday celebrations and plans to steal all the presents to prevent Christmas from coming. To his amazement, Christmas comes anyway, and the Grinch discovers the true meaning of the holiday.
Top 3. "The Best Christmas Pageant Ever" by Barbara Robinson
The Best Christmas Pageant Ever, now also a television movie, has been a favorite of children and their parents since 1972. This is a book that some families read aloud every year during the Christmas season as a tradition. As C.J. Critt's spirited narration captures the lively and outrageous spin that the Herdmans put on the Nativity scene, listeners will delight in this unusual and refreshing interpretation of Christmas. It is one of the best Christmas audiobooks because the youngest to the oldest in your group can enjoy this story. It is only a couple of hours in length.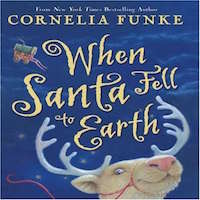 Top 2. "When Santa Fell to Earth" by Cornelia Funke
This audiobook is read by the author, Cornelia Funke who hails from Germany. Although her English is outstanding, there is a wisp of a German accent in the narration. However, this makes the story all that more charming and gives it a bit of a European flair. This Christmas audiobook tells the story of Twinklestar the reindeer and Santa's mission to save Christmas from the Grinch-like Gerold Geronimus Goblynch. A little under three hours in length, both young children and their parents will be entertained as they listen to the ways Santa tries to save the holiday.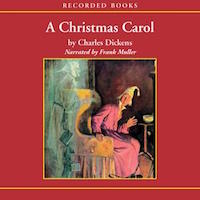 Top 1. "A Christmas Carol" by Charles Dickens
This 19th-century Christmas classic written by Charles Dickens in time for the 1843 holiday season sold out the initial printing of 6,000 copies in one day. It remains Dicken's most widely read and best-loved work, guaranteed to warm and uplift with the simplicity of its message and the depth of its honest truths. It's now is available in dozens of versions, including both unabridged and abridged formats. It's worth spending hours listening to the book with the whole family and kids to get into the Christmas spirit. Besides, there's even a radio play by cinematic legend Orson Welles!
Additional Tip: Play Christmas Audiobooks on Any Media Player
There are many ways to get the Christmas holiday-themed audiobooks, such as from the iTunes store or Amazon Audible. If you like using these two options, you should have known that almost all audiobooks downloaded from iTunes or Audible are protected and could be played on selected media devices only. So in this case, if you want to make the audiobooks playable on any media playing device, you'll have to use a specific audiobook converter.
Now you are meeting ViWizard Audio Converter. It is specially developed to convert the protected M4B, M4A, AA, AAX audios from iTunes or Audible to common MP3, AAC, WAV, FLAC, M4A files without quality loss at 30X super faster speed.
Or you can choose ViWizard Audible AA/AAX Converter for Windows/Mac. It is specifically designed to convert Audible audiobooks to MP3, M4A, AAC, etc. This converter can convert Audible audiobooks at 100x faster conversion speed with no risk of losing any original quality. You can follow this tutorial to learn how to easily convert Audible AA/AAX to MP3 to get Christmas audiobooks onto as many media devices as possible: How to Convert Audible AA/AAX Audiobooks to MP3 >>

Matt Smith is an amateur writer engaged in ViWizard in 2013. He is a movie lover who write a lot of movie reviews for many websites and blogs.