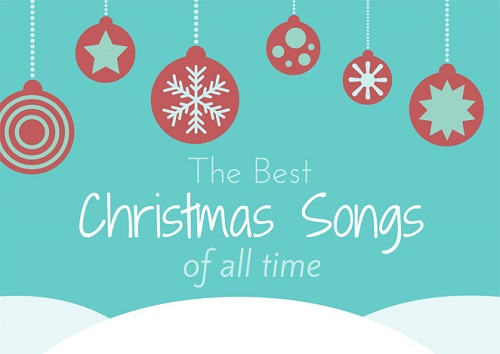 Top 10 Best Christmas Music
As the biggest holiday of the year is coming, you must have already heard a lot of Christmas songs no matter you are shopping or driving. Obviously, music is the best companion for Christmas to make the holiday party more joyful. If you are looking for a popular Christmas songs playlist, this top list will do a great help as it covers the 10 best Christmas music on Apple Music, including original Xmas tunes to seasonal classics that you might love to get this Christmas.
#1 All I Want for Christmas Is You - Mariah Carey & Justin Bieber
If you started with some slightly older holiday classics, now it's time to shift gears with some equally beloved but slightly more contemporary tracks, for example, "All I Want for Christmas Is You" by Mariah Carey, the woman who would maybe rather not be referred to as the Queen of Christmas. The gold standard of Christmas songs is capable of putting you in a holiday mood within the first five seconds. Here we recommend the version by Mariah Carey & Justin Bieber. Justin Bieber's voice adds more energy to this song.
#2 Santa Tell Me - Ariana Grande
Ariana asks Santa for something that really matters: an opinion on whether or not a man is worth her time. After being released, "Santa Tell Me" received generally positive responses worldwide.
#3 Last Christmas - Taylor Swift
The original version of Last Christmas was sung by Wham!, the greatest pop singer of the '80s. In this song, he turns the holiday heartache into snowy synthpop. But since it's too hard to resist that sax, we highly recommend Taylor Swift's cover which might sound more cheerful.
#4 This Christmas - Donny Hathaway
The R&B legend's 1970 Yuletide tune is a lightly funky bounce that revels in the holiday season's possibility. Released in 1991 on Atco Records' revised edition, This Christmas become a modern Christmas standard as well as the 30th most-performed holiday song of all time.
#5 Jingle Bell Rock - Bobby Helms
Bobby Helms's 1957 celebration of Christmas rock is well-trod territory, but Hall & Oates' blue-eyed soul version is a cut above its peers.
#6 Santa Baby - Madonna
The song is a tongue-in-cheek look at a Christmas list addressed to Santa Claus by a woman who wants extravagant gifts such as sables, yachts, and decorations from Tiffany's. It's sung originally by Eartha Kitt. Madonna was in full-on "Who's That Girl" mode for this cover.
#7 It's the Most Wonderful Time of the Year - Andy Williams
In 1963 George Wyle along with songwriter Edward Pola wrote "It's The Most Wonderful Time". The song wound up on Andy Williams's album The Andy Williams Christmas Album, his first Christmas album. The lyrics list all the fun activities we associate with Christmas, such as caroling, parties, spending time with loved ones, and even a reference to the Victorian tradition of telling ghost stories during Christmas. These traditional customs bring out the joy and excitement of the holiday season.
#8 Rockin' Around the Christmas Tree - Brenda Lee
A classic Christmas song released in the 60s. From the intro, it is full of a festive atmosphere, with light and upbeat melody that makes people feel the excitement and joy of Christmas coming. Simply put, when you hear this song on the street, it means that Christmas is coming. With the singer's voice, it takes you back to the last century for a second.
#9 Have Yourself a Merry Little Christmas - Frank Sinatra
Hugh Martin and Ralph Blaine wrote the classic song "Have Yourself a Merry Little Christmas" for Meet Me in St. Louis, a movie by Judy Garland in 1944. The opening light violin kicks off the Christmas season, and the soothing and light orchestration bathes the listener in warm harmonies. The singer's rich and beautiful voice pulls the listener into the recital, and you don't need to do anything while listening to this song.
#10 A Holly Jolly Christmas - Burl Ives
Another classic Christmas song you will hear almost every year. The light and positive melody make people feel the happy atmosphere with Christmas. When you are hearing the song, you seem like can see everybody singing and dancing for celebrating Christmas. Another version by Lady A also is a nice choice.
Tip You Can't Miss
You can easily find those Christmas songs from streaming music services like Apple Music. If you subscribed to Apple Music, you should notice it seems hard to save Apple Music songs on the computer as MP3. In fact, that's caused by Apple's DRM protection, which strictly prevents you from downloading Apple Music to MP3 nor transferring the songs to non-Apple authorized devices and players.
In this case, you are suggested to try ViWizard Apple Music Converter, a smart tool developed to enable you get rid of DRM lock from Apple Music tracks by converting the songs to common MP3, WAV, etc. so that you can freely save any Christmas song from Apple Music on your computer.
Summary
Most of us probably hear Christmas songs every year from early December to mark the holiday. Maybe some of these songs you've heard hundreds of times. But without these songs, you may feel an emptiness. They have become an important part of the holiday season. Hope you will like this Christmas music playlist.