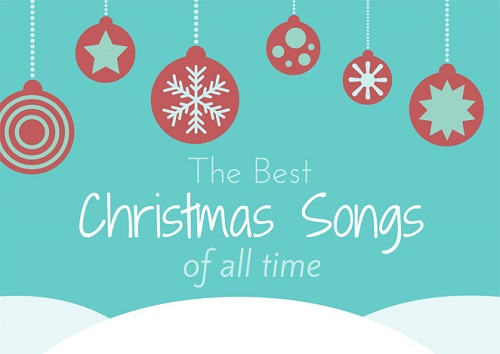 As the biggest holiday of the year is coming, you must have already heard a lot of Christmas songs no matter you are shopping or driving. Obviously, music is the best companion for Christmas to make the holiday party more joyful. If you are looking for some popular Christmas songs of all time, this top list will do a great help as it covers 10 best songs for Christmas on Apple Music, including original Xmas tunes to seasonal classics that you might love to get this Christmas.
#1 All I Want for Christmas Is You - Mariah Carey
If you started with some slightly older holiday classics, now it's time to shift gears with some equally beloved but slightly more contemporary tracks, for example, All I Want for Christmas Is You by Mariah Carey, the woman who would maybe rather not be referred to as the Queen of Christmas. The gold standard of Christmas song is capable of putting you in a holiday mood within the first five seconds.
#2 Santa Claus is Coming to Town - Bruce Springsteen
One of the most buoyant takes on this ode to Father Christmas features Bruce Springsteen playfully needling his bandmates about their behavior over the past year and a joyous sax solo by Clarence Clemons.
#3 Last Christmas - Carly Rae Jepsen
The original version of Last Christmas was sung by Wham!, the greatest pop singer of the '80s. In this song, he turns the holiday heartache into snowy synthpop. But since it's too hard to resist that sax, we highly recommend the Carly Rae Jepsen's cover which might sound more cheerful.
#4 This Christmas - Donny Hathaway
The R&B legend's 1970 Yuletide tune is a lightly funky bounce that revels in the holiday season's possibility. Released in 1991 on Atco Records' revised edition, This Christmas become a modern Christmas standard as well as the 30th most-performed holiday song of all time.
#5 Jingle Bell Rock - Bobby Helms
Bobby Helms's 1957 celebration of Christmas rock is well-trod territory, but Hall & Oates' blue-eyed soul version is a cut above its peers.
#6 Merry Christmas from the Family - Robert Earl Keen
There's no place like home for the holidays ...which is a good thing when you have a family like Robert Earl Keen's. Various family members and events are described throughout the verses.
#7 Santa Baby - Madonna
The song is a tongue-in-cheek look at a Christmas list addressed to Santa Claus by a woman who wants extravagant gifts such as sables, yachts, and decorations from Tiffany's. It's sung originally by Eartha Kitt. Madonna was in full-on "Who's That Girl" mode for this cover.
#8 Santa Tell Me - Ariana Grande
Ariana asks Santa for something that really matters: an opinion on whether or not a man is worth her time. After released, "Santa Tell Me" received generally positive responses worldwide.
#9 Christmastime Is Here - Vince Guaraldi Trio
As a popular Christmas song wrote for A Charlie Brown Christmas, one of the first animated Christmas specials produced for network TV in the United States, Christmastime Is Here is guaranteed to fill humans of all ages with uncontrollable nostalgia.
#10 Frosty the Snowman - The Ronettes
Pop's preeminent bad girl Ronnie Spector shows off her winter-wonderland spirit in this Christmas tune.
More Tips that Apple Music Subscribers Can't Miss
You can easily find those Christmas songs from streaming music services like Apple Music. If you subscribed to Apple Music, you should notice it seems hard to burn Apple Music songs to CDs. In fact, that's caused by Apple's FairPlay DRM, which strictly prevent you from buring Apple Music to CDs nor transferring the songs to non-Apple authorized devices and players.
In this case, you are suggested to test out ViWizard Apple Music Converter, a smart tool developed to enable you get rid of DRM lock from Apple Music tracks by converting the songs to common MP3, WAV, etc. so that you can freely burn any Christmas song from Apple Music to disc.

Matt Smith is an amateur writer engaged in ViWizard in 2013. He is a movie lover who write a lot of movie reviews for many websites and blogs.