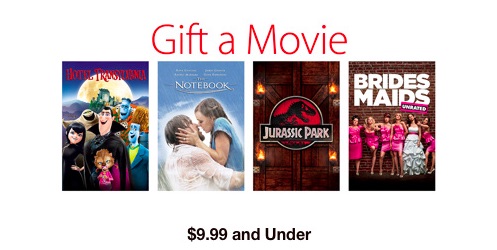 Now the festive holiday season is just standing in front of us. Have you ever began to make the Christmas gift list for your family and friends yet? Do you have any loved ones who are fond of digital media, like movies, TV shows or audiobooks? If so, why not prepare a surprise by sending them their favorite movies or TV shows? There's no better place to shop the digital media content than iTunes Store then. Here we are going to show you the tips to gift iTunes movies, TV shows, audiobooks, etc. by either sending the iTunes generic credit or specific iTunes items, such as movies, TV shows, audiobooks and much more.
Complete Guide to Gift iTunes Movies, TV Shows, Audiobooks...
Part 1. Give gifts from iTunes by sending physical gift cards.
If you don't really know what movies or TV shows your family or friends like, then the best way is to send them iTunes gift cards that can be used for any desired music, movies, TV shows, books or anything sold on iTunes store. To get this generic credit, you should visit the Buy iTunes Gifts page on iTunes store where you can email a gift certificate to anyone with an email address in amounts from $10 to $50. One thing you should pay attention to before buying is that the gift card must be used in the same country's store from which it was purchased, while in the same time, the recipient will need to have an Apple ID in order to redeem the iTunes gift credit.
Alternatively, you can also buy a physical iTunes gift card from Apple store or other retail outlets, like markets or electronics stores.
Part 2. Give specific items from iTunes store.
For someone close to you and whose tastes in TV and movies and books you just know, then the better way is to buy an actual item from iTunes for them. You can gift a movie, TV show or audiobook from iTunes either via your computer or iOS devices by following the steps below.
Launch iTunes and find a specific movie, TV show or audiobook you want to gift. Then click the drop-down arrow next to the price of the movie, for example. There, you'll get a pop-up menu with a Gift This Movie option. Type the email address of your recipient and an optional message of up to 200 characters. Choose the date you wish to send the gift, and click the Next button. At the next screen, select a theme for the email card bearing your gift and then click Next. Confirm your gift by clicking the Buy Gift button and you'll be asked to enter your iTunes password. A confirmation message will appear telling you that you have successfully sent your gift.
More Tips: If you are looking for some top-rated movies or audiobooks for Christmas, then you can simply refer to the following articles to find out some bestselling Christmas movies and audiobooks of all time.
Wait, Why Not Gift A Special iTunes DRM Removal Software As Well?
While gifting movies, TV shows or audiobooks to your friends from iTunes, never forget taking a look at a special iTunes companion. What we are talking about here is a DRM removal tool which can help you get rid of DRM protection from all the iTunes media content you purchased. Because almost all movies, TV episodes, audiobooks and other items sold from iTunes store are restricted by Apple's DRM FairPlay and can only be played well on Apple-approved devices. In order to make the iTunes gifts being enjoyed by your friends and family, it's necessary to pick up such a professional iTunes DRM remover as well. Now here you meet the top featured DRM removal products developed by ViWizard studio.
Remove DRM lock from iTunes movies and TV episodes (rented and purchased)
ViWizard DRM M4V Converter for Mac/Windows is one of the best iTunes DRM video converter software dedicated in bypassing DRM restriction from both iTunes rentals and purchases with lossless quality preserved. It's able to remove the DRM lock by converting the protected iTunes M4V videos to common MP4 format at 20x faster speed so that any popular mobile device could recognize the converted iTunes movies without problem. You can download the free trial version to test whether it meets your requirements before buying.
Remove DRM protection from iTunes audiobooks (Audible audiobooks included)
If you purchased audiobooks from iTunes (or Audible) as gifts this holiday, then a powerful yet easy-to-use DRM audiobook converter could be a great assistant to unlock DRM from the protected audiobook files. ViWizard DRM Audiobook Converter for Windows/Mac is such an ultimate solution to remove DRM from iTunes and Audible audiobooks while converting the DRM-ed AAX, AA, M4A, M4B audio books to DRM-free MP3, AAC, WAV, etc with CD quality.

Dave Henry is a long-time ViWizarder who loves all technological things. In his free time, he likes reading about science and technology, writing for his blog, watching sci-fi films, and meditating.