Q: "I see you are offering a free three month subscription for individuals, what if I wanted to purchase three more months and make it a 6 months subscription as a gift to someone outside of the family? Can i use iTunes gift card for Apple Music subscription?" - from Apple Community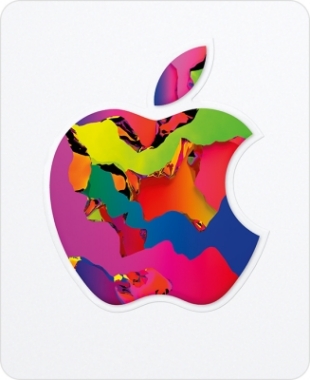 Apple Music is one of the best video and music streaming services that gives you access to over 80 million songs and videos. On top of it, you can also have access to some internet-based radio stations that operate for 24 hours. For most of Apple users, Apple Music could be a great place to find and listen to their favorite songs.
One of the good things about any subscription is the availability to share it with your friends. Apple Music has taken this to not and has come up with a feature that allows you to buy Apple Music subscription as gift for your friends and family. This subscription allows your friends and family to experience Apple Music and get a chance to upgrade if they are content with the product. The following is the detailed guide to show you how to gift Apple Music subscription to your friends and family.
Part 1. Where to Buy Apple Music Subscription Gift
Apple gift cards can be redeemed to buy the goods and services from Apple, including the subscription to Apple Music. But lots of people don't know where to buy the Apple gift card. In fact, there are several places for you to get this gift.
Apple Website
Apple Gift Cards can be purchased from the website of Apple Gift Card. Also, you can choose to directly purchase the item frm the App Store app, iTunes Store app, or Book app.
Amazon
Apart from purchasing the Apple Gift Card from Apple, you could choose to buy it from Amazon if you are an user of Amazon. Directly search for Apple Gift Card withint Amazon and then you'll find the goods.
You can also buy Apple Gift Cards from Bestbuy or eBay. There are two delivery options available for you to choose from, including Email or Mail. And you can pick a gift card amount according to your personal need.
Part 2. How to Buy Apple Music Subscription as Gift via Email
It's easy to buy an Apple gift card from the Apple website. After buying the gift card, you can use it shop the App Store, Apple TV, Apple Music, iTunes, Apple Arcade, the Apple Store app, apple.com, and the Apple Store. Here's how to buy Apple gift card from its website.
Step 1. Navigate to the Apple Gift Cards website, and click on the Buy button.
Step 2. If you want to send the Apple gift card by email, then choose Email. Or you can select Mail as your preferred delivery method.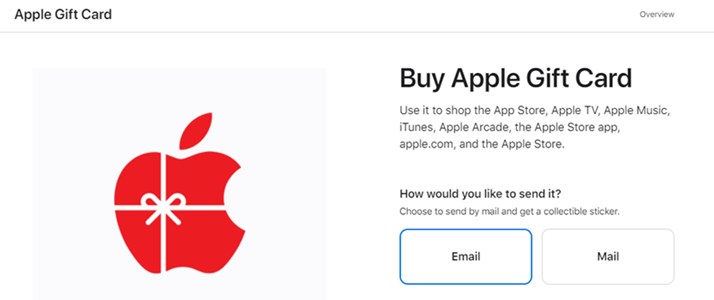 Step 3. Then choose a design and amount for the gift card.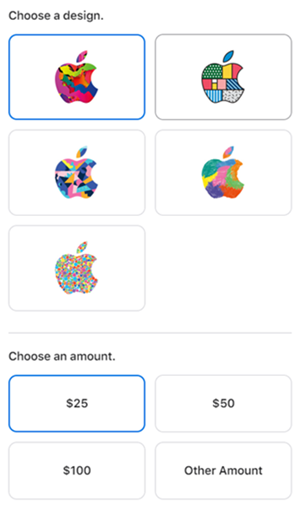 Step 4. Now you need to enter your delivery details, including recipient name, recipient email address, sender name, and sender email address.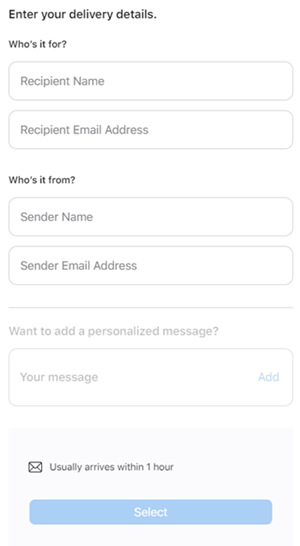 Step 5. After completing the delivery details, add a message for your recipient if you want to add a personalized message. If you don't want to do that, just skip this step.
Step 6. Click on the Add to Bag button then you'll be directed to a new page.
Step 7. On the checkout page, check your purchase info and then click on the Check Out to finalize this procedure.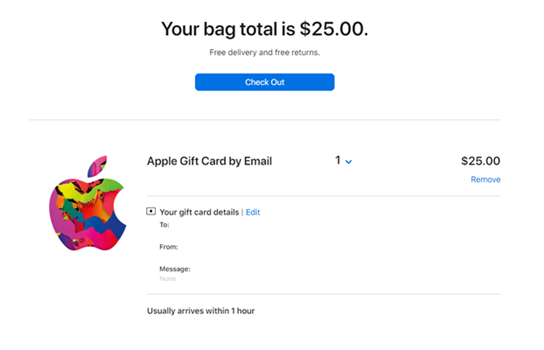 Step 8. Choose to sign in for faster checkout with your Apple ID or click the Continue as Guest button then enter the payment info.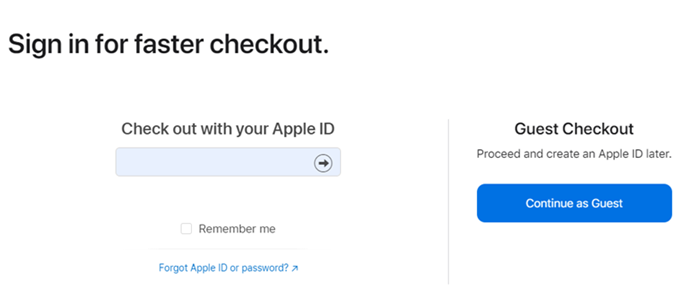 Part 3. How to Send Apple Music Subscription Gift Card
To gift Apple Music subscription is an easy process. You can either send the gift card through E-mail or mail it physically to your intended recipient. Go to the App Store app where apart from checking on your Apple store gift card balance, you can choose how to send a gift. To go with the gifting process, you can go as follows.
From your iPhone, iPad, or iPod touch,
Step 1. Open the App Store app on your iPhone and tap on your profile picture.
Step 2. Select Send Gift Card by Email from the pop-up window.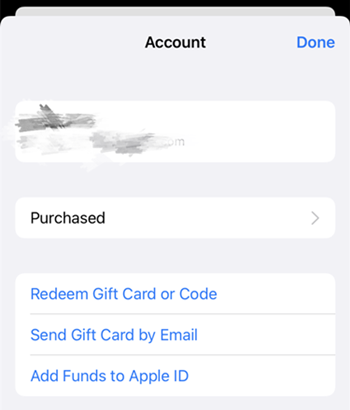 Step 3. Enter the recipient email address and sender name.
Step 4. Select an amount for the gift card and then tap on the Next button.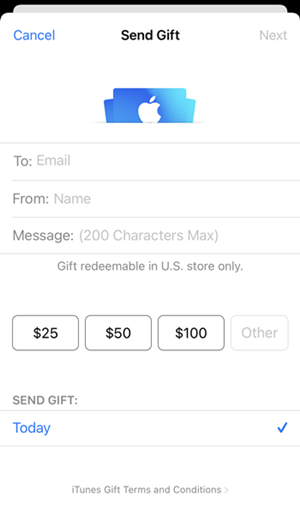 Step 5. Follow the on-screen instructions to complete the purchase and send your gift.
From your computer,
Step 1. Launch the iTunes store in the Apple Music app on your Mac. Or open iTunes on a PC.
Step 2. Find and tap the Apple Music item that you want to send to a friend or family member.
Step 3. Click the arrow button next to the item's price to launch the sharing options.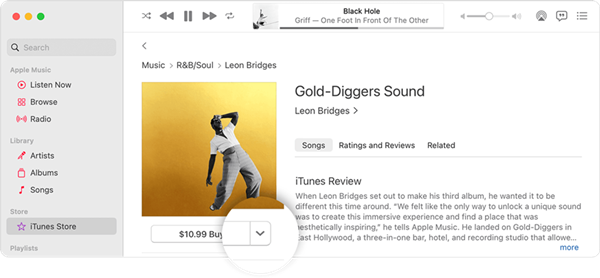 Step 4. Choose Gift This Apple Music and then enter your delivery details, including the recipient email address and sender name.
Step 5. Finalize the purchase and send your gift by following on-screen instructions.
Part 4. What to Note When Gifting Apple Music Subscription
When sending Apple Music subscription gifts, there are many things that you need to note so that the whole process is seamless. Highlighted below are some of the things you need to note down.
1. Apple Music operates on a monthly subscription basis. That is once paid for every month, you can access a lot of songs, tracks, and playlists.
2. Apple offers two types of gift cards - Apple store gift card and iTunes app store gift cards, which are not interchangeable.
3. For Apple Music gift cards sent by Email, there are no limitations on the amount. However, for physical mailing, the amount limits are set from $25 to $2000.
4. Apple Gift Cards are redeemable in U.S. store only. Thus, you should note whether your recipient lives in U.S..
5. If your recipient already has a subscription, the Apple Music gift card can apply to the music service for other purchases on applications or on iTunes and iBook.
Part 5. Alternative Solution to Gift Apple Music to Friends
Due to the redeem limitation, you can only send Apple Gift Cards to a friend or family member who lives in U.S. Actually, there is another simple way, allowing you to share Apple Music to your friends, that is, use a third-party Apple Music converting tool named Apple Music Converter to get rid of DRM protection from Apple and then convert Apple Music songs to MP3 or other common audio formats as you like.
ViWizard Audio Converter is an efficient and easy-to-use audio converting tool that is designed to handle the conversion of Apple Music, iTunes audios, Audible audiobooks, and more than 100 common audio formats. With the help of ViWizard software, you can easily download and convert Apple Music to those playable audio formats. After that, you can then gift Apple Music songs to your friends and also listen to them on any device anytime.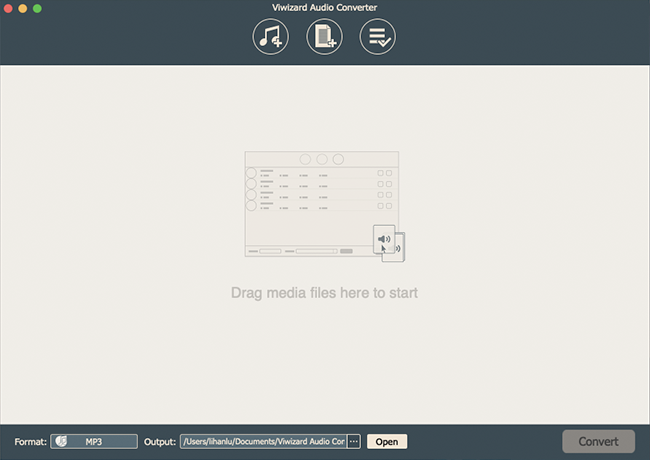 Conclusion
Apple Music is one of the best music service subscriptions that you can sign up to have access to a large variance of music. With its great catalog of almost 75 million songs, playlists, albums, and radios, this ranks among the top musical services. The gift Apple Music subscription to your friends feature allowis you to share the perks of this music playing platform with your friend and family members. In addition, you can also use ViWizard Apple Music Converter to remove DRM from Apple Music without quality loss and then share with your friends simply.