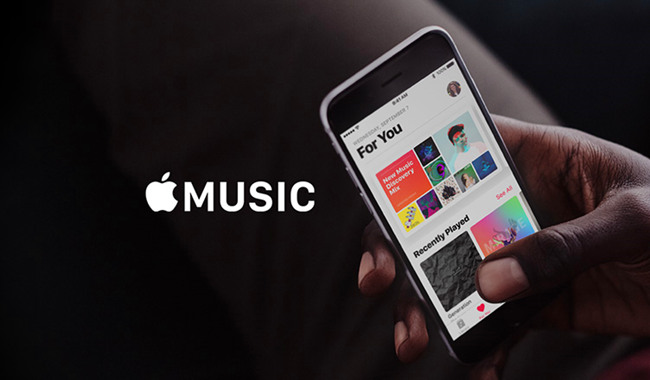 Noting is as exciting as listen to music and be able to share it with your friends. Here you get a chance to show off your music taste to your friends and also get a hint of their music taste by sharing tracks.
Apple Music, one of the best music streaming services, has taken advantage of this and has incorporated a feature where you can find and follow friends on its online platform. This is a revolutionary feature that apart from seeing what tracks others are bumping to, you can also meet some acquaintances too. You might ask, how do I find and follow friends on Apple Music? This is very simple as to be seen below.
Steps to Find and Follow Friends on Apple Music
To start off, you first need to have your profile set up and ready. If you do not have your profile set up at Apple Music, you can start by creating one. You just have to sign up for Apple Music by filling up your valid details such as name and email address. The email address is important for secondary communication and for receiving updates.
1) Get Your Apple Music Nickname
Getting your Apple Music username or nickname is key in setting up your profile in this platform. To set your nickname, open Apple Music and click on the 'For You' tab. Then click on your avatar on the top right corner. Your avatar is the icon that has your image on it representing your profile.
You then tap on your name and can edit it if you want to. The same applies to your nickname if also you want to use it. Once you are through, you click on 'Done' on the top right corner of the homepage.
2) Set up Your Profile
To set up your profile, you have to tap on your avatar and click on 'Start Sharing with Friends' then click on 'Get Started'. Select 'Next' to proceed and decide on people who can follow you.
You then select which playlists that you wish your followers to be able to see then click on 'Next' again to proceed. You then choose friends that you want to follow and finalize the procedure by tapping on 'done'.
3) Find Friends on Apple Music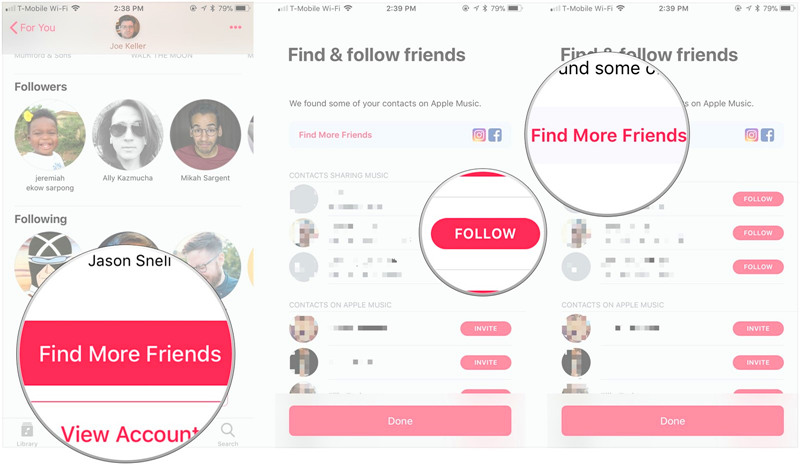 To find friends on Apple Music, start off by opening the Apple Music site and tap on 'For You' then click on your avatar on the top right corner of your homepage. Next, you click on 'Find More Friends'.
On clicking 'Find More Friends', you are supposed to choose the social media platform where you want to find other friends. The social media platforms present are Instagram and Facebook which link with Apple Music. This means you are able to find friends on Apple Music who are also your friends on Facebook and Instagram.
You then finalize the process by tapping 'Done'.
4) Follow Friends on Apple Music
How to follow someone on Apple music? You need once again click on 'For You' and scroll down to recommended friends. Swipe either left or right through the list to check on the recommendations and click on follow on either of the recommendations.
When following friends, you are able to see what they are listening and also their frequently played playlists.
5) Find Friends via the Search Option
Can't find friends on Apple Music? You can alternatively find new ones by using the search option on Apple Music. To go on with this, go to Apple Music and go to the search dialog box and key in the name of your friend that you want to look for. If the name indicating the profile you are looking for pops up, you can tap on it. If not, you can tap on the 'see all results' button to see all the profiles with the same name.
Scroll down until you find a profile matching the one you are looking for and click on their avatar to view their profile. Then tap on 'Follow' to follow them.
6) Unfollow Friends
You may realize that at a particular moment you made a mistake in following someone on Apple Music due to many reasons. This is a common occurrence and the good thing is that you can undo by unfollowing the person.
To unfollow someone, first, open Apple Music and tap on 'For You' followed by clicking on your avatar. Click on the person you want to unfollow and click on the 'Following' button under their nickname, follow up by clicking on unfollow.
Alternatively, you can click on the three-dot buttons on the top right corner then select unfollow.
Conclusion & Suggestion
With friends on Apple Music, you are assured of an exciting music experience coupled with diversity from your friends' playlists. This enables you to come across various playlists which that you can incorporate into yours. Following and finding friends on Apple Music is simple as outlined in the above-highlighted steps same to unfollow them. In conclusion, the friends feature on Apple Music is one that you should not miss out on together with the vast music catalog on this platform.
If you want to share Apple Music playlist with your friends, you can directly share it on the platform or use a professional Apple Music downloader such as ViWizard Apple Music Converter to download Apple Music playlist offline with lossless quality and then share to your friends, so that you can play them on any player or device anytime anywhere.