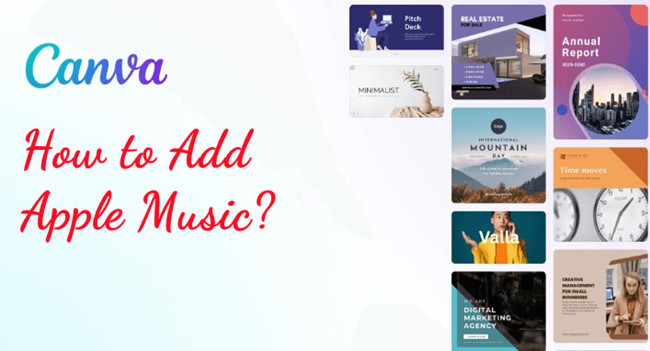 Apple Music, with its vast library of tracks, holds immense potential for enhancing your Canva designs. However, there's a roadblock: Apple Music tracks are protected by digital rights management (DRM), making their use in Canva a challenge.
In this guide, we'll address this issue and show you how to unlock the creative power of music in Canva. We'll also explain why adding music to your Canva designs is significant, as it can elevate your content, evoke emotions, and leave a lasting impact on your audience. Let's dive in and discover how to seamlessly integrate Apple Music into your Canva projects, bypassing DRM restrictions to enhance your visual content with the perfect soundtrack.
Part 1.

Can I Get Apple Music onto Canva?

Canva, your go-to platform for creating eye-catching designs, provides users with a convenient audio library. While it offers a selection of royalty-free music tracks and sound effects, the library may not always have the specific Apple Music track you're looking for. When it comes to adding Apple Music to Canva, the DRM-protected nature of Apple Music makes it challenging for Canva to directly integrate these tracks into your Canva's audio library. Here's why:

Apple Music files are typically encoded in a proprietary format (AAC) and protected by DRM, which means they can't be used outside the Apple ecosystem or directly in Canva without first being converted to a compatible format.

But fear not; there's a solution that allows you to unlock the potential of Apple Music in Canva designs: ViWizard Apple Music Converter.
Part 2.

How to Download Apple Music for Canva Designs

To overcome the DRM roadblock and empower you to add Apple Music seamlessly to your Canva designs, we introduce you to ViWizard Apple Music Converter - a powerful and user-friendly tool designed specifically for this purpose.

ViWizard Apple Music Converter is a versatile software application that simplifies the process of downloading and converting Apple Music tracks into comaptible formats with a wide range of other platforms, including as MP3, AAC, WAV, and more. Besides Apple Music, it also supports conversion of iTunes music, audiobooks, podcasts, Audible audiobooks, and even the local files uploaded. Once you choose the perfect track you want from Apple Music, ViWizard effectively removes the DRM protection from it, making them usable in any creative project.
Why You Need ViWizard Apple Music Converter?
With ViWizard, you gain full control over your music. You can trim, edit, and personalize your Apple Music tracks to perfectly match the mood and theme of your Canva projects, while the audio quality will be intact.

Key Features of ViWizard Audio Converter
Free Trial
Free Trial
* Security verified. 5, 481,347 people have downloaded it.
Convert songs, albums, and playlists from Apple Music to MP3
Remove DRM protection from Apple Music, iTunes, and Audible
Save the converted audios with the original quality and ID3 tags
Support the conversion of up to 100 audio formats to others
Step 1

Select Apple Music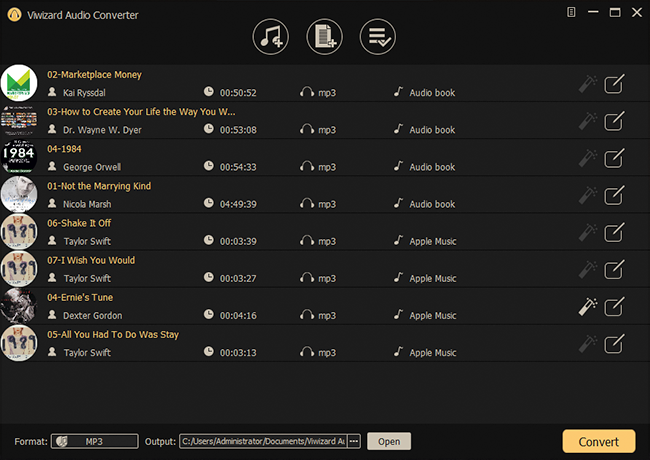 Open ViWizard Apple Music Converter on your computer. Launch the iTunes application. Within iTunes, navigate to the "Music" tab, where your Apple Music library is located. Browse your Apple Music library and select the music tracks you want to use in your Canva project. Drag and drop the selected music tracks from iTunes directly into the ViWizard Apple Music Converter app. This action will add the chosen tracks to the conversion queue.
Step 2

Adjust Output Format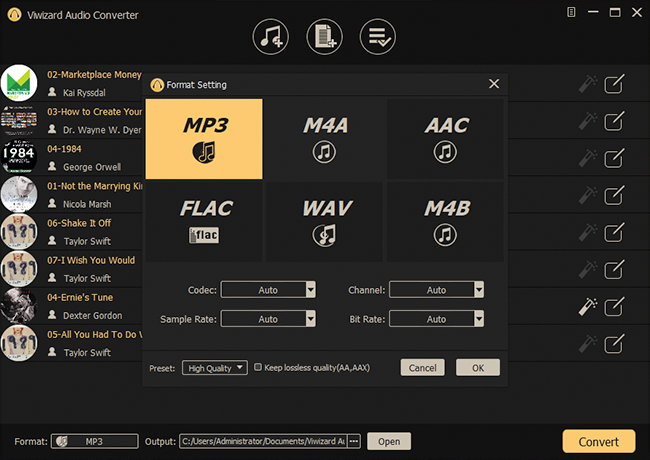 In ViWizard Apple Music Converter, locate and click on the "Format" tab. It's usually found at the bottom right corner of the application window. From the format options, select your desired output format. For compatibility with Canva, formats like MP3 are recommended. You can also customize additional settings like bit rate, sample rate, and channel as needed. These settings allow you to tailor the output to your specific requirements.
Step 3

Download Apple Music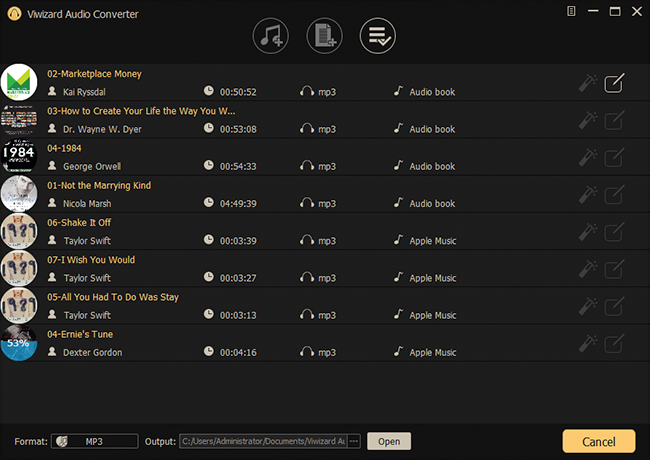 With your music tracks selected and the output format adjusted, you're ready to download the added Apple Music tracks. Click on the "Convert" button within ViWizard Apple Music Converter to start the conversion process. The software will begin converting the Apple Music tracks into the selected format (e.g., MP3). Once the conversion is complete, you can access your downloaded Apple Music tracks. To do this, open the "Converted" menu within the ViWizard app. Look for a "Search" or "Folder" icon within the "Converted" menu and click on it. This action will open a window on your computer where you can locate and access the specific tracks you've just converted and downloaded.
Part 3.

How to Add Apple Music to Canva Designs

Now that you have successfully downloaded your Apple Music tracks, let's explore how to import them into your Canva designs.
Sign in to Canva or create an account.
Go to your Canva dashboard.
Start a new project or open an existing one.

Inside your Canva project, locate where you want to add music.
Click "File."
Choose "Import files."

Select your downloaded Apple Music files. Or drag and drop the file in it.
They'll appear in Canva's audio library under the "Audio" tab.
Click to add your chosen track to your design.

When satisfied, click "Download" to save your Canva project with the added Apple Music.
Conclusion
By following this guide, you've learned how to harness the creative potential of music within Canva. You can now elevate your content, set the mood, and connect with your audience on a deeper level. Music has the power to enhance your Canva designs, and with the ViWizard Apple Music Converter, you can unlock its full potential.