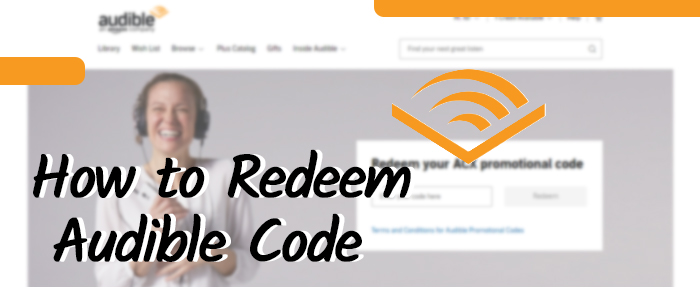 Audible is heaven for those who love audiobooks. Audible not only boasts over 200,000 audio titles, but also supports Audible coupons that allow Audible fans to purchase audiobooks and enjoy discounts. Are you a user of Audible coupons? Have you received Audible codes? Do you know how to redeem Audible codes? Let's find out from this article.
Part 1. Frequently Asked Questions about Audible Code
Q1. How many types of Audible Code?
A: Audible Promo code, G-Pay Code, Gift Code, and Cred Code.
Q2. Can I use multiple coupons on the same purchase on Audible?
A: It depends on the terms and conditions of the coupons. Some coupons can be used in conjunction with other offers, while others may be exclusive and cannot be combined with other discounts.
Q3. Are there restrictions on the use of Audible codes?
A: Yes, Audible codes have restrictions such as expiration dates, usage limits, and eligible products. Read the terms and conditions of the code before using it.
Q4. How to get a Promo Code for Audible?
A: Getting a Promo Code is the easiest way to save money on audiobooks. You can get them via GPay, CRED, ACX, and Audible Rewards feature. You can also achieve them by searching on the Internet, where a lot of websites for Audible coupons serve you.
Q5. Where to find Audible activation code?
A: Open Amazon website and sign in. Go to your orders and select your software order, and then click Go to your Software Library. Your product code is listed on the Downloads and Codes screen.
Part 2. How to Redeem a Code on Audible
Now, from the above part, you've known you can access and redeem several Audible codes. In this part, we come up with how to redeem Audible codes based on different kinds of Audible codes. Scroll down if you were given an Audible code.
2.1 How to Redeem Audible Promo Code
A Promo Code is a special offer from Audible or one of its partners. It may be used to receive a special introductory trial offer, an audiobook, or Audible credits.
On Desktop Site
1. Visit Redeem a Promo Code Page.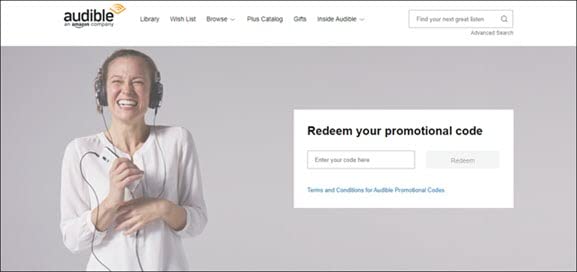 2. Type the promo code you received.
3. Click Redeem.
4. Confirm your Audible account.
5. Once entered successfully, the item you redeemed will be added to your shopping cart.
On Mobile Site
1. Go to the Audible website on your device.
2. Tap the Menu icon at the upper left of the screen, and sign in.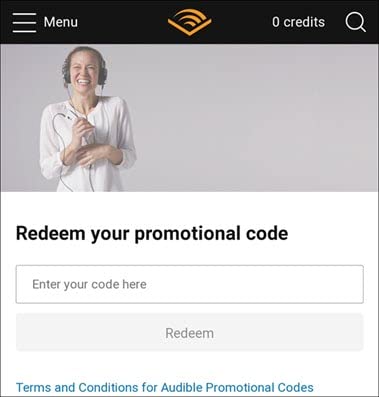 3. Tap Enter a Promo Code, and enter your promo code.
4. Tap Redeem.
5. If entered successfully, you will be transferred to a new page to claim the promotion.
2.2 How to Redeem a G-Pay Code on Audible
GPay refers to Google Pay. In 2022, thanks to the Google Pay collaboration with Audible, users who have not subscribed yet can experience 3 months of Audible membership. This offer will continue until 30th June 2023. But there exists a limitation: it is only available in India. If you got this G-Pay code from your friends, you can take the following procedure to use it. Pay attention to redeem it before its expiry date, otherwise, it would be invalid.
1. Visit Enter Google Pay Code Page.
2. Type your G-Pay code.
3. Tap Redeem now.
4. You will pay ₹2 in the first month to validate the payment instrument.
5. Now your win a 3-month Audible subscription for free.
2.3 How to Redeem Audible Gift Code
A Gift Code, as the name suggests, is a code that others gift to you. This gift may be an audiobook, a credit, a membership, or another.
From an Email
1. Open the email you received from Audible with your gift.
3. Click the Redeem your gift button.
4. Type your gift code from your email box.
5. Click Redeem.
From a Printed Card
1. Copy the claim code you received.
2. Go to Redeem Your Gift Page.

3. Enter your code.
4. Click Redeem.
2.4 How to Redeem a Cred Code
Entering a Cred Code help you access Audible free membership too. Since the Cred app collaborated with Audible, Audible has allowed the payment method by credit cards. It is similar to the above G-Pay Code. For newcomers, make the first transaction on Audible by a credit card, and you will be rewarded 2-month Audible membership and 2 credits.
1. Open the Redeem Cred Code Page.
3. Enter your Cred Code you've got.
4. Click Redeem now and then you will get free Audible membership.
Bonus: Convert Audible to MP3 for Playing Anywhere
After redeeming your Audible codes, you can listen to and download Audible audiobooks freely. It is worth noting that the downloaded Audible audiobooks come with AA or AAX format and are protected by DRM technology. That means you are limited to playing them on other apps except for the Audible app. Why not try to convert Audible audiobook into MP3 format? Then you are able to listen to them wherever and whenever.
ViWizard Audible Audiobook Converter is a brilliant tool that helps you convert Audible books to MP3 and more popular audio formats. Furthermore, this converter provides up to 100× faster conversion speed. It saves a lot of your time, and you don't have to be in front of the screen all the time. Apart from converting Audible books, you can use this tool to solve Audible missing chapter and more issues. Follow the below steps to use ViWizard Audible Audio Converter.
ViWizard Audible Audiobook Converter Key Features
Losslessly convert Audible books to MP3 without account authorization
Convert Audible audiobooks to common formats at 100× faster speed
Freely customize the output audio parameters such as sample rate
Split audiobooks into small segments by time frame or by chapters
Step 1

Add Local Audible Books to ViWizard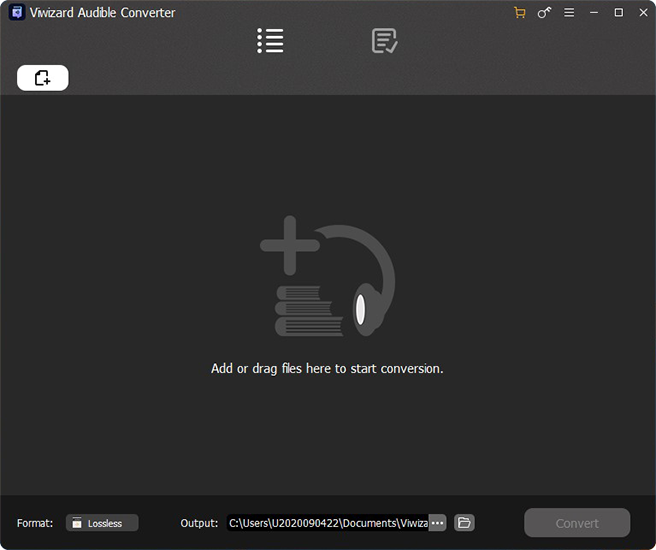 Make sure you have downloaded the audiobooks you want to convert before converting. And then click the top left icon Add Files, in which you can add several files at once. Or, another easier way, drag the files to the ViWizard software. If you would like to change the audio speed, split the audiobook and edit tags, just one-click the blue Edit icon across the title.
Step 2

Customize Preferences for Audible Books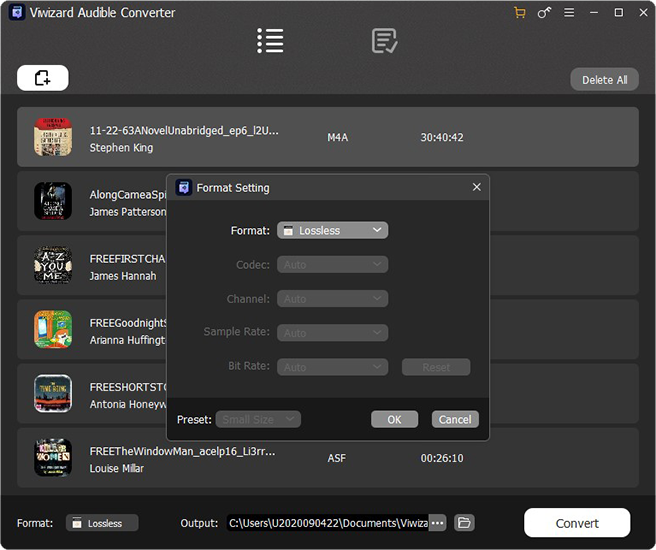 After you add Audible files, you are able to customize output format as you like. Just click the bottom left Lossless icon, and you can adjust output format, codec, channel, sample rate, and bit rate. After finishing the adjustment, don't forget to click the OK icon. If you would like to download as lossless, then leave it as default. If you want to play on other devices, the MP3 format we recommend.
Step 3

Start Converting Audible Books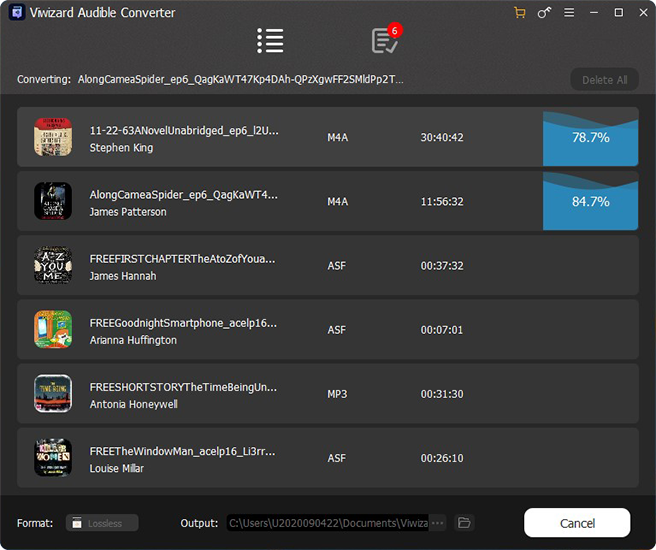 Now, click the bottom right Convert button to start converting Audible files to any format you set. Go to the Converted interface, you can easily browse your converted files, otherwise, you can locate certain files with ViWizard search function after batch conversion. Thanks to its amazing built-in playback, you are allowed to enjoy the converted audiobooks in the ViWizard.
Part 4. How to Solve Audible Redeem Code Not Working
Some Audible customers may encounter issues such as, the Audible code can not work when redeem. Don't worry, there are some solutions for you to troubleshoot it.
Ensure the expiry date. If your Audible code is expired, there is no doubt that it can't come to effect.
Check the Audible link. Sometimes the problem is that your code doesn't match the redeem code page link. For instance, if you open the Redeem Cred Code Page but you enter the G-Pay Code, then the code can't work properly.
Refresh your network. Sometimes, your network or your device being corrupting causes this issue. Enable a stable network to operate the redemption. Once the code you have redeemed, the audiobook will appear at the top of your library. Refresh the website or relaunch your Audible app to see if your title is there.
Conclusion
After finishing reading this article, I'm sure that you have understood how to use and redeem the Audible code. Wish you a happy time in Audible! And if you have the need to convert Audible books to MP3 for offline listening, we do highly recommend you use ViWizard Audible Audiobook Converter. Thanks to this tool, you can relish the sensuous delight of audiobooks at any time and any place. Now, go for it!