With a myriad of audiobook resources, Audible has definitely become the most famous audiobook service. Audible users are allowed to browse and manage the library on the Audible app but the purchase should be made on the website. Once bought an audiobook, you can freely download it whenever you're ready to read and listen to it. However, all downloaded audio titles from Audible are in AA or AAX formats. So you may switch to other applications like OpenAudible to download Audible books and then convert them to MP3 files for listening. Using this program is very advantageous for users because it is a good place to arrange and locate audiobooks. If you want to know more about OpenAudible or have no idea about OpenAudible, the following parts will give you a full guide.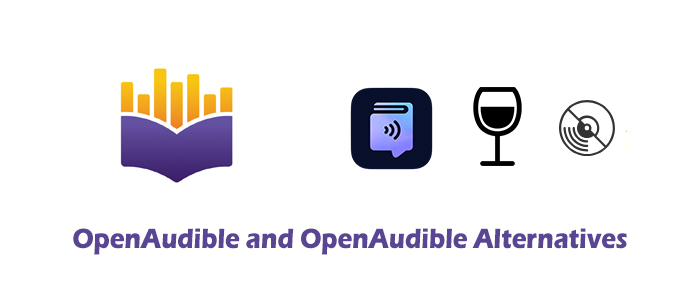 Part 1.

What You Need to Know about OpenAudible

OpenAudible is a cross-platform desktop application designed for Audible users to download, view, back up, and manage audiobooks. This software is not affiliated with Audible or Amazon. Using OpenAudible helps you save the hassle of managing your audiobooks across devices since you can manage all Audible audiobooks in OpenAudible. It is highly compatible with your computer operating system running Windows, Mac, and Linux.
What features does OpenAudible have?
Supports importing MP3, M4A, M4B, and AAX files.
Supports exporting audiobooks in HTML, JSON, or spreadsheet.
Converts downloaded files to the selected audio formats including MP3, M4B, and M4A.
Splits and loads audiobooks by chapter.
Links your Audible account so can quickly sync your Audible library.
Combines 2 or more audio files into a single audio file.
Is OpenAudible safe?
It is a safe and reliable software for customers. Moreover, OpenAudible keeps updating itself regularly for a better experience.
Is OpenAudible free?
No. Since the OpenAudible program updated to version 2.0, there is no way to access the free version and users should purchase the license code to experience the entire features.
Part 2.

How to Use OpenAudible

Before going into this part, ensure you've installed OpenAudible on your computer. OpenAudible can work with Audible. As long as you've connected your Audible account to OpenAudible, you can directly download Audible on OpenAudible. Moreover, it has other functions. We will show you below.
Skill 1. Download Audible Books via OpenAudible
Launch Audible and click Controls from the top menu.
After selecting Connect to Audible, it will pop up a window to let you confirm your valid Audible account.

Once logged in, your books will be loaded and shown in the OpenAudible window. After a library scan, you'll be asked if you want to download and convert your books.
If click Yes, it will download your library automatically.
If you click No, go to your Audible library to find the title you want and select Download. OpenAudible will start downloading and you can view the progress on OpenAudible.
When done, the audiobook is saved to your computer in AAX format.
Note
Sometimes, the downloading progress is not successful. So to download Audible books, you'd better use the Audible app or the website.
Skill 2. OpenAudible Convert Audible to MP3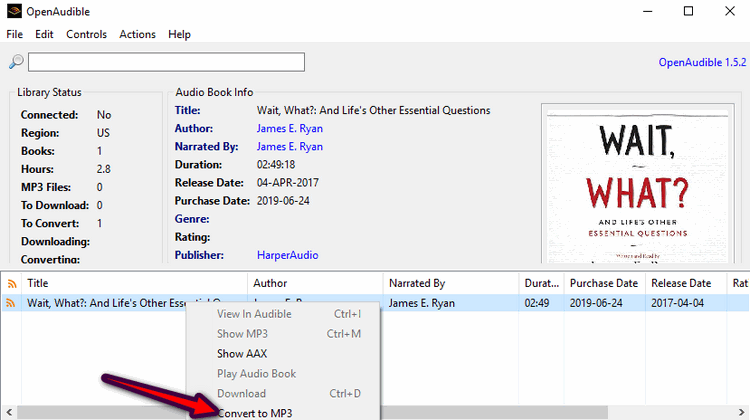 From the top menu, select File > Import Books or drag and drop the audiobook file to OpenAudible.
After importing, the book will display in the lower window.
Right-click it and select Convert to MP3.
Skill 3. Split Audible Books via OpenAudible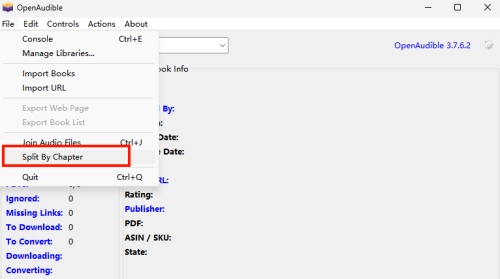 Click File > Import Books to add downloaded one or more audiobooks to OpenAudible.
Back to File and choose Split by Chapter.
Select a destination directory location for the split book parts.
Note
The OpenAudible Convert to MP3 and Split by Chapter options are only available on the full version of the software, which requires you to pay $18.95 for the yearly license.
Part 3.

Best Alternatives to OpenAudible

Best alternative to OpenAudible? I might be a little late to this but I just recently noticed OpenAudible stopped working and after downloading the newer version it's asking me to pay for the service. So does anyone have an alternative to OpenAudible?"

Definitely, OpenAudible is a great way for Audible users to organize audiobooks in one place, but there are some users who seek for OpenAudible alternatives since it charges on version 2.0. Luckily, we find several best alternatives to OpenAudible. Generally speaking, the tools below are easy-to-use and powerful to convert Audible to MP3 and even own more functions than OpenAudible. Let's go to see them now!
Alternative 1. ViWizard Audible Audiobook Converter
ViWizard Audible Audiobooks Converter is designed for Audible users aiming to convert all Audible audiobooks to MP3, M4A, M4B, AAC, FLAC, WAV, and more with lossless audio quality. At the same time of conversion, it removes DRM protection from Audible. Same as OpenAudible, the ViWizard program also functions as a splitter. It supports dividing Audible books by chapters, by segments, or by time so that you can extract your favorite part to loop. Moreover, it enables you to change the narration volume, speed, pitch, and tags as you like. What's more, it works automatically at 100X faster conversion speed. You can upload several Audible files to ViWizard since it supports batch conversion. With the aid of this converter, you don't need to authorize your Audible account. As long as you downloaded Audible files, this powerful converter can work well for you.

Key Features of ViWizard Audible Audiobook Converter
Free Trial
Free Trial
* Security verified. 5,481,347 people have downloaded it.
Convert Audible audiobook to unprotected audio formats like MP3
Split Audible book into several smaller segments by chapter or by time
Support playing Audible audiobooks on any device or media player
Handle the conversion of Audible audiobooks up to 100× faster speed
How to Use ViWizard Audible Audiobook Converter
Step 1

Import Audible AudioBooks to ViWizard

Launch ViWizard Audible Audiobook Converter after you've installed it. To add your Audible files to ViWizard, click the upper-left icon Add Files where you can add several files at once. Alternatively, you can drag and drop the files into the ViWizard software. To make Audible louder or speed up Audible narration, please click the blue Edit icon next to each title.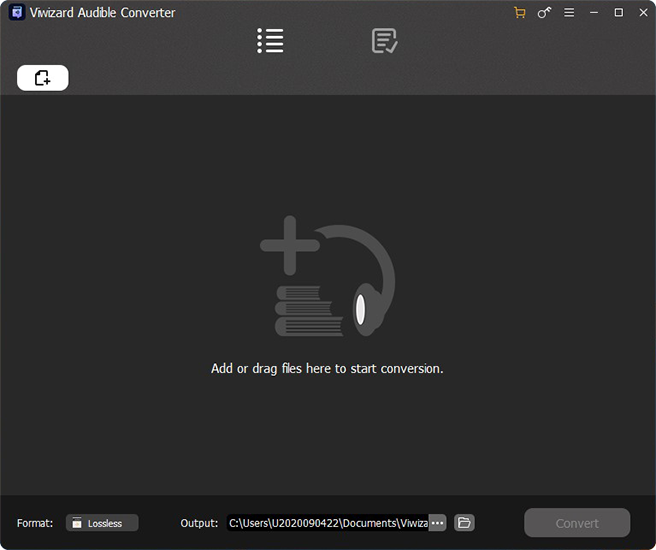 Step 2

Change the Output Format and Parameters

After you add Audible files, ViWizard enables you to customize parameters as you like. Click the bottom left Format panel and it will open a new window. From here, you can choose the output format, codec, channel, sample rate, and bit rate. Audio quality options are available to choose if you don't set Lossless as the format. After finishing the adjustment, hit on the OK button to save your changes.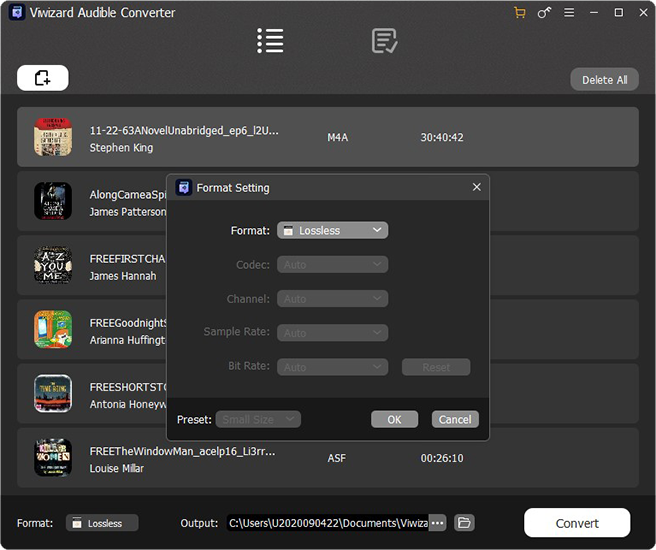 Step 3

Convert Audible Books with Chapters

Now, click the bottom right Convert button to start converting your Audible audiobooks. After conversion, click Converted found at the top to open the history list where you can easily view all your converted files. Also, you can find a certain title using the ViWizard search function. You are allowed to enjoy the converted MP3s in the ViWizard for its built-in player or any media player on your computer.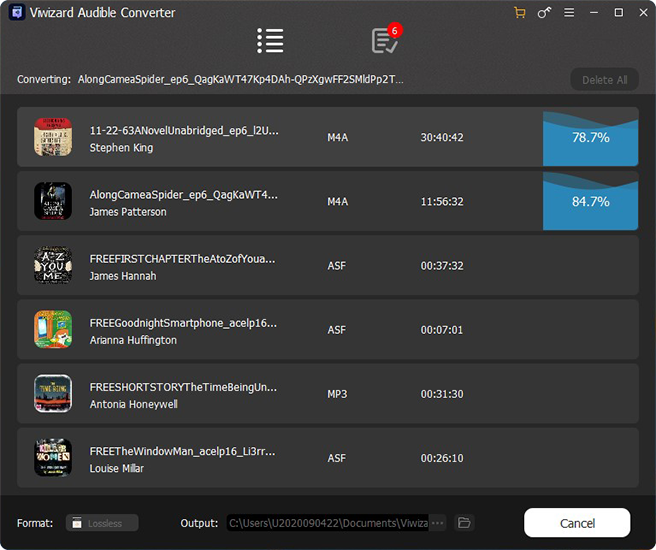 Alternative 2. ViWizard Audio Converter
ViWizard Audio Converter is another converter produced by ViWizard. This one-stop tool not only supports you importing Audible audiobooks but also supports audio files from Apple Music, iTunes, and other 100 common audio formats. With advanced technology, it can convert your inputted files to MP3, M4A, AAC, FLAC, WAV, and M4B. In the same vein, it also supports changing the volume, speed, and pitch if you're not satisfied with these effects. And more, long audiobooks can be cut into small pieces either by time, chapter, or segments. Using ViWizard Audio Converter, you don't need to worry about any audio quality or tag loss.
Step 1

Add Audible Audiobooks to ViWizard

Launch ViWizard Audio Converter and you will see the book icon located at the top center. Hit on it to input your downloaded Audible books on your computer. Another easier way is to drag and drop the Audible file or the folder from your local folder to the ViWizard program.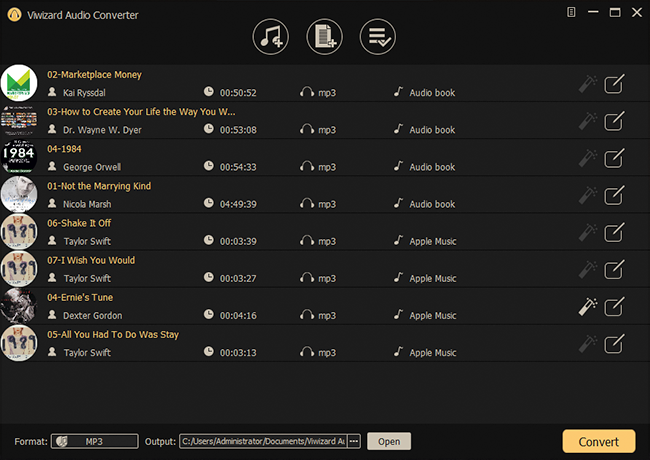 Step 2

Customize the Output Preferences

To adjust the audio settings, click the Format panel at the bottom left corner. In the pop-up window, 6 formats and other parameters are available. You can change the bit rate, sample rate, channel, and codec. In addition, you can edit the audio effects and split the audiobooks by using the two icons beside the title.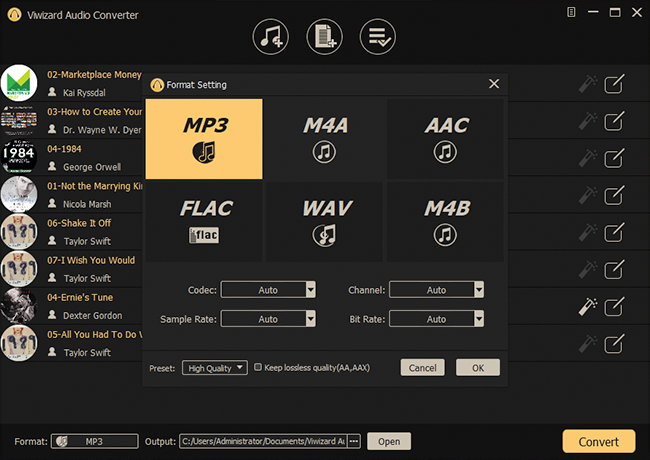 Step 3

Start Converting Audible Books

Now click the Convert to initiate the conversion of Audible books and then ViWizard Audio Converter will convert and save Audible book files to your computer in a few seconds. After conversion, you can view all the converted Audible audiobooks in the history list by clicking the Converted icon at the top of the converter. Or use the search icon to locate each audiobook.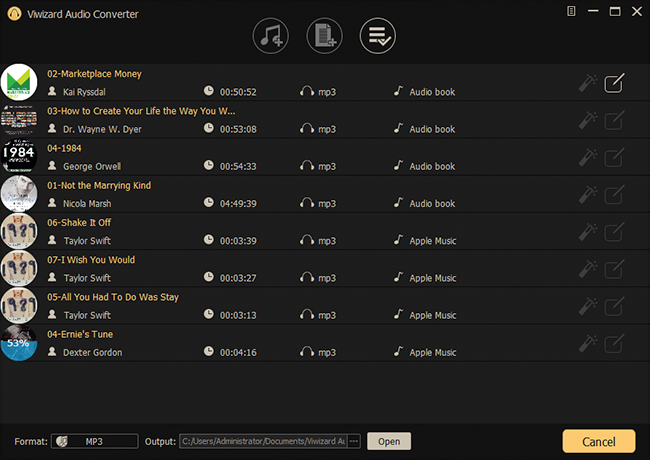 Part 4.

Free Alternatives to OpenAudible

Everyone loves free items. If you are unwilling to shell out a fortune on Audible converter or OpenAudible, here we collect and gather some free tools for you that perform similar functions as OpenAudible. Read on to check.
Alternative 3. Libation
Libation is another audible audiobook manager. It is a free and open-source to download, decrypt, organize, search, and tag your audiobooks. It even supports you to connect several Audible accounts. Moreover, it can download the book along with the PDF if Audible adds a PDF to your book. Choosing to install and run this application brings so many files to your computer and takes up a lot of space.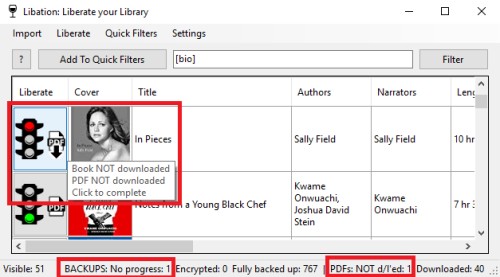 Install Libation and click Settings > Accounts to enter your Audible credentials.
Libation will scan and load your Audible library automatically after linking your Audible account.
Simultaneously, it will automatically download some or all of your audible books. Also, you can select Liberate > Begin Book Backups to download titles manually.
You can use the spotlight to decide the downloading progress: Green means downloaded and decrypted; Yellow signifies downloaded but still encrypted with DRM; Red indicates not downloaded.
Alternative 4. Online Audio Converter
Online Audio Converter is a free yet beginner-friendly site to convert over 300 audio formats including Audible AA/AAX formats. This tool also enables you to configure the format, quality, bit rate, frequency, and number of channels. It supports batch conversion and offers different uploading paths, such as local folder, URL, Google Drive, and Dropbox. Note that all converted files will be automatically erased from the website after a few hours. If you have the need of splitting Audible audiobooks, the Online Audio Converter is not your choice.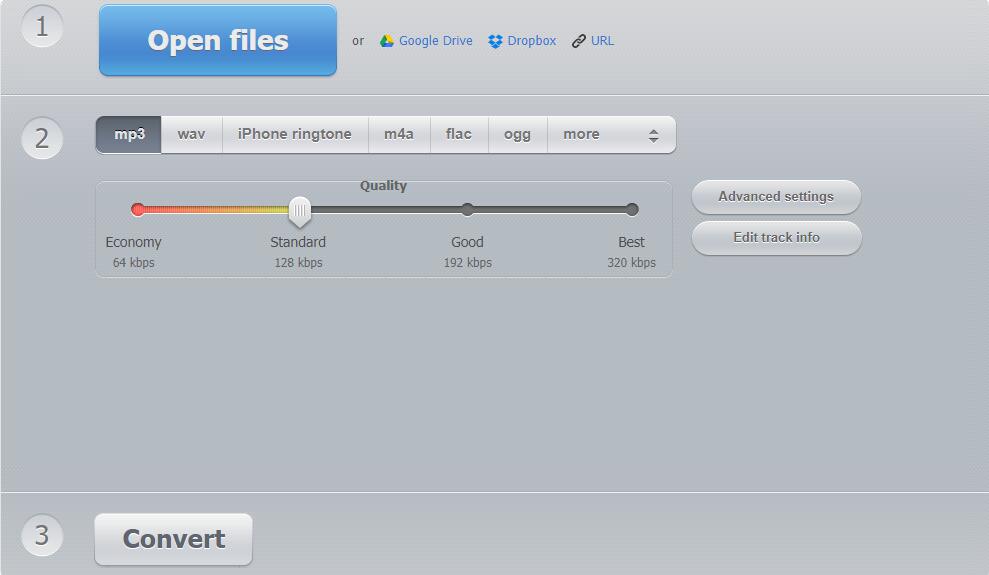 Visit Online Audio Converter from a browser and click Open Files to add Audible books that you downloaded on your computer before.
Choose the MP3 format and change the quality or other parameters, such as the bit rate, sample rate, channel, and effects. You can also edit tags as you like.
Click the blue Convert button to start the conversion and click Download to save the converted audio file when the conversion is complete.
Alternative 5. AAX Audio Converter
From its name, it is not hard to see AAX Audio Converter aims to convert AAX (Audible files) to MP3 or M4A. Also, you can optionally split the book into chapters, names the MP3 files, and adds tags according to the patterns you specify. But it only works on Windows. Running AAX Audio Converter requires the activation code that can be got by installing either Book Lib Connect or Audible Manager. So we do not highly recommend this way.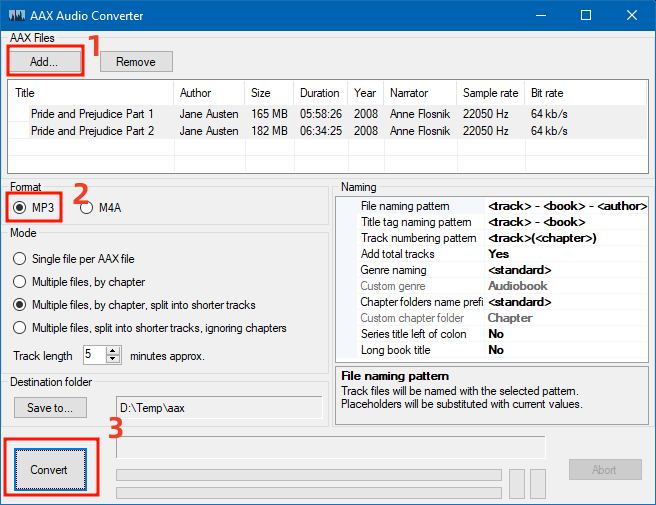 Install AAX Audio Converter on your Windows and follow its instruction to activate the program.
Click the Add button to add Audible files.
Select the output format as MP3 and choose which local folder you want your files to store.
Choose the mode to split audiobooks under the Mode section if necessary.
Hit on the Convert button to initiate the conversion.
Part 5.

Comparison of OpenAudible and OpenAudible Alternatives

Here is a comparison table of OpenAudible and OpenAudible alternatives. We compare different aspects so that you can select the one best suits you based on your needs.
| | OpenAudible | ViWizard Audible Converter | ViWizard Audio Converter | Libation | Online Audio Converter | AAX Audio Converter |
| --- | --- | --- | --- | --- | --- | --- |
| Supported System | Windows, Mac, Linux | Windows and Mac | Windows and Mac | Windows, Mac, Linux | Website | Windows |
| Conversion Speed | 10x | 100x | 30x | 1x | 1x | 1x |
| Supported Input Formats | Audible audiobooks, MP3, M4A, M4B | Audible audiobooks | Audible books, Apple Music, iTunes audios, and up to 100 audio format files | Audible books | Any audio from the computer | Audible audiobooks |
| Supported Output Formats | MP3, M4B, M4A | Lossless audio, MP3, M4A, AAC, AC3, OGG, AIFF, APE, FLAC, WAV, WMA, M4B, M4R, MKA, AU | MP3, AAC, FLAC, WAV, M4A, M4B | M4B, MP3 | MP3, WAV, M4A, FLAC, OGG, AMR, MP2, and M4R | MP3, M4A |
| Easy Operation | Complex | Easy | Easy | Complex | Easy | Easy |
| Lossless Quality | ✘ | ✔ | ✔ | ✘ | ✘ | ✘ |
| Split Audiobooks by Chapters | ✔ | ✔ | ✔ | ✘ | ✘ | ✔ |
| Change Audio Effects | ✘ | ✔ | ✔ | ✘ | ✘ | ✘ |
| Edit ID3 Tags | ✘ | ✔ (Title, Artist, Copyright, Genre, Cover, Comments, and more) | ✔ (Title, Artist, Copyright, Genre, Cover, Comments, and more) | ✘ | ✔ (Title, Artist, Album, Year, Genre, and Comments) | ✔ (Title, Track number, Genre, and Chapter folders) |
| Price | $18.95 | $9.95 | $14.95 | Free | Free | Free |
Summary
Now, you may have a better understanding of OpenAudible. For those who looking for OpenAudible alternatives, we offer 5 options to choose. If you focus on the conversion speed and audio quality, ViWizrad Audible Converter undoubtedly comes priority. If you just save money to find a free alternative to OpenAudible, Online Audio Converter is the best one that meets your needs.