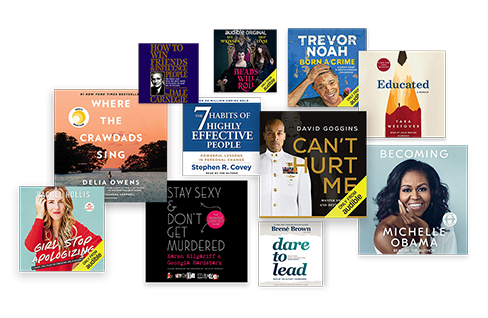 If you are reading this passage, I am sure you've already knew what Audible is. It is where you can find and listen to audiobook. To my surprise, Audible already has a 24-year history in this business. Audible began to grow bigger after Amazon bought it in 2008 and now it is the biggest audiobook provider. Before we discuss "is Audible worth it", we need to know how does Audible work first.
How does Audible Membership Work
Speaking from my own experience, Audible membership confused me a lot at the first beginning. Remember when I first get to know about Audible, I even thought that Audible was just like those music streaming services and you can get access to all the audiobooks on Audible once you sign up for Audible.
Then I did some research before I get on board. I realized that I can only get 3 audiobooks each month with the membership: one credit to buy whatever you like and 2 free Audible Originals. However, compare to the audiobook price on iTunes or Google Play, $14.95 for 3 audiobooks a month still sounds attractive to me.
I didn't notice that there are additional conditions until I took the free trial. For example, the 2 free Audible Originals have to be chose from the 6 rotating selection each month. The downside here is that you may not have any interest in all the 6 audiobooks and these so-called 2 free audiobooks can mean nothing to you. The credit system is more reasonable because a credit is valid for any audiobook on Audible regardless of its price or length. Audible allows you to save the credit so the credit won't reset each month.
How to Get More Credits
For audiobook nuts, 1 credit a month is far from enough. If you want more credits, you should consider upgrading your plan. Audible has monthly plan and annual plan. Each plan has two levels, Gold and Platinum. Monthly God offers 1 credit and it costs $14.95 per month. Monthly Platinum has 2 credits and it charges $22.95/mo. As for annual plan, Gold Annual Special and Platinum Annual offers 12 and 24 credits respectively. Gold Annual takes $119.50 for the first year and $149.95 for every year after. Platinum Annual costs $229.50 per year. But if you just want to buy more audiobooks, I would suggest you go buy more credits or pay per audiobook. As an Audible member, another member benefit you can enjoy here is a 30% off for some of the titles on Audible.
Other Membership Benefits
As time goes by, I become familiar with Audible and I start to know how to get the most of it. First of all, you need to take better advantages of all the hidden perks. Make sure you subscribe to the free news publications to get stories from all over the country. There are also free programs on meditation and fitness. The most important feature you should make best of is that you can return or exchange you're the Audible Originals within 365 days. As we mentioned above, you may not be interested in the selection of the month.
Is Audible Worth It?
The answer is for sure because you can get literally 3 audiobooks from Audible with the price of 1 audiobook. Plus the free ones you get from the free trial and if you read fast, you can get even more after you return or exchange the Audible Originals.
The reason why Audible is worth trying is that unlike Apple Music or Spotify, Audible won't take away your audiobooks library after you cancel the membership. Once they are yours, they are yours forever. It's just, they are in protected AA or AAX format and you can only listen to them on Audible app. This is the only pity and luckily, we have solution to cope with. ViWizard Audible Converter can convert Audible audiobook to MP3 or other common format for you, which means that you not only can listen to Audible audiobook on whatever device you want, but also keep all the audiobooks offline, including those you are going to return or exchange. And this will make Audible even more worthy.
ViWizard Audible Audiobook Converter Key Features
Losslessly remove DRM from Audible without account authorization
Convert Audible audiobooks to common formats at 100× faster speed
Freely customize lots of parameters of output audiobooks
Split audiobooks into small segments by time frame or by chapters
More Audible Audiobook Tips