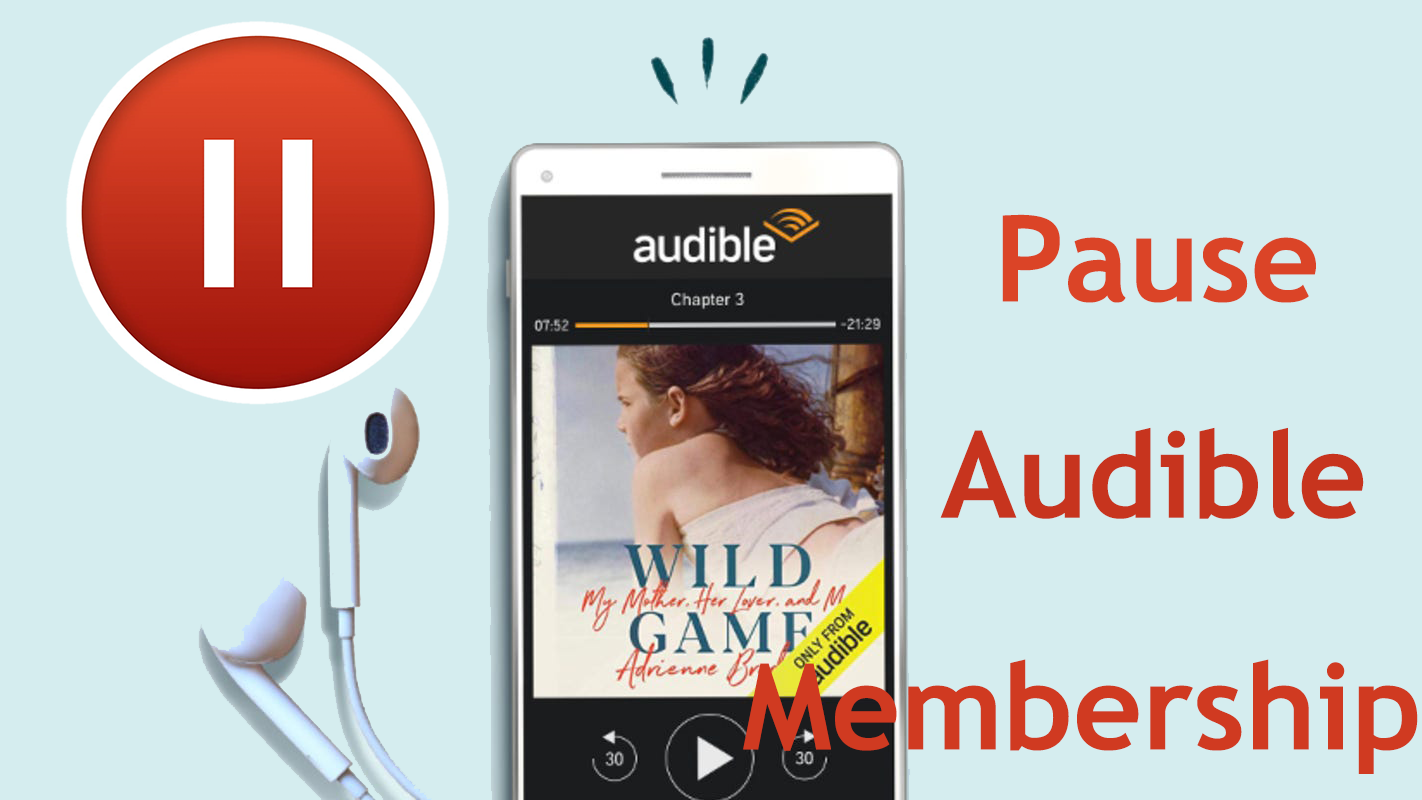 One thing you must know when you begin to consider canceling your Audible subscription is that Audible actually allows users to put their membership on hold. Pausing is different from canceling according to Audible. This is what most users don't know until they go to the canceling option on the Audible website. Here are some other tips for you in case you miss any important information about how does Audible membership works.
If you begin to have a second thought about your Audible subscription, you can give yourself a break from the Audible membership by putting it on hold for 1 to 3 months. If you are not familiar with pausing Audible membership, this post provides the full introduction to pausing Audible membership and a detailed guide for how to pause Audible membership easily.
Part 1. FAQs about Audible Pause Membership
#1. Can my membership be placed on hold (Can I pause my Audible membership)?
Yes. Audible's "membership on hold" feature lets Audible Plus and Audible Premium Plus members place their account on hold one time every 12 months. If you are an existing Audible member with the active month subscription plan, you can choose to pause your Audible membership. Once you pause your membership, your hold can be anywhere between 1 to 3 months.
#2. Why can't I pause my Audible membership?
Audible's "membership on hold" feature is basically for new Audible customers and won't apply to memberships started prior to 2006 or older plans that don't earn credits. Or if you started your membership in the Audible iOS app or Audible Google Play, this feature is not available.
Please noted that even you are a new Audible member, Audible pause membership for you one time every 12 months. If you have paused your membership before, you'll need to wait for 12 months to have another pause.
#3. When will I need to pause my Audible membership?
The question is, how do you know you need a pause other than a cancellation of the membership? Well, it depends on how possible you are going to subscribe to Audible again.
For example, if you are going to have a long vacation or a long business trip and you don't think you will have time for Audible books during the period, you can pause your Audible membership. Or you simply feel that you have already piled up too many audiobooks to listen to in the next few months, you can pause the membership and go back to Audible after you finish the books.
Though we know that, the number of Audible books will accumulate with the month and won't be taken back by Audible whatsoever. However, as a wise consumer, it's normal that you don't want to waste money on things that are already over what you can consume.
Before you make the decision, you will need to be aware of a few things. You can check these most asked questions below.
#4. Can I resume my Audible membership?
Audible Plus and Audible Premium Plus monthly members can put their memberships on hold one time every 1 year for up to a three-month period. While on hold, you can resume your membership at any time if you want to.
#5. What will happen if I pause my audible membership?
You still can use your credits if you are an Audible Premium Plus member. But you cannot listen to Audible Plus Catalog when your account is on hold.
If you choose to cancel Audible during the pausing time, your membership will resume and you will receive all of the benefits of your Audible plan until the end of your current billing period.
Part 2. Audible Pause vs Audible Cancel Membership
The biggest difference between the pause and the cancellation is that canceling Audible membership will terminate all your unused credits while it won't when you suspend Audible account. And you still can enjoy many of your benefits, such as exclusive member-only savings and a 30% off for additional audiobooks. You will not be billed your monthly membership fee until the membership is resumed. But also, you won't be able to get the monthly credit and free books of Audible originals.
You'll lose the exclusives benefits to the subscription plans e.g., Audible Plus or Premium Plus. Go to Your Audible Benefits>> You'll lose access to the Plus Catalog to listen to a Plus title that's locked next to it, as well as your credits. However, the titles purchased with a credit or credit card will be kept and accessible forever. You can also access the Audible downloads stored on the device.
Audible Pause Membership:
Similar to the cancellation, the pause has the same effects on the Audible account - not forever but up to 3 months. You won't lose your credits. And you also have the access to Your Library and Audible downloads before your membership is cancelled, ended or expired.
Audible Benefits:
| | |
| --- | --- |
| Audible Premium Plus: | Audible Plus: |
| Unlimited streaming from the Plus Catalog. Credits to purchase any title in Audible's premium selection. | Unlimited streaming and listening from the Plus Catalog. |
| 30% discount on additional titles. | / |
| Access to exclusives sales, such as Audible 2 for 1. | / |
Part 3. How to Pause Audible Membership
If you have decided to pause Audible membership, you can follow these 2 methods to do it. You can contact Audible and ask them to place your account on hold. Or you can pretend to cancel Audible, and Audible will give you a choice to pause Audible membership.
Way 1. Contact Audible Customer Care
Then you can call Audible's customer service representative and ask for a pause of your membership. They will review your account and go over plan options. Here is what you need to do to pause Audible subscription.
Step 1. First, you need to go to Audible's Contact Us page.
Step 2. Click the Membership button. Choose the Switch, Pause, or Cancel Membership option.
Step 3. You can choose from Chat, Phone, and Email to contact Audible.
Way 2. Pause Audible Membership All by Yourself
If you do not want to contact Audible and prefer to do it by yourself, try this method on your computer.
Step 1. Sign in Audible on Desktop Website

The pause of membership can only be done from the official website as of now. So, we need to sign in to Audible.com on your PC. Then, hover your cursor over your ID and click into Account Detail from the drop-down menu.
Step 2. Go through Cancelling Process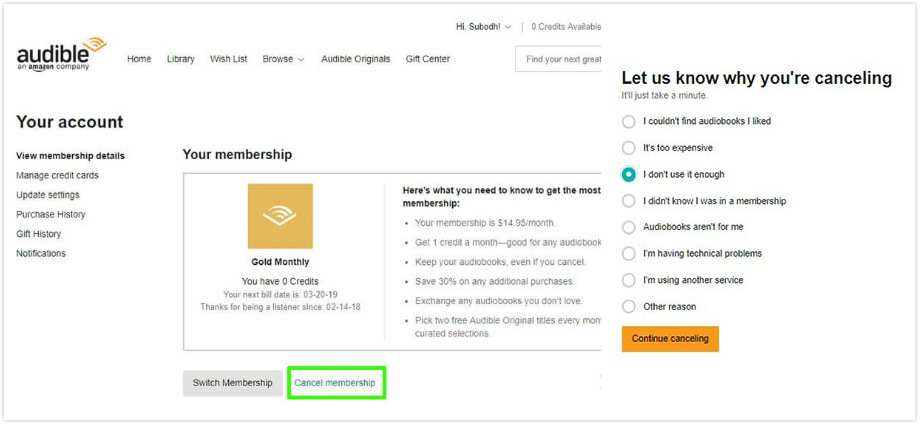 When you get to the membership details page, you will see the Cancel Membership option. Click on it and next, you will be asked to choose the reason why you want to cancel. Select I don't use it enough and click Continue canceling.
Step 3 Choose Pause Audible Membership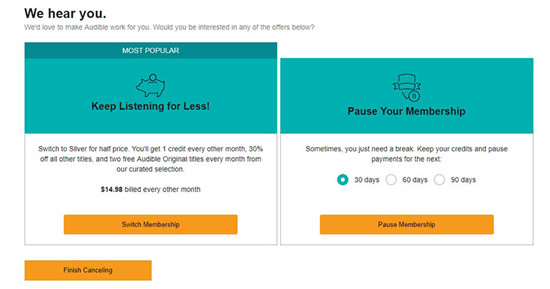 After that, you will be directed to a page with 2 offers: switch your plan to the Audible Silver Membership or pause the membership. Choose the latter and now your membership will be on hold for 30 days, 60 days, or 90 days according to which you choose.
Part 4. How to Resume Audible Membership
If you are ready to resume your membership but are still on hold at this time, you can choose to follow these steps to resume your benefits.
Step 1. Go to the Reactivate Page on the Audible desktop site.
Step 2. Click Yes on the Reactivate Screen.

Step 3. You'll receive confirmation on the next page that your membership is active again. You have all your benefits back.

Bonus Tips: How to Listen to Audible When Your Audible Membership Pauses
If you decide to cancel or pause Audible membership, you might want to delete the Audible app that occupies much storage on your device. Then you may need to back up your Audible books to another audio player or cloud. In the past, you cannot do that because Audible AA/AAX formats make it cannot be played or transferred to other apps.
Today, the problem has been solved. We would like to introduce you to a handy tool to help you back up Audible books and transfer Audible to other devices or players - ViWizard Audible Converter. It is a converter that can help you convert Audible books to any common format so that you can listen to them without a device limit. Using this tool, you can back up your Audible books safely and transfer them freely. Learn how to convert Audible books to MP3 now!
What ViWizard Audible Converter Capable of
Losslessly convert Audible audiobooks without account authorization
Convert Audible audiobooks to common formats at 100X faster speed
Freely customize lots of parameters of output audiobooks
Split audiobooks into small segments by time frame or by chapters