It's getting exhausting having to select books based on the volume of the narration. I keep my phone's volume all the way up, yet some audiobooks are still too quiet. I'm aggravated I just had to abandon another book I was enjoying because I became too frustrated trying to hear it. I know I'm not the first person to complain about this, but Audible, Please, We need in-app volume controls.
--- from Reddit.
Have you faced the same issue as the above Audible listeners? We all know that Audible is renowned and stands out from other audiobook services for its big audiobook library. Most loyal audiobook fans, however, would like to turn up the volume so that they can completely revel in the world audiobooks bring. Due to Audible itself has not equipped with in-app volume control, don't enjoy themselves and feel confused about how to make Audible louder. Don't fret! There are 4 methods for you if your Audible is not as loud as you want.
Method 1.

Make Audible Louder via Volume Control

If you think the volume of audiobooks is too low when you use Audible, the first thing you'd better do is check your device's volume.

For desktop, click the speaker's icon on the right bottom side of the screen.

For mobile, press the volume up button until it reaches the highest.
Method 2.

Increase Audible Volume via Speaker Devices

After increasing the device's volume, is Audible volume still not what you want? Then you might as well employ a speaker device. Speak devices allow reading audiobooks with a louder voice. There are step-by-step tutorials based on different speaker devices. Follow the steps below to connect your Audible with a speaker device.
Increase Audible Volume Using Amazon Echo
Open the Amazon Alexa app on your mobile, and tap the Play button.

Scroll down until you see the Audible Library to choose which audiobook you want to play.
Select your Amazon Echo as the output speaker on the following pop-up menu.
Once Alexa starts playing, you can make Audible louder via the volume controls at the bottom of the screen. Or, you can say "Alexa, set the volume to [1-10]." to control the volume perfectly fit for you.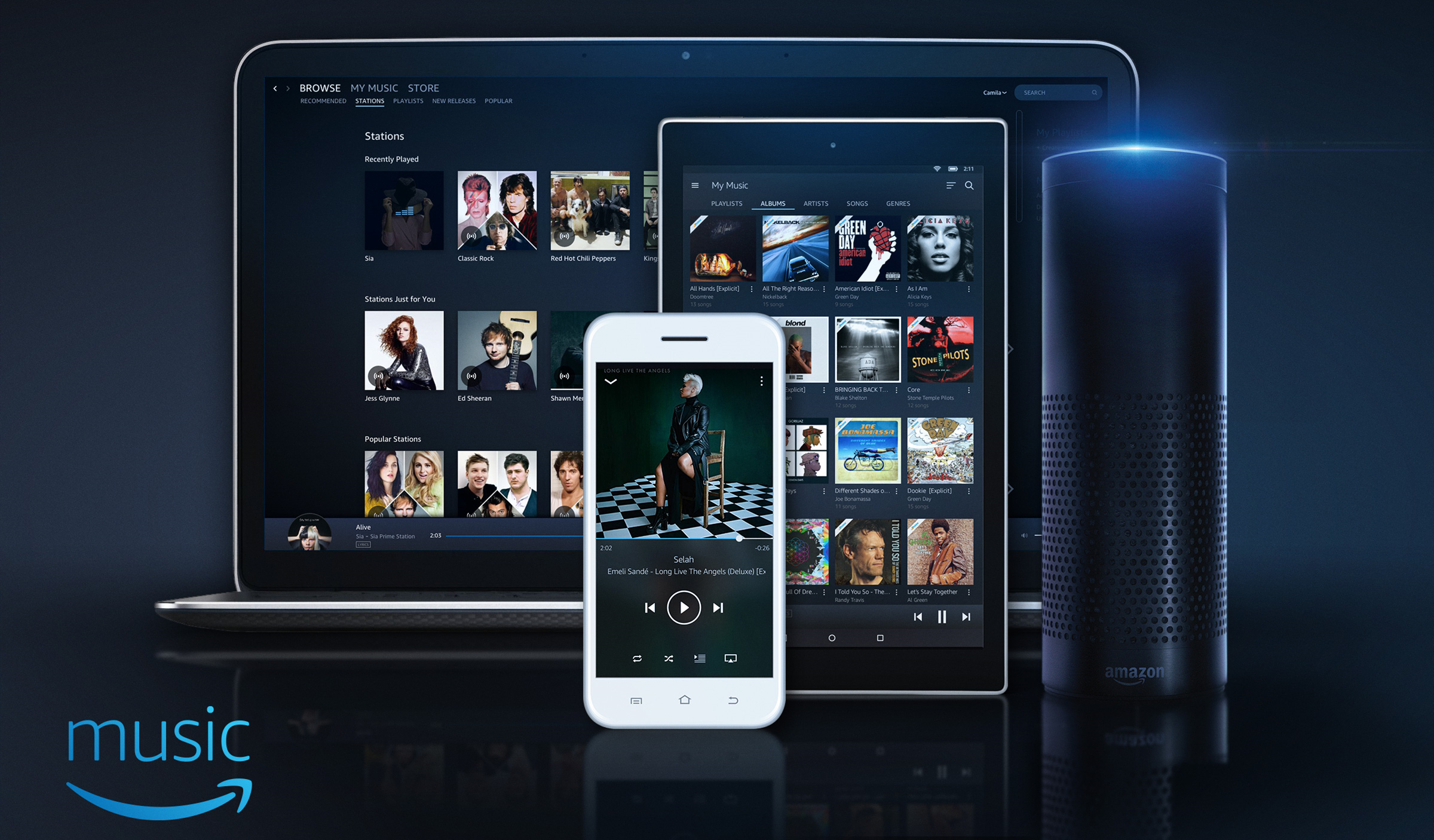 Best Methods to Listen to Audible on Amazon Alexa
Wanna listen to Amazon Music on an Amazon Echo device? It's simple! Come here to find out 4 available methods to link Amazon Music to Alexa! You can even have one alternative to download Amazon Music files for it!
Increase Audible Volume Using Sonos
Turn on the Sonos device.
Open the Audible app on your mobile and select a title to start playing.
At the bottom of the player screen, a white pop-up window will tell you Sonos devices are available.

Tap Connect to a Device to choose your Sonos device.
Ensure the Sonos app is open, and then use the volume buttons on your mobile phone to raise or lower the Sonos volume.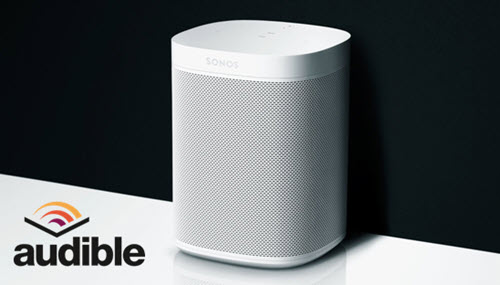 Increase Audible Volume Using Google Home
Open the Google Home app on your phone.
Tap the Google Home or Nest speaker you want to use with Audible.
In the top left corner of the Home screen, tap Menu > Cast Screen/audio.
Play a title in the Audible app, then the Audible audiobook will be cast to your speaker.
Place your finger at the top of the Google Home device. Turn/swipe it clockwise on the surface of the device to turn up the volume.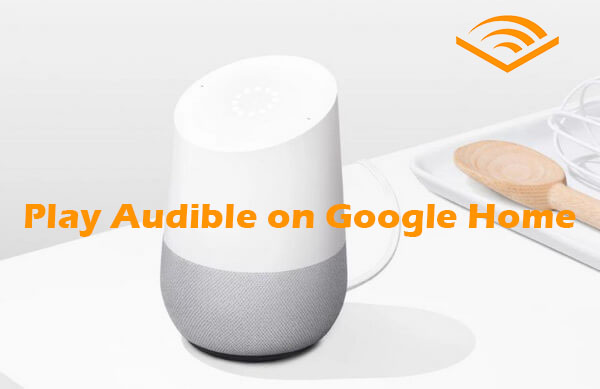 If you don't have the above intelligent devices, skipping all the above steps, you can pair your mobile with speaker devices via Bluetooth. It is the easiest way to cast Audible audiobooks on your speaker device and control the volume.
Go to your phone's Settings and turn on Bluetooth.
Select which speaker device you want to use.
Once connected, open the Audible app to choose your audiobook and start listening.
Make Audible louder by turning up the hardware volume button on your phone or your speaker device.
Method 3.

Make Volume Louder on Audible via ViWizard

If you don't own any speaker devices, don't worry, there is another amazing tool for you --- ViWizard Audible Converter. It aims to convert the protected Audible audiobooks to common formats like MP3 with lossless audio quality and original ID3 tags kept. Moreover, with its advanced technology, it provides options for you to adjust audio volume, speed and pitch. Well, in ViWizard software, you are free to change the Audible audiobooks' volume, higher or lower!

Let's see how to increase Audible volume in ViWizard.

Key Features of ViWizard Audible Audiobook Converter
Free Trial
Free Trial
* Security verified. 5,481,347 people have downloaded it.
Convert Audible audiobook to unprotected audio formats like MP3
Split Audible book into several smaller segments by chapter or by time
Support playing Audible audiobooks on any device or media player
Handle the conversion of Audible audiobooks up to 100× faster speed
Step 1

Add Downloaded Audible Files to ViWizard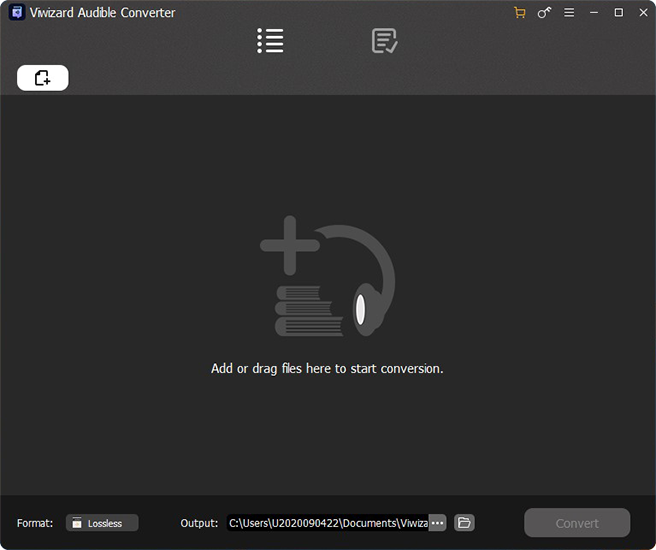 Before starting, ensure you have downloaded the audiobooks you want to convert. And then click the top left icon Add Files. Of course, you can add several files at once if you want. Now, just click the blue Edit icon on the title. Then on the black pop-up menu, click Effect to adjust the output file's volume. You can also change the audio speed, split the audiobook by chapter, time, or segment, and edit tags.
Step 2

Set Preferences for Audible Books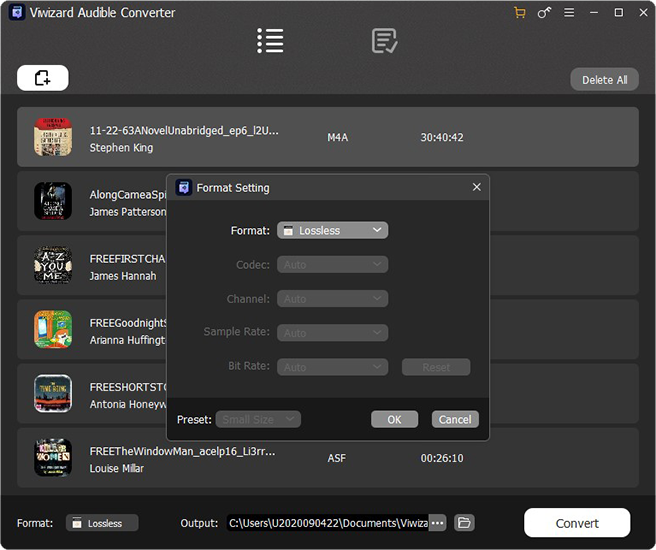 After you add Audible files and finish the volume setting, it offers output options for you to customize as you like. Just click the bottom left Lossless icon, and you can adjust output format, codec, channel, sample rate, and bit rate. After finishing the adjustment, don't forget to click the OK icon.
Step 3

Start the Conversion of Audible Books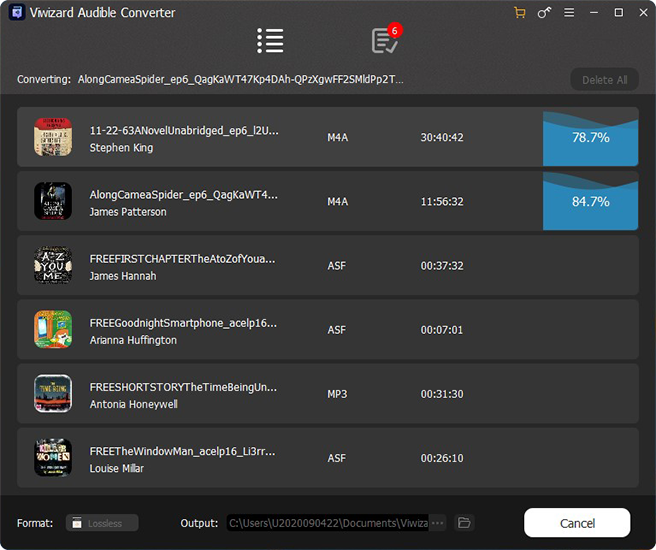 Now, click the bottom right Convert button to start converting Audible files to any format you set. Go to the Convertd interface where you can easily browse your converted files. Otherwise, you can search some certain files after batch conversion. With its amazing built-in playback, you are allowed to enjoy the converted audiobooks in the ViWizard.
Method 4.

Increase Volume on Audible via Audible Volume Control

Audible Volume Control is a plug-in you can use to control your Audible volume. It is an extension only available on Google Chrome. If you're a Google user, it is the most straightforward tool for you to increase Audible volume, and save your space. Moreover, you can directly use it on Audible web player without downloading Audible app. But pay attention it has not been updated since 2022.
Click Audible Volume Control, and select Add to Chrome.

Confirm to authorize it on the new pop-up interface.
Once it is added to Chrome successfully, open Audible web player, go to Library > Listen now.
On the Audible cloud player, now you can change the volume freely.
Summary
After finishing reading this article, I'm sure that you have understood how to make Audible louder. If you own speaker devices, it offers a directly effective way to increase Audible volume. If you don't access any speaker, ViWizard Audible Audiobook Converter is the best tool perfect for your need. Thanks to this tool, you can experience immersive enjoyment in Audible audiobooks with loud and lossless audio quality. Now, go for it!