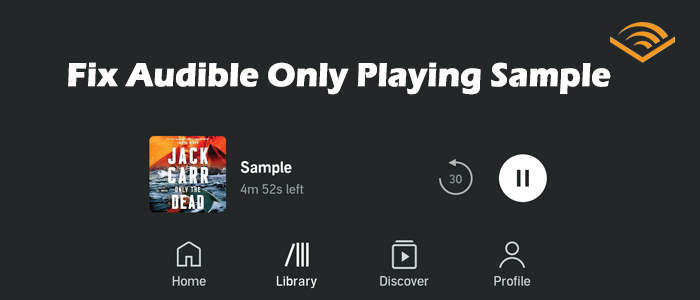 When it comes to audiobooks, the first platform that comes to mind is Audible. If you're an avid lover of audiobooks, Audible is the pretty choice to go. As the biggest audiobook service with over 200,000 titles, Audible has been many people's favorite for years. To bring a better experience, Audible not only offers a free trial for their listeners but also boasts Audible samples. Before paying for a new audiobook you haven't heard before, you can listen to its sample to make your decision. It gives people an idea of what they are getting into and encourages them to buy if it coincides with their styles.
However, many fans only find themselves listening to the Audible sample over and over again when they preparing to enjoy their favorite Audible books. Have you encountered that and why it happens? This post will give you a full guide and fixes to solve this frustrating issue.
Part 1.

Frequently Asked Questions about Audible Samples

Q1.What are Audible samples?

A1.An Audible sample is the first 15 minutes of an audiobook that is free and played to introduce listeners to the current audiobook. Audible will automatically play the sample when you first step into a new audiobook. These samples allow listeners to taste the audiobook before deciding on their purchase. It is a good way to avoid wrong purchasing unwanted titles.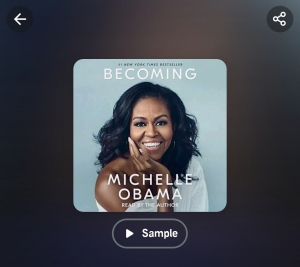 Q2.How to remove the Audible sample?
A2.If you didn't log into your account on Audible, there are free samples displayed in your library. To remove these free samples, just navigate to Library and find the free sample you wish to delete. Tap the 3 dots next to it, and tap Remove from Device. If you want to get rid of the sample of an audiobook thoroughly, you are required to bet money or credits on it to own this audiobook and access the entire content.
Q3.Why does my Audible keep playing the sample?
A3.Audible official gives the answer it may be possible for Audible to only play samples when the user is logged out. Moreover, another reason for Audible only playing the sample is that you haven't purchased the audiobook as we said above.
Part 2.

How to Fix Audible Book Only Playing Sample

Indeed, you're not alone in this experience of Audible only playing the sample. Nothing is really difficult in the world, so in this coming soon part, you can dive into these options and find the perfect solution that troubleshoots this issue.
# Check if You're Eligible to Access the Full Audiobook
You can only access the sample if you neither bought the audiobook nor you subscribed to Audible subscription services. The Audible Plus subscription allows unlimited listening but only to the Audible Plus catalog. While the Audible Premium Plus includes one credit per month for an audiobook of the member's choice from the entire Audible catalog. If you're facing the issue of Audible only playing samples, you'd better check whether your subscription is expired or you didn't own this audiobook, which directly causes you to fail to access the full content but only the sample.
Go to the Audible website and sign in.
Hit on your name.
Select Account Details or My Account. From here, you can see your Audible membership and purchase history.
# Sign in to Your Account
If you signed out inadvertently, titles included with your membership are unavailable and you can only listen to samples of other audiobooks in the Library section. This time, try to check if you logged out. If so, sign in again. In most cases, it comes into effect after logging in again.
Launch the Audible app and head to the Profile interface.
Tap on the Gear icon at the top right corner.
Scroll down to see the Sign in option and hit on it.
Enter your Audible credentials.
# Refresh Your Library
If you have carried out the instructions above, Audible still plays sample only. Then, the effective and most common way to fix it is to refresh your library. After refreshing your library, the entire audiobook will show you. Ensure the latest version of Audible, otherwise, you would fail to refresh.
For Android users, go to Profile and scroll down until you see Help & Support. Then tap the three vertical dots and select Full Library Refresh.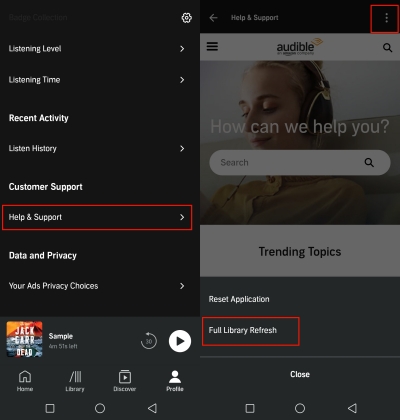 For iPhone users, fire up Audible and navigate to Profile. On the Setting menu, select Library > Refresh Library.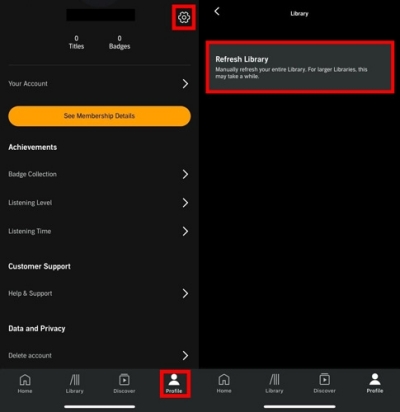 # Change the Audio Quality
High-quality downloads naturally take up more storage on your mobile device and could be the reason why Audible is only playing samples if there is not enough space to run these Audible books. So before going to download or redownload the audiobook, this step is necessary.
Hit on the Profile icon in the bottom right corner of the Audible app.
Tap the gear icon in the top right corner.
Select Data & Storage and then Standard.
Note
This is only for the Audible mobile app, and is not available on the website.
# Download or Redownload the Audiobook
If you are listening to your purchased titles online and it keeps only playing samples, why not try to download them for offline listening, and then you can get the full chapters? If you've downloaded it before and there exists this problem, maybe the download is corrupted. For this reason, you'd better remove this title and re-download it again.
On Mobile:
Launch the Audible app and go to Library at the bottom of the screen.
Locate the audiobook that only shows the sample and swipe left on iOS or select the three-dot button on Android.
Tap on the red Remove from Device box.

After that, on the Discover tab, search for it and tap on Download.
On Desktop:
Visit Audible.com and click Library at the top menu.
Find the audiobook that has the issue, and click on Download under it.
Note
There is no option to remove your title from your desktop on the website but permanently delete it. Once deleted, the audiobook will be removed from your account and you can't access it anymore.
# Listen to the Full Audiobook without Audible
If this issue still persists, the issue might be the Audible app itself. This time, you can get rid of the Audible app for playing offline. But you should know that any Audible content whether online or offline can only be accessible on the Audible app because they come with AA/AAX formats and are encoded by DRM. Even if you purchased Audible audio titles and downloaded them for offline listening, you are unable to play them on other platforms but Audible. So is there any way to listen to Audible books without the app and then avoid the issue of the Audible app only playing the sample? The answer is positive. All you need is ViWizard Audible Audiobook Converter.
ViWizard Audible Audiobook Converter is one of the most professional audiobook converters and stands out for its fastest 100x conversion speed. Thanks to the advanced and unique decrypting processor, ViWizard Audible Audiobook Converter is developed to completely download and convert any protected AA/AAX audiobook to MP3, M4A, M4B, AAC, FLAC, WAV, and more with lossless audio quality. Furthermore, it can help you cut the long audio titles into small pieces either by time, chapter, or segments, so that you can choose the exact part to play without any problem. Meanwhile, if you are not content with the narration speed or volume, you can freely change it. Now, let's look at how this easy-to-use tool works.

Key Features of ViWizard Audible Audiobook Converter
Free Trial
Free Trial
* Security verified. 5,481,347 people have downloaded it.
Convert Audible audiobook to unprotected audio formats like MP3
Split Audible book into several smaller segments by chapter or by time
Support playing Audible audiobooks on any device or media player
Handle the conversion of Audible audiobooks up to 100× faster speed
Step 1

Add Audible Files to ViWizard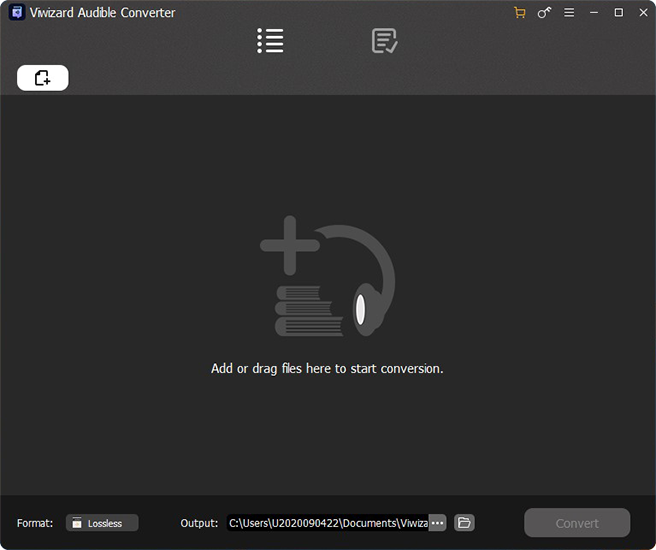 After downloading the audiobooks you purchased, find where are Audible books stored on your devices and locate them. Then, launch ViWizard Audible Audiobook Converter and click the upper-left icon Add Files to add single or several Audible books at once. Sure, simply dragging the files from your local folder into the converter can upload Audible files. If you'd like to change the audio speed, split the audiobook, or edit tags, please click the blue Edit icon across the title to start your edition.
Step 2

Change the Output Format for Audiobooks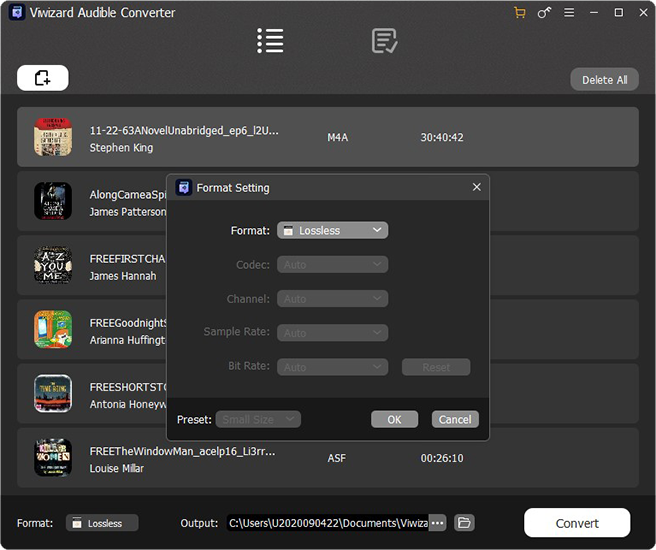 Now, you are allowed to customize parameters. Click the bottom left Lossless panel, and from the new pop-up window, you are able to adjust the output format, codec, channel, sample rate, and bit rate. After finishing the adjustment, remember to click the OK icon. We recommend the most common MP3 format, so you can listen to them on any platform, any media player, and any device even without the Audible app.
Step 3

Start the Conversion of Audible Books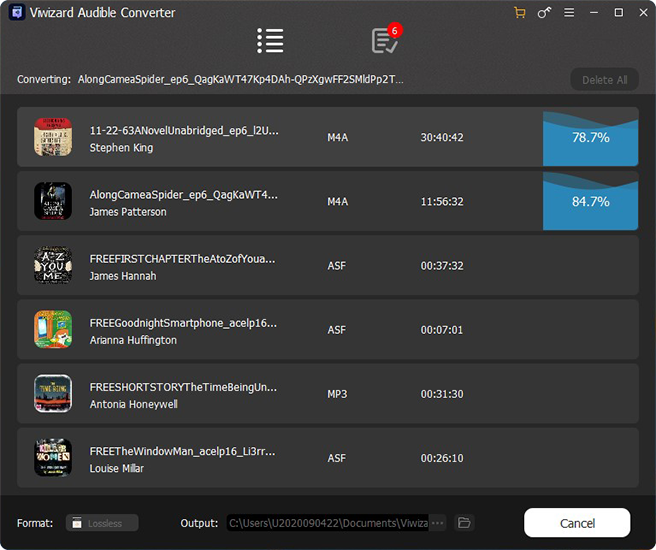 Lastly, click the bottom right Convert button and ViWizard will convert your Audible audiobooks automatically. After conversion, hit on the Converted button, and you can easily browse all your converted audiobooks. Also, you can locate certain files using the search bar. Moreover, you are allowed to enjoy the converted audiobooks in ViWizard's built-in player or listen to them on other players without restrictions.
# Uninstall and Reinstall the Audible App
If Audible is only playing samples due to a bug, then removing the app from your device may be helpful to some extent. To uninstall, simply long-press the Audible icon on your home screen, and then select Uninstall on Android or Remove the App on iPhone. After deleting, go to Google Play Store or App Store to get the latest version of the Audible app, which might fix this bug.
Summary
With regard to Audible only playing samples, have you got your wanted answer and have you known how to fix it? Generally, all the methods above work to solve this issue. Among them, using other players instead of the Audible app is the best way to escape from Audible playing samples only. And to do so, ViWizard Audible Audiobook Converter is the right choice. Give it a shot to avoid any problems and get a smooth listen!