Audible is renowned and stands out from other audiobook services for its big audiobook library. Audible requires customers to sign up with their Amazon accounts with a premium plan. It gains popularity and is widely used in many countries. When you use the Audible app, have you faced any Audible audiobook playback problems? If yes, you can benefit a lot from this article. Because, we will help you find out probable causes, and then help you troubleshoot the Audible book not playing issue.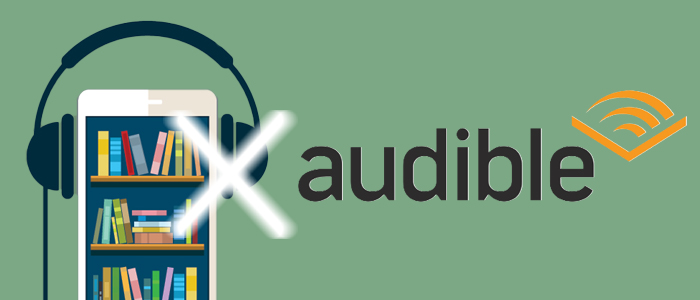 Part 1. Reasons Audible Book Won't Play
Audiobooks exist everywhere. However, some Audible listeners, such as you guys, may feel confused and puzzled when audiobooks can not play on Audible. You would like to ask a search engine for help by taping your questions on the search bar. These questions may be: Why is my audible book not playing? Why won't my audible book play? Why does my audible book stop playing? Luck you! The following part will reassure you.
Internet Connection Issue
As we all know, if the network isn't connected correctly, any online content is limited to play. Therefore, you are expected to check your network whether it's poor or unstable. If the internet connection is smooth without problem, then, verify if you have connected the WiFi or cellular data successfully.
Corrupted Audiobook
In most situations without a WiFi connection, you also have options to listen to downloaded audiobooks. However, if your downloaded audiobook won't play, on rare occasions, the issue might be itself. Chances are that the audiobook's content is incomplete or missing. So before enjoying audiobooks offline, make sure the audiobook is completely stored in your library.
Outdated Version of Audible
If you can't hear any sound on the Audible app, it means your audiobook is not playing properly. Perhaps that the Audible app needs to be updated. Apps need to be regularly updated to work at their best and Audible is no exception.
Too Many Audible App's Caches
Apps stores are recognized as the cache. On rare occasions, it would result in the Audible book not playing issue. But when you install the latest version of Audible, the latest data will ensue, which may be discordant with the old cache data, so the playback issue appears.
Crashed Audible App
For some reason, the Audible app keeps crashing or freezing up. It is normal that you can't access it, let alone play audiobooks on Audible. If you want to know more about this, you may be interested in this post: How to Fix Audible App Crashing.
Current Devices Error
Sometimes, chances are that bugs are in your current device. When there is insufficient space on your phone, of course, there is no space to run the Audible app. This time, you might as well change the device to see if the issue persists.
Part 2. Solutions to Fix Audible Book Not Playing
Now, let's move to the solutions part. In this part, you can take targeted ways to troubleshoot the above wrong steps.
Enable Internet Connection
If your Audible book is not playing, give priority to your device's internet connection. Confirm your network is stable and is connected to your device successfully. If you are not sure, you can switch to other apps or websites to examine if the network works properly.
Delete and Re-download the Audiobook
If the audiobook you've downloaded is incomplete or missing, try to delete the title, and download it again. Are you not familiar with the operations of deleting and downloading? Don't worry, there are step-by-step tutorials.
Delete
For iOS users, go to your Library, find the title that you want to remove, and slightly swipe from right to left across the title, then tap Remove from Device.
For Android users, tap the overflow button next to the book that leads to a new interface, then click Remove from Device.
Download
For iOS users, open Library at the bottom of the screen, then tap Titles followed by All Titles at the top of your screen, in there you can see all audiobooks you've purchased. Then, tap the cover art of the audiobook you would like to download.
For Android users, go to Library, tap Titles then tap All, and tap on the cover art of the audiobook you want to download.
Download Audible Audiobook as MP3
After re-downloading, what you need to know is that Audible employs DRM technology. It is designed to restrict the use of copyrighted digital materials, protect the rights of the copyright holder, and prevent illegal piracy. Even though you've purchased audiobooks on Audible, they all come with AA or AAX formats. Generally speaking, you can't listen to audiobooks you've downloaded on other apps except for the Audible app.
So if you want to play audiobooks on the device without Audible, what should you do? You may just as well download and experience this amazing tool, ViWizard AA/AAX Audiobooks Converter. It can remove DRM from Audible audiobooks and saves them as MP3. It is a great way to enable you can enjoy Audible books no matter where you are. Simultaneously, it keeps all original ID3 tags of audiobooks you've converted. Here are detailed tutorials.
ViWizard Audible Converter Key Features
Convert Audible AAX/AA to MP3 and others with Lossless quality
Convert Audible books to common formats at 100X faster speed
Freely customize playback speed of output audiobooks
Split audiobooks into small segments by time frame or by chapters
Step 1

Add Downloaded Audible Files in ViWizard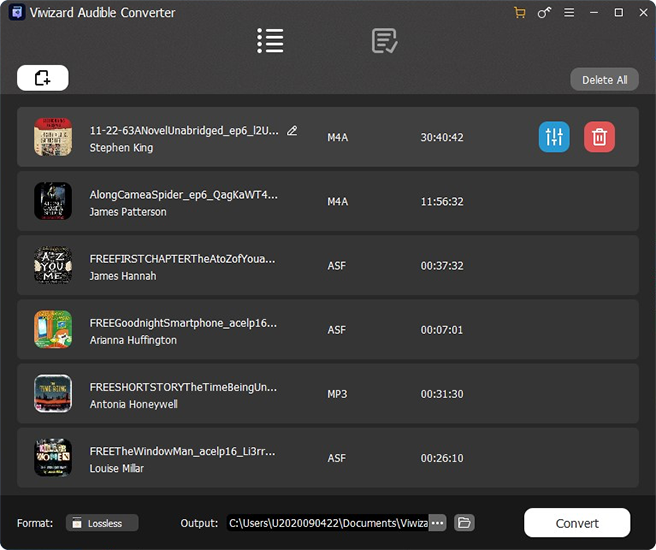 Before starting, ensure you have downloaded the audiobooks you want to convert. And then click the upper left icon Add Files, and you can add several files at once. Or, you can drag the files to the ViWizard software. They are two different but pretty easy ways. Of course, if you want to listen to audiobooks at any time, we suggest the MP3 format. Moreover, you even can change the audio speed, split the audio, and edit the tags by tapping the blue Edit icon on the title.
Step 2

Adjust Output Parameters for Audible Books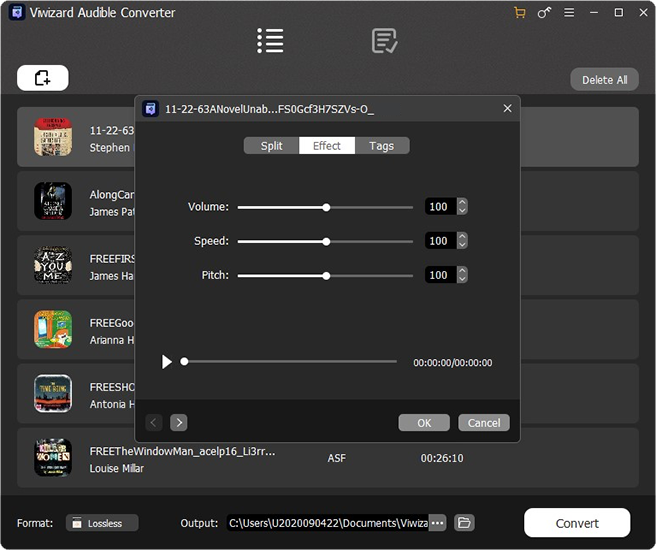 After you add Audible files successfully, now, it offers output options for you to customize as you like. Just click the bottom left Lossless icon, you can adjust output format, codec, channel, sample rate, and bit rate. After finishing the adjustment, don't forget to click the OK icon. If you would like to download as lossless, then leave it behind as default.
Step 3

Start the Conversion of Audible Books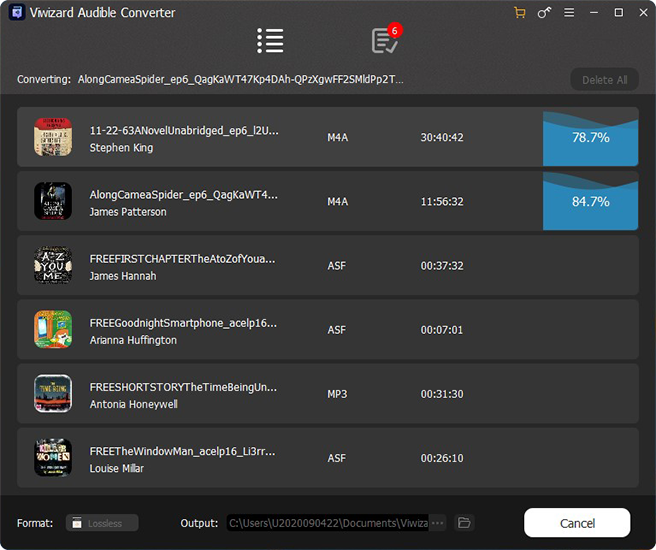 Now, click the bottom right Convert button to start converting Audible files to any format you set. Go to the Converted interface, you can easily browse your converted files, otherwise, you would like to search some certain files after batch conversion. Of course, you are allowed to listen to the converted audiobooks in the ViWizard.
Update Audible to the Latest Version
The latest version of the app always gives you a better experience than the previous version. Audible developers revamp the Audible app and fix bugs now and then to enhance the users' experience. So why not choose and install the latest version?
For iOS users, go to the App Store, search the Audible, then click the Update.
For Android users, go to the Google Play Store, search the Audible, then click the Update.
Or you can choose to update the Audible app automatically, which saves you a lot of time.
Get Your Cache Cleared
After every update, there are a lot of residual caches on your device. In order to listen to Audible audiobooks smoothly, you'd better clear up cache data and glitches in time.
For iOS users, just remove the Audible app from your main interface.
For Android users, open Settings > Apps > Audible app > Storage > Clear cache and data files.
Reopen or Reinstall the Audible App
If your Audible book still stops and has no sound, force to close it and open it again. Once your Audible app is unresponsive or frozen, please remove it as soon as possible, and then reinstall it from your App Store or Google Play Store.
Try Another Device
Are Audiobooks not working on Audible? The issue may be with the device itself, neither the audiobook nor the Audible app. So open Audible on other devices. This time, maybe you manage to listen to Audible books. Besides that, you can also listen to Audible books by using their cloud player on Audible.com.
Contact Audible Support
If the above suggestions do not work, please contact Audible.
Summary
For the audiobook not working on Audible, we give several solutions according to its reasons to help you fix it accurately. If you own multiple devices, and meantime, you want to save the trouble of switching accounts, I do highly recommend you to use the ViWizard Audible Audiobook Converter. Thanks to this tool, you can revel in the wonderful world of the audiobook with no need for the Audible app all the time. Action speaks louder than words, go for it!