I have used Audible for 5 years and have a huge Audible library. I hate the messy library because they are arranged in historical order. Now I want to clean my Audible library. But I found that sometimes you can't remove the Audible books totally. Does anyone know how to remove Audible books from library?
Audible allows premium users to download books for offline playing. If you have used Audible for a long time, you may create a big audiobooks library. Now it's time to clear up your Audible library. In this article, we will tell you how to remove books from Audible library with simple clicks. If you want to learn deeper about Audible, just follow us.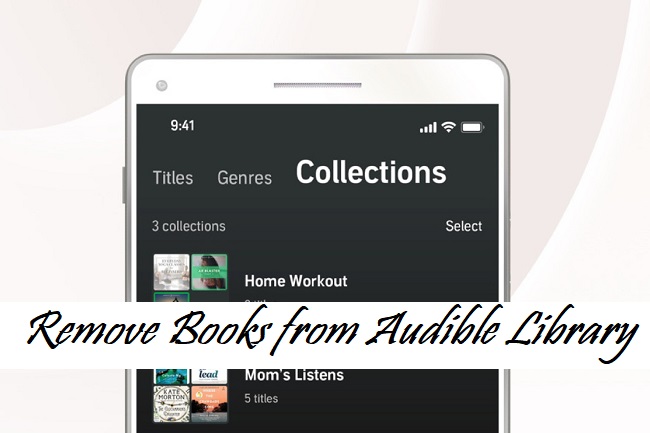 Part 1.

How to Remove Books from Audible Library

You've finished a great audiobook, and now you want to tidy up your Audible library. Perhaps you've listened to it multiple times, or it's time to make room for new additions. Audible.com allows you to take control of your digital library effortlessly.
Removing a Title from Audible Library:
Removing books from your Audible library on audible.com is a straightforward process. You open a web browser to visit the official Audible website, log in to your Audible account, easily locate the audiobook you want to remove, and with a few clicks, your declutter your library.
Open your preferred web browser and go to audible.com. Log in to your Audible account.
Click on "Library" on the top menu bar.
The desktop interface allows for easy scanning of your collection. Find on the audiobook you wish to remove.
Click on the "Remove" button near the audiobook details.
Part 2.

How to Remove Downloads from Audible Library

While your Audible library stores all your audiobooks, the downloads take up space on your device. Removing downloads is a handy way to free up storage without losing access to your audiobooks.
Manually Removing a Downloaded Title from Audible Library:
If you want more control, manually removing downloaded audiobooks allows you to instantly free up space on your mobile device.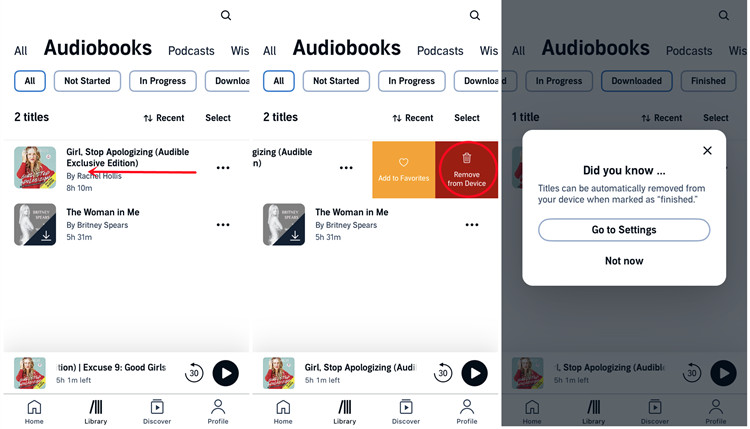 Open the Audible app on your mobile device.
Tap "Library."
Highlight and select the downloaded title you wish to remove from both your library and your device.
Swipe left on the title to reveal the "Remove from Device" option. If you haven't downloaded the title, you only access the "Add to Favorites" option.
Tap "Remove from Device" to initiate the remove process.
Automatically Removing a Downloaded Title from Audible Library:
For users looking for a hands-free approach to managing downloaded audiobooks, Audible offers an "auto-remove" feature. This setting allows you to automatically remove downloaded titles after you've finished listening, optimizing storage on your mobile device.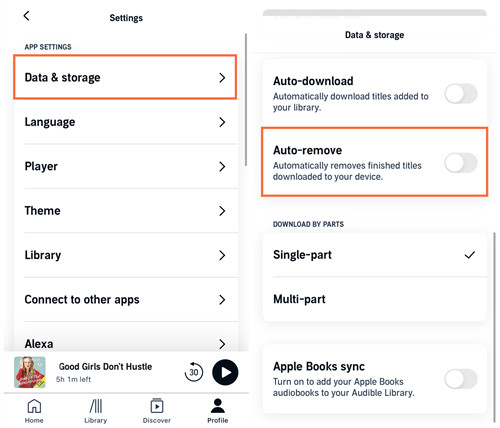 Launch the Audible app on your mobile device.
Tap "Profile."
Tap the Gear icon to navigate to your account settings.
Tap "Data & storage."
Swipe down and look for an option labeled "Auto-Remove." Audible provides this option that allows you to automatically remove downloaded titles after you marked them as finished.
Toggle the switch or adjust the settings to enable the "Auto-Remove" feature. This ensures that the audiobooks are automatically removed from your device after you've finished listening.
Bonus Tip:

How to Convert Audible Books to MP3 for Backup

You may also know that the Audible audiobooks can only be played with the Audible app. Because Audible audiobooks are in an encrypted AA/AAX format which can only be recognized by the Audible app. And most importantly, the downloaded Audible audiobooks won't be playable after the subscription ended. So how can you save Audible audiobooks on your device for permanently playing? The best way is to convert Audible from encrypted AA/AAX to MP3. And next, we will introduce a powerful tool to you.

ViWizard Audible Audiobook Converter, one of the leading music converters. ViWizard is an intelligent program that can convert and save your Audible audiobooks in MP3, WAV, AAC, FLAC, M4A and M4B. Conversion rates can be 100x quicker. You may separate the audiobooks into tiny chunks using the built-in options. The sample rate, bit rate, channel, codec, loudness, and other characteristics of the output audio can be changed. Each audio's ID3 tags will also be stored. You can also use the Edit function to split the audiobooks into small segments by time or chapter.

Key Features of ViWizard Audible Audiobook Converter
Free Trial
Free Trial
* Security verified. 5,481,347 people have downloaded it.
Convert Audible audiobook to unprotected audio formats like MP3
Split Audible book into several smaller segments by chapter or by time
Support playing Audible audiobooks on any device or media player
Handle the conversion of Audible audiobooks up to 100× faster speed
Step 1

Load Audible Books to ViWizard for the Conversion

You must first download Audible files before you can convert them. After downloading, find the AA or AAX files on your computer and drag them to the batch mode of the ViWizard Audible AA/AAX Converter. You may also load the Audible files by hitting the Add button.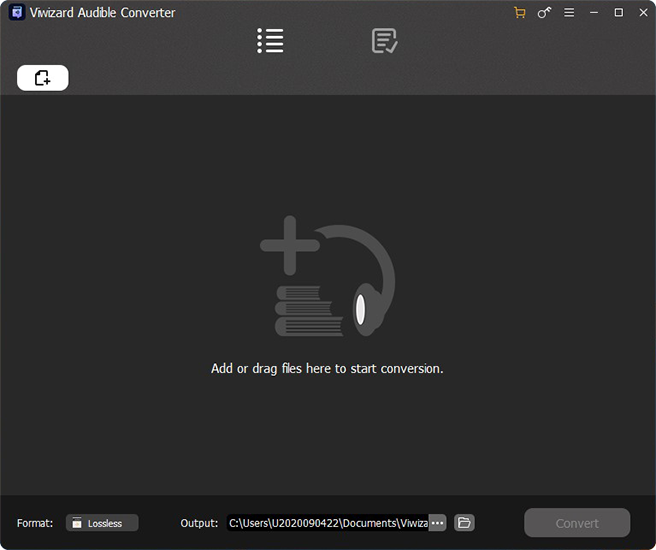 Step 2

How to Change Output Settings

To change the output format, click the Format button in the bottom-left corner. I recommend MP3 because of its good quality and versatility. If you wish to play the output files on different devices, it will save you a lot of time. ViWizard also contains a variety of handy options for customizing your output audio parameters, including codec, channel, sample rate, and bit rate, which you may change or ignore. Don't forget to click the OK button when all has been set.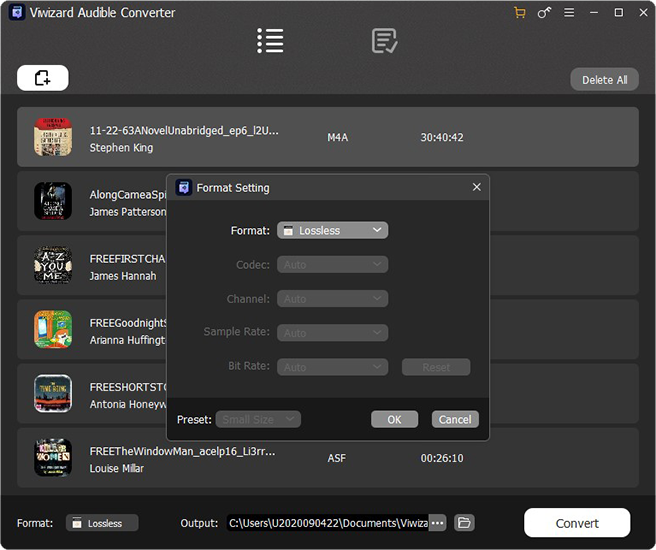 Step 3

Start to Save Audible Audiobooks

Then, click the Convert button to convert all of the Audible files at once. Even if you convert a large number of files, the procedure will be significantly faster because the speed is 100X faster. When the conversion is complete, open the converted Audible files by clicking the Converted icon, and the format will be changed to the new one.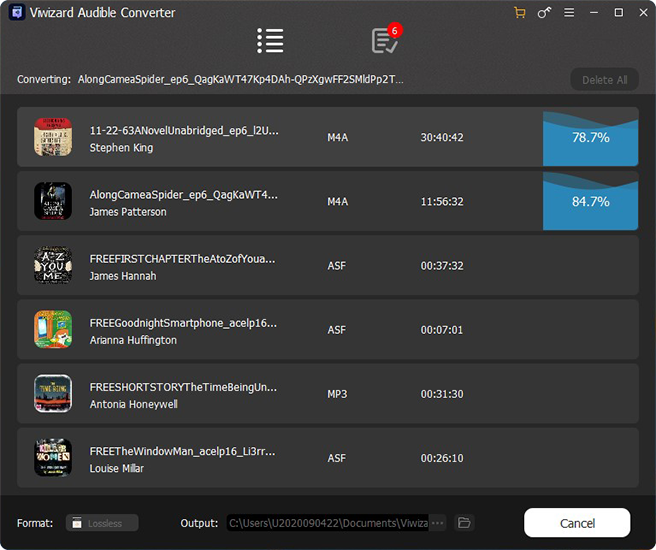 Summary
Now you may have known how to remove a book from your audible library with ease. If you want to delete the audiobook forever, you need to go to the Amazon website. In the general case, you can remove the Audible audiobooks from the Audible app directly. We have also shown you a good choice to save Audible audiobooks on your device. ViWizard AA/AAX Audiobook Converter will be your best choice to convert Audible audiobooks to MP3. You will be able to play the Audible audiobooks on any device you like after the conversion.