Sorry, an error was encountered. Please try again in a few minutes. I just can't get my book to play back. It's been fine and I'm about 7 hours through and now it's saying this. I've tried clearing the cache and rebooting my phone - it only does it for my current book. All the others in my library play fine. Anyone know what it could be?
-- From Reddit
For audiobook lovers, listening to audiobooks is part of everyday life and Audible is the first name that comes to mind when thinking of audiobook platforms. With over 200,000 audiobooks across different genres, easy compatibility, Whispersync for Voice, and more features, Audible gains global popularity. Despite its popularity, there can be problems that level down the experience and put a damper on your listening. Among them, Audible playback error occurs most frequently, which also makes users like you guys frustrated. Luckily, almost every problem has a solution. Here we got some simple solutions. Now, let's kick off!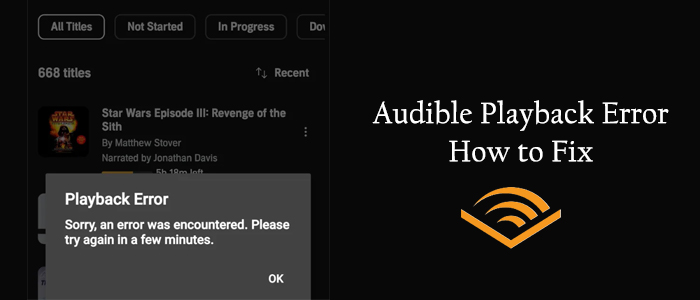 Part 1.

Types of Audible Playback Errors You May Encounter

Audible will send different error messages to users to mark different types of Audible playback errors, however, the Audible error message usually can't exactly show which error happens to you. So here we collected some frequent playback errors on Audible for you to check.
Audiobook stops abruptly or skips.
Playback skips to the next chapter or starts playing from the beginning.
Audible chapters are missing or only playing the sample.
Audiobook keeps pausing when the screen locks.
Audible keeps playing but no sound or with background noise.
Downloaded audiobooks are not in the library or can't play.
If you encounter the Audible download error, you can find solutions from our previous exploration: How to Fix Audible Not Downloading
Part 2.

Reasons for Audible App Playback Error

The key to solving Audible playback error is to identify the causes why it occurs. So you can take the following reasons we explored for reference.
Reason 1. Poor Network
If the internet connection to your device is intermittent, you can't access any online content on Audible. Particularly, when streaming audiobooks under an unstable wireless network, it is likely that the audiobook stops playing or the audiobook gets stuck on the current chapter.
Reason 2. Temporary Bugs
Sometimes, the Audible app playback error is with the Audible app itself. Temporary bugs and glitches existed in the Audible app have the ability to stop you interact with the Audible app, and then prevent you from playing audiobooks. Quite a few irritated users even called the Audible app garbage since it always causes various bugs and then issues.
Reason 3. Corrupted Audible Files
If Audible can't play downloaded audiobooks as usual, then it is probably because the downloads have been corrupted or deleted inadvertently. Moreover, downloading Audible books in multi-parts but it isn't fully downloaded would result in Audible chapters missing when you listen to Audible offline.
Reason 4. Outdated App Version
The obsolete Audible app can be the most possible cause of all kinds of playback errors Audible. Once users reported the issue to Audible support, developers would take time to fix the issue or the bug and then provide a smooth experience at the next updates. So keeping regular updates is a useful tip to troubleshoot most errors once for all.
Reason 5. Insufficient Space
Make sure there is enough space on your Android or iOS device so that the Audible app can work well. On rare occasions, the downloaded book can not show up on the library or the audiobook stops abruptly due to there being no memory to store Audible cache and data on your current device.
Part 3.

Fixes to Audible Playback Error Android/iPhone

After reading why the Audible error message pops up, resolving the Audible app playback error is the top priority. We encourage you to try the solutions below in order and you will get smooth listening.
Fix 1. Reconnect the Network
The first thing you should do when facing an Audible playback error is to check your internet connection. If the WiFi icon shows a bad connection, tap the WiFi icon from the Quick Settings or the Control Center to reconnect it. You can also change to another WiFi or try to use the mobile data to build a strong connection.
Fix 2. Restart the Audible App
As stated, the playback error Audible send might result from the Audible app itself. So the effective way to solve Audible playback error Android or iPhone is to shut down the buggy app. Most often, bugs and glitches can be fixed temporarily by a restart.
The quickest way to force stop the Audible app on mobile is to swipe up from the Home screen to access the multitasking interface. And place your finger on the Audible app preview, then swipe it up and away. Android users can also go to Settings > Apps > See All Apps > Audible. And select Force Stop on the detailed page.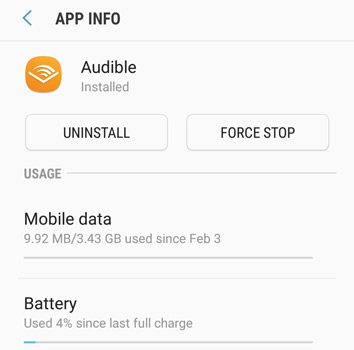 After closing the buggy Audible app, tap the Audible app icon to reopen it and start your listening. At this point, the playback error on Audible might be resolved.
Fix 3. Change the Download Settings
Changing the download quality and settings might resolve most playback error on Audible. Indeed, it also needs a bit of luck. Doing so can make your downloaded audiobooks more compatible with your device, especially for those who have no insufficient space to store Audible books.
Open Audible and go to Profile from the bottom menu.
Tap the cog button to enter the Settings.
Hit on the Data & Storage option and scroll down.
First, select Download Quality to change the download quality between Standard and High.

Next, select Download by parts and then toggle Single-part to download titles completely, which can avoid Audible chapters missing or downloaded Audible books not playing.
Fix 4. Remove and Redownload the Title
This solution may surprise you, but according to Audible and users' feedback, redownloading the audio title works well to solve Audible playback error. Before redownloading, make sure you've changed the download settings by following the above tutorial.
To Delete Audible Books
On Audible, head to Library and select Downloaded followed by All.
Find the title Audible playback error happens and swipe from right to left across the title (iOS) or tap the three dots next to the title.
Select Remove from device to delete the title.
To Download Audible Books
Back to Library > All > All Titles to browse all your owned audiobooks.
Tap the cover to redownload the book you deleted.
Fix 5. Update or Reinstall the Audible App
Updating your app is a good choice to fix bugs. If you don't enable the auto-update and neglect to update, then the recurrence of issues in the outdated app can cause Audible playback error happening. So grab the App Store or Google Play Store to get the latest version of the Audible app.
Essentially, most errors can be fixed by developers in the updated Audible app. If not, then we suggest you try the ultimate solution -- uninstall the Audible app. It is the most classic tip to troubleshoot such issues by getting rid of the bugs. Pay attention that if you choose this way, all downloads and data will be cleared.
To uninstall the Audible app, just press and hold the Audible icon on the Home page and then select Uninstall (Android) or Remove App (iOS). After that, navigate to Google Play Store or App Store to search for Audible. And then choose Install.
Now, use the latest version of Audible to start unwinding your day with audiobooks. This time, the Audible playback error will disappear.
Fix 6. Try Another Device
The above fixes are specific to the Audible app, however, there are times Audible playback errors are caused by the device. Hence, try listening to the title using the Audible Cloud Player, or with another Audible-ready device to see if the Audible playback error persists. Alternatively, you can try the method in Part 4 to play downloaded Audible books on any device you want.
Part 4.

Best Way to Play Audible without Error

If none of the above fixes have worked for you, we recommend you use ViWizard Audible Audiobook Converter to download Audible books and then stream them free of Audible playback error whether it is caused by the Audible app or the device. Basically, the Audible error message appears within the Audible player and is sent by Audible. So listening to Audible books without the Audible app is the key to dealing with the issues.

Hence, ViWizard Audible Audiobook Converter is here to help you achieve that goal. It is an advanced converting tool designed for Audible users to remove DRM from Audible and convert all audiobooks to MP3, M4A, M4B, AAC, FLAC, WAV, and more. Put another way, no matter which Audible playback error you encounter, it can skip these errors to download and convert. With the purpose of letting you get full control over the audiobooks, ViWizard also enables you to change the narration volume and speed, or split the audiobook by chapters, segments, or time. By applying innovative technology, this audiobook converter is able to work alone at a 100x faster speed.

Key Features of ViWizard Audible Audiobook Converter
Free Trial
Free Trial
* Security verified. 5,481,347 people have downloaded it.
Convert Audible audiobook to unprotected audio formats like MP3
Split Audible book into several smaller segments by chapter or by time
Support playing Audible audiobooks on any device or media player
Handle the conversion of Audible audiobooks up to 100× faster speed
With its help, any issues can be fixed with one click. First, click the above link to install the correct version of ViWizard Audible Audiobook Converter to your Windows or Mac. After conversion, you can listen to Audible books with the built-in player on any device without any Audible playback error.
Step 1

Import Audible AudioBooks to ViWizard

Make sure you've downloaded Audible books on your PC. And then launch ViWizard Audible Audiobook Converter after you've installed it. To add your Audible files to ViWizard, click the upper-left icon Add Files where you can add several files at once. Alternatively, you can drag and drop the files into the ViWizard software. To make Audible louder or speed up Audible narration, please click the blue Edit icon next to each title.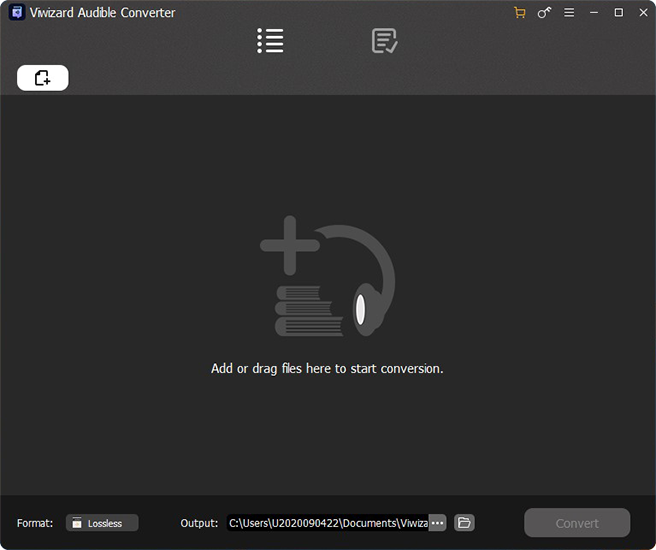 Step 2

Configure the Output Parameters

After you add Audible files, ViWizard enables you to customize parameters as you like. Click the bottom left Format panel and it will open a new window. From here, you can change the output format, codec, channel, sample rate, and bit rate as you like. Audio quality options are available to choose if you don't set Lossless as the format. After finishing the adjustment, hit on the OK button to save your changes.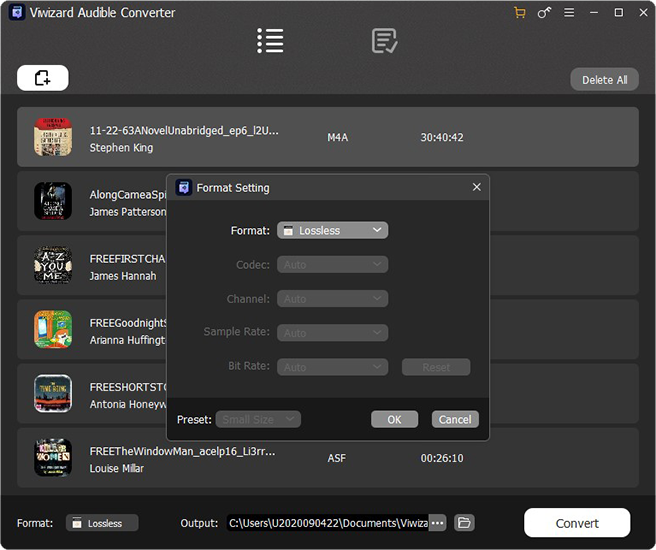 Step 3

Convert Audible Books with Chapters

Now, click the bottom right Convert button to start converting your Audible audiobooks. After conversion, click Converted found at the top to open the history list where you can easily view all your converted files. Also, you can find a certain title using the ViWizard search function. You are allowed to preview and enjoy the converted MP3s with the ViWizard built-in player. After determining it is your desired audiobook, you are free to play them on any platform or listen to them on other devices.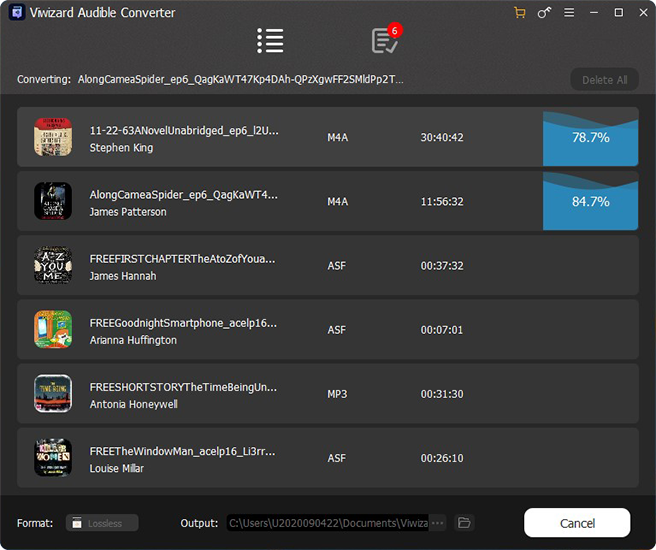 Conclusion
Having trouble with playback error on Audible? It's a frustrating problem, but by applying the troubleshooting steps above to fix it, you will see Audible playback error is not hard to solve. If you don't want to take time to try all the solutions one by one, remember ViWizard Audible Audiobook Converter is the best choice to be free of errors.