As a giant in audiobook services, Audible has gained popularity and is booming. If you're an audiobook buff, Audible is one of the best ways to satisfy your literary cravings. Audible listeners can browse and manage their audiobooks in the Audible App or its official website on mobile phones, desktops, fire tablets, and more devices. Whether the app or website offers so great flexibility that users can listen to Audible books when on the go.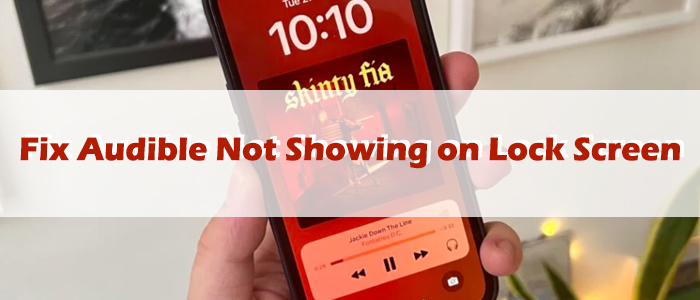 Like music apps, Audible also supports a lock screen mini player for both Android and iPhone users. This saves you from the hassle of unlocking your phone and you can control Audible playing on your lock screen effortlessly. As convenient as it is, there're some times the Audible player fails to appear or keeps pausing on your lock screen. Don't panic. This article provides some quick and effective fixes for Audible not showing up on the lock screen on Android and iPhone. Scroll down to continue if this happens to you.
Part 1.

Fix Audible Not Showing up on Android Lock Screen
1.1 Enable Notification Permissions for Audible
One common reason why Audible not showing up on your lock screen is that you've disabled notification permissions for the app. Hence, it's the first thing you should check.
Open your Settings from the home page.
Go to Apps and then scroll down to see Audible.
Tap on Notifications and toggle all notifications.
Under the Lock screen option, tap Notifications on lock screen or On lock screen.
Tap Show alerting and silent notifications.
1.2 Adjust Battery Settings
When you enable battery saver mode, your Android stops background app activities to decrease battery usage. As a result, the Audible app is not able to operate when the screen locks when the app is set to restricted in the device's battery settings. To avoid that issue, it's best to adjust battery settings and disable this feature.
Go to Settings > Apps > Audible.
Tap Battery to choose Unrestricted. In this mode, the Audible app will be permitted to run in the background, and the will continue running and playing sound even when you locked the screen.
If you're a Pixel user, the situation is different. You are required to disable the Adaptive Battery. Open your phone's Settings, and tap Battery and device care, then More battery settings. Toggle off Adaptive Battery.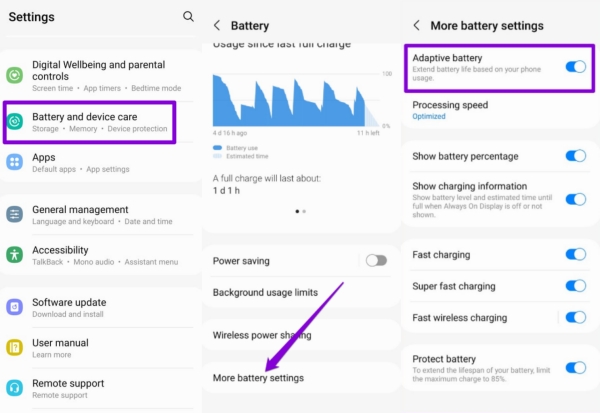 1.3 Force Stop the Audible App
When the Audible app is corrupted on your Android, audiobooks can't be played immediately let alone putting it on the lock screen mini player. Therefore, force shut the Audible app down and restart it after a few seconds.
Swipe up from the bottom of the screen or tap the square icon on the bottom of the screen. Swipe up and down or left and right to throw the Audible app off.
Tap the Audible app icon to restart it, and pick an audio title to check if it appears on the lock screen.
1.4 Reinstall or Update the Audible App
If Audible is not appearing on your lock screen due to a bug, then it is of no use to restart the App. In this case, reinstalling or updating the app may be helpful to some extent.
Long press the Audible icon on your home screen, and then select the Uninstall option to delete it from your Android device.
Now, go to Google Play Store to download it again or tap Update if the update is available.
1.5 Restart Your Android Device
On rare occasions, your Android phone gets stuck or is unresponsive in its system so it can't provide you the lock screen player immediately. This time, you may as well give your phone time to refresh by closing it or restart your phone to clear current caches that cause this problem.
Just hold the Power button and select Restart to reboot your device.
1.6 Change the Audio Peripherals
If you're listening to music through headphones, the issue may be with your headphones itself. Personally, I've encountered the issue of the player not showing on the lock screen. But when I try to disconnect my headphones or wireless headset, then reconnect, and the player shows on the lock screen. This is elusive but deserves to try.
Part 2.

Fix Audible Not Showing up on iPhone Lock Screen

iPhone users can give the workarounds below a try and hope the tutorials will help you.
2.1 Enable Background App Refresh
Prohibiting your app from refreshing in the background may result in the playing content can't be updated in time, which will lead to Audible stopping playing or disappearing on the lock screen. So enabling this feature is necessary.
On the phone, tap the Settings app icon.
Scroll to choose General, then locate the Audible app.
If the Background App Refresh permission is disabled, please toggle it on.
2.2 Restart Your Audible App
Some issues with the app may prevent you from interacting with the lock screen player on your iPhone. So give the priority to restart the Audible app on iPhone.
Swipe up from the bottom of the screen to bring up the app switcher. And then swipe upwards on the Audible window to close it.
Reopen Audible and start playing any book. Then, swipe down from the top of the screen to see if the lock screen Audible player is working properly.
2.3 Switch to Another Lock Screen (iOS 16)
iPhone iOS 16 version allows users to create multiple lock screens. If this lock screen can't work fine, you can alternatively turn to another lock screen. Maybe this time, Audible will show up on the lock screen you selected.
To switch your lock screen, tap and hold on your lock screen, and swipe left or right. Tap on your new lock screen. Once you've switched lock screens, try using the lock screen player. If the issue was caused by your lock screen then it can now be fixed on iOS 16.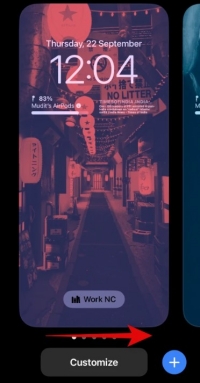 2.4 Reboot Your iPhone
The most classic and straightforward way is to power off your iPhone and start it again. Just long press the Volume Up button and the Power button simultaneously until the Apple logo appears. And from the top, slide to power off. After that, hold the Power button for 10 seconds, and the device will be booted.
2.5 Update iOS Version
If your iOS version is too old, then some functions including the player on the lock screen will not work. So updating your system version to experience the newest features and to make your phone run properly. Go to Settings > Software Update to get your iOS system updated. Please ensure your phone is fully charged to finish the process.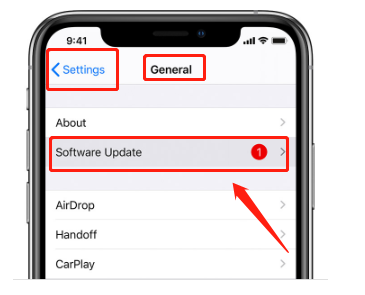 Part 3.

Best Way to Play Audible on Lock Screen without Limits

Indeed, if the above methods don't work and the issue of Audible not showing on the lock screen still persists, we recommend you use the built-in player to listen to Audible books. In this way, the above issue doesn't exist. And all you need to do is to download Audible books to your Android or iPhone. But if you try to download audiobooks from Audible, you can't listen to them on your phone's media player other than Audible because they come in AA/AAX formats. Therefore, you need a third-party software like ViWizard Audible Audiobook Converter to help you achieve that.

ViWizard Audible Audiobook Converter is an eminent tool specially developed for audiobook users to download protected AA/AAX audiobooks and convert them to MP3, M4A, M4B, AAC, FLAC, WAV, and more with lossless audio quality. This converter is able to work automatically and provides up to 100x faster conversion speed. That is to say, batch conversion can be done in a few seconds. More surprisingly, you can divide long audiobooks into small segments or chapters, change the narration's speed or volume as you want, and edit ID3 tags.

Key Features of ViWizard Audible Audiobook Converter
Free Trial
Free Trial
* Security verified. 5,481,347 people have downloaded it.
Convert Audible audiobook to unprotected audio formats like MP3
Split Audible book into several smaller segments by chapter or by time
Support playing Audible audiobooks on any device or media player
Handle the conversion of Audible audiobooks up to 100× faster speed
Step 1

Add Audible Files to Converter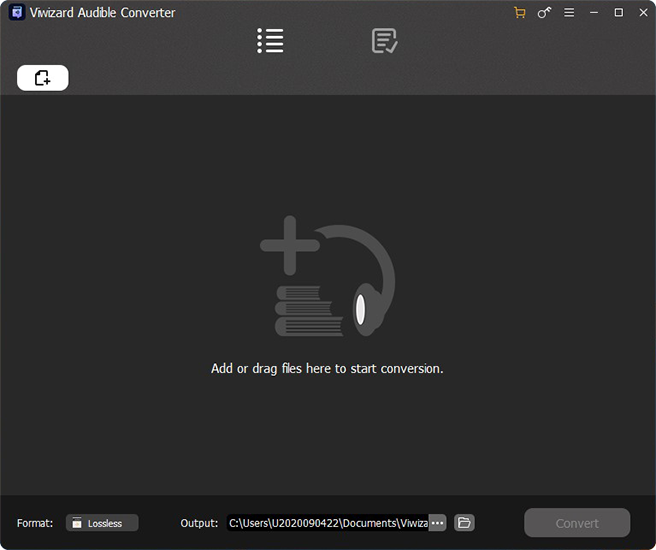 Be sure you have downloaded the AA/AAX audiobooks before converting. Now, click the + icon on the upper-left corner, and you can input several files at once. Or, just drag the files from your local folder into the converter. Using this way requires you to know where the Audible books are saved to your device. After uploading, ViWizard offers edit options so that you can change the audio speed, split the audiobook, and edit tags. Just click the blue Edit icon across the title to do that.
Step 2

Choose the Output Format for Audiobooks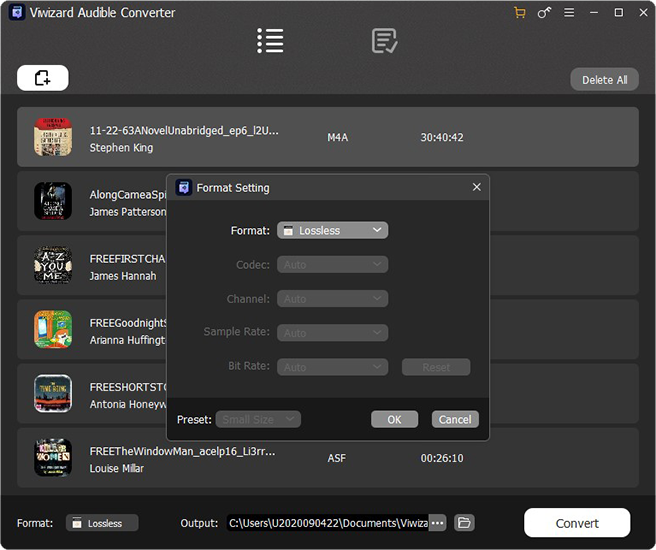 Then, move to customize parameters. Click the bottom left Lossless tab and a new window will pop up. From here, you can change the output format, codec, channel, sample rate, and bit rate. After finishing the adjustment, remember to click the OK icon. To apply the built-in media player to play Audible audiobooks on your Android or iPhone, please set the MP3 format.
Step 3

Initiate the Conversion of AudioBooks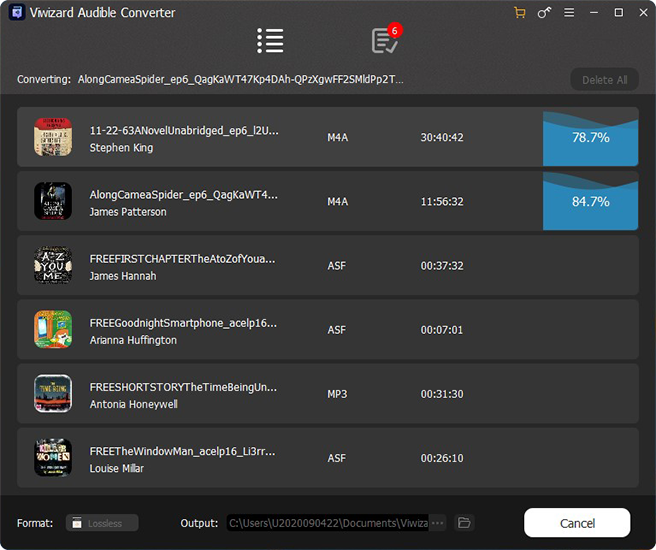 One-click the bottom right Convert button to start converting your Audible audiobooks. After conversion, you can easily view your converted files on the Converted interface. Also, you can locate certain files by using the search function. Furthermore, you are allowed to enjoy the converted audiobooks in the ViWizard.
Conclusion
To fix Audible not showing up on the lock screen, this post gives you detailed solutions according to Android and iPhone. Moreover, we do highly recommend you install ViWizard Audible Audiobook Converter to help you remove and get rid of the Audible player by applying the phone's own media player to listen to your desired Audible audiobooks. Dive into the wonderful audiobook world by giving ViWizard a try!