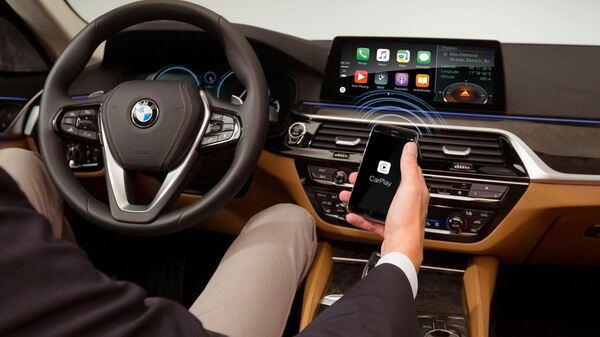 "Can I play Audible books in the car? What are the best way to do this? I have bought many Audible audiobooks but don't have time to enjoy them yet." - Asked by Lillian Campbell.
While you are driving on a long trip or commuting daily, you may feel boring. Listening to Audible audiobooks in your car will be a great way to kill time as well as acquiring knowledge. Many different ways can help you get the job done. Some new car drivers may feel it complicate to set up the car entertainment to play Audible in the car. If you are also confused about this, please just join us, we will discuss the top 8 methods there.
Play Audible with Android Auto/Apple CarPlay
Nowadays, almost all cars are equipped with the car stereo, also known as car infotainment system, car DVD system, GPS navigation system. They are designed for users to have a more enjoyable driving experience.
Some latest select models of Ford, Lincoln, GM vehicles are already combined with the Audible app. You can turn on the Audible app to play the downloaded audiobooks. For some cars, even if they don't come with Audible, you can easily stream the Audible files from your phone to the car. I will take the Android Auto and Apple CarPlay sound system to show how do they work.
If your car stereo is built-in with the Android Auto, you can follow these steps to listen to Audible books:
1. Open the Audible program on your Android mobile device. Please make sure you have the Android 5.1 Lollipop system or above.
2. Connect it to the Android Auto-compatible car infotainment system via USB cable.
3. Then the Audible audiobook which is playing on the phone will switch to play on your car stereo automatically. If you haven't played it on your phone yet, just tab the book to play it.
In addition, you can play Audible on Android Auto with the phone screen directly. You need to install the Android Auto app on your phone. Open this app and choose the Headphone button. Choose the Audible app and an audiobook to play.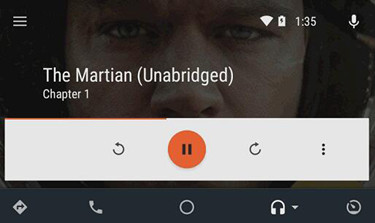 Play Audiobook on Apple CarPlay
1. Launch Audible on your iPhone 5 or above.
2. Insert your iPhone into the USB interface of your car. Usually, there is a CarPlay or smartphone icon labeled near the port.
3. Then go to the CarPlay home screen and tap right to see the Audible app.
4. Tap Audible >'My Library' on the Audible app and select a title to play in your car, the audiobook will be streamed to the car.
More Ways to Listen to Audible in the Car
If your car stereo is different from Android Auto or Apple CarPlay system, you may not use the same method mentioned above. Depending on the different features of your car sound system, you can try the following ways.
USB Drive
If your car stereo supports to exchange data from USB, you can put your audiobooks files to a USB and transfer them to your car stereo. After that, you can use your music player to play the files from the USB. However, since the Audible AA or AAX file is protected, you have to convert Audible AA/AAX file to common formats such as MP3, WMA, AAC, M4A, M4B first by ViWizard Audible AA/AAX Converter/Mac. You can download the free trial version and refer to the following tutorial: How to convert Audible AA/AAX to MP3.
SD Card
If your car supports an SD card reader, you can use an SD card to play Audible audiobooks in the car. To use this method, you need to prepare an SD card and an SD card reader. Convert Audible audiobooks to MP3 and download them to SD card. Put your card into a card reader. Finally, plug the card reader into the car. Then you can play audiobook in car stereo. To learn more detail of how to put Audible audiobooks to an SD card, you can check: Transfer Audible audiobooks to an SD card.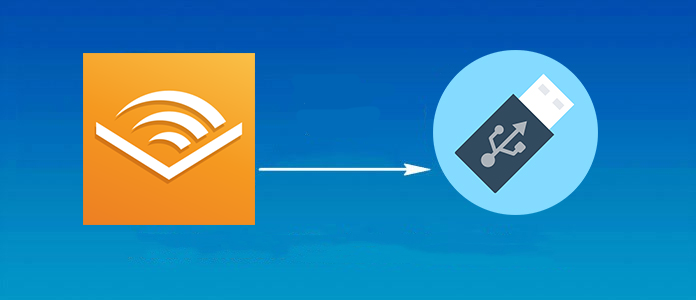 Auxiliary Cable
For a car music system that supports auxiliary input, you can connect your mobile phone with an auxiliary cable directly. Then the audio which is playing on the phone will be streamed to the car instantly. Normally a phone doesn't come with such a cable, so please buy one from a local or online store.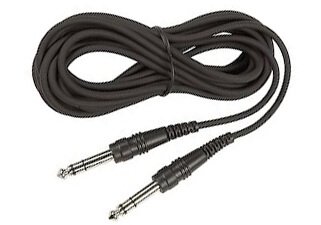 Bluetooth
You can also resort to the Bluetooth to listen to Audible in the car. To connect through Bluetooth, it requires both your phone and car stereo support the same Bluetooth protocol. You can turn on the Bluetooth and follow the screen instruction on your phone and car display. To learn the full tutorial, you can visit: How to Play Audible Audiobooks through Bluetooth.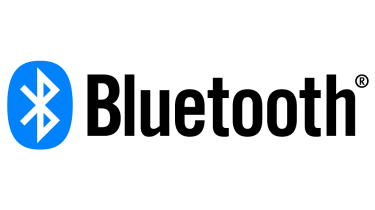 FM Transmitter
As long as your car support receiving radio singles, you can try to transmit your Audible audiobooks from your phone to the car with an FM transmitter. Just connect the FM transmitter and then set up a channel that is not used by the local radio stations, next turn your car stereo to the same channel. Your car stereo will receive and transform the singles back to audio content.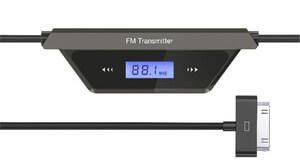 Burning CDs
Though CDs are not as popular as before, many cars are still able to play CDs or DVDs. You can burn your Audible audiobooks to physical CDs first and then plugin the CDs into your car stereo to get started to listen to Audible in the car. For your convenience, you can follow this instruction: How to Burn Audiobooks to CDs.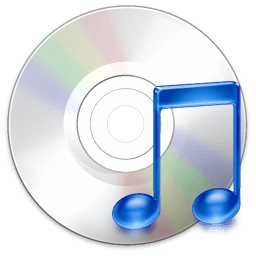 Audible Car Mode
Or you can choose to play Audible audiobooks in the car with the Car Mode. Car Mode is a feature in the Audible app on both Android and iOS devices. With this feature, you can play Audible audiobooks in the car easily. Car Mode only enables you to access 3 buttons on the screen: Play/Pause; Go Back 30 Seconds; Add a Bookmark. Let's see how to use this Car Mode feature now.
1. Choose an audiobook to listen to it.
2. Tap the Car Mode button on the screen.
3. Tap the X button to exit this mode.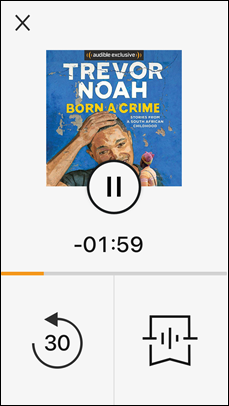 Final Tip
Noted that you need to play Audible audiobooks before you start to drive a car. Avoid using your mobile when you are driving. Your safety is always the most important thing. Now, just try to Play Audible in the car and enjoy yourself!